Thomas at top of the class for D-backs
Arizona standouts make immediate impact at system's upper levels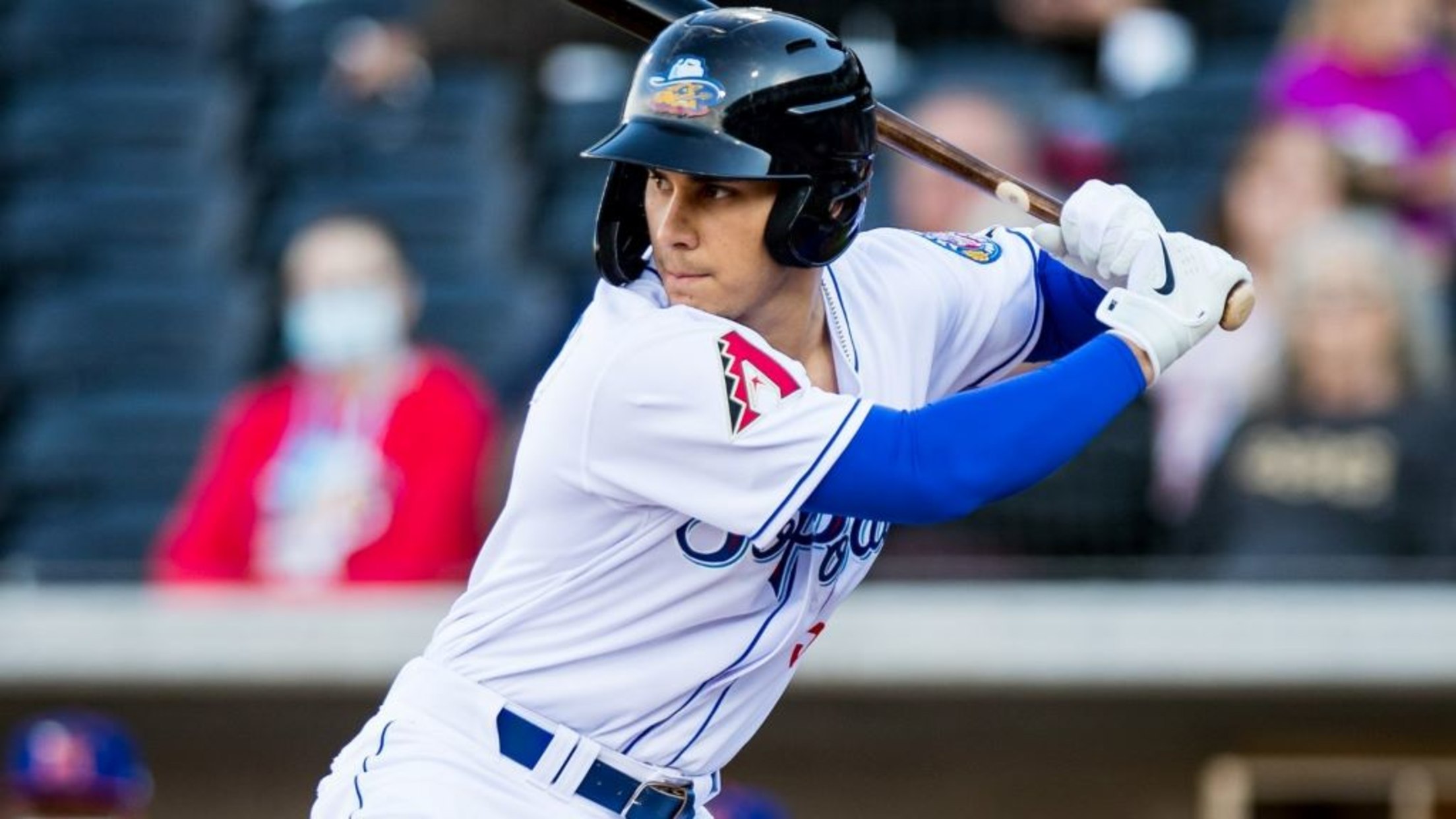 Each offseason, MiLB.com goes position by position across each system and honors the players -- regardless of age or prospect status -- who had the best seasons in their system. We start our 2021 Organization All-Stars series with the Arizona Diamondbacks. Though the D-backs are just two years removed from
Fresno cruises to a 4-0 win over Vegas thanks to Emanuel's gem
Kent Emanuel strikes out a season-high eight over six shutout innings; Pitching staff combines to punch out 13 batters on the night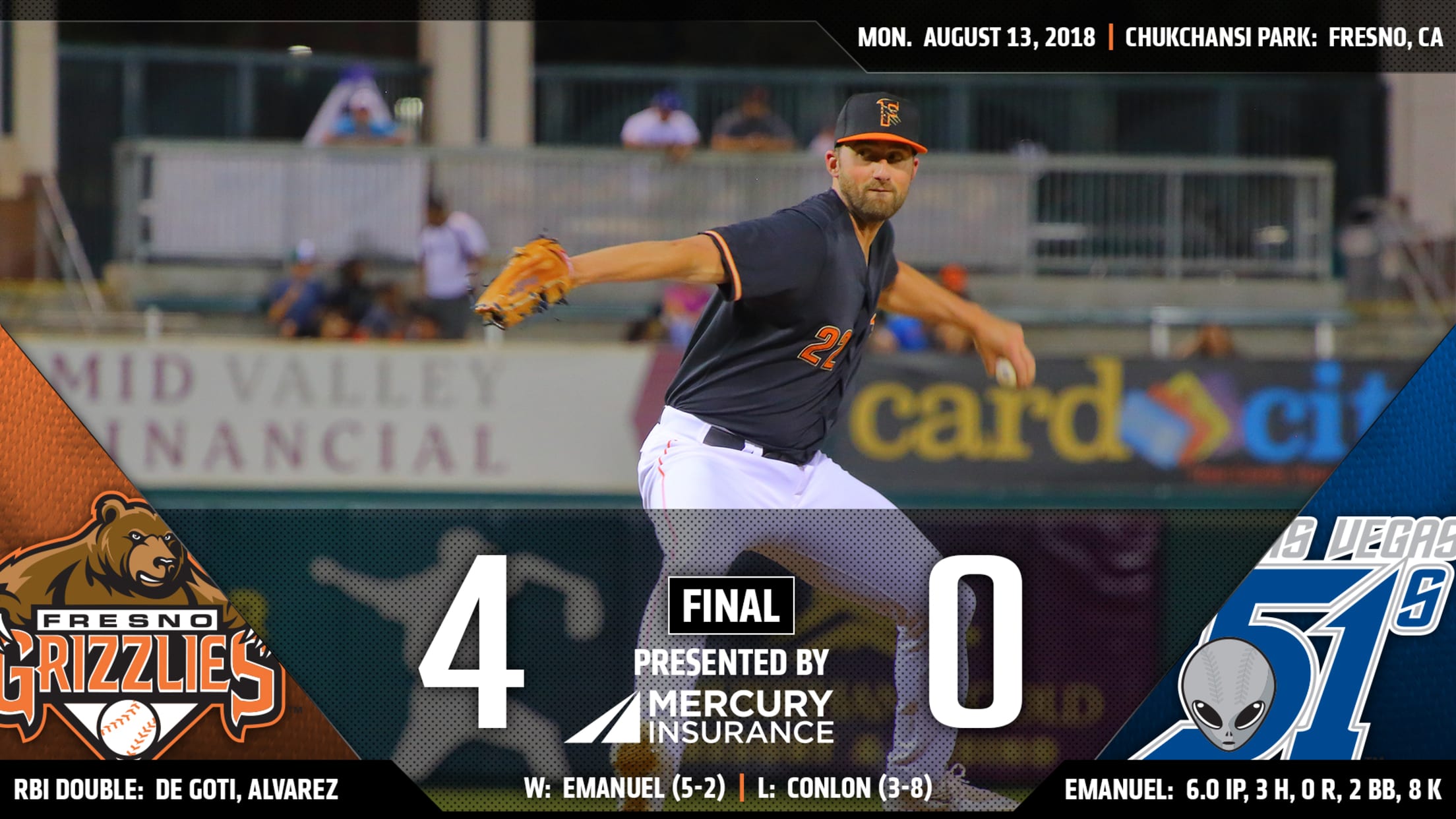 The Fresno Grizzlies (69-51) blanked the Las Vegas 51s (60-60) 4-0 Monday night from Chukchansi Park. For the first time since July 5th, the Grizzlies completed a shutout (also against the 51s). Fresno improved to 22-9 in series openers (12-4 at home) and dropped their magic number to 13. Starter
Fresno earns a series split after a 5-3 win over Omaha
Yordan Alvarez drills two-run homer in the 3rd; Pitching staff fans 11, brings season-total to 1,039 punchouts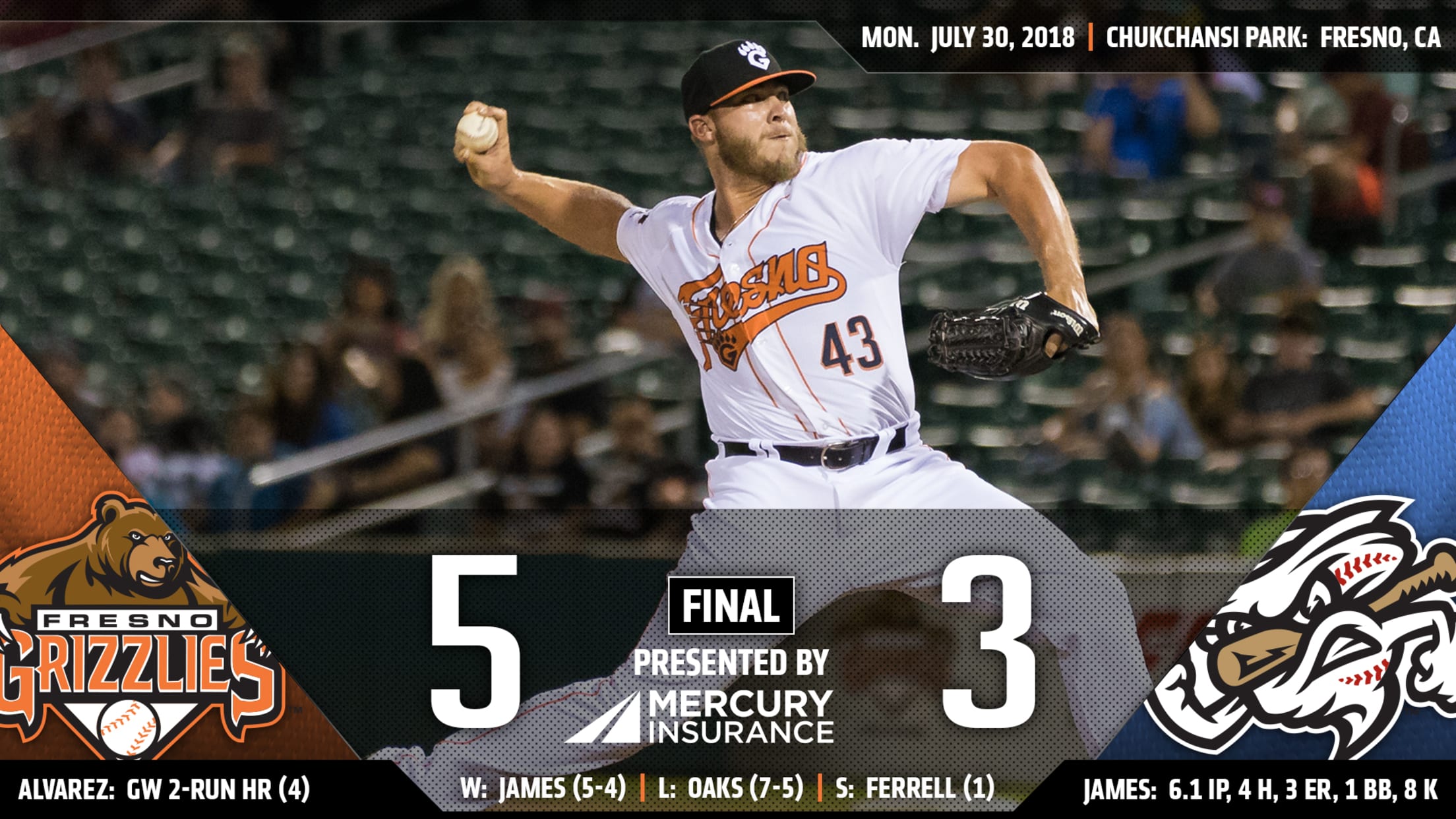 The Fresno Grizzlies (63-45) beat the Omaha Storm Chasers (49-58) 5-3 Monday night from Chukchansi Park. With the victory, Fresno earned a series split and improved to 8-8 in two-run affairs. The win kept the Grizzlies division lead over the Reno Aces at eight games with 32 left to play.Starter
Fresno crushes three homers in 7-4 loss at ABQ
Yordan Alvarez (3), Taylor Jones (4) and Jamie Ritchie (2) each go deep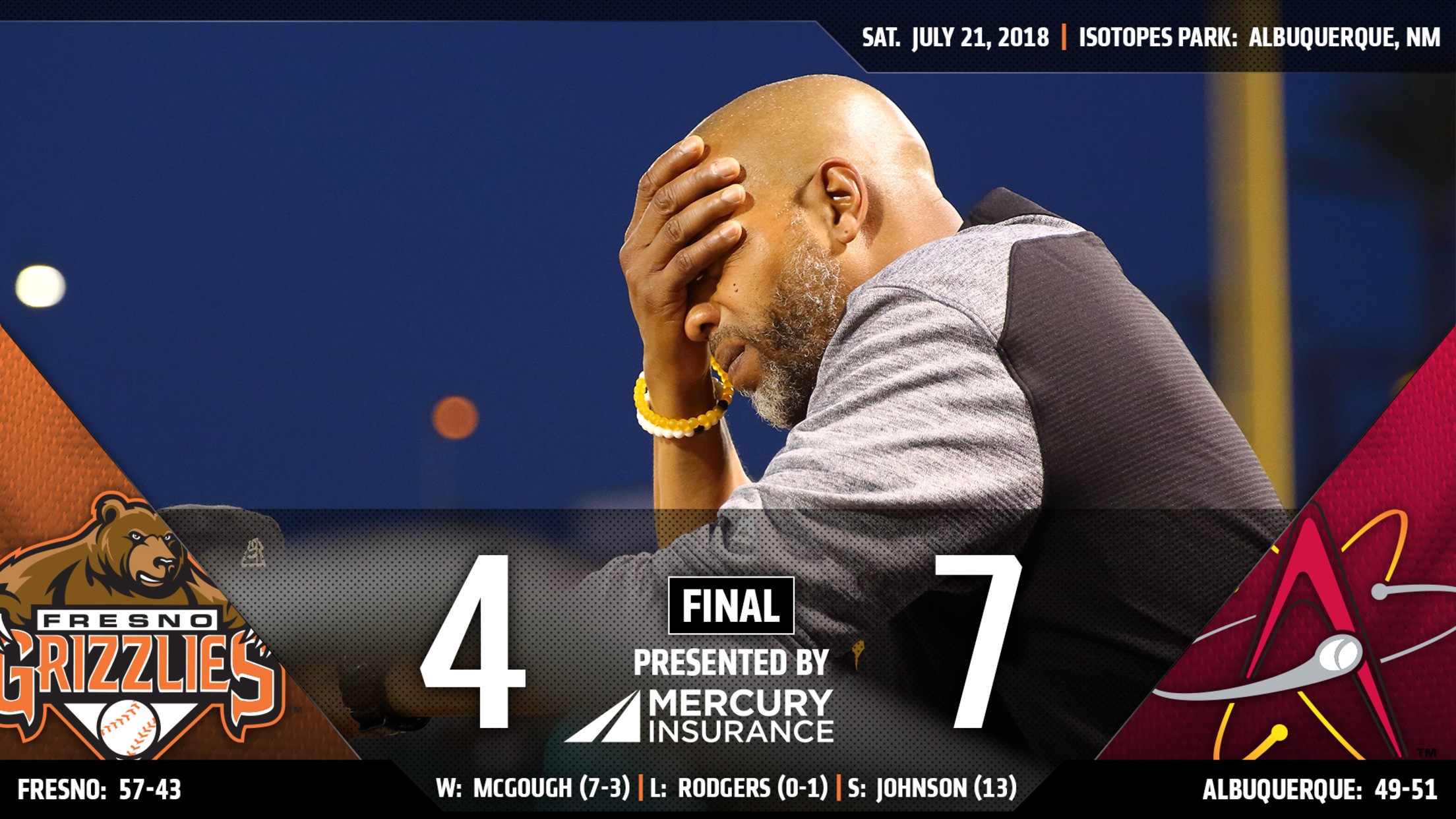 The Albuquerque Isotopes (49-51) defeated the Fresno Grizzlies (57-43) 7-4 in seven innings Saturday evening from Isotopes Park. In the 100th game of the year, Fresno dropped their first Saturday road game (7-1). Grizzlies starter Brady Rodgers (0-1) suffered the loss in his second Triple-A start since returning from Tommy
Tacoma tops Fresno 4-3 Thursday night
Yordan Alvarez and Jamie Ritchie each pick up their first Triple-A HR in the 2nd; Grizzlies division lead cut to 3.5 games
The Tacoma Rainiers (49-42) survived the Fresno Grizzlies (52-38) 4-3 Thursday night at Cheney Stadium. With the victory, Tacoma trails Fresno by three and a half games for the division lead. Rainiers starter Bryan Evans (2-1, win) twirled six innings of two-run ball. He scattered five hits and struck out
Hooks Gain Ground on SA
CC has won 14 of its last 19 & stands a season-best 15 games over .500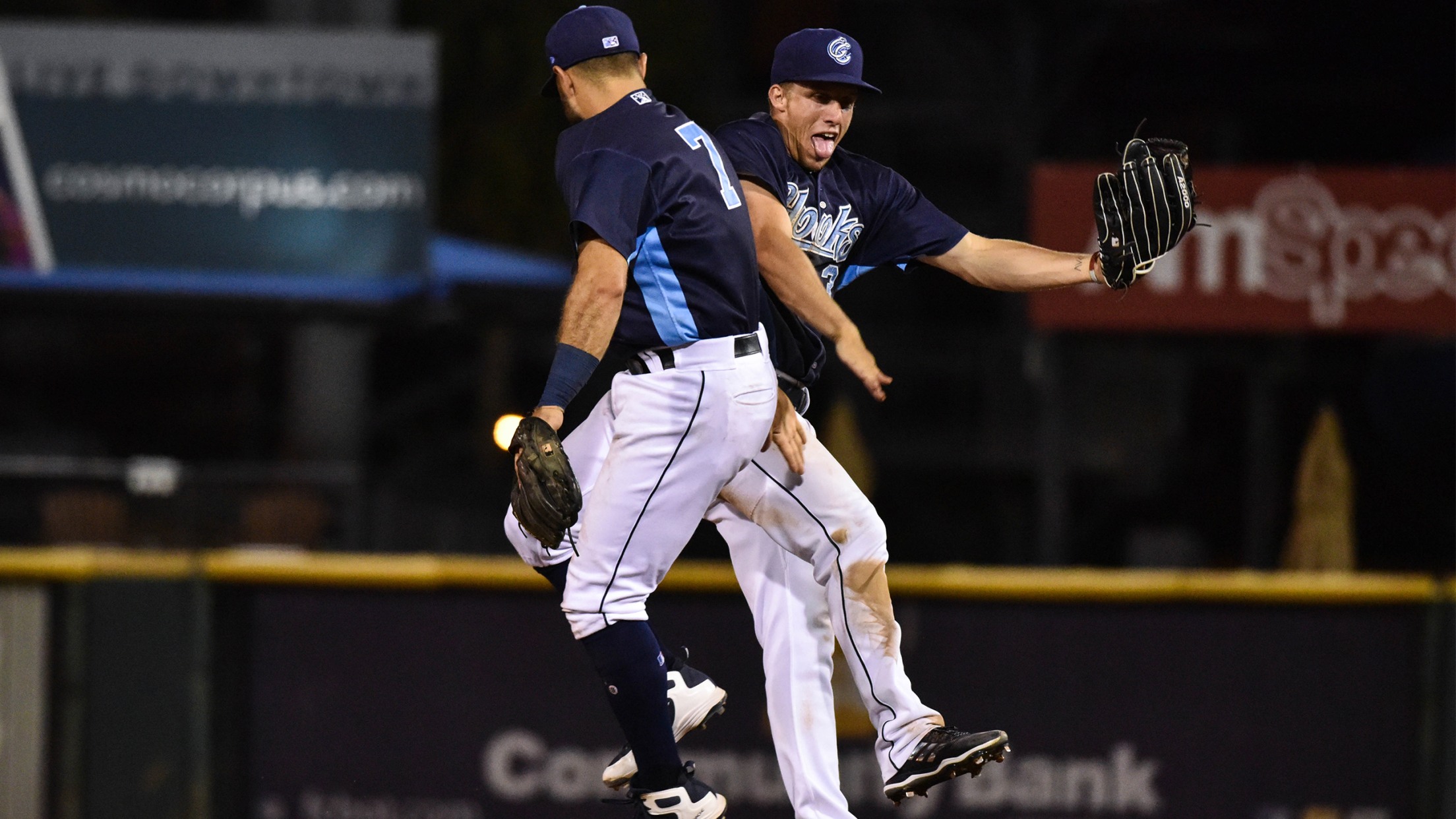 MIDLAND - Corpus Christi secured a series victory in the Permian Basin Friday night, besting Midland, 6-2, before 4,471 fans at Security Bank Ballpark.With the win and Frisco's walk-off triumph over San Antonio, the Hooks (41-26) are one game back of the first-place Missions with three to play in the
Hooks Edge Hounds in Opener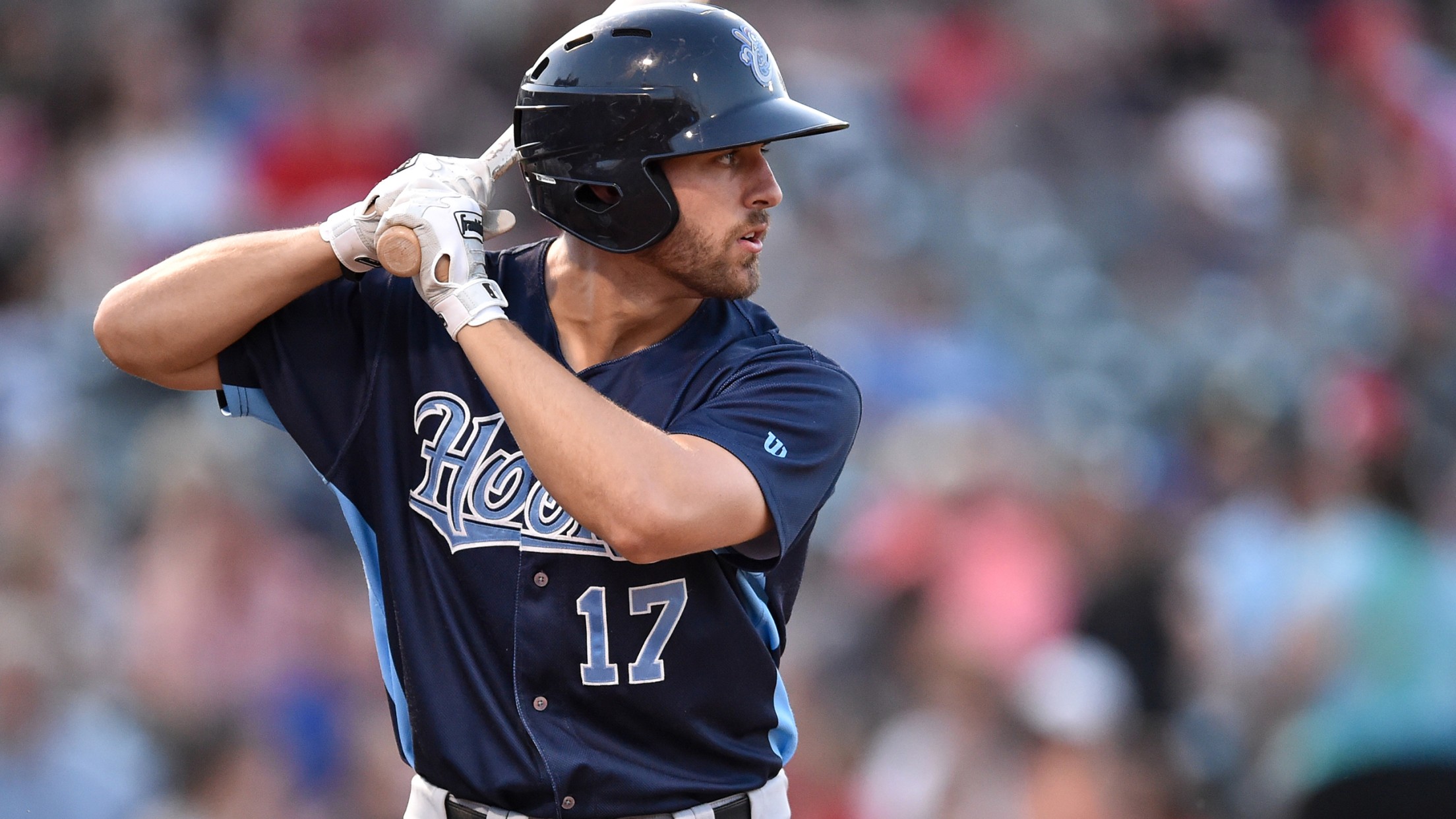 MIDLAND - A two-out RBI single by Jamie Ritchie in the eighth inning Wednesday night was the difference in Corpus Christi's 4-3 win over the RockHounds before 3,181 fans at Security Bank Ballpark.With San Antonio's extra-inning triumph over Frisco, the Hooks (39-26) remain two games back of the Missions with
Hooks Start Stand with a Bang
Cesar matches club record by extending hit streak to 27 games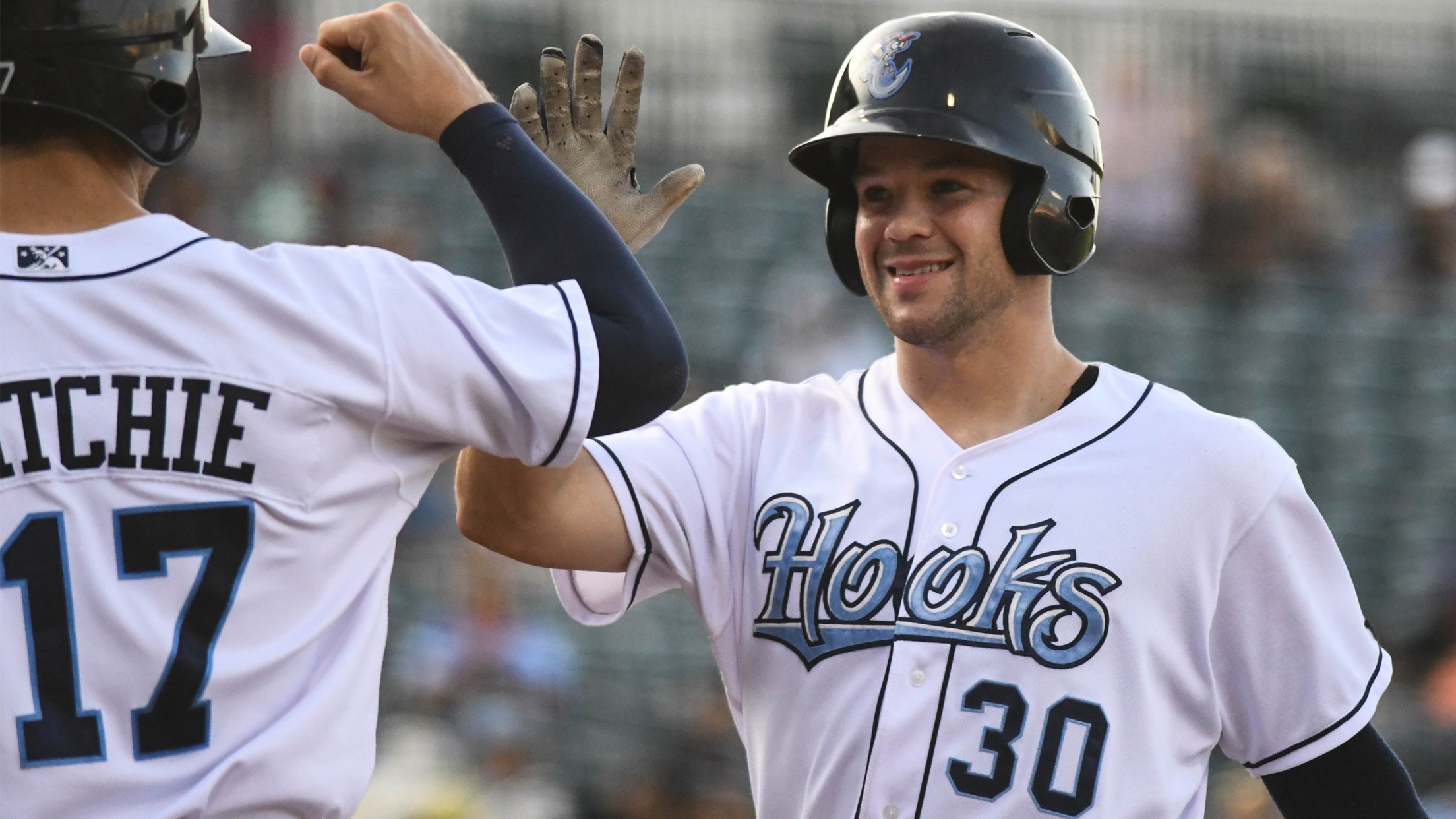 CORPUS CHRISTI - Chas McCormick belted a two-run home run in his first Double-A at-bat Tuesday night, and his club later engineered a six-run fourth inning as Corpus Christi cruised to a 9-2 victory over Frisco in the series opener at Whataburger Field.The Hooks (34-23) have won seven of their
Offense Ignites in the Ozarks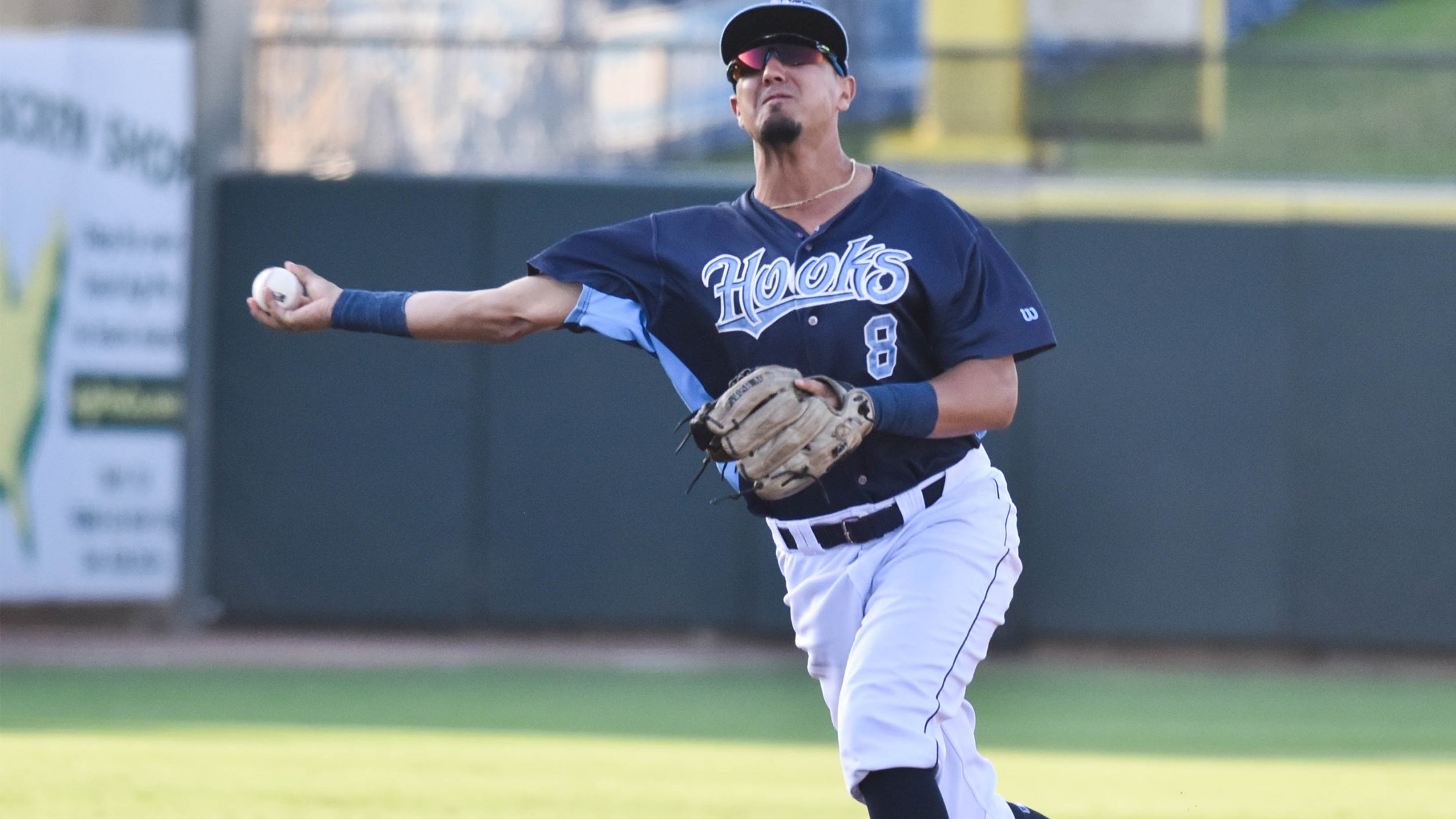 SPRINGFIELD, MO - Josh Rojas' bases-loaded triple spearheaded a six-run sixth inning Tuesday night, as the Hooks rolled to an 11-4 triumph over the Cardinals in the series opener at Hammons Field.Corpus Christi (30-21) has won five of its last seven games.
De Leon, Benjamin Fuel Frisco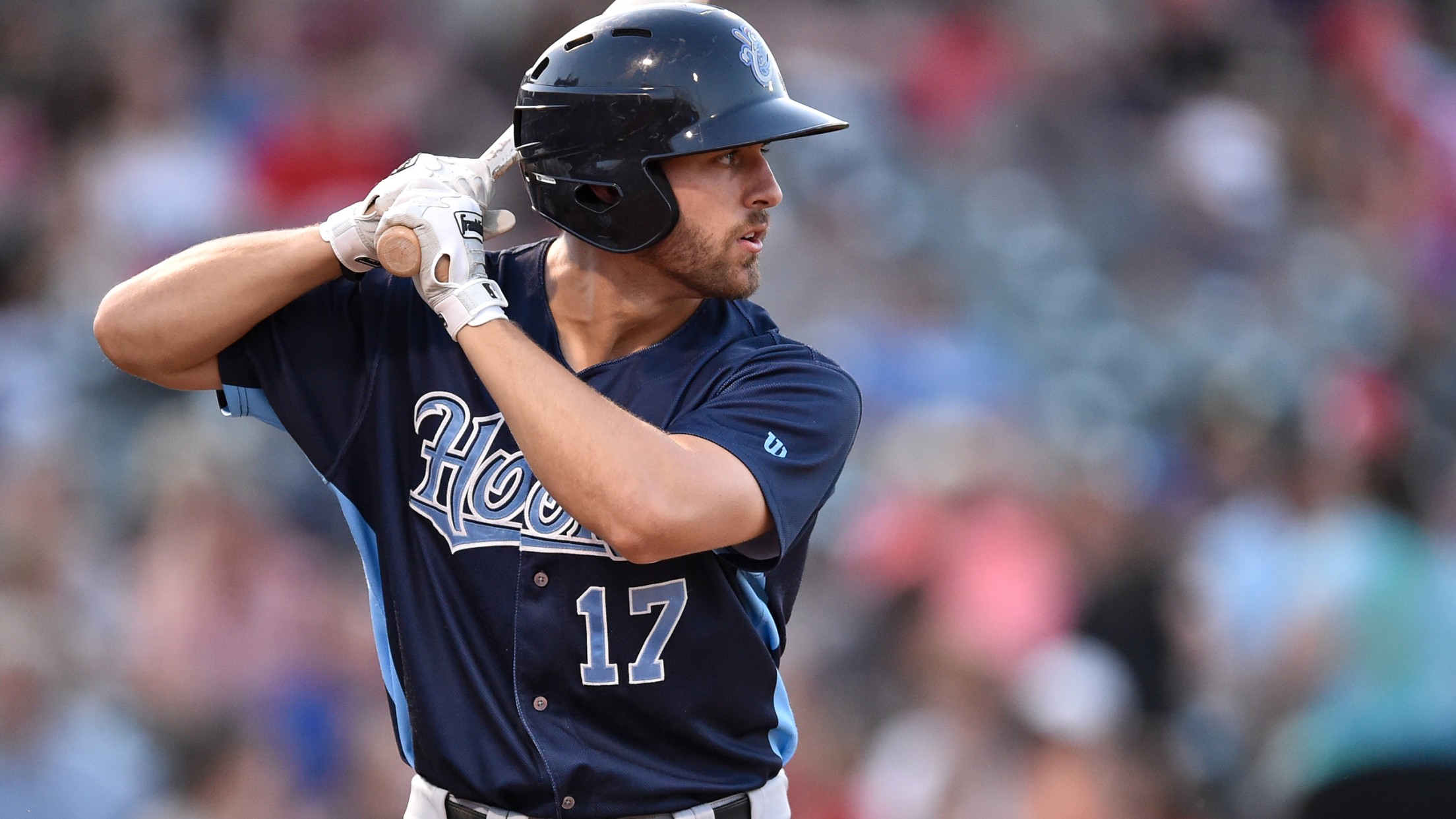 Michael De Leon plated five runs and Wes Benjamin hurled six innings of one-run ball as Frisco secured a series victory over Corpus Christi with a 7-3 triumph before 11,844 students on Monday afternoon at Dr Pepper Ballpark.All seven of the RoughRiders' (14-30) runs were notched with two outs.
Hooks Handcuff Hounds in Opener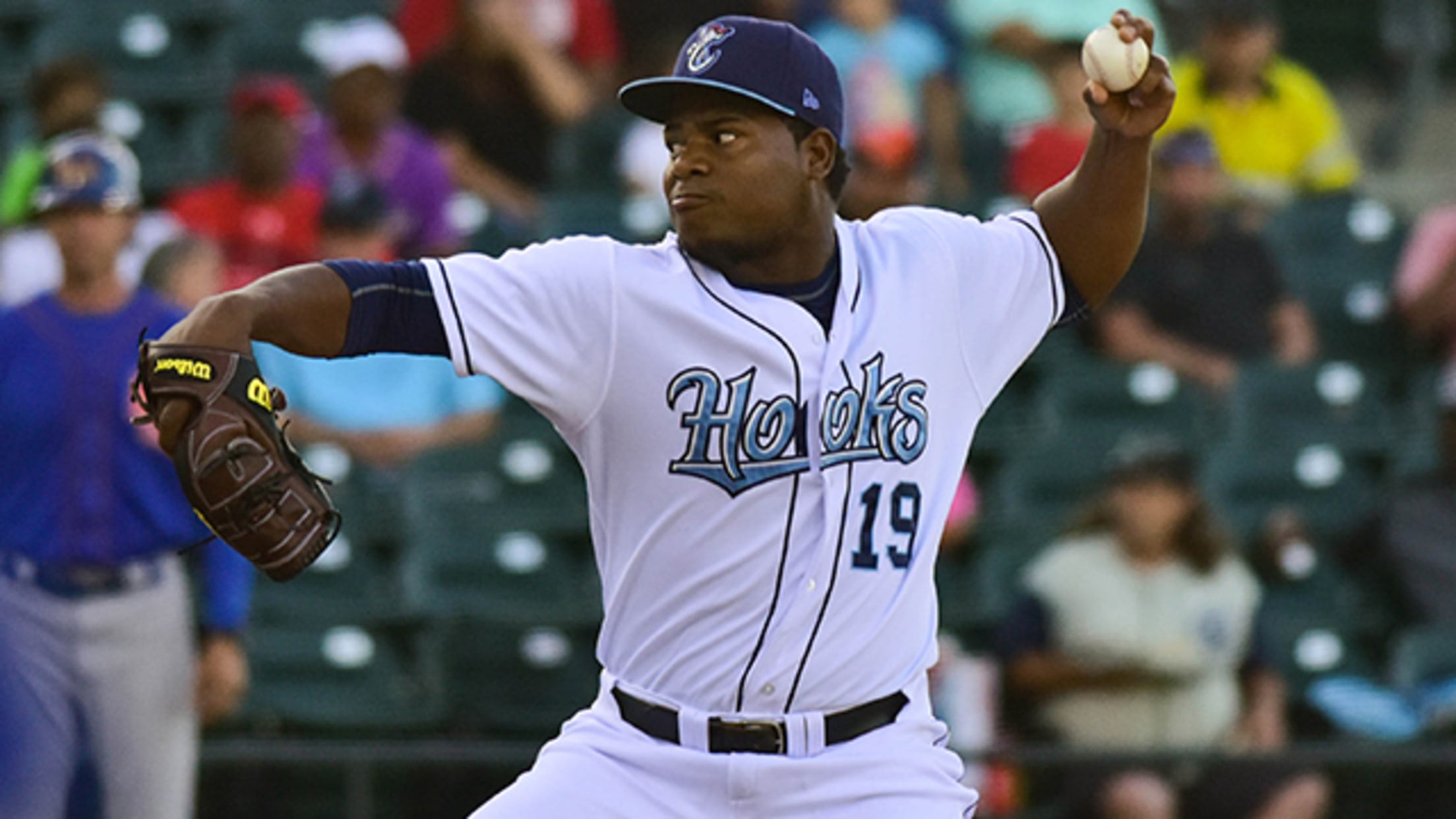 CORPUS CHRISTI - The Hooks received a strong start by Framber Valdez and shutout work from the bullpen, besting Midland 6-1 in Monday's series opener at Whataburger Field.Corpus Christi has won five in a row, and nine of the last 11. Valdez struck out seven, and permitted just two hits
Hooks Wallop Riders for Second Straight Night
CC has won 7 of the last 9 games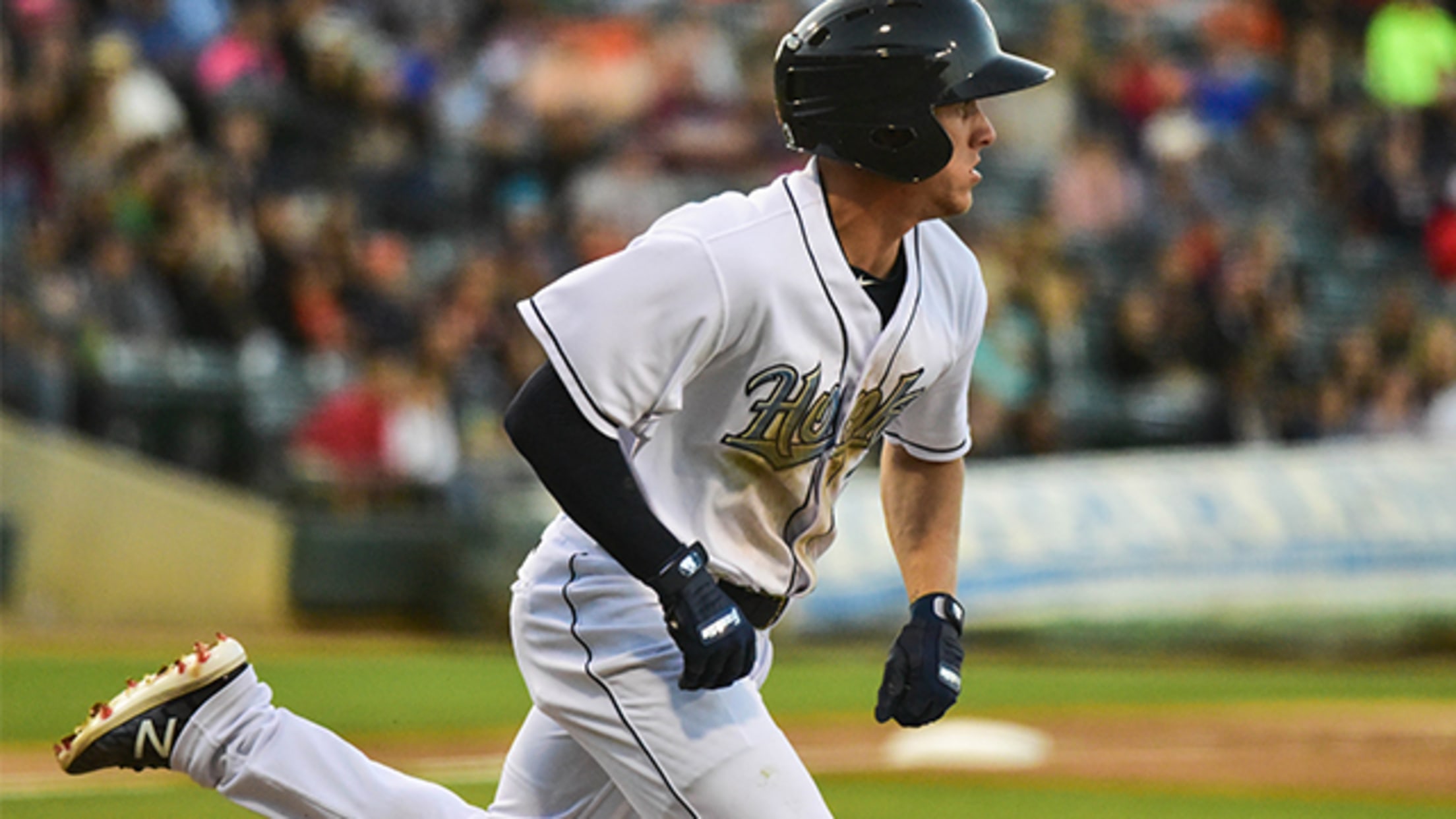 Corpus Christi scored seven times over the first two innings Saturday night, rolling toward a 10-3 triumph over Frisco at Dr Pepper Ballpark.The Hooks (9-6) secured the series victory by racking up 21 runs on 34 hits over the last two ballgames.
Alvarez Salvo Cements Walk-Off Win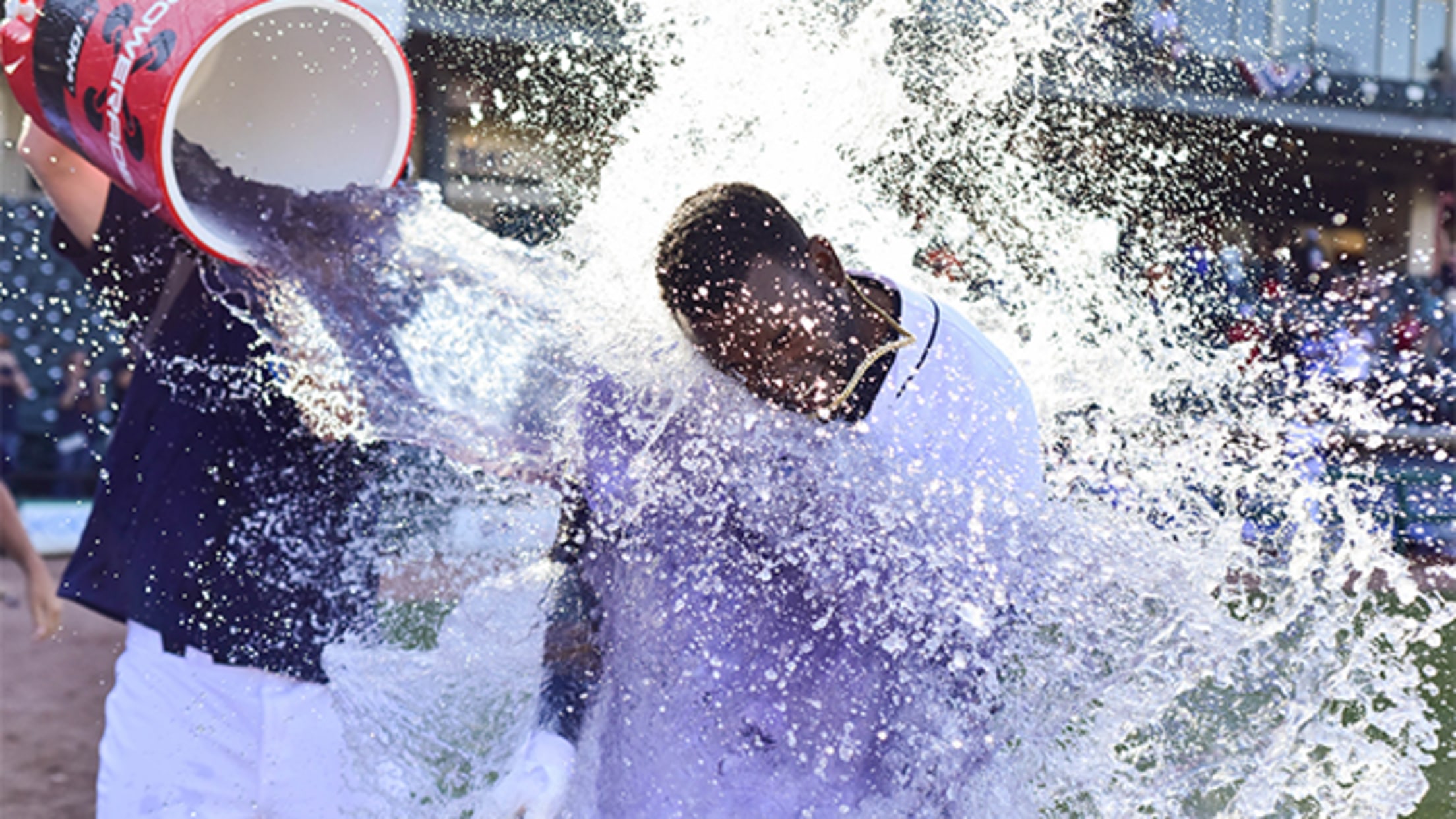 CORPUS CHRISTI - Yordan Alvarez belted a two-out three-run home run to left field in the 11th inning Sunday afternoon, lifting the Hooks to a 10-7 triumph over Arkansas before 4,346 fans at Whataburger Field.Corpus Christi jumped out to a 4-0 lead in the second against Andrew Moore thanks to
Frisco Withstands Late CC Rally to Forge Split
Ritchie authors first cycle in Hooks history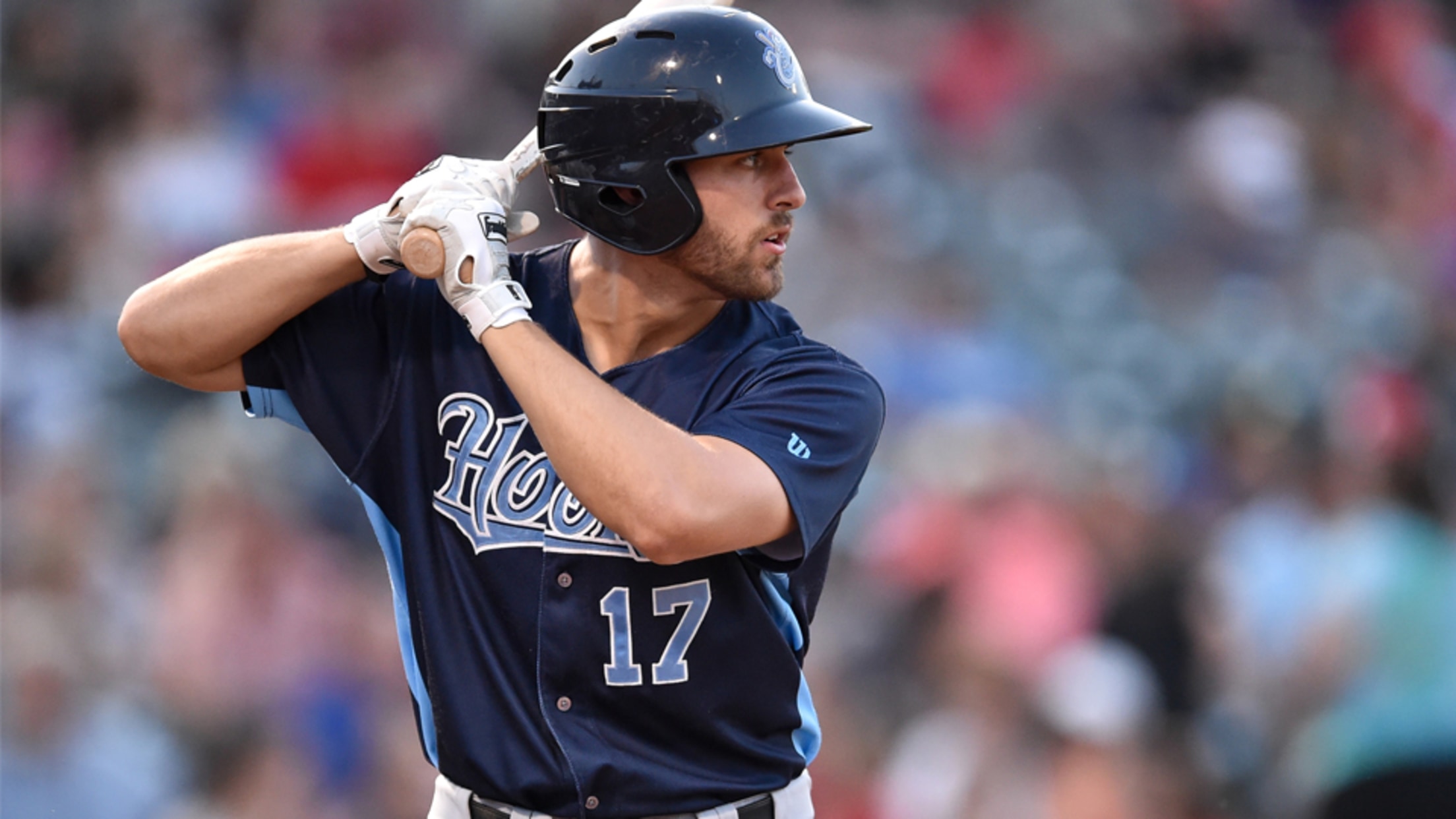 FRISCO - Despite a four-run Corpus Christi eighth, the RoughRiders secured a 7-6 victory on a wet Sunday night at Dr Pepper Ballpark.  With Corpus Christi (20-23, 54-59) trailing 7-2 in the eighth, catcher Jamie Ritchie penned a memorable moment in the club's history. With one down in the inning,
Ritchie completes Hooks' first cycle
Astros prospect triples in last at-bat to earn spot in record book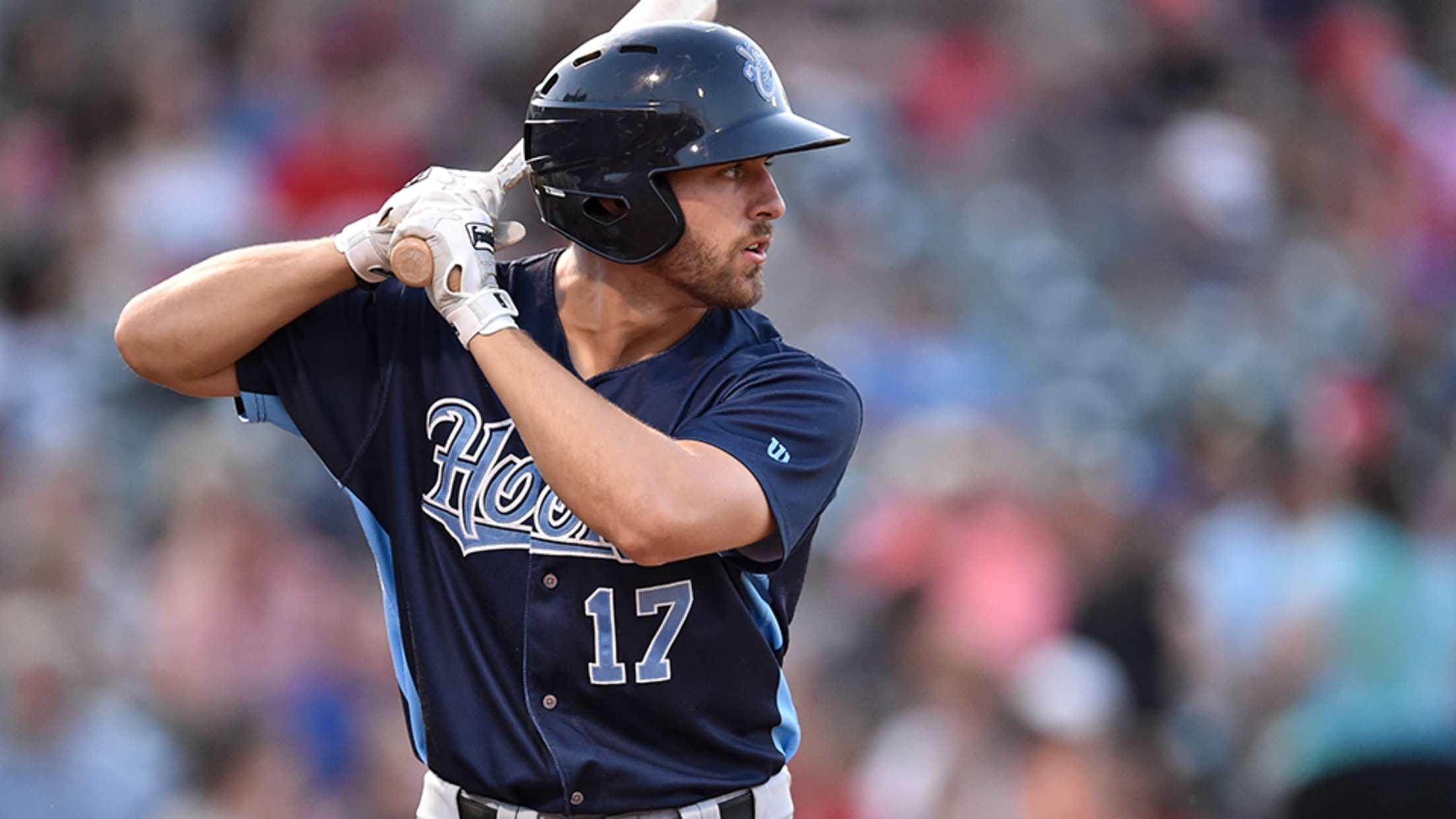 Jamie Ritchie may be a catcher and he may not be the fastest player on the diamond, but he doesn't necessarily fit the mold of slow, plodding athletes who wear the tools of ignorance. Even so, hitting a triple to complete the first cycle in Double-A Corpus Christi's 13-year history was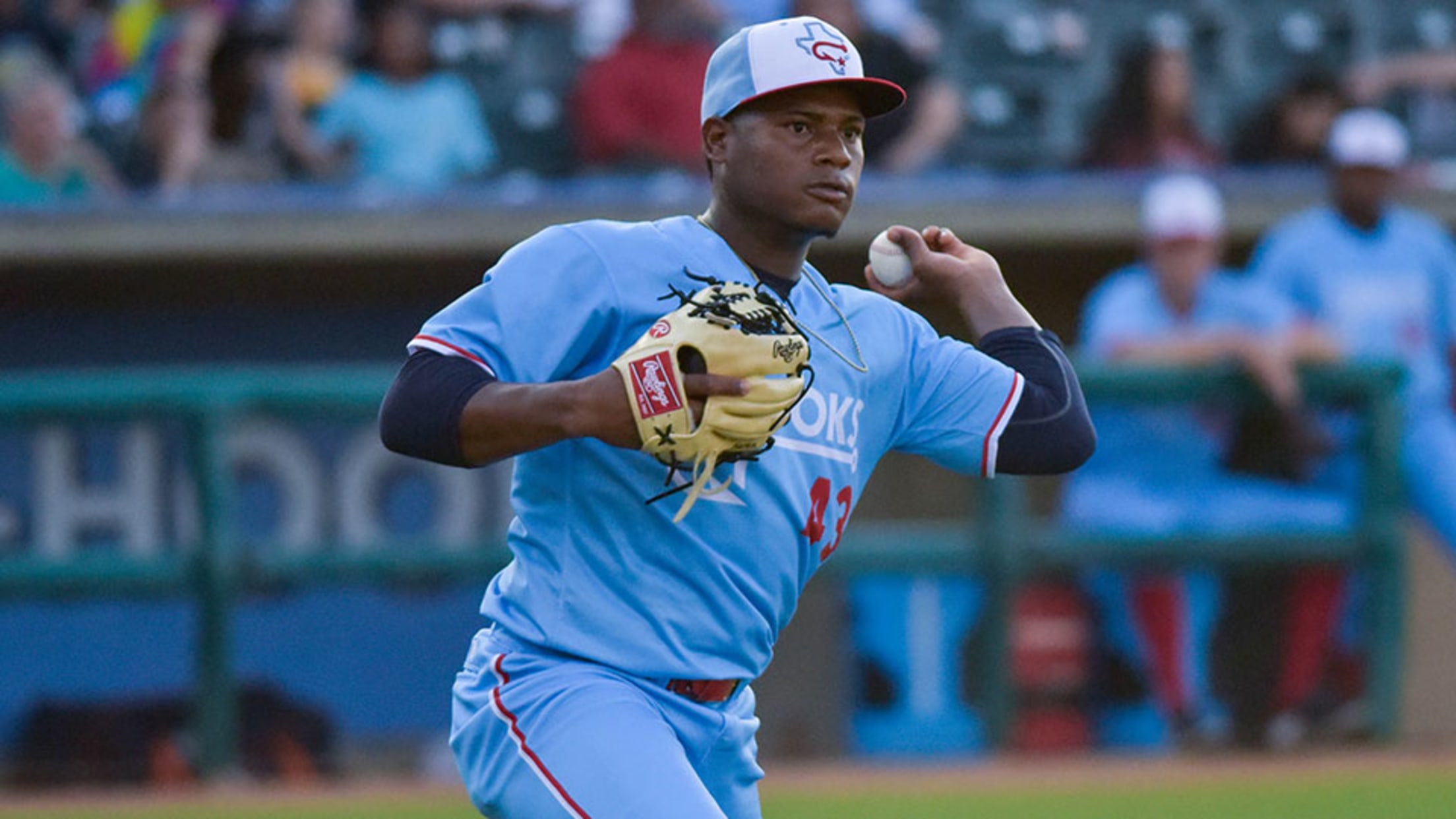 CORPUS CHRISTI - Lefty Yohander Méndez fired six innings of one-run ball Friday night as Frisco forced a split of the four-game series with a 3-1 triumph over the Hooks at Whataburger Field.
Davis Powers Hooks in Slugfest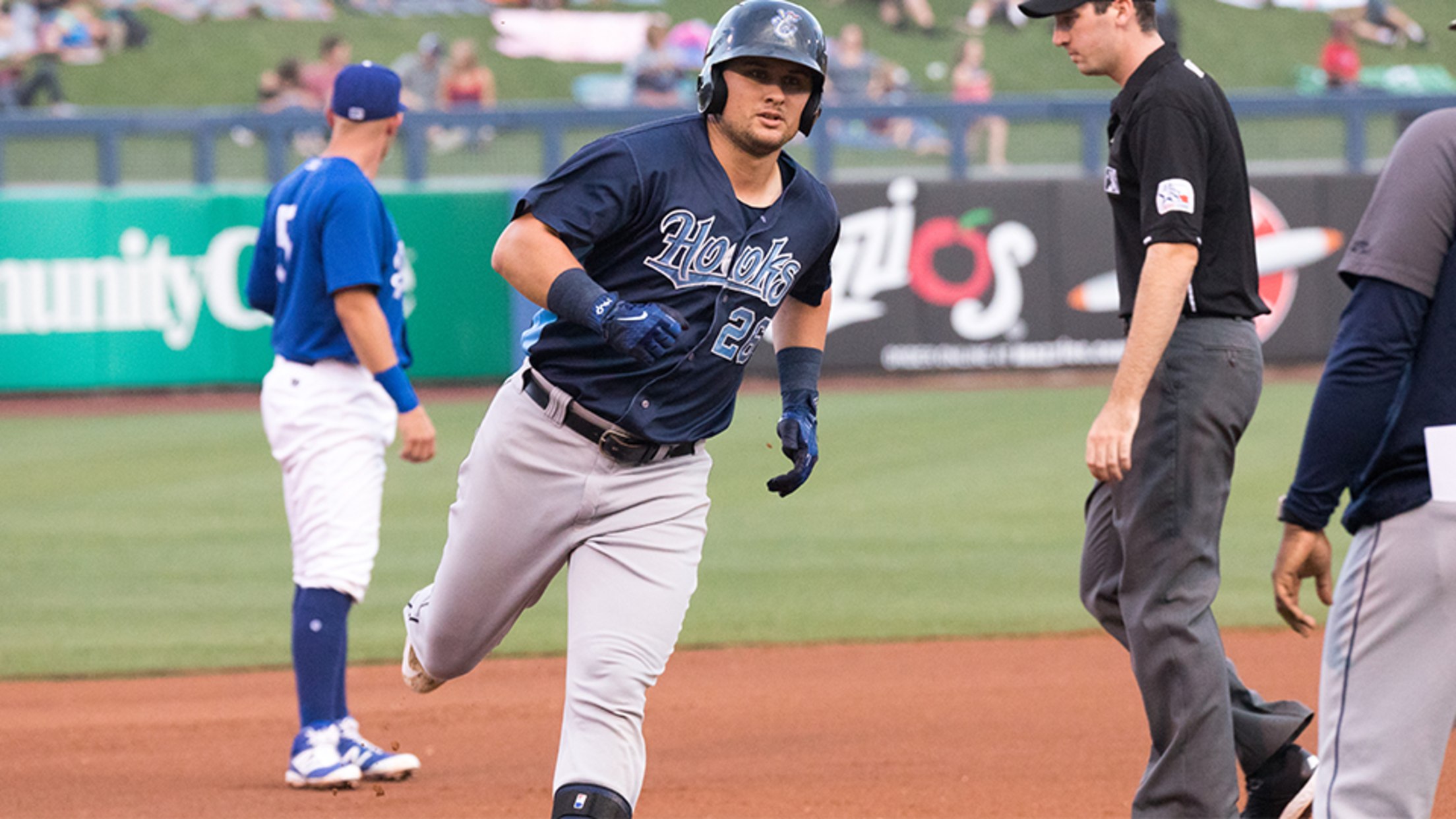 CORPUS CHRISTI - J.D. Davis belted two home runs, including a grand slam, Thursday night as Corpus Christi knocked off Frisco, 11-6, before 4,331 fans at Whataburger Field.The Hooks (30-29), who established a new season-high for runs scored, have won two of the first three games in this series.