Toolshed: 2018 Draft retrospective
Mize's move to Motor City, Royals' run on pitchers stand out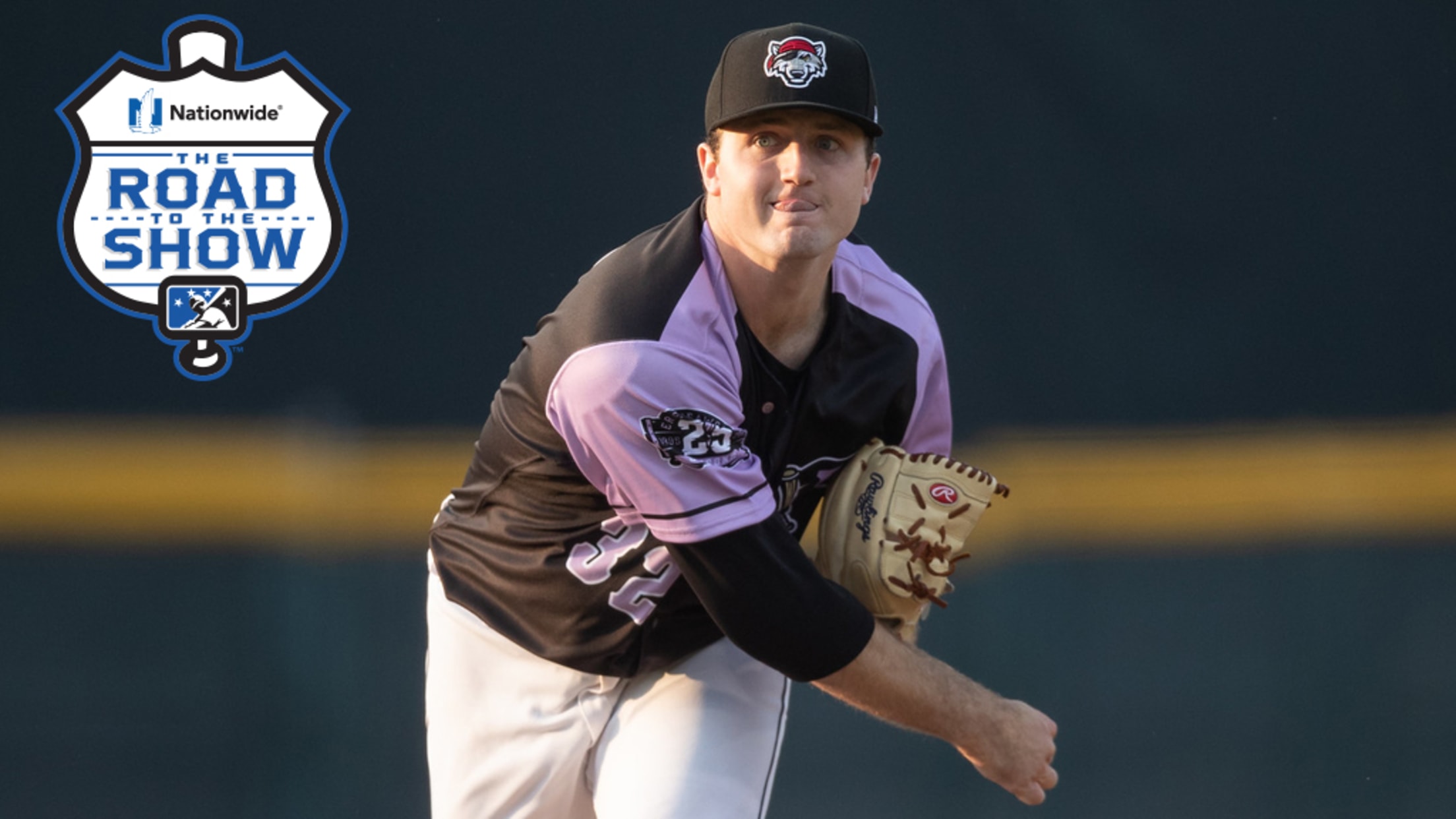 Casey Mize posted a 0.94 WHIP over 21 Minor League starts last season. (David Monseur/MiLB.com)
The 2020 First-Year Player Draft is coming, and without regular-season baseball being played yet due to the coronavirus pandemic, it will be the first big Major League Baseball event of the summer. The 2020 edition will take place June 10-11 and be limited to five rounds this year, but it
The 2020 First-Year Player Draft is coming, and without regular-season baseball being played yet due to the coronavirus pandemic, it will be the first big Major League Baseball event of the summer. The 2020 edition will take place June 10-11 and be limited to five rounds this year, but it still will mark the beginning of the professional careers for several of the game's future top prospects. To get fans prepared for the big day on the baseball calendar, Toolshed will spend the coming weeks looking at Drafts of the recent past. The <a href="https://www.milb.com/news/toolshed-2015-major-league-baseball-draft-retrospective-313414088" target="blank" >2015,_ <a href="https://www.milb.com/news/toolshed-2016-major-league-baseball-draft-retrospective-313445816" target="blank" >2016_ and <a href="https://www.milb.com/news/toolshed-2017-major-league-baseball-draft-retrospective" target="blank" >2017 retrospectives can be found at those links. This edition covers the 2018 Draft._
Biggest storyline at the time -- Back to college: If the top of the 2017 Draft was dedicated to prep players, then the 2018 edition went solidly the other way. College players were taken with the top five selections and in seven of the top 10 spots: No. 1 Casey Mize (Tigers), No. 2 Joey Bart (Giants), No. 3 Alec Bohm (Phillies), No. 4 Nick Madrigal (White Sox), No. 5 Jonathan India (Reds), No. 9 Kyler Murray (Athletics) and No. 10 Travis Swaggerty (Pirates). Part of that says something about the high-school group going into this Draft. Jarred Kelenic was the top prep player picked by the Mets at No. 6, but as much promise as the outfielder brought to the table, he faced some questions coming from a cold-weather state. (He was, in fact, the first Wisconsin high-schooler taken in the top 10 picks in Draft history.) Top pitcher picks Ryan Weathers (No. 7), Carter Stewart (No. 8) and Grayson Rodriguez (No. 11) were more projection-based at a time when many acknowledged the risk of taking high-school arms. (Brady Aiken , Tyler Kolek and Riley Pint are just some recent pitchers to fit the rule.) Compare that to the college crop that seemed much closer to sure things. Mize, with his three plus pitches, was a rarity coming out of Auburn. Bart had the offensive and defensive chops to take over for Buster Posey in San Francisco. Bohm blended his hit and power tools at Wichita State. Madrigal had the best hit tool of any player in a recent Draft and was coming out of the eventual College World Series champion at Oregon State. Every once in a while, high-school players look like the types of big-time talents who can jump over their more experienced college counterparts. That just wasn't the case in 2018.
Biggest storyline since -- Who didn't stick around: How this Draft is remembered going forward could come down to a completely different sport or even a completely different country. Oakland's decision to take Murray with a top-10 pick was a bit of a first-round shock. The University of Oklahoma star was MLB.com's 36th-ranked Draft prospect that year. What he had going for him was his obvious athleticism as a college quarterback, highlighted by a plus-plus run tool, and there was hope he could push his ceiling higher with more at-bats in pro ball. With Baker Mayfield leaving Norman, Murray wanted one more crack at being a starter on the gridiron, and the A's allowed him that chance, even after signing him for $4.66 million (just slightly under slot). You likely know the rest. Murray won the Heisman Trophy in the fall, became the No. 1 overall pick to the Cardinals in the following NFL Draft and hasn't factored into the A's plans since. He's currently listed an inactive, meaning Oakland still holds his baseball rights, but after winning the NFL Offensive Rookie of the Year award, it's unlikely the Arizona signal-caller will move back to the diamond any time soon. His pick was just a Draft Day bet that didn't pay off for the A's.
They weren't the only ones in the top 10 to lose a player. The Braves went with Stewart at No. 8 in the hopes of adding the Florida prep righty to their mix of budding pitching talent. However, the club became worried about a potential wrist issue and reportedly offered Stewart just $2 million, well below the $4,980,700 slot money assigned to the pick. Stewart chose to go to junior college in the hopes of reentering the 2019 Draft, only to sign a six-year deal reportedly worth more than $7 million with the Fukuoka SoftBank Hawks in Japan. Time will tell whether the deal helps Stewart's career, but at the very least, it guaranteed him more money than he'd have gotten from Atlanta alone. The success of his endeavor could determine whether other young players try to follow in his footsteps, and if he's especially successful, the memory of this Draft could go from the one in which the A's lost Murray to the one in which the Braves lost Stewart. (For good measure, the D-backs didn't sign Matt McLain at No. 25 nor did the Dodgers sign J.T. Ginn at No. 30.)
How the first overall pick aged -- Casey Mize, right-handed pitcher, Tigers: Two years after hearing his name called first, the former Auburn hurler sits as MLB.com's No. 7 overall prospect, making him the highest-ranked prospect on the board from the 2018 Draft. His splitter remains a plus-plus pitch, and his low-to-mid-90s fastball and solid slider also earn plus grades. With impressive control thrown in for good measure, Mize's scouting report stands out just as much today as it did in June 2018. He also has the results to back up those reports. The 23-year-old righty posted a 2.55 ERA and a 0.94 WHIP with 106 strikeouts and only 23 walks over 109 1/3 innings between Class A Advanced Lakeland and Double-A Erie in 2019. His first Eastern League start was famously a no-hitter. Tigers fans were chomping at the bit to see Mize make the Motor City soon before the season was put on pause. With all that said, it's clearly still the early days of the 2018 evaluation stage. As good as Mize was last year, he did miss time with a shoulder issue and potential injury concerns could hold him back from reaching his ceiling. For now, he remains the face of the Tigers' rebuild and the potential ace of the next contender in Detroit.
Biggest dropoff -- Jonathan India, first round, fifth overall: Twenty-one of the Top 100 prospects came from the 2018 Draft. That's a solid number. It also speaks to how few players have graduated from the class so far. (Nico Hoerner was the first to reach the Majors, but has yet to accrue enough at-bats to graduate.) What's more, it highlights how many have climbed past India in two short years, considering the Reds infielder is out of the Top 100 completely. India was taken fifth after a breakout junior year at Florida in which he hit .350/.497/.717 with 21 homers, but those offensive skills haven't quite transferred over to the pro ranks. He produced a .259/.365/.402 line with 11 homers last season between Class A Advanced Daytona and Double-A Pensacola. Those could have been due to wrist issues suffered earlier in the spring that didn't cause him to miss games but did hurt his overall production, but either way, he doesn't have a tool that rates higher than 55 on the 20-80 scouting scale right now. India remains a third baseman but has seen some time at second base in order to get out of Eugenio Suárez's shadow. More time away from the wrist problems could allow for a bounceback as he gains experience in the professional ranks, but seeing players like Kelenic, Rodriguez and Logan Gilbert (to name only three) zip past India despite being picked behind him only serves to make Cincinnati's decision look rougher.
Biggest early-round steal -- Alek Thomas, second round, 63rd overall: Arizona's farm system has made a notable jump in quality over the past year, and one big reason for that jump is having its 2018 second-rounder develop into the No. 49 overall prospect. The son of White Sox director of conditioning Allen Thomas was seen as a good runner with plus speed and impressive defensive ability in center field but below-average power, a seemingly weak arm, a relatively small frame at 5-foot-11 and his status coming out of a cold-weather state in Illinois kept him from being a first-round talent. MLB.com had him ranked 41st in the class, and he fell more than 20 spots below that to the D-backs. He quickly made that look like a good pick by batting .312/.393/.479 with 46 extra-base hits in 91 games at Class A Kane County last season. The highs and lows of his profile are still there, but he looks much more like a plus hitter these days than he did in high school. That improved offensive ability, along with the potential for him to stick at a premium spot up the middle, has sent his stock soaring. If he can keep that up at the higher levels after finishing up at Class A Advanced Visalia, Thomas has everyday center fielder written all over him. He's just the type of prospect burgeoning farms need to hit on, making him a key part of Arizona's rise.
Quick shoutout to Josiah Gray here as well. The Division II Le Moyne College standout went 72nd overall to the Reds following a two-way career in school. Now working as a full-time pitcher, he's the No. 67 overall prospect in baseball and ranks third in a loaded Dodgers system.
Best pick, rounds 6-40 -- Tarik Skubal, ninth round, 255th overall: It's the type of one-year rise rarely seen in these or any times. Skubal missed all of 2017 at Seattle University following Tommy John surgery, was a 29th-round pick by the Brewers that year and decided to return to school, only to struggle with control as a redshirt junior. MLB.com didn't have him ranked among the top 200 prospects in the Draft, and the Tigers were able to snag him with the 255th pick. Detroit must have known what it had somewhat because it inked the 6-foot-3 left-hander to a $350,000 signing bonus, almost $200,000 above slot for that selection. Skubal quickly made even that look like a bargain and eventually finished with 179 strikeouts over 122 2/3 frames between Class A West Michigan, Class A Advanced Lakeland and Double-A Erie. Beyond the results, Skubal shows easy starter-caliber stuff with a low-to-mid-90s fastball, plus slider, above-average curve and above-average changeup. What's more, his control has improved significantly the further he's gotten from Tommy John. The Tigers had enough pitching to build around with Mize, Matt Manning and Alex Faedo in the system, but Skubal has emerged as a major candidate to fill a middle rotation spot in Detroit at the same time as the other three. The left-hander who had 254 players picked ahead of him is now the No. 46 overall prospect.
Best picks by organization -- Royals: It's tempting to go with the Tigers here for taking the right top pick in Mize and getting another Top-100 prospect in Skubal. But how often do you see an system basically remade in a single Draft? Seriously, look at Kansas City's prospect rankings right now. Six of the club's top-10 prospects came from the 2018 Draft. There was a clear strategy in the Royals' war room too. The club's first five selections were college pitchers in Brady Singer , Jackson Kowar , Daniel Lynch , Kris Bubic and Jonathan Bowlan. Singer (No. 59) and Lynch (No. 61) are Top-100 prospects. Bubic just led the Minors in strikeouts in his first full season. Bowlan sits as the ninth-ranked Royals prospect, three spots behind outfielder Kyle Isbel -- a 2018 third-rounder out of UNLV. It certainly helped that Kansas City had the highest bonus pool in 2018, thanks to two compensation picks and one Collective Balance Round A selection. The bigger pool allowed them to swoop in for Singer, ranked the No. 2 Draft talent that year, and ink him for $4.25 million -- $900,000 above his slot. The Royals don't have a top-10 system because of their selections here, but they someday could legitimately sport an entire rotation from one Draft alone. Just the thought of that gives them the advantage.
What to watch next from the Class of 2018: It's no secret baseball is going to look different if/when it returns in 2020. Active rosters could expand to as big as 30. Taxi squads could carry as many as 20 more. Also they might be playing a shorter season, and shorter seasons open up the possibilities for more clubs to contend in a smaller sample. Will that push prospects up quicker? Madrigal was a candidate to be Chicago's Major League second baseman, and he could win that outright if the club's window for contention is smaller. Mize, Bart, Bohm, Skubal, Kelenic, Gilbert, Singer and Gray all finished their first full seasons at Double-A. Do they get a taxi-squad spot, or is it possible they jump the line completely and get to debut as in a unique season? Rookie stories are always good ones, but for more than a few in the Class of 2018, their rookie stories could trump any others in recent memory.
Sam Dykstra is a reporter for MiLB.com. Follow and interact with him on Twitter, @SamDykstraMiLB.