Wilmer Font Named PCL Pitcher of the Year
Font becomes second Oklahoma City pitcher to receive the honor since 1998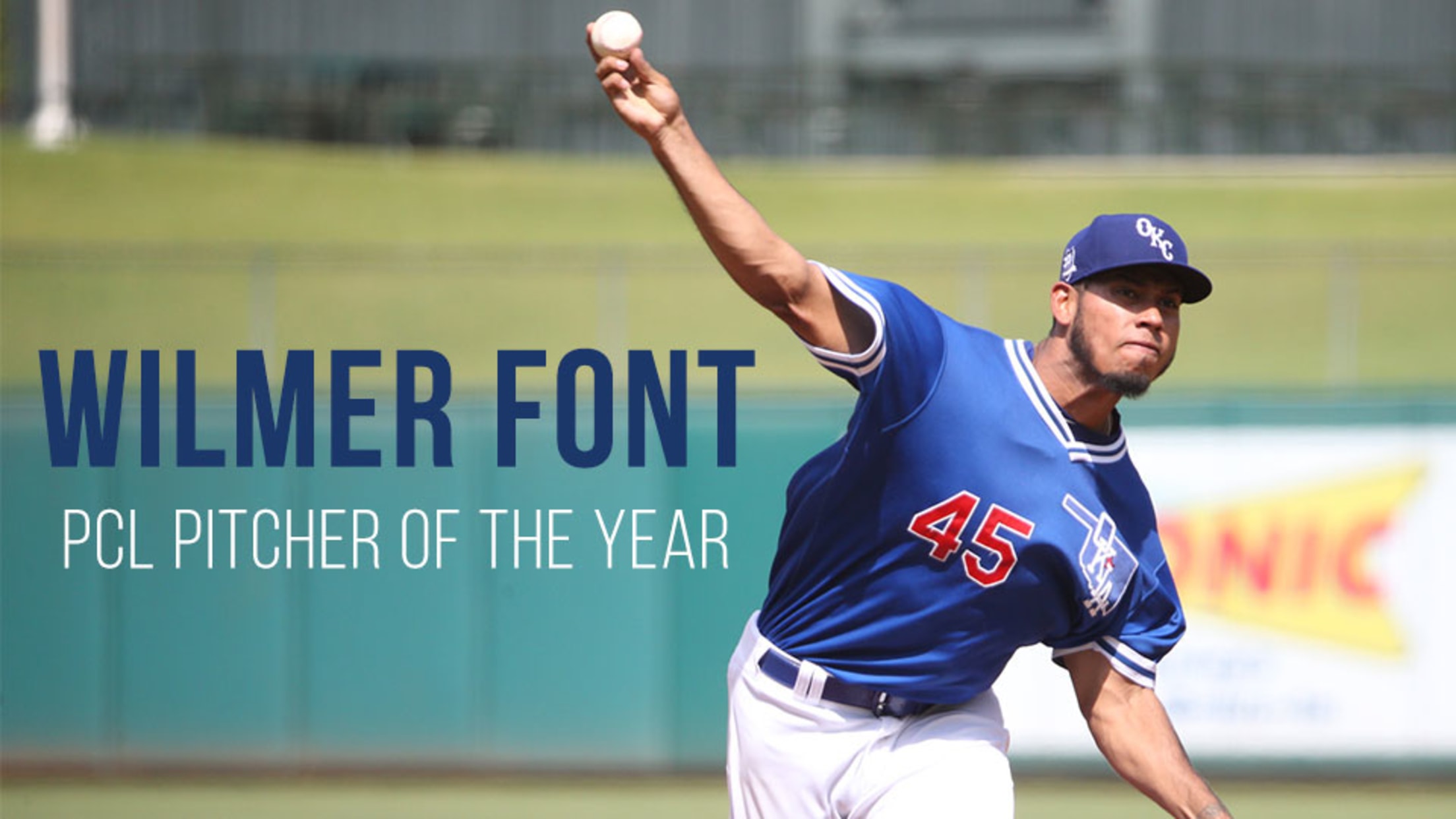 OKLAHOMA CITY - Oklahoma City Dodgers right-handed starting pitcher Wilmer Font has been named the 2017 Pacific Coast League Pitcher of the Year, the league announced today.Font, 27, is the second Oklahoma City pitcher to receive PCL Pitcher of the Year recognition since the team rejoined the PCL in 1998
OKLAHOMA CITY - Oklahoma City Dodgers right-handed starting pitcher Wilmer Font has been named the 2017 Pacific Coast League Pitcher of the Year, the league announced today.
Font, 27, is the second Oklahoma City pitcher to receive PCL Pitcher of the Year recognition since the team rejoined the PCL in 1998 and is the first Oklahoma City pitcher since Michael Kirkman in 2010 to win the award.
Font was named to the 12-man, end-of-season 2017 All-PCL Team earlier this week and has emerged as one of the PCL's top pitchers this season. He paces all of Triple-A and ranks second in the Minors with a career-high 178 strikeouts. He set Oklahoma City's all-time single-season strikeout record since the team rejoined the PCL in 1998, surpassing Matt Perisho's 150 strikeouts during the 1999 season. Font (10-8) has also recorded five games with at least 10 strikeouts, tying Oklahoma City's single-season record set in 2016 by José De León.
The starting pitcher from La Guaira, Venezuela leads the PCL with a 3.42 ERA, 1.11 WHIP and .222 opponent average. He ranks tied for the league lead with 25 starts, tied for third with 10 wins and fifth with 134.1 innings pitched. He leads all PCL starting pitchers with 11.93 strikeouts per nine innings.
Font racked up a team-record 15 strikeouts May 15 against Sacramento at Chickasaw Bricktown Ballpark, marking the most strikeouts in a single game by an Oklahoma City pitcher since the team rejoined the PCL in 1998. He surpassed the previous Oklahoma City team record of 14 strikeouts set by Chuck Smith June 23, 1999 in Game 2 of a doubleheader at Memphis. He also put together the highest single-game strikeout total by a PCL pitcher since Sacramento's Dallas Braden recorded 17 strikeouts Aug. 27, 2007 against Colorado Springs.
Font was also named a midseason PCL All-Star and started the Triple-A All-Star Game July 12, retiring the side in the first inning on four pitches. He was named PCL Pitcher of the Week twice this season, taking home the award for the periods of May 15-21 and July 10-16. He is in his ninth professional season and second in the PCL after signing with the Dodgers as a free agent Dec. 21, 2016.
The OKC Dodgers wrap up the home portion of their 2017 schedule at 7:05 tonight against the New Orleans Baby Cakes at Chickasaw Bricktown Ballpark on a special "Throwback Thursday." Dodgers players and coaches will wear special retro Oklahoma City 89ers jerseys and hats throughout the night and their game-worn jerseys will be auctioned off via a silent auction to benefit the OKC Dodgers Baseball Foundation.
The final home game of Chickasaw Bricktown Ballpark's 20th season also falls on a $2 Thursday, featuring $2 soda, water and beer from a line of Budweiser and Pepsi products. Fireworks will follow the game, presented by Francis Tuttle.
Tickets for tonight's game are available through the OKC Dodgers ticket office located on South Mickey Mantle Drive, by phone at (405) 218-1000, or by visiting okcdodgers.com.