PawSox to host "Drive-Thru Giveaways" at McCoy Stadium
PawSox fans must preregister to participate in Drive-Thru Giveaways to receive bobblehead and jersey giveaways planned for the 2020 season.
PawSox fans must preregister to participate in Drive-Thru Giveaways to receive bobblehead and jersey giveaways planned for the 2020 season.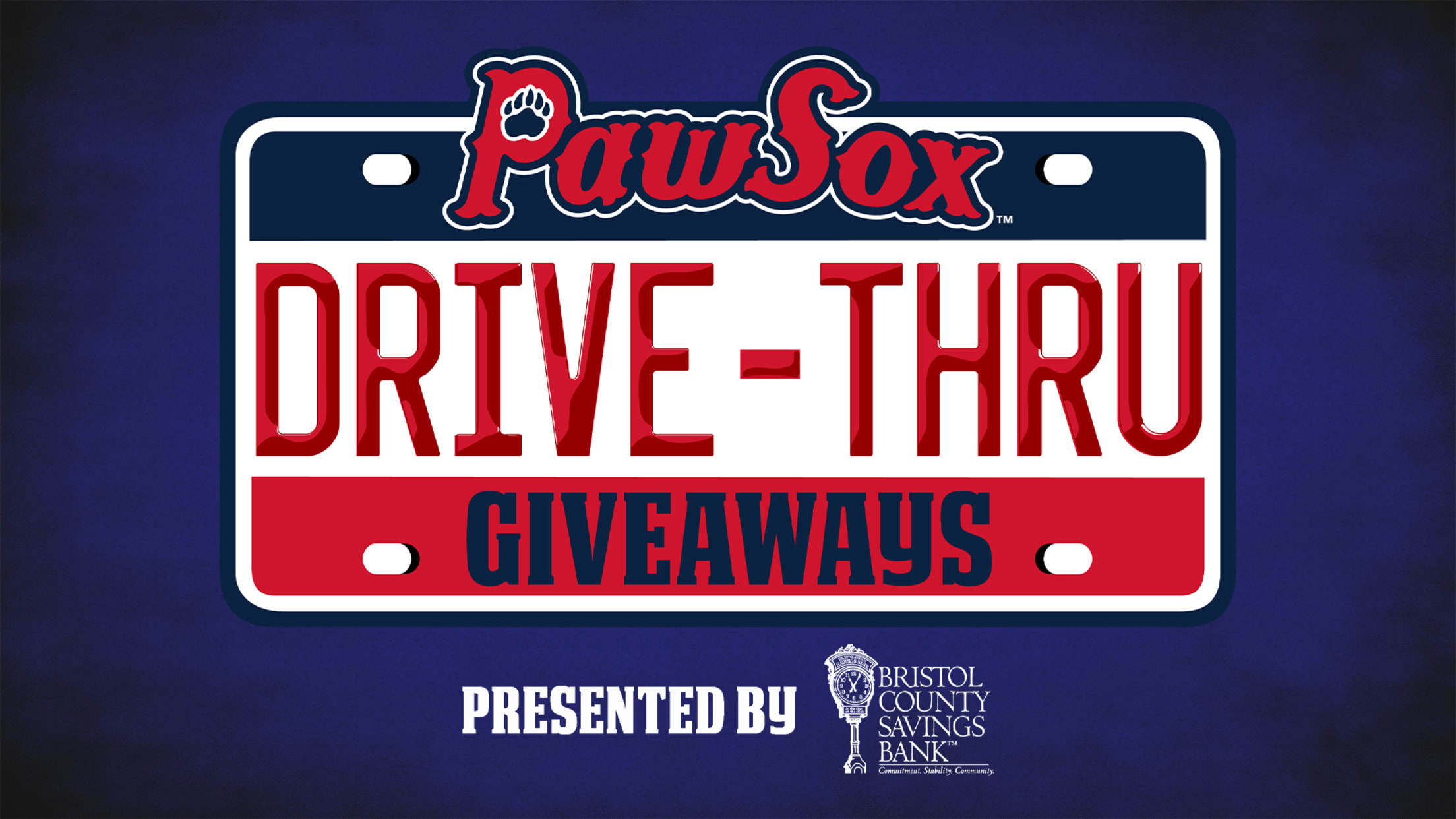 Special Thanks to Sponsors Dunkin', Bristol County Savings Bank, along with WEEI 103.7 FM and NESN.
PAWTUCKET, RI – The Pawtucket Red Sox will provide their loyal fans with bobbleheads and jerseys that were originally planned to be given away during the 2020 season before the 2020 Minor League Baseball season was cancelled due to the COVID-19 pandemic.
The club will do so by hosting an innovative concept called "Drive-Thru Giveaways" on select days this month. Fans will remain in their cars and drive through the parking lot at McCoy Stadium to receive the respective giveaway for that day. To comply with Rhode Island COVID guidelines, fans will need to preregister online at pawsox.com in order to participate in the drive through giveaway process. Only one giveaway will be provided per date beginning in the afternoons of August 12, 17, 25, and 30.
The Pawtucket Red Sox had an exciting promotional schedule set for the 2020 season, the team's last at McCoy Stadium, as they planned to celebrate and thank their fans for 50 memorable years. Among the most popular items on the promo schedule were bobbleheads and replica jerseys.
This season the PawSox produced four collector's edition bobbleheads, presented by Bristol County Savings Bank and WEEI 103.7 FM. Each bobblehead represents an iconic player and moment from each of the four most recent Boston Red Sox World Championship Seasons. Keith Foulke making the final out of the 2004 World Series, Manny Ramirez crushing a walk-off HR during the 2007 ALDS, David Ortiz' dramatic grandslam in the 2013 ALCS, and Andrew Benintendi's acrobatic catch during the 2018 World Series. All four bobbleheads are accompanied with sound from the actual play-by-play as called by legendary Red Sox broadcasters Joe Castiglione and Dave O'Brien.
The promotional schedule also featured three PawSox replica jerseys, presented by Dunkin', 92 PRO-FM, and NESN. The jerseys are replicas of the great David Ortiz, Red Sox Hall of Famer Nomar Garciaparra, as well as current star Xander Bogaerts.
In addition, the PawSox Baseball Store will be open for business during each event. Due to COVID-19 regulations, customers are capped at 13 in the store at any given time and all are required to wear a mask. A pop-up shop in the McCoy Stadium parking lot will also be opened temporarily during each event for those who feel more comfortable remaining outside.
Cars of preregistered fans will enter McCoy via Ben Mondor Way off Division Street behind the outfield fence (where the statue of mascot Sox is located). From there, they will follow the path of travel as directed by PawSox staff members.
Dates for each "Drive-Thru Giveaway" event are as follows (with times determined after you register):
Keith Foulke Bobblehead: Wednesday, August 12
Manny Ramirez Bobblehead: Monday, August 17
David Ortiz Replica Jersey: Tuesday, August 25
David Ortiz Bobblehead: Sunday, August 30
"Drive-Thru Giveaway" dates for each of the remaining bobbleheads and replica jerseys have yet to be determined and will be scheduled around the Boston Red Sox Taxi Squad's workout schedule at McCoy Stadium.
As a reminder, fans must preregister at pawsox.com for each giveaway item in order to participate and will need to show a confirmation email upon arrival. Enrollment will take place on a first-come, first-serve basis.