The Airbnb Heard Round The World: Blue Wahoos Stadium
First ever stadium Airbnb rental becomes a global phenomenon overnight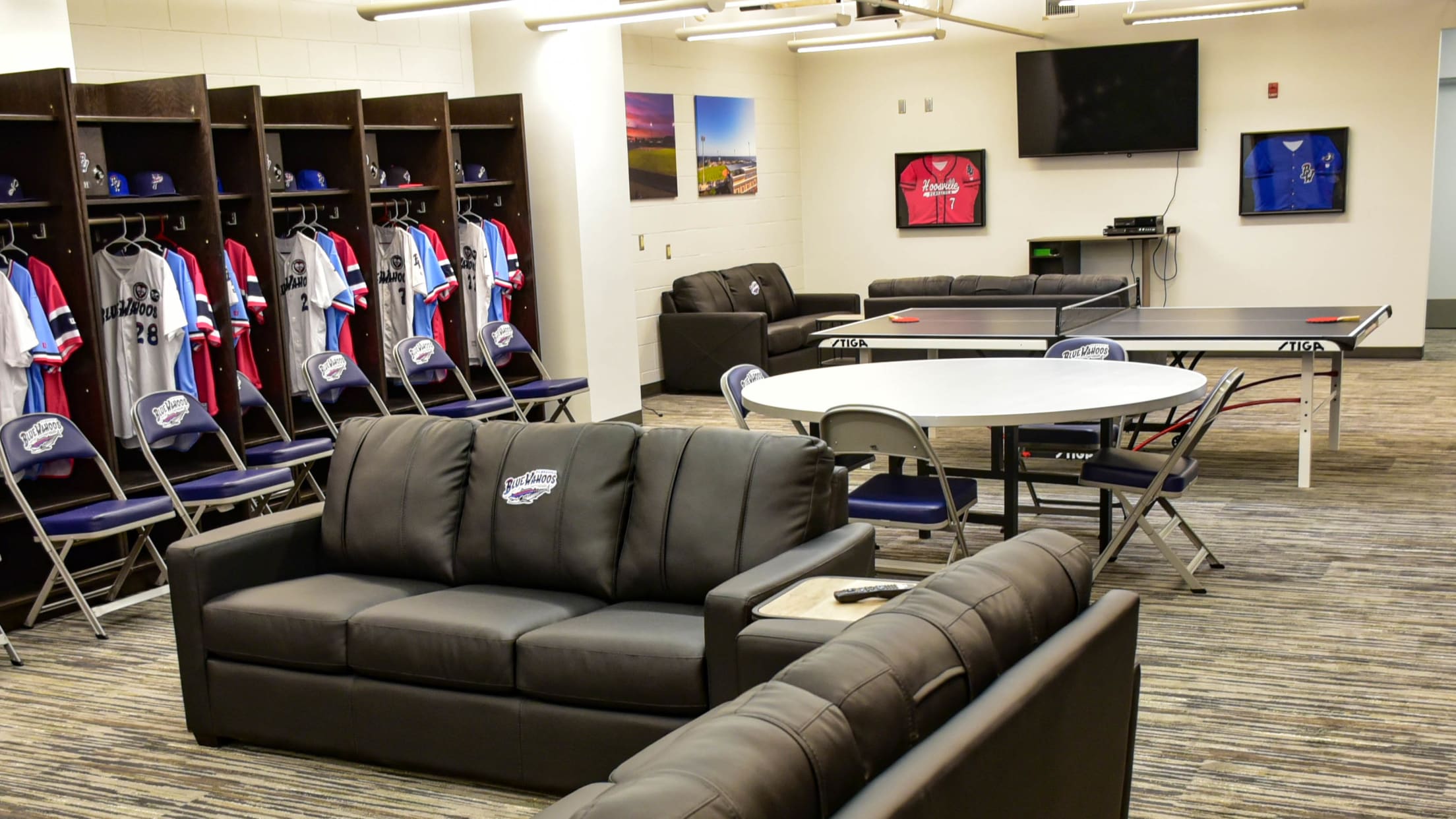 A double-eye emoji. That's it. Just a pair of eyeballs urging Blue Wahoos followers scrolling Twitter to watch the video below. The video, a herky-jerky screen grab of the previously-unannounced Blue Wahoos Airbnb listing, lasted a grand total of 18 seconds. It's impact, though, stretched around the globe.
A double-eye emoji.
That's it. Just a pair of eyeballs urging Blue Wahoos followers scrolling Twitter to watch the video below.
The video, a herky-jerky screen grab of the previously-unannounced Blue Wahoos Airbnb listing, lasted a grand total of 18 seconds.
It's impact, though, stretched around the globe.
May 23, 2020
"I'm a firm believer in quality over quantity on the internet," Blue Wahoos media and public relations manager Daniel Venn, who runs the team's social media accounts, said about the post. "Twitter gives you 280 characters, but less is often more on social media."
After the Tweet went out, many Blue Wahoos staff emailed back and forth about what else could be done to get people's attention. A press release. A webpage on BlueWahoos.com. TV commercials. Print advertisement. Videos with Kazoo. Tours of the space. A full press conference.
A simple post on Twitter wouldn't be enough.
"I was thinking 'Just give this 24 hours'. People will notice," Venn said. "Great ideas have a way of getting people's attention."
Even he couldn't have predicted what was about to happen.
"We posted at 9:00 PM on Friday night. That's one of the worst possible times to post news, since reporters are all home for the weekend and they'll have moved on to new stories by the time they return to work next week," Venn said.
"But we'd been waiting anxiously for the listing to go live on Airbnb after all the approval processes. When that happened, we figured we'd send it out, then follow up with a much more coordinated media campaign after the Memorial Day weekend."
It wouldn't be necessary.
By mid-day Saturday, the Blue Wahoos Airbnb listing, the first ever by a professional sports team, was a phenomenon.
ESPN. Sports Illustrated. NBC Sports. MLB.com. CNN. Yahoo Sports. USA Today. ABC News. CBS Sports. Reuters. The Washington Post. Fox Sports. The Sporting News. The Boston Globe.
That's just a small sampling of the news outlets who were talking about the story the following day. Throughout the weekend, Blue Wahoos staff members heard from friends and family around the country who had heard about the Airbnb on their local news.
From Los Angeles to Philadelphia to Minneapolis to Houston and everyone in between, Pensacola, Florida was in the news. Stories popped up on stations in Canada and France. Even around the globe in Japan, a former Blue Wahoos intern spotted mention of the team in her hometown newspaper.
The Airbnb heard round the world!

Shoko Umeno, who joined our staff in 2019 as a foreign exchange intern, was missing baseball this week back home in Osaka, Japan. Yesterday, much to her surprise, she flipped open the newspaper and spotted a story on her favorite American team! pic.twitter.com/zAlkthzaVZ

— Pensacola Blue Wahoos (@BlueWahoosBBall) May 25, 2020
The orders came just as quickly as the attention. Within a day, all available dates at the stadium were sold out and a wait list was established.
"Wow, that is so great to hear," said Mallory Studer, the original brainchild of the Airbnb, when informed of the attention the Airbnb was receiving.
Months back, she had floated the idea of the stadium's potential use to her parents, team owners Quint and Rishy Studer, at a kitchen gathering in their home.
"We were talking about how to use the stadium differently. Knowing how the company is always looking for unique experiences to share I thought of this one. Where would you want to stay where you had the whole place to yourself? I thought of the stadium and clubhouse."
The Blue Wahoos Stadium Airbnb will give fans unprecedented access to one of America's most beautiful ballparks.
"Growing up in Chicago as a kid, there is always magic about being in a stadium," Quint Studer said about the concept. "I never got to touch the grass, but I would have loved to. I think what we want to do is just create these experiences that people will remember for a long time.
"The Airbnb we're offering is a chance to sit in a locker room that is close to a major league locker room as you will ever get. We just want a unique, cool experience."
Pensacola's Airbnb will offer guests all of the experiences Studer wished for as a kid, and more.
Fans staying the night at Blue Wahoos Stadium will have access to the team's freshly renovated clubhouse, the same used by Blue Wahoos players, which features high-end all-wood lockers, leather logo couches, multiple flat screen TVs, a ping pong table, and an extra-bass sound system.
Next door, beds have been set up in the team dining room. Two queen-sized beds and four bunk beds allow 10 to sleep comfortably. Two more flat screen TVs adorn the walls alongside canvas images from Blue Wahoos games. A kitchenette offers a fridge, freezer, coffee maker, and microwave.
The lodging accommodations are just where the experience starts.
Be our guest!

A look inside America's first ballpark Airbnb. pic.twitter.com/3PaYCvR5Hl

— Pensacola Blue Wahoos (@BlueWahoosBBall) May 28, 2020
Down the hall from the clubhouse and bedroom, guests will have access throughout their stay to the team's batting cage, a bucket of baseballs, and bats, allowing them to practice hitting at any hour of the night.
Grandest of all, Airbnb guests will have the playing field at Blue Wahoos Stadium to themselves. A full batting practice set-up will be provided, and numerous uses of the field are possible including picnics in the outfield, movies on the video board, playing wiffle ball, laying out under the stars, or just playing catch.
To give guests maximum time on the field, the stadium's lights will be left on until midnight.
A full ballpark tour will be provided when guests arrive and a Blue Wahoos staff member will stay the night in the stadium for security and to answer questions.
In addition, numerous creative add-on experiences are possible. From a full-blown fireworks show, to a catered dinner menu prepared by Blue Wahoos executive chef Travis Wilson, to personalized jerseys, to an in-stadium bartender or drinks package, to cooking classes provided by the nearby Bodacious Shops can be requested for an additional charge. Former Major League pitcher and World Series champion Kevin Saucier, a Pensacola native, is even willing to hang out and swap stories with guests.
The ballpark Airbnb adds to a long list of creative uses for Blue Wahoos Stadium the team has enacted since the season was postponed due to the COVID-19 pandemic.
Immediately after the season was delayed, the team became one of the nation's first to offer a ballpark food service, opening their concessions for safe curbside pick-up orders and offering a Family Meal Kit each week including pre-cooked meals for families and grocery essentials. That evolved into a seven-day-a-week restaurant service featuring lunch, dinner, and Sunday Brunch as well as ballpark entertainment, themed trivia nights, Happy Hour, and Thirsty Thursdays.
In addition, the team opened Bubba Watson's Diamond Disc Golf Challenge at the stadium to much acclaim, an on-field disc golf course designed by the two-time Masters champion and team co-owner. Nearly 400 disc golfers visited the ballpark to play the course in its first weekend open.
The team also became one of the first in the nation to hold live baseball games, hosting Pensacola Men's Baseball League's opening day festivities and four games.''
Much more is in the works, including the team's first community movie night and fireworks show at the end of May, featuring the Disney box office hit Frozen II.
The myriad of events at the ballpark has given the community a safe, fun family gathering point and has made it possible for the team to offer work opportunities to the entirety of its 300+ front office and game day staff members.
"Keeping up with all the events on social media and BlueWahoos.com, I feel like I'm almost as busy now as I would be during this season, which is an incredible thing to be able to say right now," Venn said. "It's so much fun working for an organization that continues to come up with such creative, family-friendly ideas and that keeps providing unforgettable ballpark experiences to the community."