Blue Wahoos Show Community Love Helping Residents, Agencies In Hurricane Recovery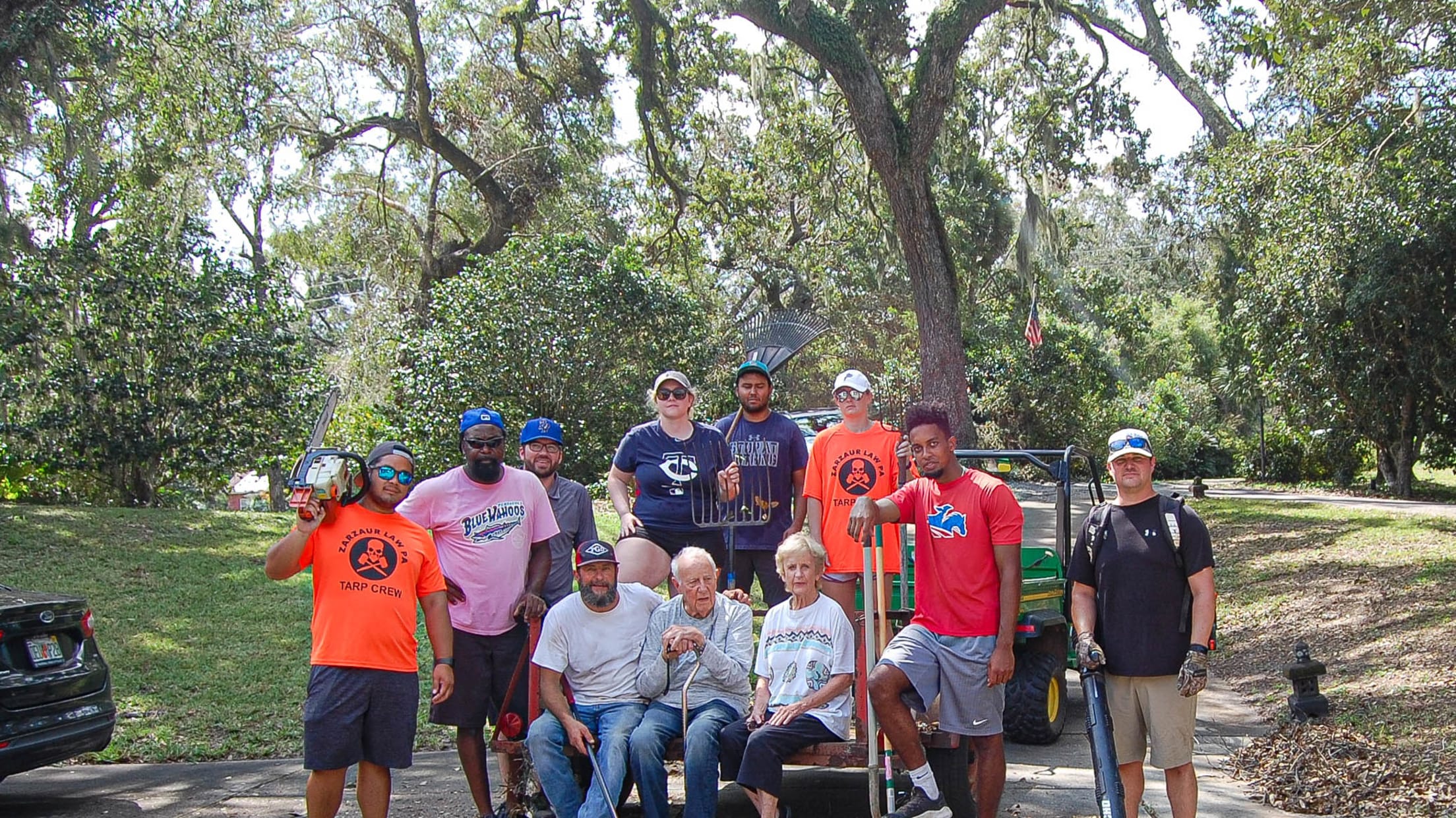 Members of the Blue Wahoos staff, led by community relations coordinator Anna Striano, (standing, fourth from left) came to home of Vic and Diane Goeller, long-time season-ticket holders, to help clear debris and restore their yard following Hurricane Sally. (Daniel Venn)
In the month that has passed since Hurricane Sally's wrath, the Blue Wahoos have kept focused on community involvement. It has involved front office staff members chopping trees and piling leaves. Bagging ice and hauling trash. Raking yards and fixing fences. Barbecuing pork and dicing potatoes. Scooping vegetables and boxing
In the month that has passed since Hurricane Sally's wrath, the Blue Wahoos have kept focused on community involvement.
It has involved front office staff members chopping trees and piling leaves. Bagging ice and hauling trash. Raking yards and fixing fences.
Barbecuing pork and dicing potatoes. Scooping vegetables and boxing meals. Crunching numbers and filing forms. Showing care and bringing grit.
One team, one community, one mission. All within a quest to help people and give boost to non-profit organizations.
"It has been extremely gratifying," said Anna Striano, the Blue Wahoos merchandise manager and community relations coordinator, who has led and directed efforts among 20-plus co-workers to reach out and help with various projects since the Sept. 16 storm.
"One of the biggest things making this so special is that people typically see us as a baseball team or organization," she said. "And that's understandable. But they don't see us in the realm of doing community service like this. And now, they have.
"So, I think what this has done is put us in front of new audiences, new places where we can help people and truly meet our mission statement to help improve the quality of life in our community."
Last week, the Blue Wahoos were at the Brownsville Assembly of God Church helping Escambia County process grant applications for hurricane relief help with residents in the Brownsville community.
Since Sept. 21, the Blue Wahoos staff has combined to work more than 500 hours in a variety of community service efforts.
They were joined the first week by three members of the Mississippi Braves front office staff --- Zach Evans, director of stadium operations, account executive Darius Green and office manager Christy Shaw.
The three M-Braves staff members stayed in the Blue Wahoos Airbnb at the stadium. During the day, they worked tirelessly with Blue Wahoos staff they met for the first time.
"They called us and said, 'What can we do? What can we bring?' They were such a big part of this effort, especially when it was the most labor intensive," Striano said. "We're grateful for the Mississippi Braves and traveling all this way to Pensacola to help."
During that week, the Blue Wahoos group joined with Mercy Chefs – a national agency -- to help prepare and serve meals to hundreds of people in the Brownsville community.
They helped clear debris from three University of West Florida managed museums and learning centers in the Pensacola Historic District.
They joined with the Salvation Army of Pensacola to help serve food.
They cleared massive amounts of debris from two homes of elderly season-ticket holders. One was the waterfront home of 91-year-old Vic Goeller and his wife, Diane.
"It was really gratifying to see everybody coming together during all of this," said Striano, a native of Big Bear Lake, Calif. who joined the Blue Wahoos in 2017. "While everything is so crazy and everyone's lives were kind of chaotic…. for everyone on our staff to take time to help… I think was very important."
While helping aid the community, the Blue Wahoos staff stayed busy throughout the summer during an uncertain time in minor league baseball.
Since mid-March, back when spring training was halted during the first wave of the coronavirus pandemic, the Blue Wahoos began to transition as if there would not be a minor league season.
That proved essential in a pivot to being an events-oriented company.
In April, Blue Wahoos co-owners Quint and Rishy Studer decided to keep all full-time staff employed. Most minor league teams suspended operations for the year and either furloughed or laid off their staffs.
The Blue Wahoos team began formulating ideas to start a variety of events, including the launch of the Airbnb clubhouse experience, along with delivering meals and reaching out to the community.
The mission magnified after Hurricane Sally struck Northwest Florida on Sept. 16.
"When we made the whole decision not to lay off anyone, we also knew we may not have a 2021 schedule for quite awhile," Quint Studer said. "Without wrap-up of a season, without UWF football, we knew we were going to have staff availability.
"When we saw that, I kept thinking about two things. I thought about the Peace Corps, how young people use to go and do this marvelous work. And we also knew that with COVID-19, all these non-profit agencies were taking a beating and needed help.
"So both of those things played into how we would move ahead."
The Peace Corps, established in 1961 by then-President John F. Kennedy, has now grown with Americans helping people in 141 different countries.
"I sort had this idea for a little bit of a Peace Corps feeling, because of learning how people used to return so enriched from what they accomplished," Studer said. "I felt like we have this talented group of people on our staff and we really don't have much for them to do right now.
"We know our from our Early Learning, our Early Brain Development initiatives that people are not able to give like they used to… philanthropy wise. So we can help."
In an effort that followed the weekend after Hurricane Sally struck, the Blue Wahoos spent hours each day as a team going to different parts of the community to help.
"I spoke with people who said they couldn't have done it without us," Striano said. "Getting everybody there to these places and getting the bigger stuff out of the way, so they could come back and get the smaller stuff. It made their lives a little bit easier."
One of the biggest was preparing full course meals on two days with the Mercy Chefs organization. It was part of helping Mercy Chefs, a faith-based, non-profit, disaster relief organization, based in Portsmouth, Va., serve more than 20,000 meals during their six-day stay.
A team from Mercy Chefs traveled to Pensacola and set up temporary headquarters in the Brownsville Community Center parking lot where they prepared meals during the morning and served food at lunch.
The Blue Wahoos staff impressed by immediate jumping in to prepare food under direction of five chefs from the organization.
"It was amazing," said Molly MacDonald, the volunteer director for Mercy Chefs. "You need the volunteers to make sure this can all happen. With just five people traveling here from our (Mercy Chefs) team, you can't push out 1,000 meals at a time -- like we have done -- without volunteers like this.
"I'm impressed with the heart of this community. We had people here from Alabama, Panama City and Tallahassee joining with the local volunteers in Pensacola. People coming from all over and helping neighbors."
The Blue Wahoos are continuing their community outreach through Thanksgiving week with non-profit agencies. The efforts occur during a period when Major League Baseball is deciding the direction and future for Minor League Baseball.
It's uncertain when a 2021 schedule will be finalized or other operational matters. But the non-profit help is something that continues keeping the staff active.
"Many of these non-profits have been forced to downsize," Quint Studer said. "And these non-profits do such great work in our community. My thought was, hey we can help them get over a hump by giving them talented staff.
"When you look at our staff, we have finance people, operations people, grounds people, sales people, technology people, media communications people… and so forth. In essence we have a whole company you can utilize. It could be for a day, could be for a month.
"I also feel like so much of our staff will be enriched. To see it happen like this, I definitely feel special about it."