Hall of Fame Pitcher Don Sutton Remembered For His Love Of Pensacola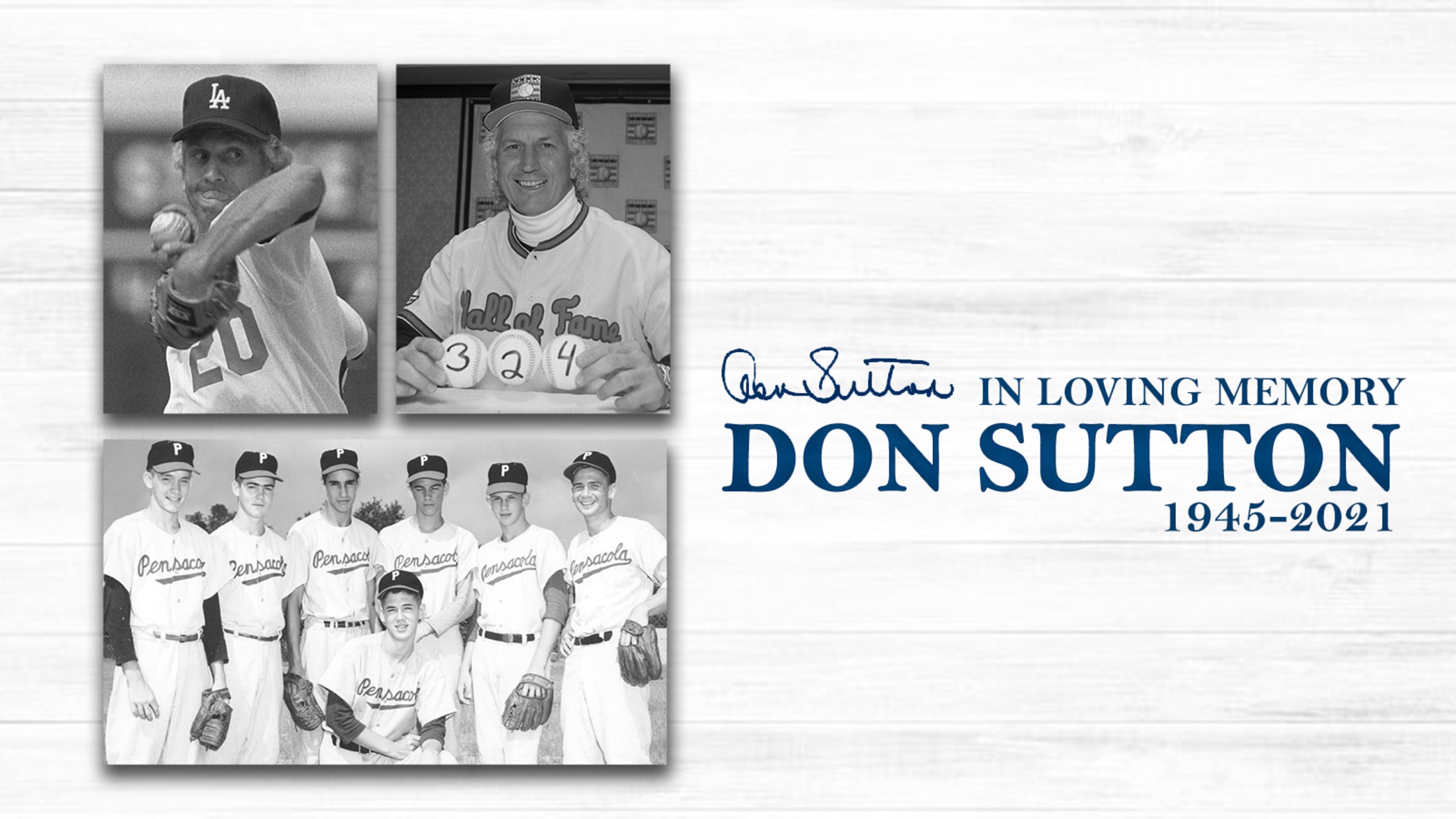 Don Sutton became Pensacola's first superstar athletic after joining the Los Angeles Dodgers in 1964 and rose into one of baseball's greatest pitchers. (Daniel Venn)
The first meeting with Don Sutton is a memory forever cherished. It was March 1988. Dodgertown in Vero Beach. The former spring training home of the Los Angeles Dodgers. A shrine to their distinguished history in baseball, going all the way back to their days as the Brooklyn Dodgers. This
The first meeting with Don Sutton is a memory forever cherished.
It was March 1988. Dodgertown in Vero Beach.
The former spring training home of the Los Angeles Dodgers. A shrine to their distinguished history in baseball, going all the way back to their days as the Brooklyn Dodgers.
This was an era when the bulk of Major League Baseball teams had spring training homes in Florida.
It was to be Sutton's final year as a player. One last hurrah, a full-circle experience with the franchise, which signed him as a 19-year-old, junior college pitching prospect in 1964 for $15,000 and bonuses. That was considered decent money for signees back when baseball did not hold a draft.
Two years later he made his MLB debut with the Dodgers, launching a career that led into 1998 enshrinement into the National Baseball Hall of Fame.
On this day in 1988, it was early into my rewarding tenure with the Pensacola News Journal. The pitch was to produce a life profile on Pensacola's then-most famous, professional athlete.
A guy born in Clio, Alabama whose family moved 25 miles south to Molino. As a teenager, Sutton became one of Tate High School's best pitchers. As he modestly would relate that first meeting, he didn't consider himself the best pitcher on his team that won the 1962 Class A state title under coach Pete McLeod.
Sutton loved McLeod. From there he went all the way into baseball immortality as a four-time All-Star, World Series champion and one of just 24 pitchers in MLB history to have won 300 or more games.
Let that settle. One of 24 in baseball history. The righthander from Molino.
All of this becomes more powerful now. I was shocked Tuesday afternoon when first receiving a text from Blue Wahoos owner Quint Studer of Sutton's passing. Sutton was 75. He was always full of life. This was a kick to the gut.
Don Sutton gone? No, please no. It puts life in perspective again.
When Sutton came back to this area, he was like the corner store owner who knew everyone else in town. He called Pensacola, Cantonment and Molino places where he went for therapy. It was home. He loved it. His therapy.
On that day in March 1988, Sutton could not have been more gracious. I had grown up reading about Dodgertown. Now I was in it.
He gave me a tour of the place. Took me in a lounge area in the complex where players hung out back in the day, played cards, told stories. On this day, I saw Sandy Koufax walk through.
And then Don Drysdale came to sit with us. Incredible. Three of the Dodgers greatest pitchers gracing the same room.
I was so in awe. By then during the interview, Sutton knew I was from Pittsburgh and a Pirates fan as a kid who got to see him pitch.
Sutton was a Pirates killer, back when the Pirates actually were good and fielded a team that frequently made the playoffs.
They had a lineup Sutton faced led by Roberto Clemente, a boyhood idol of mine, who was my generation's Jackie Robinson as the first Latino superstar and now recognized as one of the greatest players of all time.
I had to ask Sutton how he frequently got Clemente out. He laughed and mentioned luck, but then explained his pitching philosophy that I never forgot.
"Whether it was him or anyone, I always assumed the batter was going to make contact," he said. "I never thought strikeout. I just wanted to make sure when there was contact, the ball wasn't hit hard, and it would go somewhere where it could be caught."
And yet, from that powerful, simplistic, approach, Sutton struck out at least 100 batters in 21 consecutive seasons. It is a feat matched only by Nolan Ryan, Greg Maddux and Roger Clemens.
From that memorable interview in Vero Beach, I had the pleasure of seeing Sutton many times upon his return to the Pensacola area. And once in Atlanta, where I met with him in the Atlanta Braves home broadcast booth that he made so famous in his second career.
Again, he was so accommodating.
"As a Braves announcer, Don went into the homes of millions of people. When you do that, people consider you as friend," said Studer, who met Sutton several times. "And Don always made sure to talk about Pensacola, Northwest Florida and how proud he was to be from here.
"He was so excited when we got baseball here with the stadium in Pensacola and that we did things the right way."
Sutton was such a natural as a broadcaster. So smooth. So good at storytelling. Often times, so funny. He loved doing it.
Sutton was proud of his hometown region. Never was that more apparent than the final time I saw Sutton. He was part of the grand opening, several years ago, at the Ollie's Bargain Outlet on Nine Mile Road.
It was vintage Sutton. He knew everyone. Or he made it seem like he did. Remembered faces he had not seen in decades. So many laughs. It was who he is.
Daniel Venn, the Blue Wahoos media relations director who grew up in Minnesota, remembered Tuesday that he once sent Sutton one of Sutton's past baseball cards. Sutton signed it and returned it.
I know everyone who grew up with Sutton, or competed against him, has a favorite Sutton story. He touched a lot of lives.
In Pensacola, he was the first who proved, as Sutton would say, "You can get there from here." He went from youth baseball in Molino and Gonzalez to the big leagues. To the World Series. To the Hall of Fame.
Sutton's path inspired the next generations of great baseball players from Pensacola who went to the big leagues. So many stars over the years. Many were inspired by Sutton.
"He's a guy who snuck up on you with his career. He was not an overpowering pitcher," said Studer, who grew up in Chicago and watched Sutton pitch. "But he was just so consistent."
Sutton never won the Cy Young Award as the season's best pitcher and only received votes for the award five times.
But yet he ranks in the top 15 all time in wins (324), shutouts, strikeouts, innings pitched, games played.
Sutton was a stickler for proper diet, the right kind of exercise. It led to him being one of the most durable pitchers of all time, pitching at least 200 innings in 21 of his 23 seasons.
The statistics are phenomenal. The person was even better.
The guy from Molino made it big. All the way to eternal life.