Family Campout Night Announced for August 25
Watch the Wings then campout under the stars at Frontier Field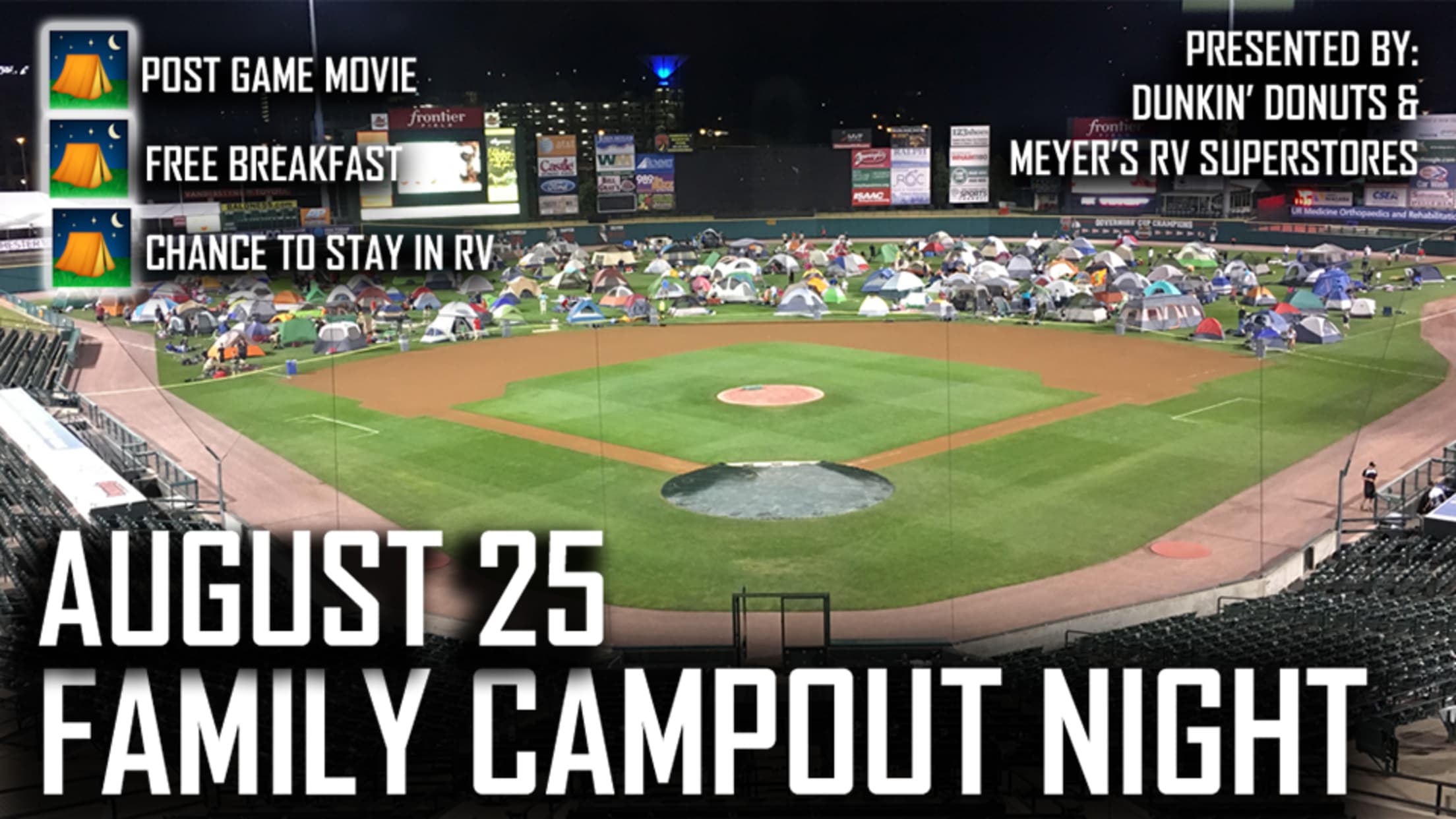 For a second straight year we've got a FAMILY CAMPOUT NIGHT planned at Frontier Field on Friday, August 25 presented by Dunkin' Donuts and Meyer's RV Superstores! Any fan with a ticket to the game on Friday, August 25 can CAMPOUT under the stars at Frontier Field that night! Following the game
For a second straight year we've got a FAMILY CAMPOUT NIGHT planned at Frontier Field on Friday, August 25 presented by Dunkin' Donuts and Meyer's RV Superstores!
Any fan with a ticket to the game on Friday, August 25 can CAMPOUT under the stars at Frontier Field that night! Following the game we will be showing the movie "Little Big League" on the videoboards. Popcorn, soda and water will be available for purchase from one of the Red Wings concession stands before and during the movie.
Fans who plan to stay over can move their cars into the VIP lot after the game. It is at this point you'll be able to bring in tents, sleeping bags, etc.
In the morning, Dunkin' Donuts will be here with FREE coffee and donuts for all those who camped out!
Campout in Style: One lucky campout group will be upgraded to spend the night in an RV on the field, courtesy of Meyer's RV Superstores. For your chance to spend the night in the RV, use promo code CAMPOUT when purchasing tickets online and you will automatically be registered for the upgrade experience. We'll announce the guest upgrade before the movie begins. Don't have a tent but want to camp out? The staff from Meyer's will be here selling discounted tents and supplies.
In an effort to keep track of how many fans we'll have sleeping over on August 25, please use promo code: CAMPOUT (all caps) when purchasing tickets online if you plan on staying over. To order tickets over the phone, please call Mike Ewing at (585) 454-1001 EXT. 3036.
PURCHASE TICKETS ONLINE HERE (Be sure to use the promo code)
We can't think about a Campout Night without remembering TENT BOY! In the Summer of 2002, with the Wings mired in a long losing streak, Wings GM Dan Mason took to a tent in the Red Wings bullpen...