Plates Night - What you NEED to Know
A complete guide to everything Plates Night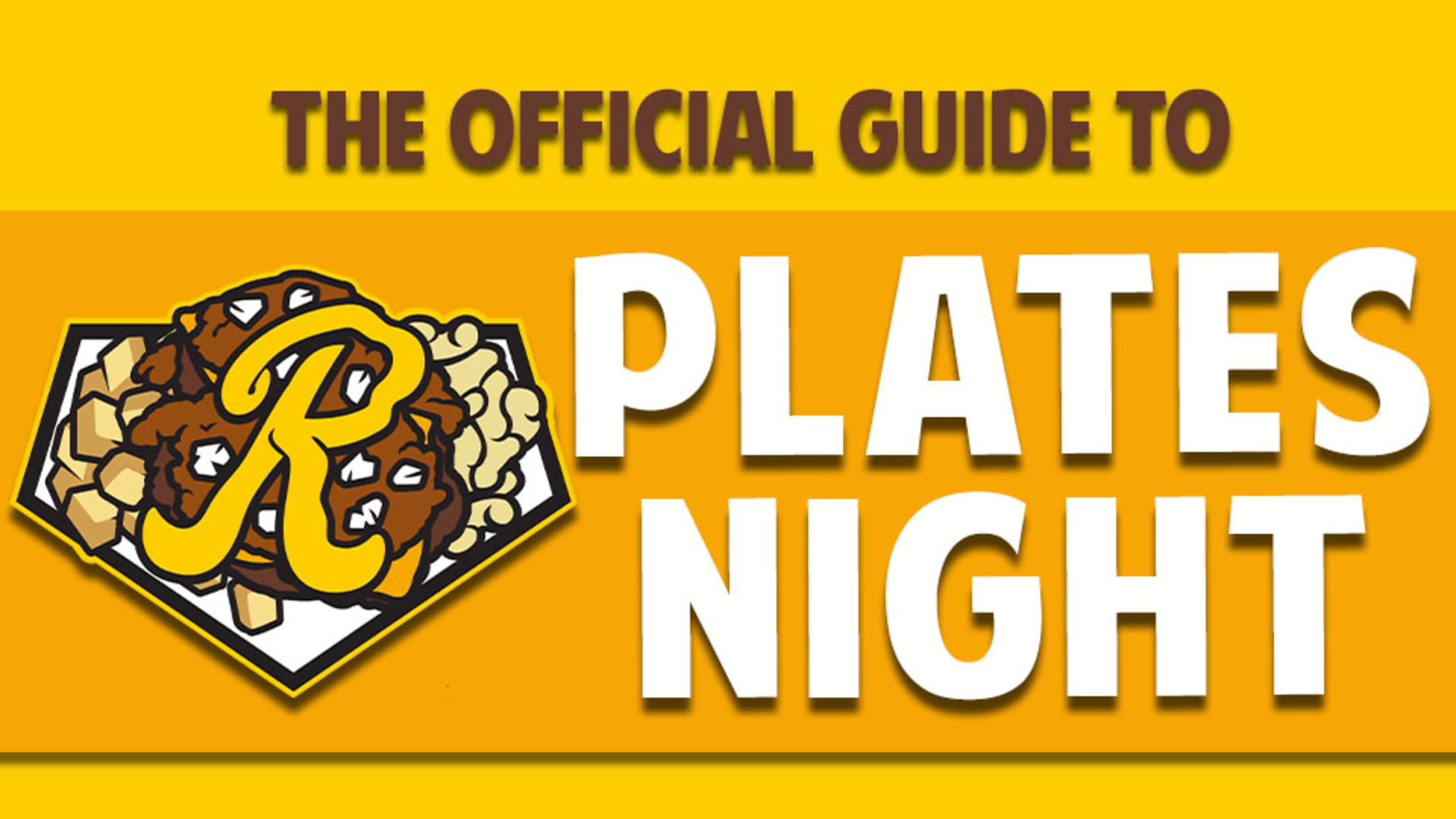 As if you haven't heard already, the Red Wings are becoming the Plates! For one night only on Thursday, August 10 we'll pay homage to the cuisine most synonymous with our great city - the Garbage Plate! Gates open at 5:30 with first pitch at 7:00 pm.So what's going on
As if you haven't heard already, the Red Wings are becoming the Plates! For one night only on Thursday, August 10 we'll pay homage to the cuisine most synonymous with our great city - the Garbage Plate! Gates open at 5:30 with first pitch at 7:00 pm.
So what's going on August 10? We're glad you asked, here's EVERYTHING YOU NEED TO KNOW!
TICKETS:
Are tickets still available?! Tickets are being eaten up quick, however some do remain for August 10. Tickets can be purchased at the Plates Ticket Office during normal business hours, over the phone at (585) 423-WING (9464),
ONLINE BY CLICKING HERE
or by
texting 'ROCPlates' to 70875
.
Perhaps the most important part of Plates Night, so important that we'll have menus for all fans as they enter the gates so they know where to go for the Plate of their choice. For one night only, Nick Tahou's will have their trailer set up on the concourse serving up the original Garbage Plate! What other kind of plates will you be serving up and where can I get them?

OSIER PLATE: seasoned baked potato, split and piled with sandwich size Red Osier beef smothered with cheese, hot sauce and diced onion
Available at Red Osier
SLUGGER PLATE: french fries topped with a half pound Zweigles, chili, grated cheddar and diced onion
Available at Pop 'N Hots
VEGGIE PLATE: two veggie burgers on cole slaw and lettuce, topped with hummus and tomato
Available at Altobelli Deli
HOME PLATE: two cheeseburgers, meat hot sauce, diced onions, home fries and mac salad
Available at Home Plate
MAC PLATE: mac 'n cheese with fries, meat hot sauce and diced onions
Available at Say Cheese
PLATE DOG: red hot dog, meat hot sauce, diced onions, home fries and mac salad on top
Available at 'Sup Dog
PLATE CALZONE: home fries and pepperoni wrapped in our fresh pizza dough and covered with meat hot sauce
Available at Mama Mittsy's
CHICKEN FINGER PLATE: home fries and mac salad with three chicken fingers, meat hot sauce and diced onions piled on top
Available at Batter Up
BUFFALO CHICKEN PLATE: chicken cheesesteak atop fries and mac salad with hot sauce, blue cheese and diced onion on top.
Available at Black Angus
QUE PLATE: baked beans and coleslaw with Big Red pulled pork piled on top. Add nacho crumbs, nacho cheese and sliced jalapeño.
Available at Big Red BBQ
TRASH CAN: chili, meat hot sauce, diced onions, home fries and mac salad
Available at Home Plate
COMPOST CAN: vanilla ice cream layered with brownie and chocolate chip cookie bits, topped with whipped cream and gummi worms
Available at Ice Cream Plus
What type of Plates merchandise will you have on sale?
CAPS
- On-field fitted
- Strap backs
- Flex fits
T-SHIRTS
- Nike dri-fits
- Logo tees
- Womens 3/4 tee
- replica jerseys tees
REPLICA JERSEYS
SWEATSHIRTS
- Crew neck sweatshirts
- Hooded sweatshirts
REMINDER: All fans who purchase Plates merchandise in advance will receive a $2 off coupon for tickets to the August 10 game.
SHOP THE LOOK RIGHT HERE
Our Plates theme will carry over to our in-game promos. What can you expect to see? Here a few highlights you won't want to miss.
- EXTENDED Pre-Game Happy Hour: Enjoy $2 beers and LIVE music from Rob Gioia from 5:30-7:00 out at the 10th Inning Bar! As always we'll have Plates Pong and Cornhole set up as part of our Happy Hour and College Nights.
- SOCIAL MEDIA: We'll be letting the fans do our in-game tweeting for us throughout the game. Share game updates, promos, merchadise and all the fun of Plates Night using #ROCPlates. We'll retweet the best ones all game long!
- CHOLESTEROL TESTING: Stop by the Rochester Clinical Research station by the Red Wings Hall of Fame to get your cholesterol checked before and/or after eating your Plate, and receive a free baseball while supplies last. Blood pressure readings also available, and sign up for other free screenings at Rochester Clinical Research.
- GET A PLATES TATTOO: We'll have a table set up in the main breezeway where fans can get an airbrush tattoo of the mustard "R" in the Plates logo!
- Pre-Game Media Plate Eating Challenge: A few local media personalities put their appetites for Plates on the line.
- Bobbing for Burgers: Four contestants will have 45 seconds to pull as many burgers as they can out of a container full of mac salad, home fries and meat hot sauce!
- Build a (Human) Plate: All the same ingredients as your favorite Nick Tahou's Garbage Plate, the only difference we'll be using humans as the serving dish.
- In-Game Tag-Team Plate Eating Contest: Two teams, one plate each. Who can put it all away first. The only catch? The person ingesting the plate won't be feeding themselves!
All jersey bidding will take place through your mobile phone. Bidding will start when gates open at 5:30 on August 10 and run through Saturday, August 12 at 8 pm. All jerseys will start with a minimum bid of $75 and each jersey will have a "Buy It Now" option for $400. All proceeds benefit the Red Wings Community Foundation.
How can I bid on the game worn, autographed jerseys?
1. REGISTER YOUR PHONE to bid by texting PLATES to 79230. After receiving a text, respond with your first and last name.
2. PLACE YOUR BID by texting item ID (1+ 2-digit jersey number) followed by your bid amount to 79230. EXAMPLE: To bid $100 on Mike Quade's #8 jersey, just text 108 100 to 79230.
3. KEEP BIDDING! If you are outbid, you will receive a text notification and you can reply with your new bid. To find the bid status of a jersey just text the item ID to 79230.
DON'T TEXT? Register your phone with our staff in the main breezeway. Then, place your bid by calling 1-877-891-4752.
If you won a jersey, please contact Mike Ewing at (585) 454-1001 ext. 3036 or [email protected] to coordinate payment and jersey delivery. There is a $13 charge to have your jersey shipped.