Red Wings Announce 2020 Opening Day Plans
The first 1,500 fans will receive either a Red Wings or Plates Flap Cap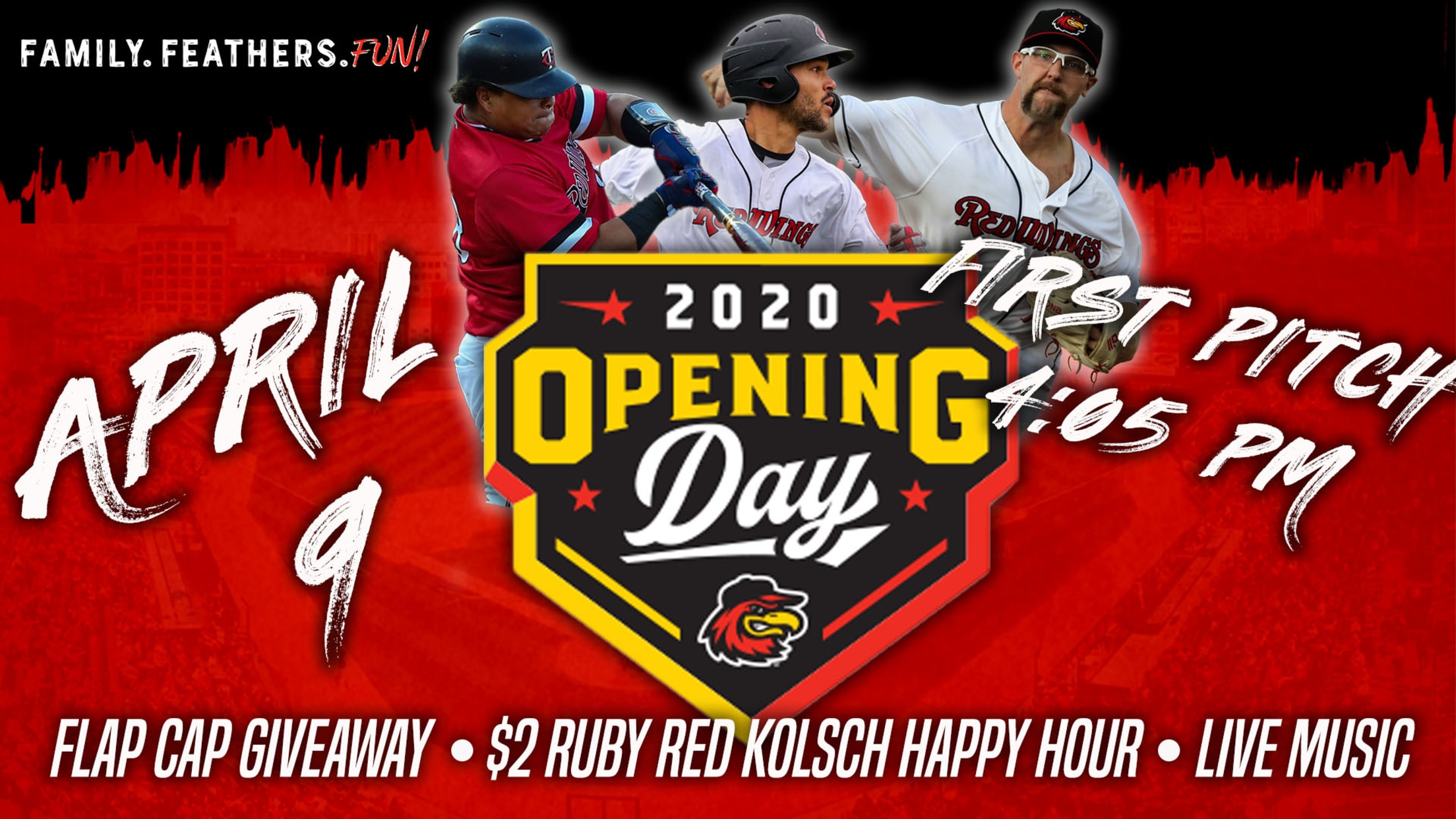 The Rochester Red Wings begin their 24th season at Frontier Field on Thursday, April 9 vs. the Lehigh Valley IronPigs! Gates will open at 2:30 with first pitch of the 2020 season set for 4:05 pm.
The Rochester Red Wings begin their 24th season at Frontier Field on Thursday, April 9 vs. the Lehigh Valley IronPigs! Gates will open at 2:30 with first pitch of the 2020 season set for 4:05 pm.
PURCHASE OPENING DAY TICKETS HERE
If you prefer to purchase in person, the Red Wings Ticket Office will open for the season on Friday, March 27.
Here's everything you need to know for Opening Day:
FIRST PITCH:
Throwing out the season's ceremonial first pitch is Denny Wright. A 23-year veteran of the Rochester Police Department, Wright responded to 37 Peck Street for a possible domestic. Upon his arrival, Officer Wright attempted to mediate the situation, but was brutally attacked and stabbed several times in the head, neck, face, and body. Officer Wright used his training and experience to protect himself and others at the scene. With the assistance of civilian bystanders and other officers that arrived on scene, Officer Wright was able to assist in taking the suspect into custody. The unprovoked attack caused Officer Wright to be hospitalized for several weeks at Rochester General Hospital and subsequently Golisano Rehabilitation Center. Through surgery and rehabilitation Officer Wright continued to battle and was subsequently released from Golisano Rehabilitation Center on October 29th. The attack on Officer Wright has left him without sight in either eye, however he, along with the help of his loving family, his law enforcement family, and the community support continues his recovery.
NATIONAL ANTHEM: E4 Army veteran, Tom Clement, will perform the Anthem on his bugle. Clement served in the 101st Airborne Division from 1961-1964 in Fort Campbell, Kentucky. He's served as a bugler for the Monroe County American Legion Honor Guard for nearly 20 years.
COLOR GUARD: Presenting the colors on Opening Day will be the Navy Operational Support Center of Rochester.
LIVE MUSIC: Local party band, Me and The Boyz, will perform on field throughout the pre-game festivities.
PRE-GAME HAPPY HOUR: Head down to the 10th Inning Bar from 2:30-4 for $2 Ruby Red Kolsch drafts courtesy of the Genesee Brewery!
GIVEAWAYS: The first 1,500 fans through the gates will receive either a Red Wings or Plates Flap Cap presented by Dunkin'. The first 5,000 fans will take home a 2020 Schedule Magnet courtesy of I-Evolve Technology Services.
50 DEGREE GUARANTEE: If the in-park thermometer doesn't read 50 degrees at first pitch, all fans in attendance will get a FREE ticket to another game in April or May. Details on the 50 Degree Guarantee here.
UNIFORMS: Although Thursdays Are For The Plates, the team will be wearing Red Wings uniforms to honor the tradition of Opening Day.
MILITARY TICKETS: Active, retired, reserved and veterans can get a FREE ticket to Opening Day by stopping by the Veterans Outreach Center of Rochester at 447 South Avenue.
COLLEGE STUDENTS: Every Thursday, college students can purchase a $10 reserved ticket which includes 5 Diamond Dollars that can be used at the concession stands and the Team Store.
OPENING DAY BUFFET: Enjoy an All-You-Can-Eat Buffet and a ticket in Club 3000 - one of Frontier Field's premier party suites. Tickets are $40 for adults and $24 for kids (ages 4-12). The buffet menu includes: Italian sausage with peppers and onions, jumbo char grilled Zweigle's hot dogs, herb roasted chicken, veggie tray, mozzarella sticks, pasta salad, potato salad, cookies, soda and water. Tickets can be purchased here
THANK YOU TO OUR OPENING DAY SPONSORS:
Accede Mold & Tool Company, Inc.
Advance Auto Parts
Batavia Turf
Berry Global
Billitier Electric
Buell Automatics, Inc.
CaterTrax
ComTec Solutions
Conolly Printing
Crossbridge Financial Group
Cylinder Services Inc.
DeCarolis Truck Rental
Empire Valuation
Enterprise Rent-A-Car
EPIC Retirement Plan Services
ES Systems Inc.
ESL Federal Credit Union
First American Equipment Finance
First Consulting, Inc.
Greece Dermatological Associates
Hammer Packaging
Instant Express
Isaac Heating & Air Conditioning
Jet Janitorial
Lifespan of Greater Rochester, Inc.
M/E Engineering, P.C.
Marathon Engineering
Maria Aslani-Breit D.D.S., P.L.L.C.
Meyer's RV Superstore
Micro Instrument Corp
Microworks POS Solutions Inc.
Modical Law Firm
Monroe Ambulance
Monroe Extinguisher
OCCAM Capital Management, LLC
PGM Corporation
Rochester Veterans Court Mentors
Southco, Inc.
Sportsplex Operators & Developers
Synergy IT Solutions
Techniplex
The Williams Law Firm, LLP
Thermo Fisher Scientific
Tops Friendly Markets
Tri Tower Telecom
Visit Rochester
VR Food Equipment, Inc.
Wegmans
Young Explosives
Your Local Toyota Dealers
Zweigle's