Red Wings top Mets, 4-2, Wednesday afternoon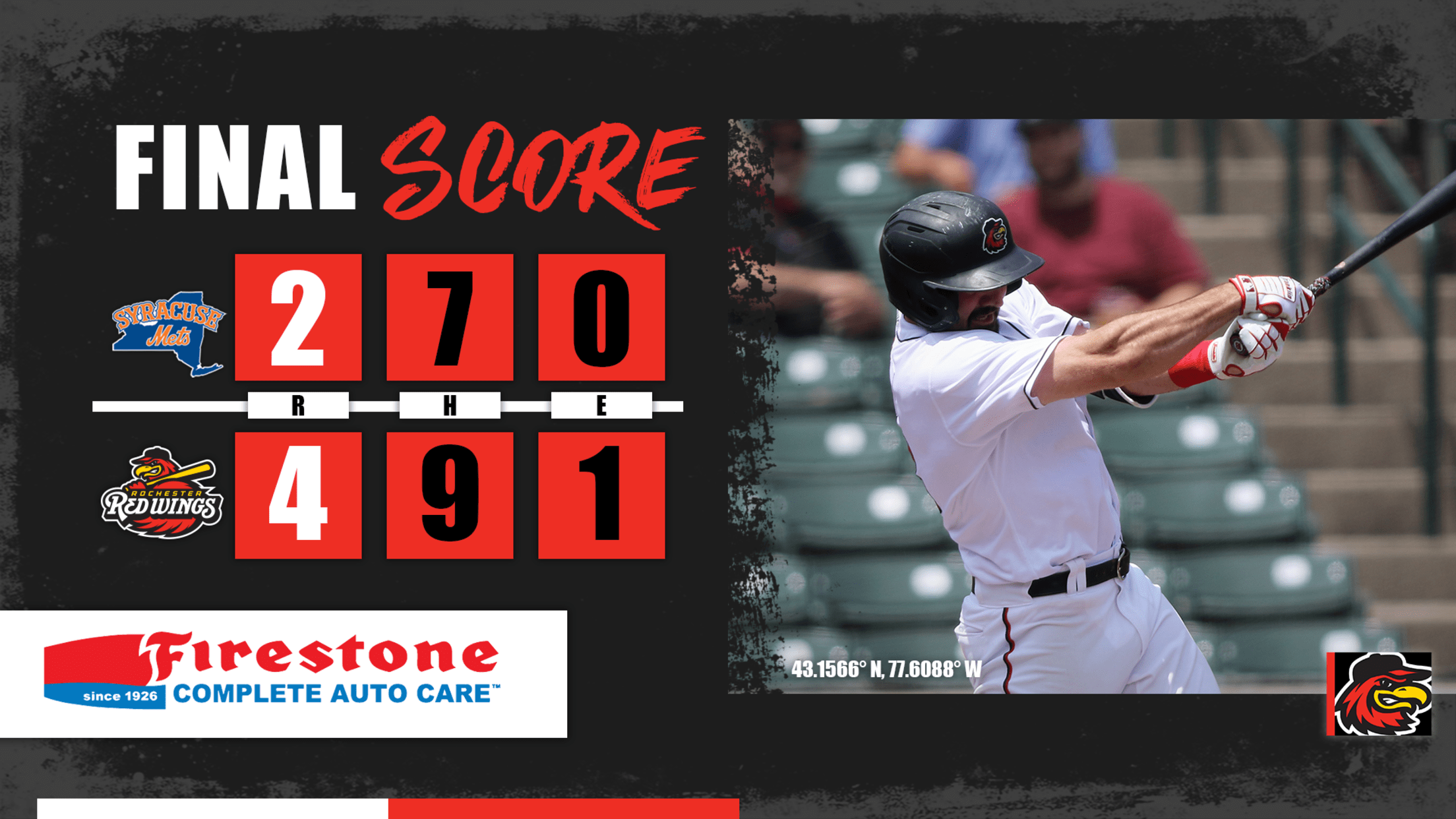 The Red Wings defeated the Mets 4-2 on Wednesday afternoon at Frontier Field to even up the series at one game apiece. 2B Jake Noll hit the games lone home run in the bottom of the sixth as Rochester picked up their second win in their last five games. RHP
The Red Wings defeated the Mets 4-2 on Wednesday afternoon at Frontier Field to even up the series at one game apiece. 2B Jake Noll hit the games lone home run in the bottom of the sixth as Rochester picked up their second win in their last five games.
RHP Joan Adon got the start in his first appearance against Syracuse, giving up just one run on four hits through five innings of work. His only allowed run came off a throwing error on a third base pickoff attempt in the third.
Trailing 1-0 in the fourth, DH Josh Palacios registered a single that brought home RF Cole Freeman as the Wings tied it at one run each. Palacios would go on to record RBI No. 30 on the season. Both squads were held scoreless in the fifth, but 2B Jake Noll crushed a left field homer in the sixth to give the Wings a 2-1 lead. Noll's homer was his second against Syracuse, with his last bomb against the Mets coming on May 25. Noll has registered an RBI in three straight games.
RHP Mason Thompson relived Adon in the sixth and struck out a batter before handing off the ball to RHP Curtis Taylor. Taylor gave up a hit, a run, and the first walk by a Wings pitcher all day. His run allowed in the seventh tied the game at 2-2, but the Wings weren't done scoring.
A double in the seventh pushed SS Ildemaro Vargas' hitting streak to seven straight games. CF Matt Lipka hit a double in the next at bat to score Vargas and give the Wings a 3-2 advantage. Lipka registered two hits in three at bats with a double, a triple, and an RBI on the day.
Rochester kept their foot on the gas with Palacios notching hit No. 2 on the day in the form of an RBI single that scored 1B Joey Meneses. He stole second soon after for his 11th stolen base of the season with the Wings, good for second on the team behind LF Andrew Stevenson.
3B Junior Martina made his second start for the Wings after being called up from the FCL Nats and logged his first Triple-A hit with a third inning single. He was previously 0-5 at the plate since June 19.
LHP Alberto Baldonado toed the rubber in the eighth and painted the corners for three straight strikeouts before RHP Jordan Weems took over in the ninth. Weems gave up a hit and a walk, but ultimately closed it out for the Wings.
Rochester will send RHP Cory Abbott to the mound on Thursday in search of their second straight win. First pitch is set for 7:05 p.m. at Frontier Field.