A Wonderful Life: A Tribute To Steve Kalafer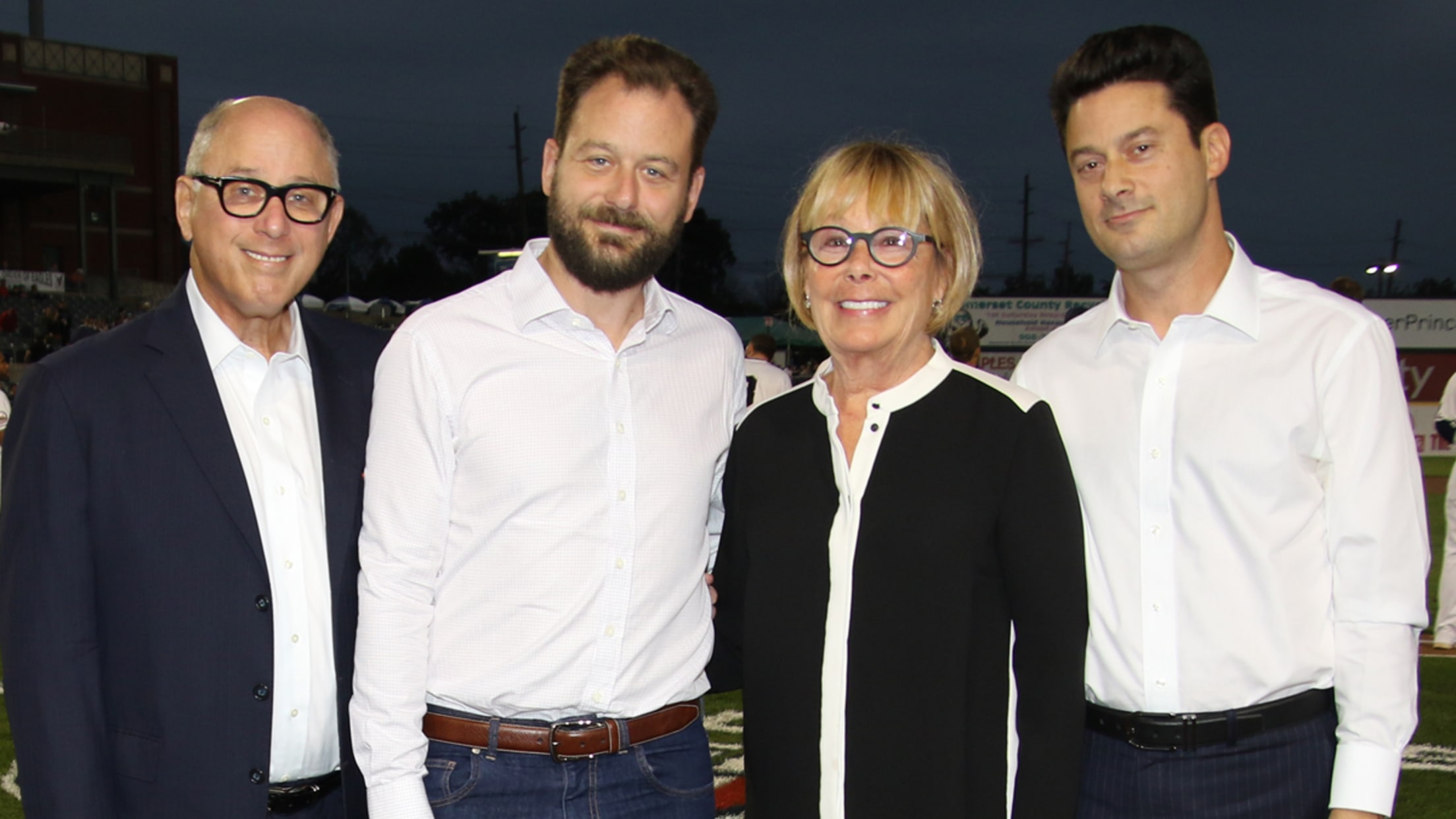 On Wednesday, April 21st, we lost our beloved founder and Chairman Emeritus Steve Kalafer to cancer. He was regarded as a giant in New Jersey business, the car industry, real estate development, the arts, and the sport of baseball. But of all his successes, he was most proud of his
On Wednesday, April 21st, we lost our beloved founder and Chairman Emeritus Steve Kalafer to cancer. He was regarded as a giant in New Jersey business, the car industry, real estate development, the arts, and the sport of baseball. But of all his successes, he was most proud of his family. He was a loving husband to Suzanne for 50 years. They raised two sons, Jonathan and Josh, that married Kori and Rachel, and gave them five grandsons.
"My father was the kind of man who lived all aspects of his life like he was creating a beautiful piece of art," said Jonathan Kalafer. "From the businesses he created, to his relationships with people, to the time he spent with his family, he always brought a unique energy that was magical. It is still hard to believe he is gone, but I know he didn't have any regrets in his life and he lived every day to the fullest. Our family will continue to carry on his legacy together through all that he taught us."
And though Steve passed at the far too young age of 71, he accomplished more than even he could have ever dreamt.
"We saw each other or spoke every day. He was always available to Jonathan and I, to show his love and support in all we did personally and professionally," said Josh Kalafer. "I knew we were the luckiest people in the world having such wonderful parents, and our sons, so lucky to have them as their grandparents. Because of how we lived our lives together every day, and our sharing of how much we loved each other, all we had left was to say 'I love you and that we will carry on with all you taught us over the years, especially when teaching your grandkids how to live a meaningful life.'"
Kalafer was born on August 1, 1949 in Essex County and raised in North Caldwell. He developed an early passion for baseball, and especially the New York Yankees, because they were his father Milton's love. They shared a fondness of the team during countless trips to Yankee Stadium that became a Kalafer tradition for generations.
He took to business early as a 12-year old going door-to-door as a Fuller Brush salesman that helped him pay for college. He graduated from Rider University in 1971 with a business degree.
From 1973 to 1976, he worked as the finance manager at Coleman Oldsmobile in Trenton. Then in 1976, Kalafer purchased a one-car showroom in Frenchtown and built it into one of the most respected and successful franchises in the United States for 40-plus years. Flemington Car and Truck Country Family of Brands, Clinton Honda, and Jaguar Land Rover Princeton became the go-to place for car buyers and a staple in the community.
Remembering Steve Kalafer pic.twitter.com/JvA61y7SLx

— YES Network (@YESNetwork) April 22, 2021
The consummate salesman, Kalafer often joked when giving speeches at events to audiences of hundreds or thousands of people that there was a sale going on at Flemington Car and Truck Country.
In the mid-1990's, Kalafer had the vision of bringing professional baseball to Somerset County. His track record for success as a businessman made the risky prospect of building a ballpark for an independent franchise even a possibility, let alone a reality. His dream came to life when the Somerset Patriots played their first home game in June of 1999.
Under his guidance, the Patriots went on to change the landscape of professional baseball in New Jersey and impact the perception of "indy ball" across the country. The club built a reputation of winning on and off the field and ranked among the top drawing teams in the minors.
"There is no one like Steve Kalafer. From the first day I met him, I loved him. He treated everyone like family and made you feel like the most important person in the world," said Patriots Manager Emeritus Sparky Lyle. "We became friends when he hired me to manage the Patriots and I learned so much from him about the right way to do things in life and how to conduct yourself in business. Every time I set foot in the ballpark, I will think of him with an unbelievable amount of love, respect, and appreciation. He was the Somerset Patriots, and it will be up to all of us to carry his vision long into the future."
His love for the game and the Yankees was what made the announcement that his beloved Patriots were to be the iconic franchise's Double-A affiliate this past winter that much more special.
"Steve taught us all the value of doing things the right way, of taking the time to build long lasting relationships, and making a difference wherever you can," said Patriots President/General Manager Patrick McVerry. "Everything we have here is because of his tireless efforts. We were fortunate to have such a wonderful chairman, father-figure, and friend. We know his sons Jonathan and Josh will help continue his legacy and our staff will strive to make him proud every day because we know he will always be with us, guiding our path and showing us the ways to succeed."
In addition to the dealerships, baseball team, and real estate ventures, Kalafer produced documentaries to tell stories about subjects he felt needed to be told. His works garnered him three Academy Award nominations and wins at many prestigious film festivals including Sundance and Tribeca.
His vast business empire allowed Kalafer to make a difference in the community and his philanthropic efforts rivaled any of his professional successes. Over the years he donated millions of dollars to non-profits and causes of importance to the Kalafer family, most often anonymously. His generosity was usually on display at events where he'd pledge donations on the spot and request others that could to match his contributions.
He was giving of his name, time, and wealth. Kalafer was the Chairman Emeritus of the Somerset Health Care Foundation and served on the Board of Directors of RWJBarnabas Health. He was also a trustee on the board of New Jersey Manufacturers Insurance, a Co-Chair of the Chairman's Council of The Actors Fund of America, and a trustee of the Joe Torre Safe At Home Foundation.
Whenever Kalafer was needed, he was there for the community. He'd honor the commitments made and do more than anyone could ever expect.
"He will always be remembered for bringing baseball to Somerset County."
https://t.co/BLCniqoBlr

— MyCentralJersey (@MyCentralJersey) April 21, 2021
"Over the incredibly difficult past 13 months, Steve has been vital to so many people by ensuring that our food banks were filled during the holidays, pushing for advanced medical services at RWJ Somerset, and even entertaining us with baseball during the height of the COVID pandemic after the Patriots season was cancelled," said Somerset County Commissioner Director Shanel Robinson.
A lifetime of achievements as an entrepreneur and philanthropist in the state made him an easy choice for induction into the New Jersey Hall of Fame as a member of the 2020 Class.
At the virtual ceremony, Kalafer said, "Our roles as entrepreneurs, as capital formation builders, as job builders is to make certain that every day, we go out to work so that the dreams of others can be met; to be entrepreneurial in the giving back business."
New Jersey Governor Phil Murphy added, "Steve leaves a tremendous legacy in business and philanthropy that will be hard to match."
Kalafer's philosophy of life was engraved on the back of commemorative coins he loved to give out:
• Be kind
• Be fair
• Work hard
• Earn Money
• Do good
"Steve was a wonderful human being who was generous to a fault. No one will ever know all the non-profits in our area that benefited from his generosity, as he never looked for recognition, only to do the right thing," said state Senator Kip Bateman. "He will always be remembered for bringing baseball to Somerset County."