Spencer Jones Continues Strong Season In Somerset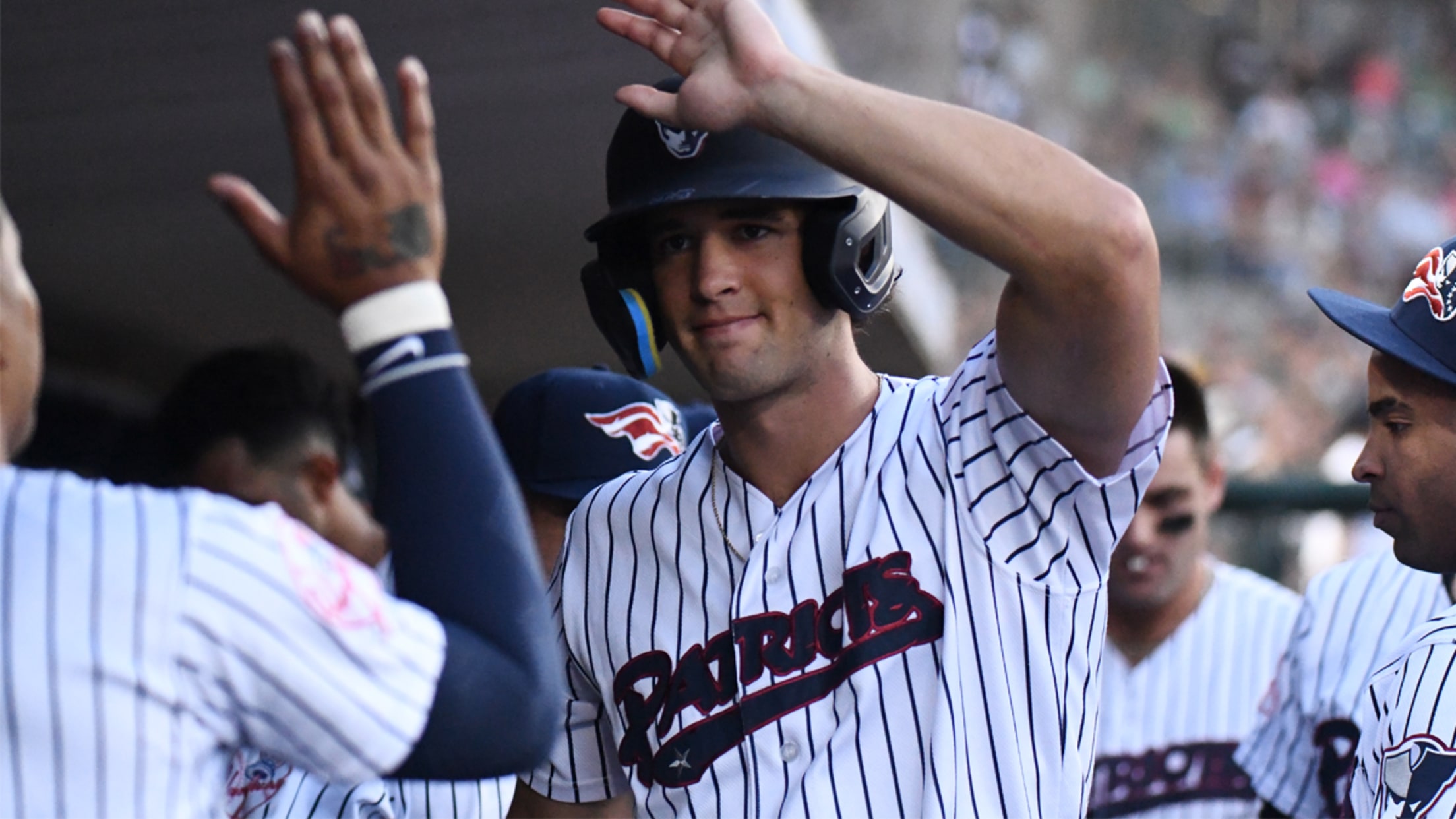 Bridgewater, New Jersey – Somerset has seemingly become a hot bed for top prospects since they became the Yankees Double-A affiliate in 2021. Names like Oswald Peraza, Anthony Volpe and most recently Jasson Dominguez have donned a Patriots uniform at TD Bank Ballpark before trading it in for pinstripes in
Bridgewater, New Jersey – Somerset has seemingly become a hot bed for top prospects since they became the Yankees Double-A affiliate in 2021. Names like Oswald Peraza, Anthony Volpe and most recently Jasson Dominguez have donned a Patriots uniform at TD Bank Ballpark before trading it in for pinstripes in the Bronx. The next budding star in that pipeline certainly seems to be outfielder Spencer Jones, the Bombers newly tabbed top-prospect according to updated MLB Pipeline prospect rankings, was promoted to Double-A on August 27.
Spencer Jones↗️Somerset📍 pic.twitter.com/QNVIIRR1Na

— Somerset Patriots (@SOMPatriots) August 27, 2023
"I feel like every single year they're churning out really, really good players," said Jones of Somerset. "Just to know that I am in a strong spot for development and that I'm around a lot of good coaches and players that can ultimately help me get to bigger and better things in the future is really inspiring."
A little over a year ago, Jones was playing for Vanderbilt University in the College World Series and proved to be one of the more intriguing prospects on the amateur circuit because of the athleticism he could provide with respect to his unique 6'6" frame. The Yankees opted to use the 25th overall pick in last summer's draft on Jones and he has quickly risen through the system with a strong showing at High-A Hudson Valley in his first full pro season.
In 25 games last summer after inking his deal, Jones hit .344 and posted an OPS of .963 with 4 homers and 12 RBI along with 12 stolen bases in just 93 at-bats between rookie ball and Low-A Tampa. The California-native opened this season as a 21-year-old before turning 22 in May – he blasted 13 homers and drove home 56 runs and also swiped 35 bags in 100 games with the Renegades before the organization decided to have him round out his inaugural campaign in Somerset.
In three seasons at Vandy, Jones played in exactly 100 collegiate games – through Sunday, Jones played in 111 games this season. The grind and rigors that come with a minor league season, particularly your first one, definitely can wear down a prospect both physically and mentally if the necessary adjustments aren't exercised.
"The first full season of professional baseball is tough routine wise," admitted Jones. "Learning about your body, and all of that stuff – so I just tried to nail down everything in that routine while I was in Hudson Valley so when I got up here it's just part of what I do."
Jones' arrival is certainly a welcome addition for a club looking to defend an Eastern League title next week. After losing the aforementioned Dominguez and Austin Wells over the last month to promotions and strong hitters like Tyler Hardman and Caleb Durbin currently on the injured list, Jones figures to inject the lineup with power while bringing a strong athletic presence to centerfield on the defensive end just in time for a hopeful postseason run.
The Yankees did something very similar with Dominguez last summer, promoting him from High-A for just five games before Somerset began an eventual championship run. Dominguez admitted earlier this season that small sample of experience for him was vital to his success just to feel a level of familiarity and comfort entering a new season.
"Everybody here wants to win," said Jones. "That was the first thing that I recognized when I got here into the locker room. Everybody is so focused on that one goal and winning another championship. I know how much it means to all of these guys and coming into a culture and a team of really good players that want to win every single day is something to look forward to."
"The goal is to win a championship at whatever level we're at," Jones said. "We secured a playoff spot at Hudson; they decided it was time for me to come up here. These guys want to win a championship, so that's what it's all about."
SPENCER JONES' FIRST DOUBLE-A HOME RUN IS A GO-AHEAD GRAND SLAM!!! pic.twitter.com/ABcoM99wK9

— Somerset Patriots (@SOMPatriots) August 31, 2023
Jones is still adjusting to upper-level pitching – after all, Double-A is usually the level that separates the prospects from the suspects. In 11 games so far for the Patriots, Jones has already begun compiling a highlight reel that includes a grand slam, four multi-hit games and a dazzling rocket throw from centerfield to record a put out at third base. He also stole his 40th total base of the season on Saturday night.
"There's tons of good arms out here," Jones said. "Everybody is that much closer to the big leagues and guys are hungry and want to go out and play. Competition is a little bit stiffer, and guys are really good – for me it's just doubling down on my approach and talking to the guys and becoming as good a hitter as them."
As for expectations, they come with the territory of being the top-prospect for the most popular franchise in the game. Jones embraces the outside coverage and hype but knows that as long he stays true to himself as a player and an individual, the rest will ultimately take care of itself.
"The goal for me is always going to be healthy and stay consistent," said Jones. "Whatever happens, I'm just going to go out and play."