Cardinals 2021 game times for 60-game home schedule set
Great Southern Bank Schedule Update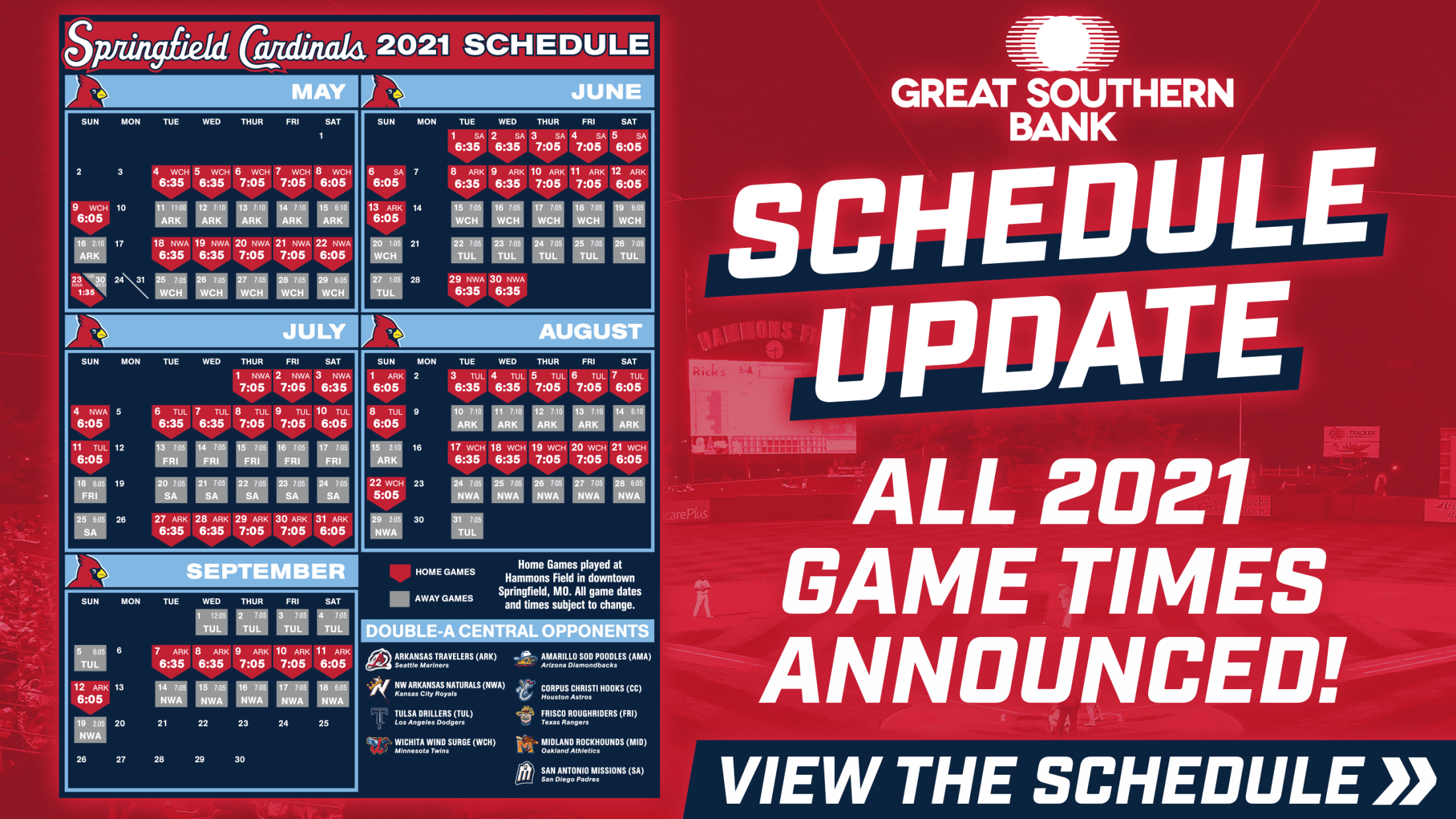 SPRINGFIELD, Mo. -- The Springfield Cardinals are excited to announce our first Great Southern Bank Schedule Update of the 2021 season with start times for all 60 home games at Hammons Field. With information regarding COVID-19 Health and Safety Protocols updating periodically and with hopeful adjustments throughout the season, the
SPRINGFIELD, Mo. -- The Springfield Cardinals are excited to announce our first Great Southern Bank Schedule Update of the 2021 season with start times for all 60 home games at Hammons Field.
With information regarding COVID-19 Health and Safety Protocols updating periodically and with hopeful adjustments throughout the season, the Cardinals are expecting to announce promotional schedule news on a month-by-month basis and are partnering with Great Southern Bank on Schedule Updates in lieu of the annual Great Southern Bank Magnet Schedule to keep you informed.
Fans can download the most current Great Southern Bank Schedule Update here. Future updates will include fireworks, promotional and giveaway dates.
Springfield's 60-game home slate begins Tuesday, May 4 with Opening Day first pitch scheduled for 6:35 p.m. The complete Cardinals schedule can be viewed at www.springfieldcardinals.com.
All 7:05 p.m. first pitches will be on Thursday (10) and Friday (10) home games. All 6:05 p.m. first pitches will be on Saturday (10) and Sunday (8) home games. All 6:35 p.m. first pitches will be on Tuesday (10) and Wednesday (10 home games). Two additional Sunday games will begin at 5:05 p.m. and 1:35 p.m.
The Cardinals will play a 120-game season from May 4 - September 19 with 60 home games scheduled at Hammons Field, including 12 home games in May, 14 in June, 15 in July, 13 in August and six in September. With a scheduling format that is optimized for player health and reduced travel this year, each week during the 2021 season will feature a six-game series from Tuesday - Sunday, with every Monday tabbed as a travel day.
Get Priority Seating Opportunities with a 2021 RED Access Membership
Due to expected health and safety-related capacity limitations, priority seating through RED Access Memberships may be the only way for Cardinals fans to ensure ticketed seats when the 2021 season begins on May 4.
For more information on how to join thousands of other local Cardinals fans in becoming a Member, visit www.springfieldcardinals.com/memberships today.
Beyond priority seating opportunities, RED Access Memberships start with seats to 2+ games per month and come with online ticket exchanges and so much more, all for just $95. With the shortened season, Home Run Memberships will come with 15 games and All-Star Memberships will come with 30 games for the 2021 season. Full-season 60-game MVP Memberships and 10-game Base Hit Memberships are also available.
The Cardinals are excited to welcome fans back to the ballpark, though we do expect it to be different as we follow and enforce all City, County, State, National, NCAA and/or Major League Baseball ordinances throughout the year. As regulations loosen, we will quickly adapt and do the same to make the experience as enjoyable as possible while keeping players, fans and staff safe. Please note that with so many entities sharing Hammons Field, that even if one regulation is lifted, others may still be in effect (example: If MLB lifts an ordinance but the county does not, we will still follow the county).
For information about priority seating through RED Access Memberships, call 417-863-0395, e-mail [email protected] or visit www.springfieldcardinals.com today.