Six-Run 5th Lifts Tarpons to 8-4 Victory Over Mets
Abeyta Tosses 5.1 Scoreless/Hitless Relief Innings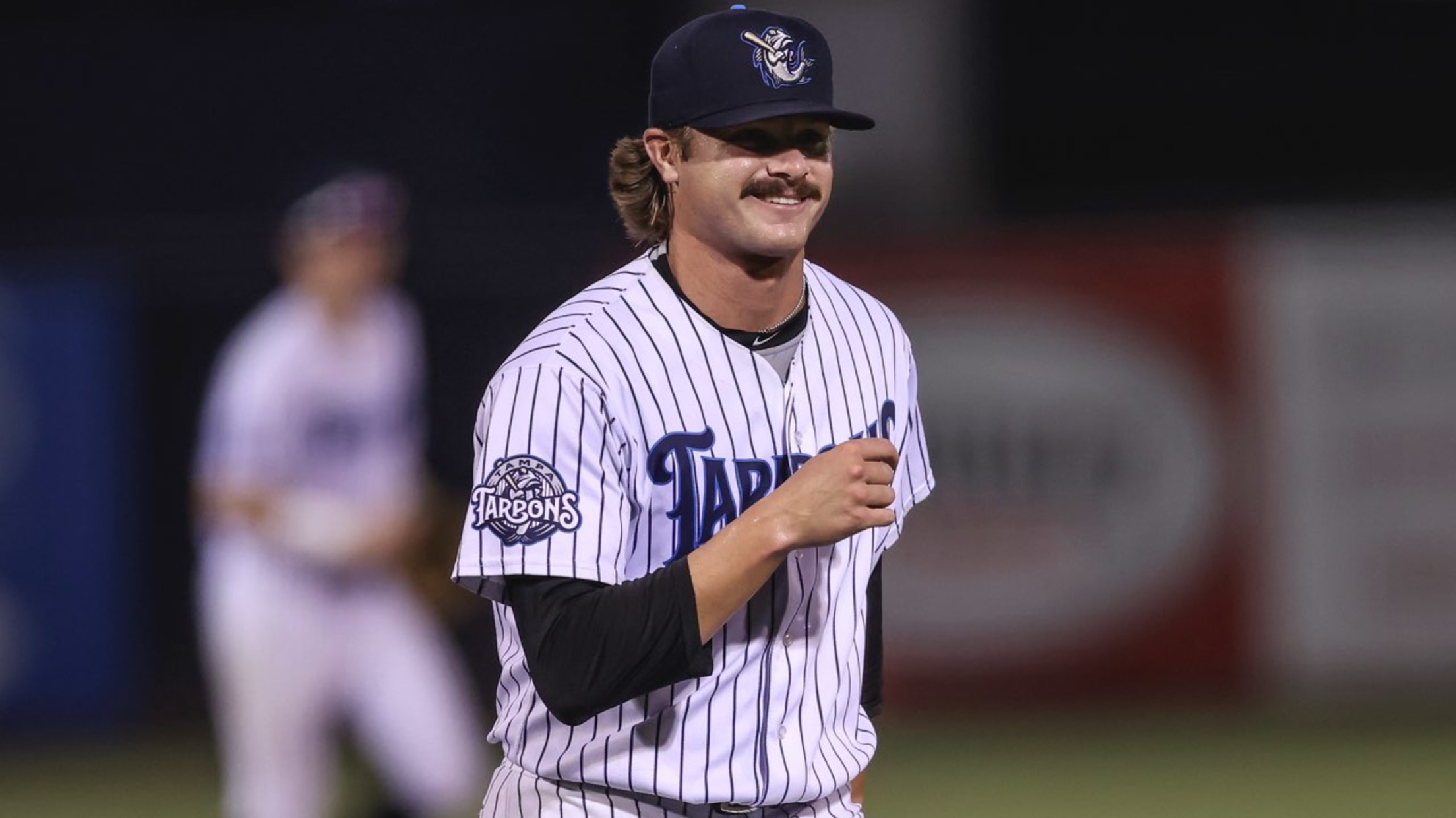 RHP Blane Abeyta tallied a career-high 8Ks over a scoreless/hitless 5.1IP in Tampa's 8-4 win on Friday night at GMS Field. (Mark LoMoglio)
TAMPA, Fla. – The Tampa Tarpons (62-29) saw an early 2-0 lead get wiped away when the St. Lucie Mets (49-42) scored four in the fourth but answered with a six-run fifth and cruised to an 8-4 victory on Friday night at George M. Steinbrenner Field. RHP Blane Abeyta held
TAMPA, Fla. – The Tampa Tarpons (62-29) saw an early 2-0 lead get wiped away when the St. Lucie Mets (49-42) scored four in the fourth but answered with a six-run fifth and cruised to an 8-4 victory on Friday night at George M. Steinbrenner Field. RHP Blane Abeyta held St. Lucie scoreless and hitless over the final five and one-third innings.
After going down in order against RHP Oscar Rojas in the first, Tampa opened the scoring in the second when Tyler Hardman led off with a double to right-center and took third and home on back-to-back groundouts by Benjamin Cowles and Ben Rice.
In the second, Eric Wagaman drew a leadoff walk and took third on a two-out double by Madison Santos. Wagaman then scored as Ryder Green reached on an error at shortstop by Branden Fryman, but the inning ended as Fryman threw Santos out at the plate.
RHP Nicio Rodriguez started for the Tarpons and stranded a pair of two-out base runners in the first before facing the minimum in the second and third. Kevin Kendall then led off the fourth with a home run, cutting the lead to 2-1.
Brandon McIlwain followed with a double to left and took third on a wild pitch before a walk by JT Schwartz. Both runners scored on a double lined to the centerfield wall by Warren Saunders. A groundout pushed Saunders to third before a sacrifice fly by Matt O'Neil made it 4-2 Mets.
Rodriguez allowed four runs on four hits and three walks over three and two-third innings, tallying four strikeouts on 70 pitches (34 strikes) in a no-decision.
Tampa's offense came alive against Rojas in the fifth, beginning with a leadoff homer to left by Wagaman. Evan Alexander followed with a bloop single, and Trey Sweeney reached on a hit-by-pitch before Santos lined an RBI single to right. One out later, Hardman drilled a two-run single into left-center, giving the Tarpons a 6-4 lead.
The inning continued with Cowles lining a single into left center, scoring Hardman from second. A misplay in left by McIlwain allowed Cowles to take second, and an error by Kendall at second put runners on the corners before a sacrifice fly by Roberto Chirinos gave Tampa an 8-4 lead.
Abeyta (W, 4-2) relieved Rodriguez with two outs in the fourth and faced the minimum until yielding a leadoff walk to Rowedy Jordan in the eighth. One out later, Kendall drew a walk, but Abeyta retired the next five batters to close the game.
Over a career-high five and one-third shutout relief innings, Abeyta tallied a career-high eight strikeouts while scattering two walks and a hit-batter on 70 pitches (45 strikes). Hardman (2-for-4, 2B, 2RBI, 2R) and Santos (2-for-5, 2B, RBI, R) each logged multi-hit games.
Currently tied at two games apiece, the series continues with a matinee on Saturday at 12:00 p.m., with RHP Blas Castano (2-1, 3.78) set to start against RHP Jose Chacin (3-1, 2.70).