Hens homer in front of sold out crowd
Toledo drops game as Wilson returns to line up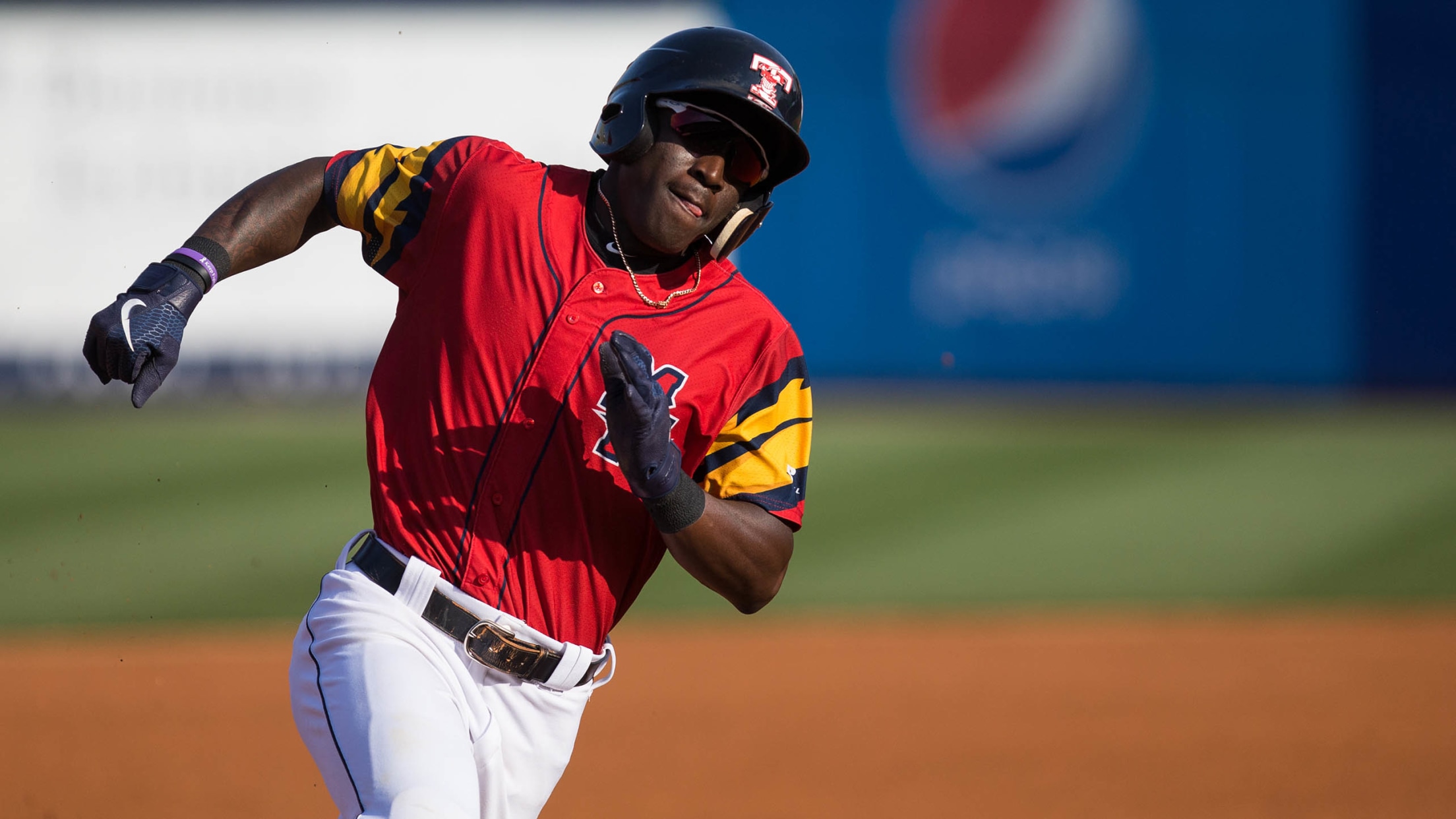 TOLEDO, Ohio - The Toledo Mud Hens were defeated 12-3 by the Norfolk Tides in front of a sell-out crowd on Wednesday morning at Fifth Third Field.
TOLEDO, Ohio - The Toledo Mud Hens were defeated 12-3 by the Norfolk Tides in front of a sell-out crowd on Wednesday morning at Fifth Third Field.
Daz Cameron recorded two extra base hits in a 2 for 3 effort at the plate recording a double, triple and RBI. Bobby Wilson and Harold Castro each added a solo home run as the Mud Hens (13-22) were defeated by the Tides (18-19).
LHP Tyler Alexander started the game by striking out the first batter before giving up a double and three singles in a row as the Tides scored two runs and had runners on first and third with one out. Alexander then retired the next two batters as Norfolk took an early 2-0 lead in the first inning. In the second inning, the southpaw took down the Tides in order with two Ks and again in the third inning the opposition went down in order.
In the third inning, Danny Woodrow led off with a walk and stole second. With one out, Willi Castro ground out to the third baseman allowing Woodrow to move to third. Cameron then tripled to the right center field wall to bring in Woodrow and put Toledo on the board.
Norfolk loaded the bases with one out in the top of the fourth inning as Jack Reinheimer hit a sacrifice fly to score DJ Stewart. Cedric Mullins then singled to left brining in Zac Vincej from second giving the Tides a 4-1 lead. Christopher Bostick then doubled bringing in Jesús Sucre for the teams fifth run of the morning as Norfolk held a 5-1 advantage.
Dustin Peterson and Dawel Lugo got Toledo started in the fourth with back to back lead off singles. Peterson moved to third on a deep fly out to center field by Harold Castro, but the Hens could not convert any runs.
Jace Peterson and Stewart began the fifth inning with consecutive hits with a single and double respectively. With two outs, Sucre hit a ground-rule double to clear the bases as the Tides took a 7-1 lead into the bottom of the fifth.
The Toledo starters day came to an end after five innings before handing the ball off to RHP Joe Navilhon. Alexander allowed seven earned runs on ten hits while walking two and striking out seven.
Norfolk extended its lead in the seventh inning as Mason Williams hit a two-run home run with one out pushing the score to 9-1.
Wilson made his return known after coming off the Injury List yesterday as he hit a solo home run off the video board behind the left field wall to begin the bottom of the seventh inning.
Check out this BLAST from Bobby!#LetsGoHens pic.twitter.com/rcBUuUWF34

— Toledo Mud Hens (@MudHens) May 15, 2019
RHP Zac Houston came on to pitch the eighth inning for Toledo in leu of Navilhon who allowed two earned runs on two hits while walking one and fanning two in two innings of work. Mountcastle reached on a two out double and Anderson Feliz came in to pinch run. Peterson then hit a single to bring in Feliz and give the Tides double digits. Stewart then tripled to left center field scoring Feliz. During the at bat of Vincej, Stewart scored on a passed ball as Norfolk took a 12-2 lead.
LHP Caleb Thielbar came on and threw eight pitches to retire the Tides in order in the ninth.
H. Castro kept the Hens alive driving a solo home run over the right center field wall with one out in the ninth, but Toledo fell 12-3.
What's Next:
The Mud Hens are back in action tomorrow at 10:35 am in the final game of the series with the Tides.
#RoadToDetroit Report (rankings according to MLB.com 2019 Prospect Watch):
5. OF Daz Cameron: 2 for 4, double, triple, RBI
6. RHP Beau Burrows: DNP (IL)
7. IF Willi Castro: 1 for 4
11. RHP Kyle Funkhouser: DNP (IL)
13. C Jake Rogers: DNP
17. OF Jacob Robson: 0 for 4
18. IF Dawel Lugo: 2 for 4
21. OF Danny Woodrow: 0 for 3
24. RHP John Schreiber: DNP
25. RHP Zac Houston: 1.0 IP, 3 H, 3 R, 2 ER, 0 BB, 1 K
27: RHP Sandy Baez: DNP
28. LHP Matt Hall: DNP
29. IF/OF Dustin Peterson: 1 for 4
Hens Notes:
• Harold Castro's 12 game consecutive hit streak extended to 13 as he went 1 for 4 at the plate with a home run in his first game back with the Mud Hens since joining Detroit on April 30.
• Bobby Wilson made his return behind the dish after being placed on the injured list on April 26.
• The sell-out crowd of 10,100 marked the second of the 2019 season and the 487th all time at fifth third field.