Alvarez trades blades of glory for baseball dreams
Former Olympian shines in return to his old training grounds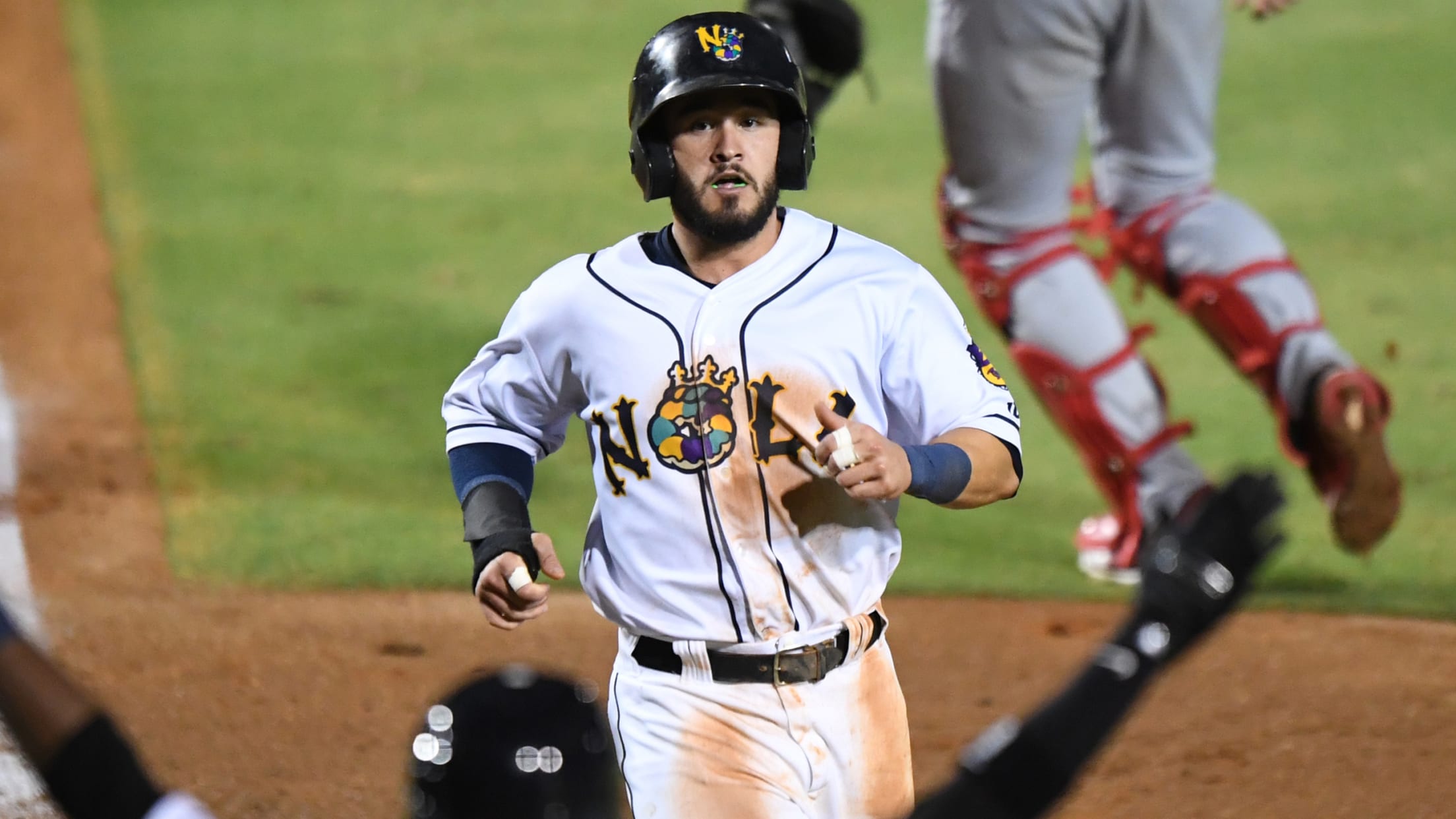 It's not rare for professional athletes to have backgrounds in other sports than their known field. Many football players also had a future in baseball, and vice versa. Others sprinkle in basketball, track and field, even wrestling.But New Orleans Baby Cakes infielder Eddy Alvarez is the outlier.Alvarez is an Olympic
It's not rare for professional athletes to have backgrounds in other sports than their known field. Many football players also had a future in baseball, and vice versa. Others sprinkle in basketball, track and field, even wrestling.
But New Orleans Baby Cakes infielder Eddy Alvarez is the outlier.
Alvarez is an Olympic silver medalist in speedskating. Salt Lake City, where he lived for six years, is the home of US Speedskating. He also was an All-Conference shortstop at Salt Lake Community College.
Last weekend, the Baby Cakes traveled to Utah and swept the Salt Lake Bees. Alvarez collected nine hits in the four-game series, his first games in Salt Lake as a professional baseball player, years after he claimed his fame on the ice of the Olympic Oval, US Speedskating's training facility.
It was the first time he was able to bring together his two polar opposite passions.
"Salt Lake kind of became my second home," Alvarez said. "When I got traded over to the Marlins, that was one of the first places I checked the schedule for. It was awesome. It felt really cool to be back where I spent so many years giving my life to accomplish a goal and a dream."
After winning several gold medals in various junior and national competitions, Alvarez was part of a three-man team that won the silver medal in the 5000 meter relay in Sochi in 2014. Also on that team was J.R. Celski, Alvarez's childhood rival turned best friend, who recently retired from speedskating. On Friday, the duo combined for the ceremonial first pitch.
"I never thought something like that would happen," Alvarez said. "It really was the highlight of my trip.
"He's really got to work on his mechanics."
Alvarez also showed a handful of New Orleans players around the Olympic Oval, the training facility for speedskaters. They watched their warmups and conditioning, saw their weight room facility and met some fellow athletes.
"That was really cool, just to get to see the behind-the-scenes," pitcher Joe Gunkel said. "It was cool to see Eddy reunite with all the people that think very highly of him."
Alvarez flipped back and forth between pursuing baseball and speed skating in his early years, declining a scholarship to St. Thomas University to chase his Olympic dream.
He earned trips to the World Junior Short Track Speed Skating Championships in 2008 and 2009, taking a gold medal in his second year in the 3000m relay. Battling through knee issues for the next few years, he collected silver and gold medals in several competitions before getting his medal in Sochi.
He said his time in Salt Lake not only turned him into an Olympian, but jumpstarted his baseball career, as well.
"I honestly think if I went to another school I wouldn't have been a professional, or at least started my career as soon as I did."
He praised Salt Lake Community College head coach DG Nelson for getting him in contact with teams and getting him tryouts, even after Alvarez was no longer playing for him.
Alvarez turned his attention back to baseball just a few months after the Olympics, signing a minor league deal with the Chicago White Sox in June 2014. He worked his way up to Triple-A Charlotte before being traded to the Marlins in March.
Beginning the year on the injured list, he made his New Orleans debut on June 14. He's hit .351 since then, ranked 15th in the Pacific Coast League. "The Jet's" nine stolen bases are tied for eighth most in that span.
"I think I just found myself as a player," he said. "I'm not out there trying to be perfect, which is something that I always battled with. I'm just trying to play to the best of my ability, good or bad."
He is now on the doorstep of accomplishing his second dream: playing Major League Baseball for Miami, his actual hometown.
"The ultimate dream," Alvarez said. "Winning a medal was fantastic and repping the US an unbelievable experience. But baseball has always been my true passion. To get that opportunity to play on a big league field would potentially surpass all that."