Dash post shutout win over P-Nats on Chris Paul Night
Winston-Salem becomes sixth Minor League team to reach 70 wins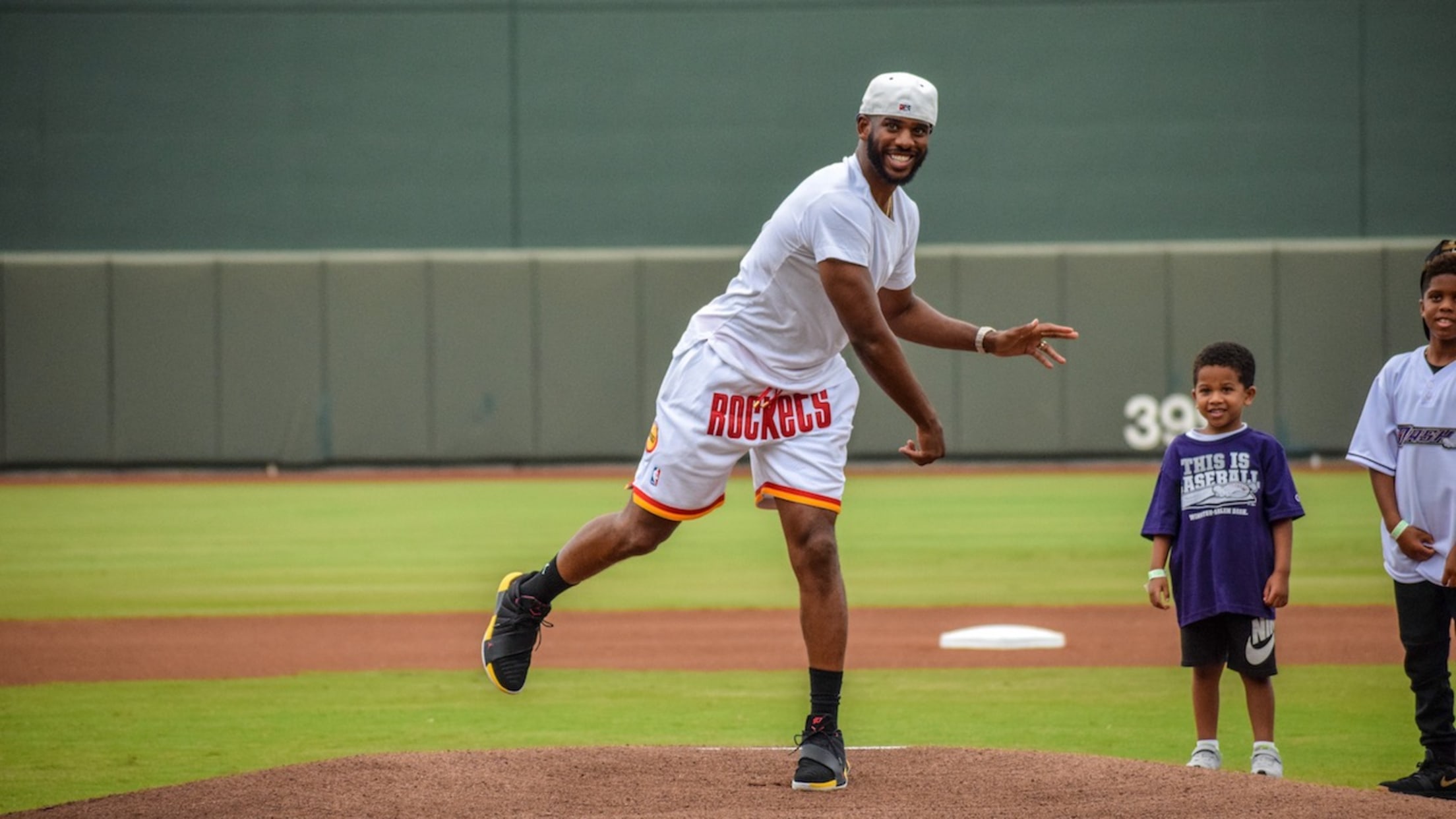 Dash part owner and nine-time NBA All-Star Chris Paul threw out the first pitch before Saturday's game. (Steven Harrison/Chicago White Sox)
WINSTON-SALEM, N.C. (Aug. 11, 2018) - With Dash part owner Chris Paul and 6,226 total fans in attendance, the Dash shut out Potomac 4-0 on Saturday night at BB&T Ballpark. Paul, who purchased a minority share of the team in April, threw out the ceremonial first pitch and then cheered on his
WINSTON-SALEM, N.C. (Aug. 11, 2018) - With Dash part owner Chris Paul and 6,226 total fans in attendance, the Dash shut out Potomac 4-0 on Saturday night at BB&T Ballpark. Paul, who purchased a minority share of the team in April, threw out the ceremonial first pitch and then cheered on his hometown team.
Alec Hansen made the start for Winston-Salem (29-16, 70-45), marking his first appearance at the High-A level since last season. The right-hander tossed two scoreless innings, allowing one hit, walking two and striking out one on 39 pitches. Lincoln Henzman followed with three scoreless innings, logging his fourth consecutive outing without allowing an earned run (11.2 innings in that span).
However, Potomac (24-22, 61-52) starter Joan Baez (7-9) stifiled the Dash bats for the first five innings before Winston-Salem broke through in the sixth. Luis Robert led off the inning by reaching on a fielding error by Potomac's second baseman Bryan Mejia. Then, Luis González smacked a double into deep left-center field to bring Robert around and give the Dash a 1-0 lead.
The Dash chased Baez from the game later in the frame. After Gonzalez's RBI double, Blake Rutherford and Gavin Sheets each drew walks to load the bases. Next, Laz Rivera ripped a two-run single into center to extend Winston's lead to 3-0 and end Baez's night.
Winston-Salem added a run in the bottom of the seventh. With two outs, Gonzalez hit a high fly ball to centerfield that Jack Sundberg lost in the lights, resulting in a double. Nick Madrigal capitalized, lofting a bloop single to right-center field to plate Gonzalez and extend the Dash lead to 4-0.
Drew Hasler (6-2) fired two scoreless innings in relief to earn his sixth win of the season, and Devan Watts and Mike Morrison combined for two more shutout frames to complete Winston's 10th shutout win of the year.
With the victory, the Dash become the first Carolina League team to reach the 70-win plateau this season and just the sixth team in Minor League Baseball to eclipse 70 wins.
The Dash's series with the P-Nats concludes on Sunday at 2 p.m., when left-hander John Parke (3-3, 3.94 ERA) toes the rubber against left-hander Nick Raquet (2-2, 6.67 ERA). Pregame coverage begins at 1:45 p.m., and fans can catch all of the action on wsdash.com/broadcast, MiLB.tv and the TuneIn Radio App. Fans can also watch live locally on My48 (WXLV).
The homestand concludes with the final Latin American Jersey Day of the season, when the Dash will become the Rayados as part of Minor League Baseball's "Copa de la Diversion" initiative. For tickets and more information, call the Dash at (336) 714-2287 or visit wsdash.com.