Dash trounce Red Sox 13-0 in regular-season home finale
Winston finishes regular season with 45-23 record at BB&T Ballpark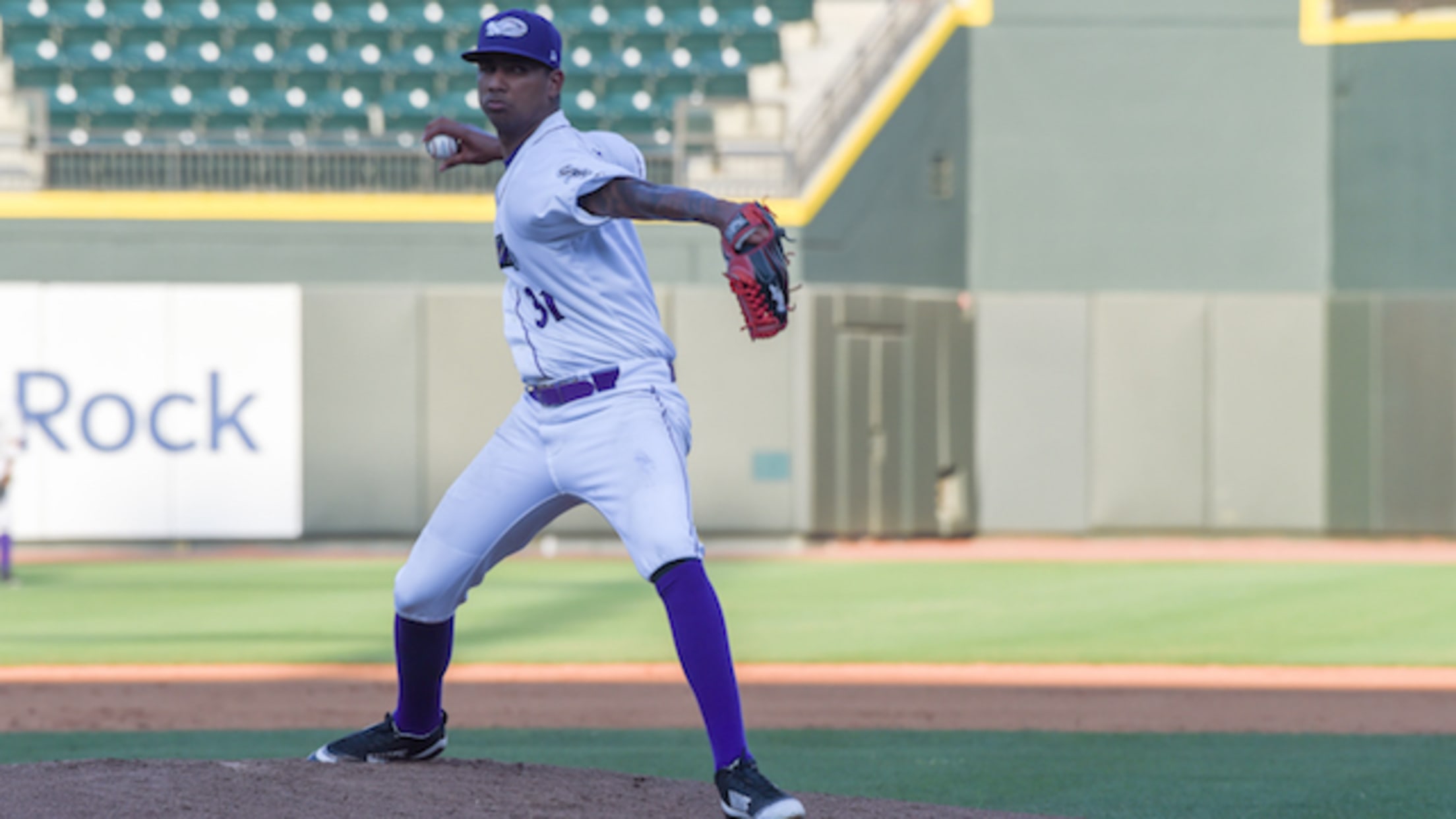 Luis Martinez allowed just two hits in 6.2 shutout innings to lead Winston-Salem. (Robert Hill/Winston-Salem Dash)
WINSTON-SALEM, N.C. (Aug. 30, 2018) - Behind a superb start from Luis Martinez and 16 hits from the Dash offense, Winston-Salem cruised to a 13-0 win over the Red Sox on Thursday night at BB&T Ballpark in front of 6,988 fans. Winston-Salem (40-24, 81-53) finishes its home schedule 45-23, clinching the best home
WINSTON-SALEM, N.C. (Aug. 30, 2018) - Behind a superb start from Luis Martinez and 16 hits from the Dash offense, Winston-Salem cruised to a 13-0 win over the Red Sox on Thursday night at BB&T Ballpark in front of 6,988 fans. Winston-Salem (40-24, 81-53) finishes its home schedule 45-23, clinching the best home winning percentage in the Carolina League.
The Dash leapt ahead against Red Sox starter Kevin McAvoy (1-5) in the first inning. The Dash strung together four consecutive hits - a Nick Madrigal leadoff double, a Luis Robert infield single, a Luis González RBI single and a Yermin Mercedes RBI single - to take a 2-0 lead seven pitches into the bottom of the first inning. Then, Gavin Sheets grounded into a double play that allowed Gonzalez to score to make it 3-0.
Meanwhile, Luis Martinez (9-7) dominated the Salem (30-35, 62-71) lineup. The Dash right-hander mowed down the first 12 batters he faced, completing four perfect innings to begin his night.
The Dash broke the game open in the third, plating five runs against McAvoy. After Robert doubled with one out, he stole third and scored on a throwing error from Nick Sciortino to increase the Dash lead to 4-0. Then, following walks from Luis González and Gavin Sheets , Ti'Quan Forbes was hit by a pitch to load the bases.
Next, Laz Rivera crushed an 0-1 pitch from McAvoy into the Foothills Brewpen for a grand slam - his seventh homer of the year and his second grand slam - to give Winston-Salem a commanding 8-0 lead.
Winston-Salem added two more runs in the next inning with three straight two-out hits. Robert started the rally by bashing a double off the fence in straightaway centerfield to put himself in scoring position. Then, Luis Gonzalez ripped an RBI triple into the right-field corner to bring home Robert. Mercedes followed with a dribbling infield single that allowed Luis Gonzalez to score to make it 10-0.
Robert finished the night 3-for-4 with two doubles and four runs scored, and Luis Gonzalez went 3-for-4 with a triple and two RBIs and four runs scored.
Luis Martinez continued his sterling night, working through the sixth without allowing a run and ceding just one hit. He finished with 6.2 shutout innings while allowing two hits, striking out five and walking three to earn his team-high ninth win of the season. Danny Dopico polished off the seventh inning for Martinez, striking out Nick Sciortino to strand runners on second and third.
The Dash continued their barrage in the sixth. After Joan Martinez hit Robert with a pitch, Luis Gonzalez and Mercedes followed with back-to-back singles to load the bases. Next, Sheets drove an RBI to bring in Robert and re-load the bases for Forbes, who grounded a single through the left side to extend the Dash advantage to 12-0.
Winston's offense tacked on one more run in the eighth. Following a pitching change after a one-out walk to Daniel Gonzalez , Rivera and Zach Remillard lined back-to-back singles off Nick Lovullo - a position player who had entered the game to pitch - to plate Daniel Gonzalez and cap the Dash's scoring.
Dopico tossed 1.1 scoreless innings, and Blake Hickman finished off the shutout with a perfect ninth inning. The shutout is the Dash's 11th shutout win of the season.
The Dash visit the Down East Wood Ducks to start a four-game series on Friday to wrap up the regular season. Left-hander Kyle Kubat (6-3, 3.32 ERA) is scheduled to face right-hander Jason Bahr (2-3, 4.55 ERA) in the series opener. First pitch is at 7 p.m., and pregame coverage begins at 6:45 p.m. Fans can catch all of the action on wsdash.com/broadcast and the TuneIn Radio App.
Following the end of the regular season, the Dash begin their chase for a Mills Cup Championship. Winston-Salem's playoff run, presented by Pepsi and NCDOT, begins with a matchup against the Buies Creek Astros in the Southern Division Championship Series. After the first two games of the series in Buies Creek, Winston-Salem returns to BB&T Ballpark for Game 3 on Friday, September 7, with first pitch at 7 p.m.
Prior to game three, a Food Truck Festival will take place at BB&T Ballpark starting at 5 p.m. If necessary, Games 4 and 5 of the Southern Division Championship Series will be hosted at the downtown facility. Game three will mark the first postseason contest at BB&T Ballpark since 2015. For tickets and more information, call the Dash at (336) 714-2287 or visit wsdash.com.