A special bond: WooSox fan fave Fitzgerald inspired by Olivia, 13, fighting brain cancer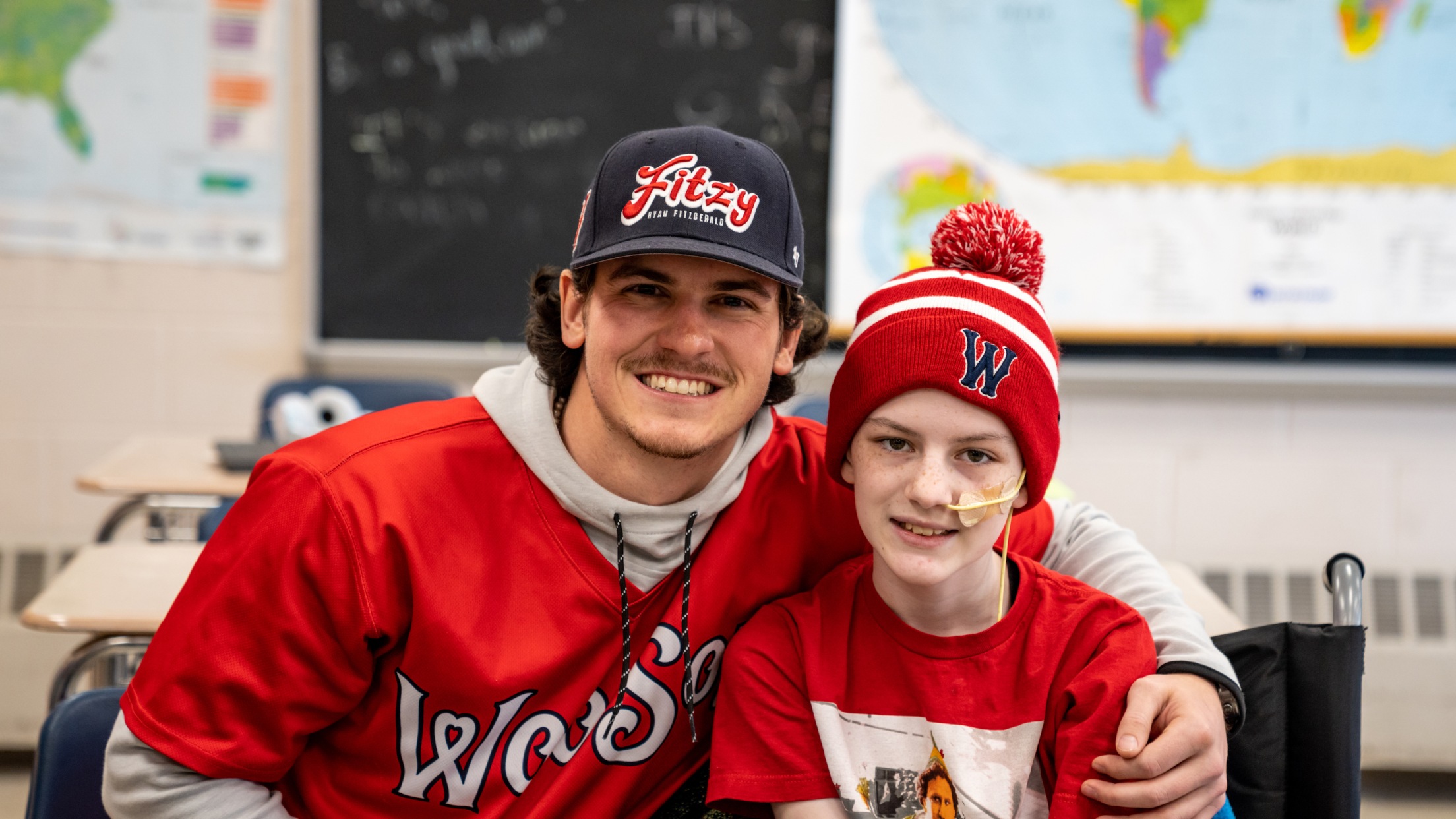 (Tayla Bolduc)
At exactly 6:28 p.m. on Sept. 1, the baseball world was introduced to Olivia Perez. And WooSox' Ryan Fitzgerald took notice. Olivia stepped onto the mound at Polar Park and unleashed a perfect ceremonial first pitch. The 5,896 fans in attendance, including Fitzgerald, gave her a standing ovation. The WooSox
At exactly 6:28 p.m. on Sept. 1, the baseball world was introduced to Olivia Perez.
And WooSox' Ryan Fitzgerald took notice.
Olivia stepped onto the mound at Polar Park and unleashed a perfect ceremonial first pitch. The 5,896 fans in attendance, including Fitzgerald, gave her a standing ovation.
The WooSox contacted Olivia's mother, Felicia, and asked if her 12-year-old daughter would accept an invite to be a guest of honor for Childhood Cancer Awareness Night. The family quickly agreed, and it became Olivia's first experience with America's pastime.
"They really make all the kids feel like celebrities," Felicia Perez said of the WooSox. "They make all the kids feel important. It was really, really cool."
Olivia, now 13, of Pepperell, is battling medulloblastoma, which is an aggressive form of brain cancer. Fortunately, she has been responding well to treatment and is scheduled to have another MRI in the coming weeks.
Olivia first began to feel symptoms in May. Her mother noticed her daughter wasn't acting like herself. Her personality changed and she became short-tempered with her mother.
"She's easy going and nothing upsets her," Felicia said. "She just seemed kind of off, and then she started having fainting episodes. She would be talking, then just blank out and fall."
Felicia explained she argued with doctors for a couple of weeks until finally they agreed to perform an MRI. It was cancer. Ironically, Olivia was diagnosed on World Brian Tumor Awareness Day, which is June 8.
'One of the toughest people I have ever met'
On June 17, she had surgery to remove a grade 4 brain tumor at Boston Children's Hospital. Soon after she began chemotherapy and she's a Jimmy Fund Kid at Dana Farber in Boston. Emotionally, Felicia said her daughter is handling it well.
"She's always been one of the toughest kids I have ever met," Felicia said. "She handles everything with grace and dignity. There's nothing Olivia ever faces where she backs down — ever. She's been like that since birth. She's a go-getter. She's very quiet and reserved, but she is one of the toughest people I have ever met."
Keeping a promise (with a special gift)
When Fitzgerald first met Olivia he promised to visit her after the season was over. The surprise visit was planned, but Olivia was in the hospital, so it was rescheduled. Only a few days before Christmas break, Fitzgerald arrived at Nissitissit Middle School Dec. 21 in Pepperell.
When he was given his itinerary for the annual WooSox' Holiday Caravan, and knowing ahead of time he would visit with his No. 1 fan, Fitzgerald asked the Homewood Bat Company, which is the brand he swings during the season, to make a special bat for Olivia. It has her name and Fitzgerald's signature on it.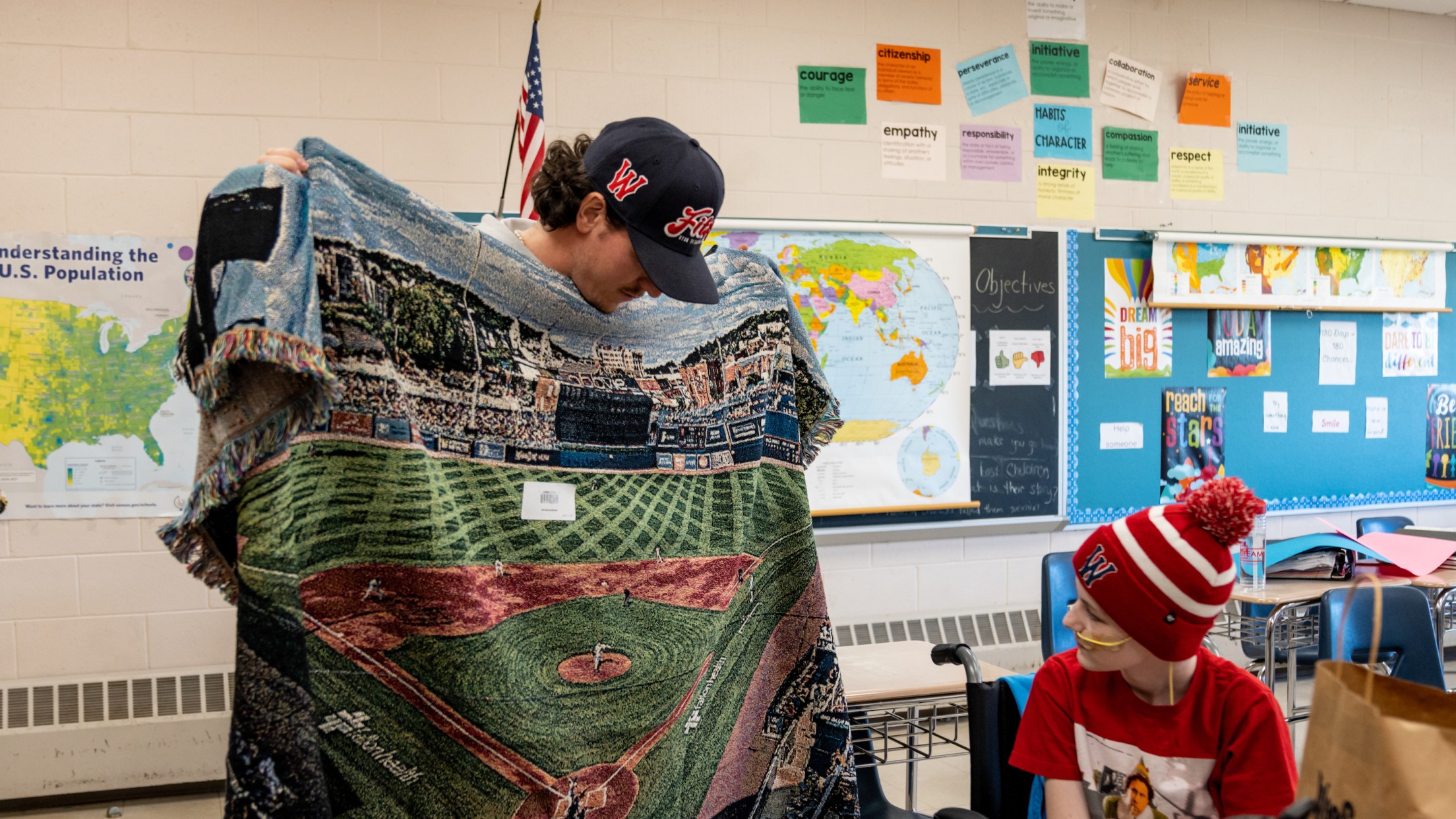 "I was excited to give that to her," Fitzgerald said. "It was (a) great visit. She was awesome, really inspiring."
Everyone at the school was in awe, especially Olivia.
"I was like 'Oh my gosh, don't anybody touch it.' I was worried about my 7-year-old swinging it like a weapon," Felicia said with a laugh.
A protective case has been ordered and Olivia is planning on hanging the bat in her room. Fitzgerald admits he couldn't believe it when he learned he was Olivia's favorite player.
"That's crazy," he thought. "I'm just playing a game of baseball, and she's out here fighting for her life. That's just unbelievable to me that I'm her favorite player, but I said, 'I should be looking up to you.'"
After the visit, Fitzgerald posted Olivia's story on his Instagram account.
"It was really sweet," Felicia said. "He's a genuine guy."
Fan fave
Fitzgerald became a fan favorite in Worcester for his enthusiasm, personality and passion for the game. He respects the fans, and the feeling is mutual. It's one of the reasons he became the first minor league player in history to have his own brand and the WooSox pro shop can't keep the "Fitzy" merchandise on the shelves.
"He's pretty young, so the girls think he's cute," Felicia said with a smile. "Olivia was pretty excited. Ryan's a really nice guy, very big brotherly, but also very down to earth, which was really cool."
Loss of loved ones
During the game when Olivia tossed out the ceremonial first pitch, she watched the game from a private suite. The entire night was dedicated to Childhood Cancer Awareness. Unfortunately, one of Olivia's friends that she met through the program lost his battle and was honored on the video board during the game.
Felicia also lost her mother to lung cancer in February 2014. Less than a year later, Felicia's brother passed away from a drug overdose.
"Him and Olivia were the best of friends, very close," Felicia said.
Felicia, who works in the insurance authorization department for Winchester Hospital, explained that she had to step away from her duties because the cancer claims became too much to handle. She was a strong advocate for families and chemotherapy treatments that sometimes did not get approved. Instead, she has been working with other departments.
Through it all, Olivia was the strong one.
"It was really starting to get to me," Felicia said. "She was my backbone through it all. She handles everything like a grain of salt. I've never seen anything like it."