WooSox will don Black Panther jerseys as part of "Marvel's Defenders of the Diamond" promotion on Sunday Aug. 7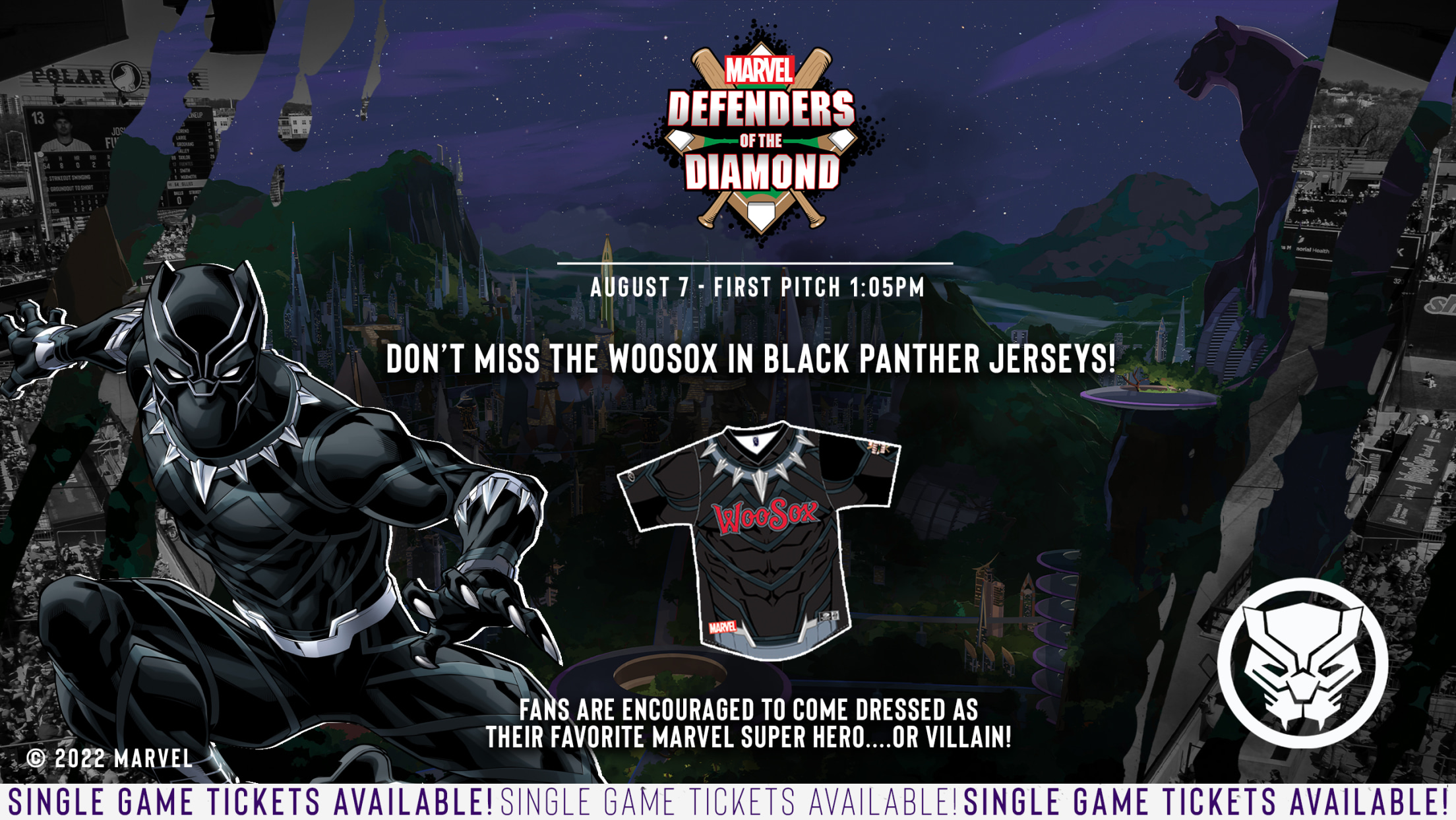 Thursday, July 28, 2022 Click Here for Single Game Tickets for Aug. 7 Click Here for the Defenders of the Diamond Deluxe Ticket Package WORCESTER, MA — The Worcester Red Sox are among the Minor League Baseball teams selected to participate in the "Marvel's Defenders of the Diamond" event series
Thursday, July 28, 2022
Click Here for Single Game Tickets for Aug. 7
Click Here for the Defenders of the Diamond Deluxe Ticket Package
WORCESTER, MA — The Worcester Red Sox are among the Minor League Baseball teams selected to participate in the "Marvel's Defenders of the Diamond" event series for the next three seasons. In their game against the Durham Bulls (Triple-A, Tampa Bay Rays) Sunday, August 7, the WooSox will wear special Black Panther jerseys. First pitch at Polar Park is at 1:05 p.m.
MiLB announced their three-year partnership with Marvel Entertainment in October 2021. In each of the next three seasons, the WooSox will host at least one Marvel Super Hero™-themed game, featuring special Marvel Super Hero-branded jerseys, voted on by fans.
Fans who dress as a Super Hero on August 7 will win prizes. Special Black Panther-inspired WooSox shirts will be sold in the team store. In addition, fans will enjoy a character appearance from Black Panther, who will interact with mascots Smiley Ball and Woofster the WonderDog.
Coincidentally, a scene in Black Panther: Wakanda Forever was filmed in the Ernest A. Johnson Tunnel in Worcester last August. The film's release date is November 11.
As part of Fallon Family Funday Sunday, youngsters can Run the Bases following the game, presented by HP Hood.
For those who seek a deluxe package, 34 fans can opt for a $133 offer that includes a Black Panther-inspired WooSox jersey, $14 of ballpark credit, and a spot on the Yuengling Flight Deck 34 just above field-level in center.
Good tickets are still available at WooSox.com, the Polar Park Ticket Office, or by calling (508) 500-1000. Fans may reach Group Experience Coordinator Alex Choi at [email protected].
About Marvel Entertainment
Marvel Entertainment, LLC, a wholly owned subsidiary of The Walt Disney Company, is one of the world's most prominent character-based entertainment companies, built on a proven library of more than 8,000 characters featured in a variety of media for over 80 years. Marvel utilizes its character franchises in entertainment, licensing, publishing, games, and digital media. For more information, visit marvel.com. © 2021 MARVEL