2019 Albuquerque Isotopes Season In Review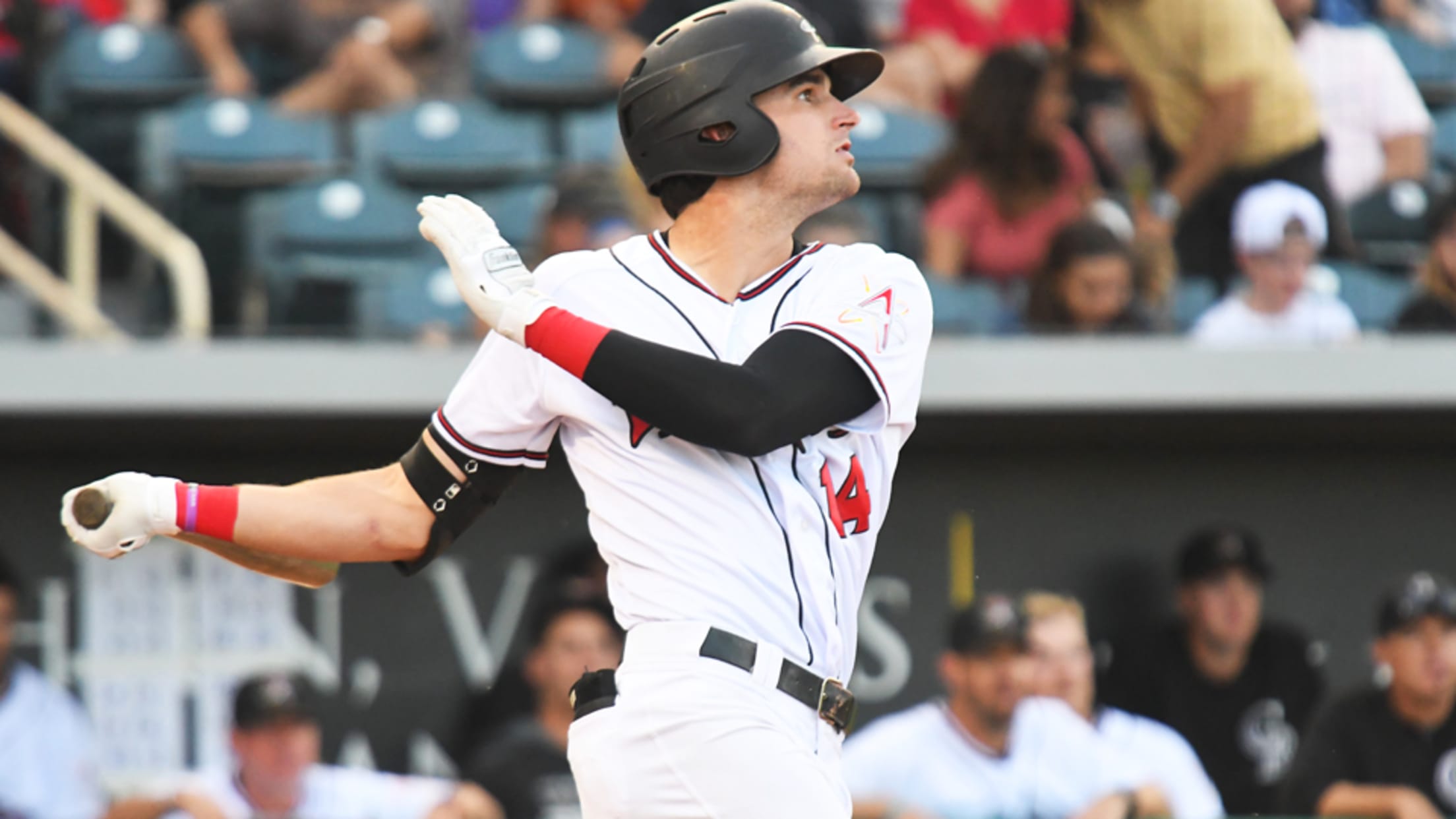 (Tim March)
The 2019 season saw record performances on the field for the Albuquerque Isotopes, both as a team and individually. 
The 2019 season saw record performances on the field for the Albuquerque Isotopes, both as a team and individually.

Home runs were being hit at a record pace all across the Triple-A level and Albuquerque was no exception. The Isotopes hit a franchise record 212 home runs this season, surpassing the previous high of 197 by the 2008 club. The 2019 Isotopes, who finished the year with a 60-80 record, averaged 1.5 homers per contest with at least one long ball in 107 of 140 games.

Albuquerque hit nine grand slams, matching the single-season record established in 2004. The Isotopes had five pinch-hit home runs in 2019, after recording one between 2016-18. There were six back-to-back homers, three game-opening shots, one inside-the-park home run (Drew Weeks, April 27 at Salt Lake) and one walk-off blast (Dom Nuñez, Aug. 11 vs. Round Rock).

The Isotopes compiled 15 multi-homer games with Pat Valaika establishing a team record with five. Drew Weeks had three multi-homer performances with two of them being quite unique. Weeks' first was on April 27 at Salt Lake when he joined Hector Luna (May 31, 2009 vs. OKC) as the only Isotopes to hit both an inside-the-park home run as well as a traditional home run in the same game. On July 11 at El Paso, Weeks hit a solo shot and a grand slam, both coming he second inning. The outfielder is the only Isotope to ever homer twice in one inning.

Weeks finished the year with 20 long balls and was one of nine Isotopes that established career highs in home runs: Pat Valaika (22), Josh Fuentes (17), Dom Nunez (17), Yonathan Daza (11), Elliot Soto (10), Drew Butera (9), Ryan Castellani (1) and Sam Hilliard , who had a team-leading 35.

Hilliard's 35 homers were tied for the second-most in team history and the most by an Isotope during the Rockies era. The outfielder also swiped 22 bags and was one of three players in Minor League Baseball with at least 30 home runs and 20 stolen bases (Kyle Tucker, Luis Robert ). Hilliard became the second Isotope to ever reach the 20/20 mark joining Joc Pederson (33hr/30sb in 2014). The 25-year-old also established the Isotopes single-season record for runs scored (109) and extra-base hits (71). The Mansfield, Texas native's 109 runs scored led the PCL while he also finished in the circuit's top five in total bases (3rd), extra base hits (3rd) and home runs (4th).

Roberto Ramos also joined Hilliard in the 30-homer club, becoming the first Albuquerque teammates to hit at least 30 long balls in the same season since Valentino Pascucci and Scott Seabol accomplished the feat in 2007. The first baseman's 30th round-tripper came in the final game of 2019, as he also recorded his 105th RBI to match Seabol (2007) for the second-most in a single-season in Isotopes history. The native of Hermosillo, Sonora whose nickname is the "Mariachi Masher" led the club in games played with 127 while batting .309 (133-for-431).

MOST COMMON BATTING ORDER

Ramos was one of five Isotopes to hit over .300 for the year. Yonathan Daza's .364 batting average (141-for-387) surpassed Joe Dillon's .360 average from 2005 to establish the team record. Daza hit safely in 71 of the 89 games he played while racking up a team-high 49 multi-hit performances. The outfielder from Venezuela ranked third in the PCL in hitting while Brian Mundell's .333 average was fifth and Pat Valaika placed eighth at .320.

Elliot Soto had arguably the best year of his professional career, establishing highs in runs (79), hits (125), total bases (197), doubles (22), triples (10), home runs (10), RBI (50), stolen bases (8), batting average (.305), on-base percentage (.380), slugging percentage (.480) and OPS (.860). Soto was one of nine players in Minor League Baseball and one of two in the PCL to record double-digits in doubles, triples and home runs.

Noel Cuevas accomplished one of the rarest feats in baseball on April 10 at Reno hitting for the cycle. Cuevas finished that evening 5-for-5 with five runs scored, two home runs and five RBI. The cycle was the eighth in Isotopes history as well as the first to occur away from Isotopes Park. The Puerto Rico native's 14 total bases tied the Isotopes single-game record which was established by Brett Carroll on July 18, 2007 vs. Omaha. Cuevas also matched the Isotopes single-game records for hits and runs scored that night.

BATTING LEADERS
(min. 2.7 plate appearances/lg. game)

While the Isotopes offense was putting up a record number of long balls, Albuquerque pitchers also saw a spike in homers allowed. The Isotopes surrendered a team record 252 home runs which was the most in all of Minor League Baseball. It was also the most allowed by a PCL team since Sacramento allowed 301 in 1974. Prior to 2019, the only PCL teams to yield 200 or more homers since 1964 were Sacramento in 1974 and 1976 (206) and the Isotopes in 2004 (209). Isotopes pitchers also set team high this season in hits allowed (1545), earned runs (864), ERA (6.38) and opponents average (.309). Pat Dean yielded a league-high 34 homers, which also established an Isotopes single-season record.

Despite the increase in home runs allowed in 2019, there were plenty of memorable performances on the mound for the Isotopes pitching staff.

Jeff Hoffman led Albuquerque with 98 strikeouts while being promoted to the Rockies five times during the 2019 campaign. It was the third time in four years he had held the team high for punch outs. Hoffman also surpassed John Ely (320 K from 2010-12) for the Isotopes all-time strikeout record with 364. The right-hander also made team history on May 4 and 10 when he struck out 10 batters in back-to-back outings. Hoffman became the first Isotope to compile at least 10 strikeouts in consecutive games since James McDonald accomplished the feat on June 8 and June 14, 2009.

Tim Melville won a team-best 10 games for the Isotopes in 2019. The right-hander's win total ranked seventh in Isotopes history and were the most since Ryan Carpenter also won 10 games in 2017. Melville led the club with 96.1 innings pitched and went at least 5.0 innings in 16 of 18 appearances.

Sam Howard was one of Albuquerque's most consistent arms out of the bullpen. Howard compiled a 3.91 ERA (22er/50.2ip) in 42 appearances and was voted the Isotopes Players' Choice for Pitcher of the Year. The lefty had a very dominant stretch from May 27-Aug. 19 when he registered a 0.79 ERA (2er/22.2ip), 29 strikeouts, four walks and no home runs in 23 appearances. Howard recorded the first save of his six-year professional career on Aug. 15 at Las Vegas.

Albuquerque relief pitchers converted 19 saves in 36 opportunities, the fewest saves in a season for the Isotopes. Jairo Díaz saved the most games with six and had a 0.45 ERA (1er/20.0ip) in 16 appearances. Diaz went on a 19.0 inning scoreless streak starting April 5 and lasted until he was called up to the Rockies on May 22.

PITCHING LEADERS
(min. 0.8 innings pitched/league games)

Thirty-one members of the Isotopes appeared for the Rockies this season. Of those promoted to Colorado, 14 were on the Isotopes Opening Day roster. Nine Isotopes Josh Fuentes, Yonathan Daza, Brendan Rodgers, Jesus Tinoco, Peter Lambert, Phillip Diehl, Dom Nunez, Rico Garcia and Sam Hilliard made their Major League debuts during the 2019 campaign.

Overall, the Isotopes had 60 players suit up for them during the 2019 campaign and tallied 214 total transactions. Eight players: Ryan Castellani, Evan Grills, Matt Pierpont, Peter Mooney, Brian Mundell, Roberto Ramos, Elliot Soto and Drew Weeks spent the entire season with the Isotopes, with Ramos being the only one active for all 140 games. There were nine countries and territories represented on the Isotopes roster with players from Canada, Cuba, the Dominican Republic, Mexico, Panama, Puerto Rico, the United States, Venezuela and their first ever player from the Bahamas (Todd Isaacs). Twenty-four players made their Triple-A debuts in 2019 with the Isotopes while Albuquerque hosted nine Major League rehab assignments.

Yonathan Daza, Sam Hilliard, Roberto Ramos and Pat Valaika were selected to represent the Pacific Coast League at the Triple-A All-Star Game on July 10 at El Paso. Valaika did not play in the contest as he was with the Rockies at that time. Daza went 1-for-3 with an RBI triple in the second inning. Hilliard was 0-for-3 with a run while Ramos drew a walk and later scored in his lone plate appearance in the seventh inning.

Ramos also participated in the Triple-A Home Run Derby on July 8. The "Mariachi Masher" hit 17 home runs in the first round, but was eliminated by El Paso third baseman Ty France with 18. Ramos was the first Isotopes player to compete in the Home Run Derby since Trayvon Robinson in 2011.

Albuquerque reliever Ben Bowden pitched in the All-Star Futures Game on July 7 in Cleveland, allowing two runs and three hits in 0.1 inning. The lefty was the eighth Isotope to ever be selected to a Futures Team and was the first since Ryan McMahon in 2017.

Two Isotopes received end of the year honors from the league with outfielders Sam Hilliard and Yonathan Daza being named to the 2019 All-PCL Team. They became the 19th and 20th players in Isotopes history to be named to the All-PCL Team since the club's Inaugural Season in 2003.

Once again, Isotopes Park was recognized as one of the top ballparks in Minor League Baseball. Isotopes Head Groundskeeper Clint Belau received a Presidential Commendation from the Pacific Coast League and PCL President Branch Rickey for his excellence in sports turf management for the 2019 season. Belau worked his seventh season with the Isotopes, but second in his current role as Head Groundskeeper.

PROMOTED TO COLORADO (25)
* Major League Debut

Isotopes Park had 542,832 fans come through the turnstiles in 2019 for an average of 7,983 per game. The average attendance ranked fourth in the Pacific Coast League and was the team's highest since 2015.

The Mariachis de Nuevo México returned to La Plaza for five games this year and were as popular as their inaugural season of 2018. With a new look in 2019, the Mariachis added a touch of turquoise, the New Mexico state gem, to their logo and unveiled new uniforms featuring the color. The atmosphere at La Plaza was once again filled with Mariachi music and Ballet Folklórico dancers while also showcasing new themes each game such as Salute to Selena and Lowriders Night.

The Mariachis were voted by the fans as the best 2019 Copa de la Diversión identity in an online contest held by Minor League Baseball in July, beating out 71 other teams. The Mariachis survived three rounds of voting and defeated their fellow Pacific Coast League team, los Lowriders de Fresno (Fresno Grizzlies) in the championship round.

It was another honor for the Mariachis de Nuevo México, who won 2018's inaugural Copa de la Diversión, or "Fun Cup." The initiative is a season-long event series specifically designed to embrace the culture and values that resonate most with participating teams' local U.S. Hispanic/Latino communities. The 2019 Copa de la Diversión winner will be announced at the Baseball Winter Meetings in December.