History Made: Isotopes Sweep Six-Game Series from Bees in 11-5 Triumph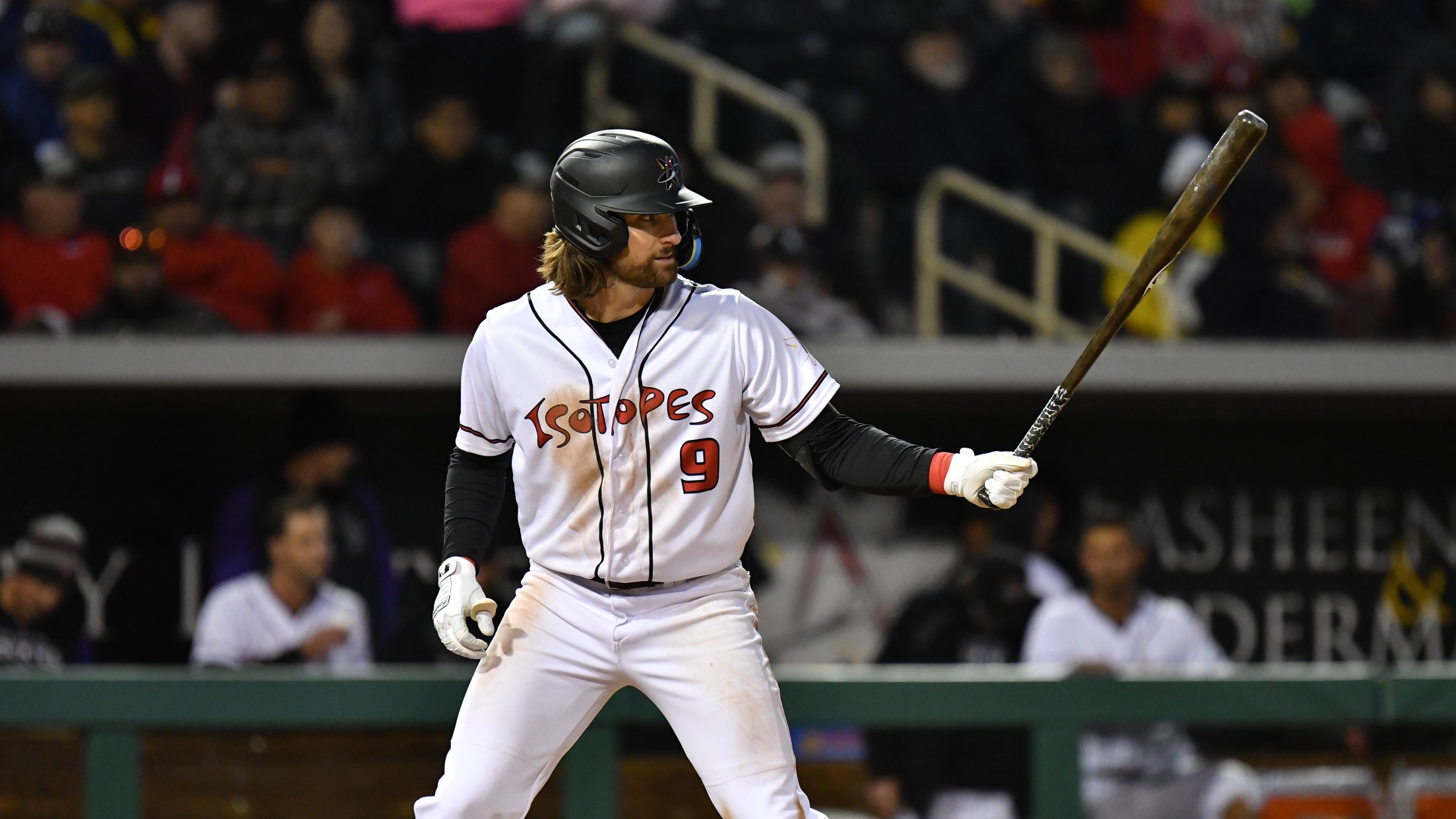 Albuquerque, NM – History was made at Isotopes Park on Father's Day. Coming into the contest against the Salt Lake Bees, the Topes had not swept an opponent in four years and had never swept a series of five or six games in team history. All of that changed as
Albuquerque, NM – History was made at Isotopes Park on Father's Day. Coming into the contest against the Salt Lake Bees, the Topes had not swept an opponent in four years and had never swept a series of five or six games in team history.
All of that changed as Albuquerque used a balanced 11-hit, 12-run attack and defeated Salt Lake 11-5 in a game that was called due to rain in the top of the seventh inning after a 50-minute rain delay. The Isotopes have won seven straight games, their longest streak since 2016.
Since tonight's contest is an official game, the Rain Check Policy is not in effect.
The Bees struck first when Jo Adell launched a two-run homer in the third, his first blast of the series.
LJ Hatch and Ryan Vilade opened the home third with singles before Dom Nuñez walked to load the bases. At that point, Bees manager Lou Marson pulled starting pitcher Jonathan Aro in favor of veteran lefty Grant Dayton.
Dayton immediately issued a five-pitch walk to Carlos Pérez to put the Isotopes on the board. After two outs, Wynton Bernard came through with a two-run double off Isotopes Hill, giving Albuquerque a 3-2 lead. Two more runs then came around when third baseman Kean Wong couldn't handle a grounder hit by Scott Schebler hit to the shifted right side of the infield, upping the advantage to 5-2.
After Salt Lake plated a run in the fourth, Albuquerque got three back in the bottom half thanks to a pair of errors and Coco Montes sacrifice fly.
Jose Rojas brought the Bees within 8-5 on a two-run homer in the fifth, but Albuquerque once again kept their hitting shoes on. Schebler led off the fifth with a single before scoring on a two-out RBI single by Dom Nuñez. After a walk, Sam Hilliard connected on a two-run double for an 11-5 Topes lead after five full.
With one out in the top of the seventh inning, rain started to pour down with Jose Rojas at the plate. The teams were waved off the field at 8:23 p.m. and the contest was called at 9:13 p.m., giving Albuquerque a shortened triumph.
Isotopes starter Brandon Gold earned the win by pitching 5.2 innings of eight-hit, five-run ball. He improved to 4-2 on the season.
Vilade, Hilliard, Bernard, Schebler and Hatch all had a pair of knocks. 10 of Albuquerque's 12 hits were singles.
Topes Scope: - The Isotopes swept a series for the first time since taking four straight from the Nashville Sounds from June 16-19, 2018 at home.
- This is just the fourth six-game sweep in the Pacific Coast League since the new six-game series scheduling format went into effect prior to last season. In 2021, Salt Lake was swept by Round Rock and Tacoma, while Las Vegas took six in a row against Sacramento earlier this season.
- Albuquerque's win streak is their longest since a team-record tying nine-game surge from July 8-19, 2016.
- The Topes swept a series over Salt Lake for the first time in club history.
- Albuquerque outscored the Bees 52-25 during these six games.
- Vilade is 10-for-20 with a double, two homers, and 12 runs scored over his last five games. He has raised his season average from .234 to .259 during that time.
- Bernard registered his team-leading 19th multi-hit game of the season. He now has 40 RBI in 50 contests this season after driving in 30 for the entirety of the 2021 campaign, when he played 100 games.
- The Topes scored in double figures for the 15th time this year, and 11th at home. It was their second time earning a victory when scoring in double digits but not homering (May 1 vs. Sacramento).
- Gold worked into the sixth inning for the third time in his last four starts.
- Hilliard registered his first extra-base hit since a double on May 29 at Washington.
- The Bees made four errors, the most by an Albuquerque opponent in a contest this season.
On Deck: Albuquerque will travel to Las Vegas to begin a six-game series with the Aviators (AAA Athletics) on Tuesday. First pitch from Las Vegas Ballpark will be at 8:05 p.m. MT (7:05 PT) for all six contests.