Peterson's Two-Homer Night Not Enough as Isotopes Fall 10-9 in 12 Innings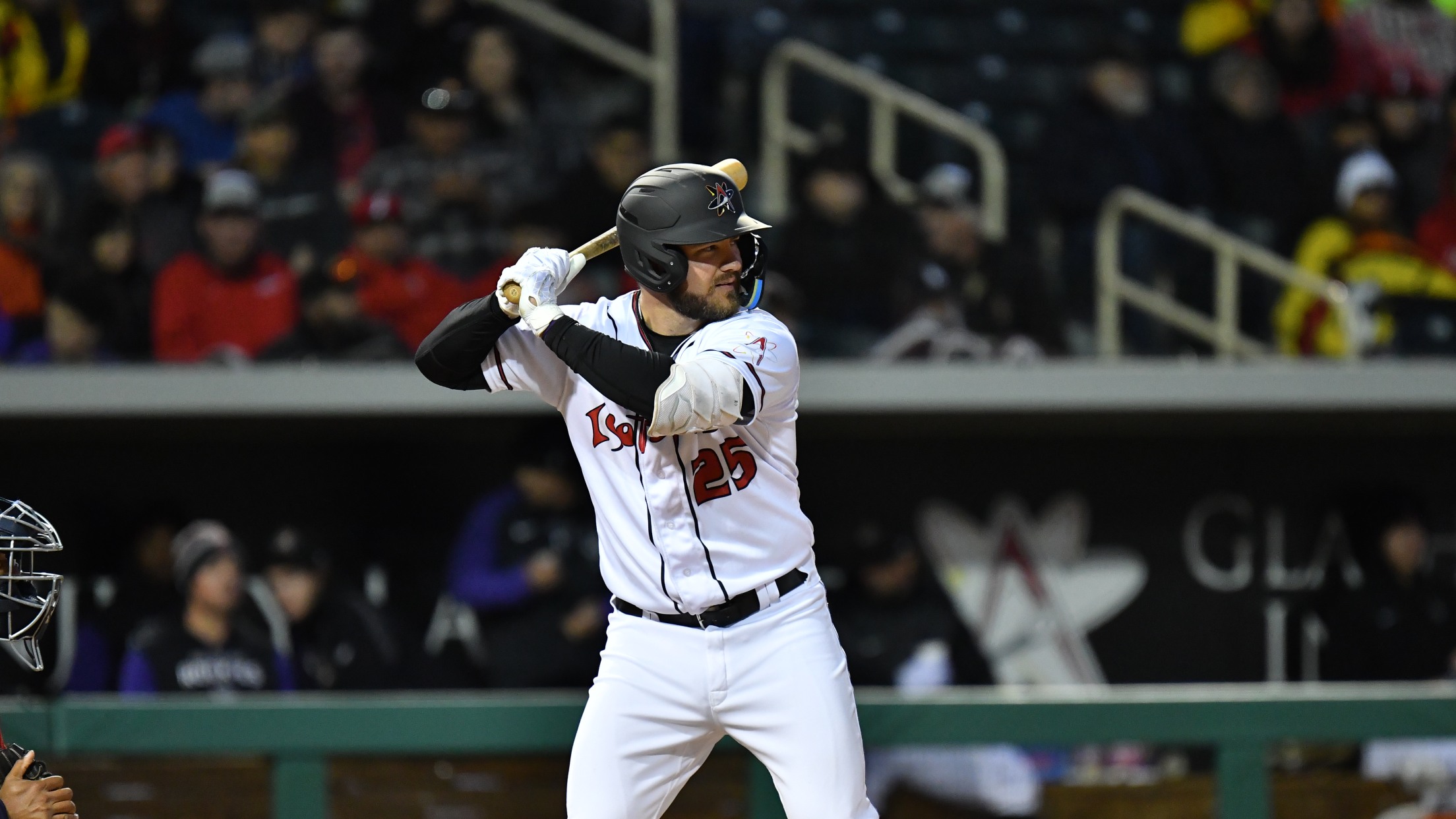 El Paso, TX – The Albuquerque Isotopes experienced an unfortunate case of déjà vu on Thursday night. Despite Albuquerque taking multiple leads in extra innings, the El Paso Chihuahuas came away with their second consecutive walk-off victory, this time with a final score of 10-9 on Eguy Rosario's two-run blast
El Paso, TX – The Albuquerque Isotopes experienced an unfortunate case of déjà vu on Thursday night. Despite Albuquerque taking multiple leads in extra innings, the El Paso Chihuahuas came away with their second consecutive walk-off victory, this time with a final score of 10-9 on Eguy Rosario's two-run blast in the 12th.
Albuquerque (47-55) dropped their third straight to open this series despite a two-homer, three-night by D.J. Peterson. The Topes are now 19-35 on the road this season.
With the score tied at seven in the 10th, Bret Boswell gave the visitors the lead with a two-out single to center field. However, El Paso (57-45) tied it in the bottom half on Rosario's sacrifice fly.
Zach Lee performed a Houdini act to escape the 11th inning. The Chihuahuas loaded the bases with just one out, but Lee punched out Connor Hollis and Thomas Milone to prolong the contest.
Pinch-runner Tim Lopes scored the go-ahead run for Albuquerque on a wild pitch in the 12th, but they left two more runners in scoring position. After Nick Kennedy struck out the first batter he faced in the bottom half, Rosario ended the night with a two-run homer to center field.
Trailing 2-0 in the second inning, the Isotopes quickly took the lead. Carlos Pérez and Coco Montes started the inning with doubles to put the visitors on the board before Bret Boswell connected on an opposite-field, two-run homer over the left-field wall.
As they have throughout the series, El Paso answered an Albuquerque rally with a crooked number of their own in the home second. With two outs and the bases empty, Hollis doubled, Milone tripled him home and Jose Acozar made it 5-3 Chihuahuas with a two-run clout.
Peterson connected on his first homer of the night in the fourth, a solo shot. He capped a two-run sixth with another homer, shortly after Alan Trejo tied the game with an RBI single.
El Paso plated runs in the sixth and seventh to tie the score, but Albuquerque tied the game in the eighth on Wynton Bernard's sacrifice fly.
Topes Scope: - The Isotopes were walked off for the seventh time this season, the most in a single campaign since 2016, when it happened eight times.
- Albuquerque has surrendered three walk-off homers in 2022 (Jason Martin, April 5 at OKC; Colby Fitch, May 20 at Salt Lake; Rosario tonight), their most in a season since giving up four in 2016.
- The Isotopes played more than 11 innings for the first time since a 12-inning victory vs. Salt Lake on April 7, 2019. It was just the second time they have gone to the 12th since the extra-inning rule was changed throughout Minor League Baseball prior to the 2018 season.
- Tonight marked Albuquerque's longest time of game (3:47) since a 3:54 contest that lasted 10 innings at Las Vegas on Aug. 22, 2021.
- Peterson has homered three times in his last two games. It was his second multi-homer game of the year, he did so July 9 at Round Rock. Coincidentally, Albuquerque also lost that game 10-9 in extra innings. Peterson has tallied a trio of three-hit games in 2022.
- Peterson picked up the 13th multi-homer game of the season for the Isotopes, and the first since Trejo on July 24 vs. Sugar Land.
- Jonathan Morales snapped a 5-for-31 drought over his previous nine contests by going 3-for-6. It was the fifth time he had three or more hits in a game this year and first since a 3-for-4 effort on June 29 vs. Sugar Land.
- Pérez is riding a season-long nine-game hit streak in which he is batting .436 (17-for-39) with five doubles, four homers and 10 RBI. He has raised his season average from .257 to .280 during the stretch.
- Montes has hit safely in 10 consecutive contests, a season-high for him. He is batting .341 (15-for-44) with three doubles, five homers and 19 RBI throughout the timeframe.
- Boswell is batting .444 (12-for-27) with two doubles, three homers and seven RBI in his last seven games. Out of his nine home runs this year, six have gone to the opposite field.
- In six games in El Paso this season, Albuquerque starting pitchers have posted a 13.50 ERA (36 ER/24 IP).
- Lee completed two full innings for the first time this season. It was the eighth time he has pitched on consecutive days in 2022.
- The Isotopes surrendered two runs in the first inning, bringing their season total to 110 allowed in the opening frame, by far the most in MiLB. The next closest is Triple-A St. Paul with 89. Albuquerque has allowed multiple runs in the first in 28 contests.
- Dom Nuñez was called for catcher's interference, the first time that has happened to an Albuquerque backstop since Chris Rabago on Aug. 26, 2021 vs. Round Rock.
- Albuquerque has scored in 13 innings during this series. El Paso has answered back by scoring in the bottom half of the same frame nine times.
On Deck: Right-handed pitcher Brandon Gold is scheduled to make the start for Albuquerque tomorrow against El Paso right-hander Matt Waldron. First pitch from Southwest University Park is set for 6:35 p.m.