Charleston Baseball Hall of Fame Announces Finalists for Class of 2019
Fans now able to cast ballots for 16th annual class of inductees from panel finalists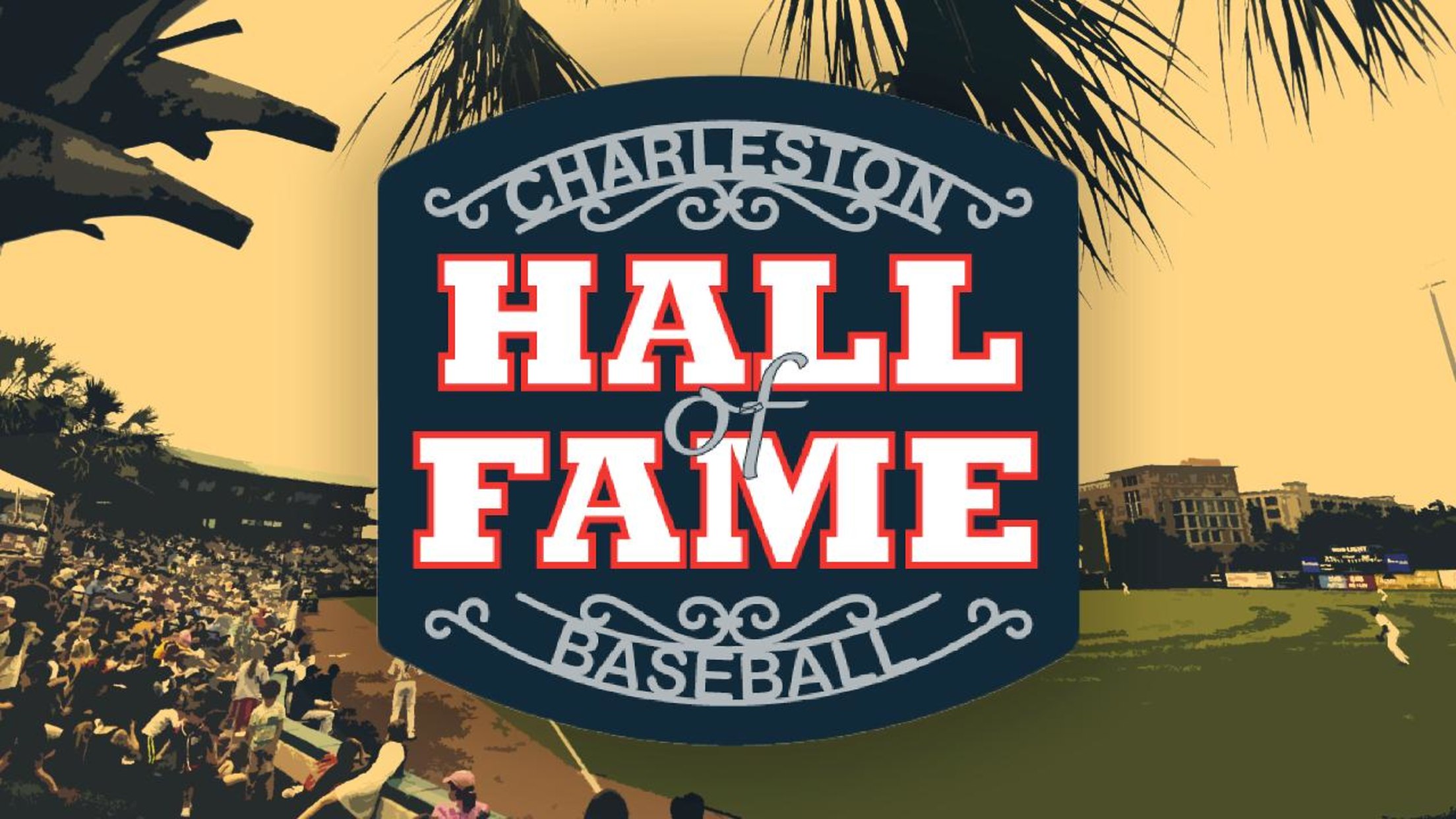 CHARLESTON, SC - The Charleston Baseball Hall of Fame's advisory committee has released its candidates for the Class of 2019, and enshrinement will be conducted by voting from local fans.The Committee also announced that fans will select the two that collect the most votes while the committee will vote in
CHARLESTON, SC - The Charleston Baseball Hall of Fame's advisory committee has released its candidates for the Class of 2019, and enshrinement will be conducted by voting from local fans.
The Committee also announced that fans will select the two that collect the most votes while the committee will vote in one additional member. Official ballots will be at Riley Park beginning today and online voting will also be available via a link posted at RiverDogs.com or at
https://forms.gle/iBdM9Lu1CYUxx3qH8.
Voting will conclude on Friday, July 5, noon. The top two individuals with the most votes will be inducted prior to the August 3 RiverDogs home game against Delmarva.
The Charleston Baseball Hall of Fame is coordinated and operated by the Charleston RiverDogs. An advisory committee consisting of knowledgeable local volunteers was created to come up with the names as potential nominees. The Hall of Fame is located inside Joseph P. Riley, Jr. Park.
The finalists, in alphabetical order, for the Class of 2019:

Steve Arrington (Player) - A Lowcountry native, Steve Arrington was a right fielder/pitcher, named the 1973 Southern Conference baseball player of the year after leading the SoCon in strikeouts (93 in 65 IP), home runs (6) and RBI (28) … named to the South Carolina College Coaches All-Star team at both positions …member of the 1971 SoCon Championship team (22-9) under Coach Chal Port …had a pair of one-hitters, and held the school single-season records for strikeouts with 213 (196 IP) in 1973, complete games (8 in 1972), and shutouts (3 in 1971), and was second in ERA (0.96) in 1973 … spent nearly 30 years in the U.S. Air Force in worldwide assignments, and attained the rank of full Colonel …enshrined in The Citadel Athletic Hall of Fame in 2017. Resides in Hanahan, SC.
Tony Cadden (Coach) - Won three state championships as a player at Country Day High School during his final three seasons (1973-75) …played second base at North Greenville College …after college, he coached recreation baseball on James Island …also coached a team in the South Carolina Collegiate Summer League for two years and took the SC College All-Stars to Cincinnati for the Collegiate Summer League World Series … coached American Legion Post 147 baseball team for 20 years, raising over $100,000 during his tenure to fund the program so players would not have to pay to play …led Post 147 teams to several league titles and a pair of state runner-up titles …more than 100 of his players played collegiately …eight former players played professional baseball…was also an associate scout for the Texas Rangers for eight years and is currently an associate Scout for the New York Mets …currently serves as an assistant baseball coach for Porter Gaud.
Mike Cisco (Player)- Former Wando High School and University of South Carolina RHP pitcher …named to 2005 South Carolina AAAA All-State High School team … member of 2005 SC/NC Select All-Star team … posted a 19-10 record for South Carolina from 2006-08 … "Our Greg Maddux," coach Ray Tanner once said of Cisco, the grandson of former MLB pitching coach Galen Cisco …was a dependable starter on very good USC teams that always reached the NCAA Tournament …pitched in the minors for six seasons (33-26), reaching Triple-A … resides in Mt. Pleasant.
Michael R. "Mike" Montei (Player) - A two-time member of the All-Southern Conference baseball team and a four-year letterman …his 30 victories, along with Hall of Famer Dick Almes '60, set the standard for all Citadel pitchers …when he graduated in 1987, Montei was tied as the second all-time winningest pitcher in military college history …also upon his graduation, he held school records for most innings pitched in a season (99.1 in '87) and career (315), and most career appearances (64) …regarded as a control pitcher with the breaking ball as his bread-and-butter pitch … as a freshman, was the winning pitcher for Coach Chal Port's 400th career victory …averaging just 1.3 walks per 9 innings … defeated Furman in Greenville four consecutive years and was the winning pitcher against North Carolina three straight years …enshrined in The Citadel Athletic Hall of Fame in 2005.
Bo Parks (Player) - Summerville baseball standout …inducted into the Dorchester School District 2 Hall of Fame in 2000 …played on Summerville's 1978 and '79 state championship baseball and football teams …posted a 56-6 career high school pitching record, with seven no-hitters … also holds the state record for consecutive wins in a season with a 16-0 record in 1979 … all-time state rankings: 4 career no-hitters (t1st); most consecutive shutouts, 4 (t3rd); most consecutive wins, 20 (5th); most strikeouts game, 20 in 1978 (t2nd).

J

ohn Pawlowski (Coach)- Former Clemson player/assistant coach and College of Charleston head coach … pitched in the majors for the Chicago White Sox (1-0 MLB record) … turned College of Charleston into a Southern Conference powerhouse during his nine seasons (2000-2008) … led Cougars to at least 36 wins six times, three NCAA Regional appearances and a Super Regional appearance in 2006 … three-time SoCon Coach of the Year …38 former Cougars were drafted (including a school-record 9 in 2008) or signed free agent contracts under Pawlowski …coached three SoCon Players of the Year, four SoCon Pitchers of the Year and a Freshman of the Year …from 2002-08, the Cougars earned either the SoCon Player or Pitcher of the Year awards each year (7 seasons) …finished his tenure at CofC with a record of 338-192, including a 2004-07 window in which the Cougars established a SoCon record for most wins in a four-year span (180-67; .729) …CofC's 48-15 record in 2005 is still the most wins in SoCon history, as is its 95-31 combined overall record over two seasons in 2004-05 (47-16 in 2004, 48-15 in 2005) …CofC's 27-3 league mark in 2005 is the best in SoCon history, as is its 52-8 league record over two seasons (25-5 in 2004, 27-3 in 2005) …signed and coached many of the best players in SoCon history including Brett Gardner of the NY Yankees …he turned CofC into a nationally-recognized program, essentially building the program …during his tenure, 46 times CofC players earned All-SoCon honors, 20 earned All-American honors, seven Freshman All-American honors and nine were named Academic All-American …left CofC to become head coach at Auburn in 2009 and is currently the head coach at Western Kentucky.
Fans can "Make Fun" with the RiverDogs all season long down at The Joe. Single-game tickets, including options to the Riley Park Club, are now available at riverdogs.com/tickets or by contacting the RiverDogs front office at 843-577-3647 (DOGS). A full schedule and list of game times for the 2019 season is available at riverdogs.com.
-CHARLESTON BASEBALL HALL OF FAME-
CHARLESTON BASEBALL HALL OF FAME INDUCTEES
2018 - Lewis Elmore "Lukey" Dudley
Richard "Dick" Jones
Jerry Stoots
2017 - John Couch
Philip A. Hartig
Ryan Johnson
R.J. Swindle
2016 - Ted Byrne
Chris Campbell
Nick Chigges
Joseph P. Riley, Jr.
Mike Veeck
2015 - Pete Ayoub
John Chalus
Lee Curtis
2014 - Reese Havens
David Hoffman
Billy Swails, Jr.
2013 - Steven Jackson
Drew Meyer
Britt Reames
2012 - Gettys Glaze
Tom Hatley
John Rhodes
2011 - Bill Ackerman
Roberto Alomar
Mike Kimbrell
2010 - Lee Glaze
Fred Jordan
D.K. Walters
Kenny Wilkinson
2009 - John Dodds, Jr.
W.S. "Bull" Durham
Donald Morillo
Doug Pounder
2008 - Bryce Florie
Danny Jones
Charley Smith
Richard Wieters
2007 - 1955 Cannon Street YMCA All-Star Team
1990 Citadel World Series Team
Anthony Jenkins
Modie Risher
2006 - Ty Cline
Mike Cook
Gary McJunkin
Chal Port
2005 - John Candelaria
2004 - David Cone
2003 - Willie Randolph
Gorman Thomas