Smith's Breakout Fueled by Easygoing State of Mind
Texas product leaning on family, teammates during career season with the Dogs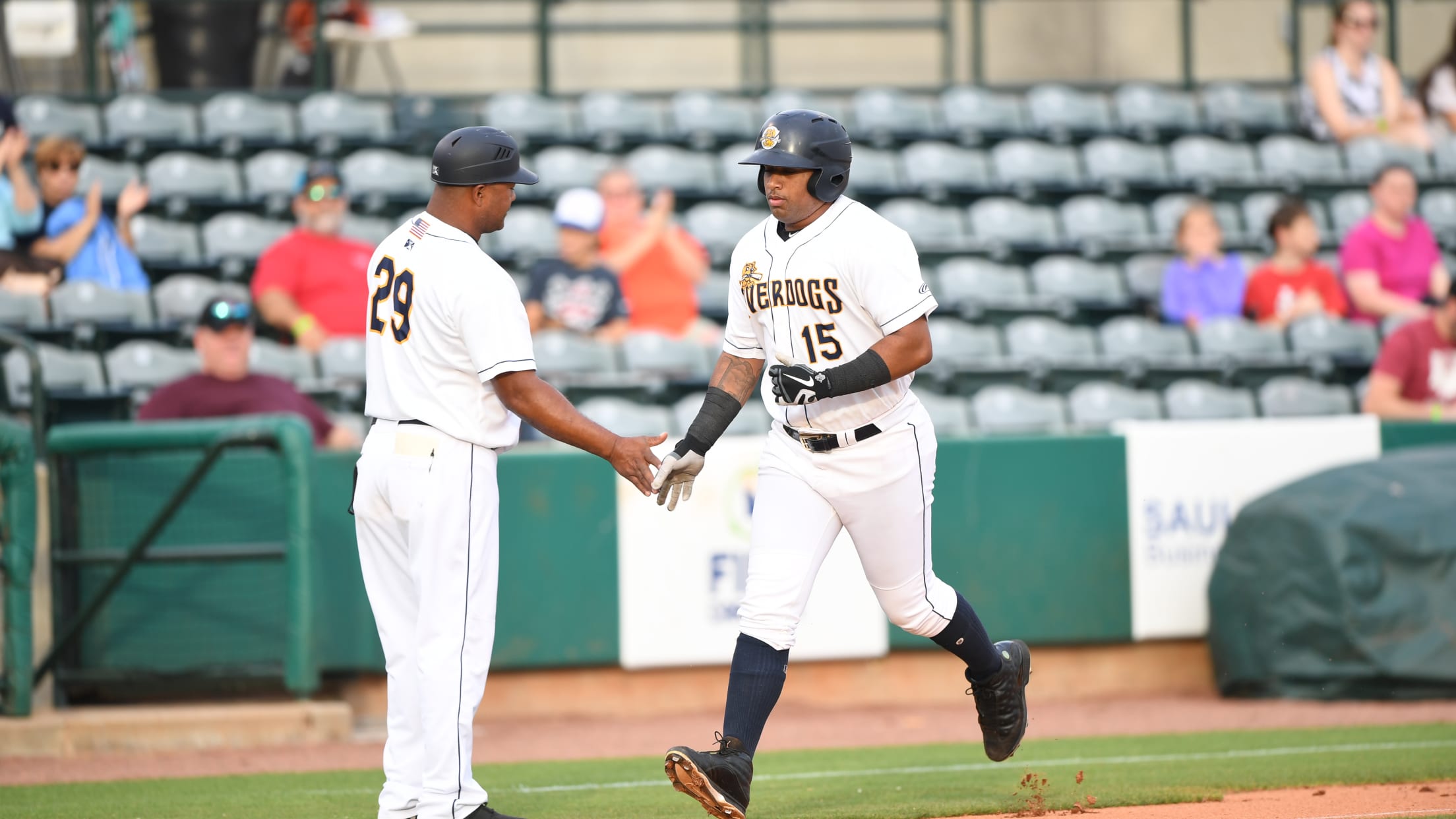 Canaan Smith trots around the bases and is greeted by his manager Julio Mosquera after a home run at The Joe. (Michael Wiser)
When Canaan Smith laces up the cleats each night, it's easy for the fans to take notice. The 20-year-old's left-handed stroke turns heads at The Joe and his smile is contagious among his teammates. With the RiverDogs in 2019, both the sound of his bat and the grin often seen
When Canaan Smith laces up the cleats each night, it's easy for the fans to take notice. The 20-year-old's left-handed stroke turns heads at The Joe and his smile is contagious among his teammates. With the RiverDogs in 2019, both the sound of his bat and the grin often seen on his face are both products of a happy, go-lucky kid out of Rockwall, Texas thriving while feeling comfortable in his environment.
"I'm in a good state of mind," says Smith of his current situation. "I was at the lowest I could be last year and got myself out of it an told myself I'm never going to be there again. I made a lot of changes while trusting my teammates and trusting all the coaches that are there for me. I got into the offseason and worked my butt off, and the difference has been night and day for sure."
A season ago, Smith struggled in his second professional season, batting just .191 in 45 games with the Staten Island Yankees. Despite possessing some of the most impressive bat speed at the lower levels of the Yankees system, he struggled to make contact, striking out at an over 30 percent clip, one of the 20 highest marks in the New-York Penn League. Fast forward one season, and Smith is a middle-of-the-order hitter to be feared, ranking in the top-10 in the South Atlantic League in batting average (.303) and OPS (.876) as of June 25 as one of the best pure hitters in the South Atlantic League circuit. For Smith, it's feeling at home in Charleston with an energetic clubhouse that has kept in relaxed and focused.
"I always have confidence in myself as a player, but I think it's just being around the guys, being comfortable, us winning, us doing good things takes a lot of pressure off me and I just go out and have fun every day."
No one can disagree that Smith is having fun with the RiverDogs this season. After not breaking camp with Charleston out of Spring Training and being called up to the club midway through Opening Week, he's already set career-highs in virtually every offensive category, earning himself the All-Star nod as the starter in left field for the Southern Division All-Star Team (he notched the game's first hit, going 1-for-2 in the game in West Virginia on June 18). He has cut his strikeout rate down by 7 points while consistently making hard contact and leading the league with 28 percent of his batted balls going for line drives, per Fangraphs.
The Dallas-area native credits the hard work he put in during the offseason and adjustments he's made with hitting coach Greg Colbrunn to the improvements in his overall offensive game. Along with the work put in since last season, it's also no doubt been his comfort level in the clubhouse that's helped the former fourth-round pick flourish, particularly with his new teammate Josh Stowers, who joined the Yankees just this past January in a trade from Seattle.
"He's a great two-strike hitter and a great hitter in general," says Smith of his road trip roommate. "We talk hitting for hours, almost every single day. I learn from him as he learns from me. He has the same approach as me; he goes up there focused and his job is to hit the ball to right field and right-center and hit the ball hard and let the speed do its thing. I love having him as a roommate, just hearing from him and learning from him each day. Early Spring Training we both came in early together [to Tampa] and the rest has been history. We've been really good friends ever since."


Along with his coaches and teammates, Smith relies on a strong support system back home that has helped him navigate the waters of professional baseball. While neither of his parents ever played professional athletics, he relies on their guidance at each step of his career, along with his brother, Jackson, a four-star wide receiver commit to Ohio State's 2020 recruiting class.
Starting the season with Charleston at just 19-years-old and turning 20 a few weeks into the season, Smith is one of the younger players in the Single-A circuit, 1.5 years behind the average player in the league according to Baseball Reference. It's a situation he's familiar with, growing up playing against older competition ever since he first picked up a baseball.
"I remember being a little kid, playing with my dad. And there was a baseball team practicing, I was probably about 5 or 6 [years old,] and these guys were about 10 or 11 and somehow I ended up in a practice with them and they were like 'holy smokes, you're super, super young.' And ever since then, I picked up the game of baseball and loved it."
Growing up in Texas where football is king, Canaan was a two-sport athlete at Rockwall-Heath High School. As the quarterback for the Hawks, Smith went on a pair of playoff runs in front of some of the most electric crowds in high school sports in the country.
"Playoff football is unbelievable; Friday nights are unbelievable, wherever you are. I played in Cowboy Stadium about four or five times and those were great games. We played in the playoffs in Cowboy Stadium and it was a really fun atmosphere."
And while football was an avenue to compete, it was always about baseball that had Smith thinking about a future in professional sports.
"Baseball's always been my first love, but I was also a football player. I loved that also. So high school, I was football and baseball until about my senior year, when scouts were coming around and football wasn't going the way I wanted to, I knew I had a future in baseball."
If Smith keeps heading on his current trajectory, that future is even brighter.