Celeb Series: Sgt. Slaughter
WWE Hall of Famer Was Set to Visit Knights on May 27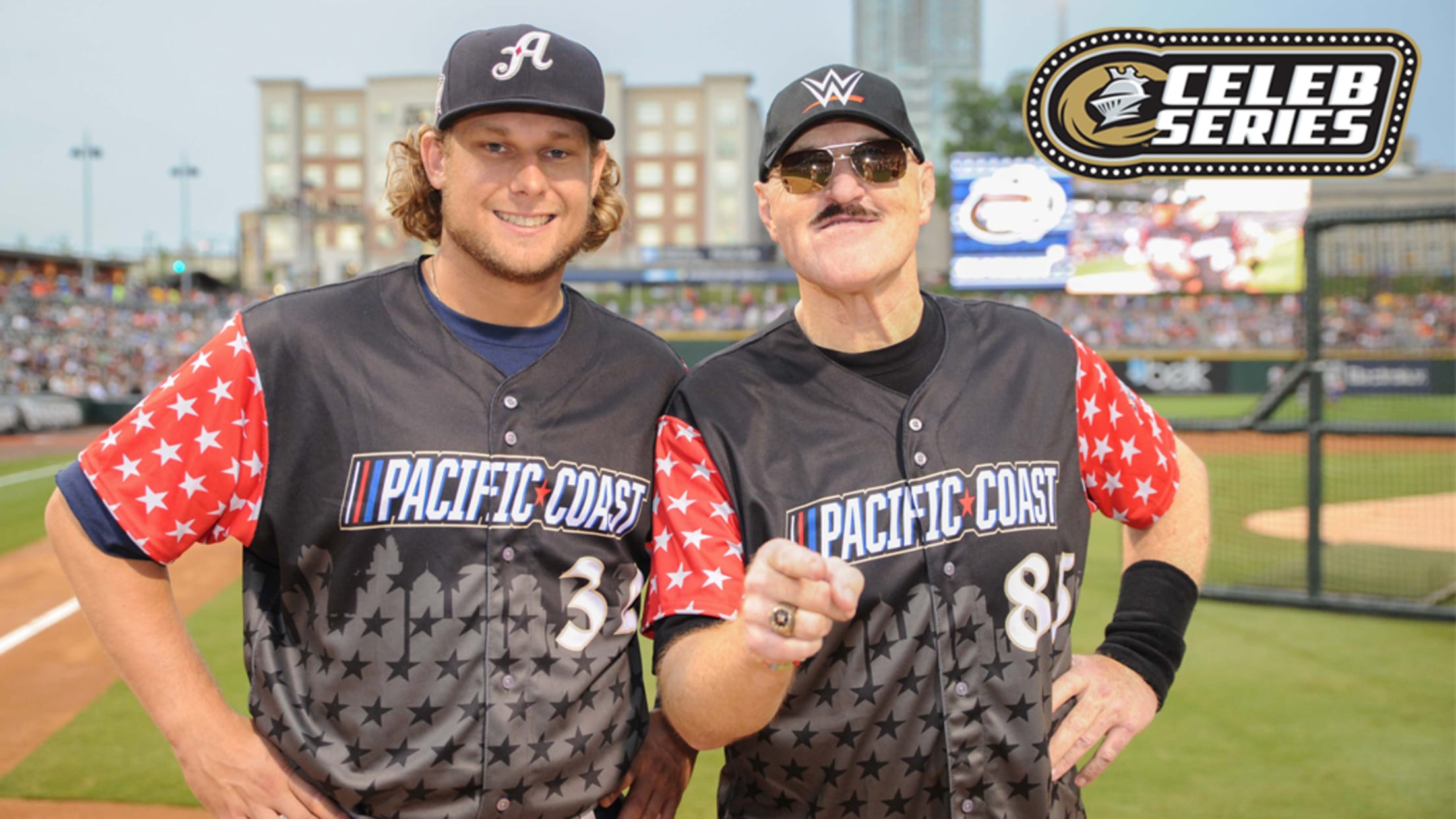 Kyle Jensen of the Reno Aces was paired with Sarge at the 2016 Triple-A Baseball Home Run Derby at BB&T Ballpark. (Laura Wolff/Charlotte Knights)
With no baseball taking place around the country due to COVID-19, the Charlotte Knights 2020 season and Celeb Series is currently on hold. In April, the Knights were set to welcome Hall of Fame pitcher Fergie Jenkins** (April 29) to kick off the exciting series. In May, appearances by baseball
With no baseball taking place around the country due to COVID-19, the Charlotte Knights 2020 season and Celeb Series is currently on hold. In April, the Knights were set to welcome Hall of Fame pitcher Fergie Jenkins (April 29) to kick off the exciting series. In May, appearances by baseball legend Fred Lynn (May 2), NASCAR star Kyle Busch (May 13), and actress Megan Cavanagh, who played Marla Hooch, in A League of Their Own (May 15), were set to highlight a thrilling month. This week, the team had a special Military Night planned with an appearance by Sgt. Slaughter (May 27).
PART 5: SGT. SLAUGHTER
Over the course of a Hall of Fame professional wrestling career, Sgt. Slaughter stood out wherever he performed. As a villain and a hero, he put together a remarkable career.
Wrestling in the NWA and AWA, Slaughter held numerous titles over several successful stints. In 1981, he captured the NWA United States Heavyweight Championship. A year later, he won the NWA World Tag Team Championship with Don Kernodle. Several years later, during his time in the AWA, he won the AWA America's Championship in 1985.
While Slaughter had much success in both of those promotions over the course of his distinguished career, it is his time with the WWF (WWE) that is his most notable.
WWF/WWE CAREER
During his days in the WWF (now WWE), Slaughter had many memorable feuds. In 1980 -- during his first stint with the organization -- Slaughter quickly moved up to number one contender status. His fast rise through the ranks led him to face WWF World Heavyweight Champion Bob Backlund. Although he did not win the title at that time, a title run was in his future with the company. He later began a feud with WWE Hall of Famer Pat Patterson during that first run with the company before heading back to the NWA.
During his second stint in the WWF, he defended America's honor and began a long feud with the Iron Sheik. With his popularity at an all-time high, Slaughter ultimately left the company to pursue his career with G.I. Joe. The recognizable Military hero he portrayed in the WWF at the time led him to play a key role in the G.I. Joe: A Real American Hero series, including the company's toyline, animated series, and comic books.
Years later, Slaughter made an epic return to the WWF as an Iraqi sympathizer and went on to win his only WWF World Heavyweight Championship belt in 1991 by beating the Ultimate Warrior at the Royal Rumble. Months later, after losing the title to Hulk Hogan at WrestleMania VII, Slaughter apologized to the WWE Universe and once again defended America's honor with help from "Hacksaw" Jim Duggan.
After retiring in 1992 after two decades as a professional wrestler, Slaughter returned in 1997 as WWE Commissioner. He played a key on-air role during this time in the company. He was inducted into the WWE Hall of Fame in 2004.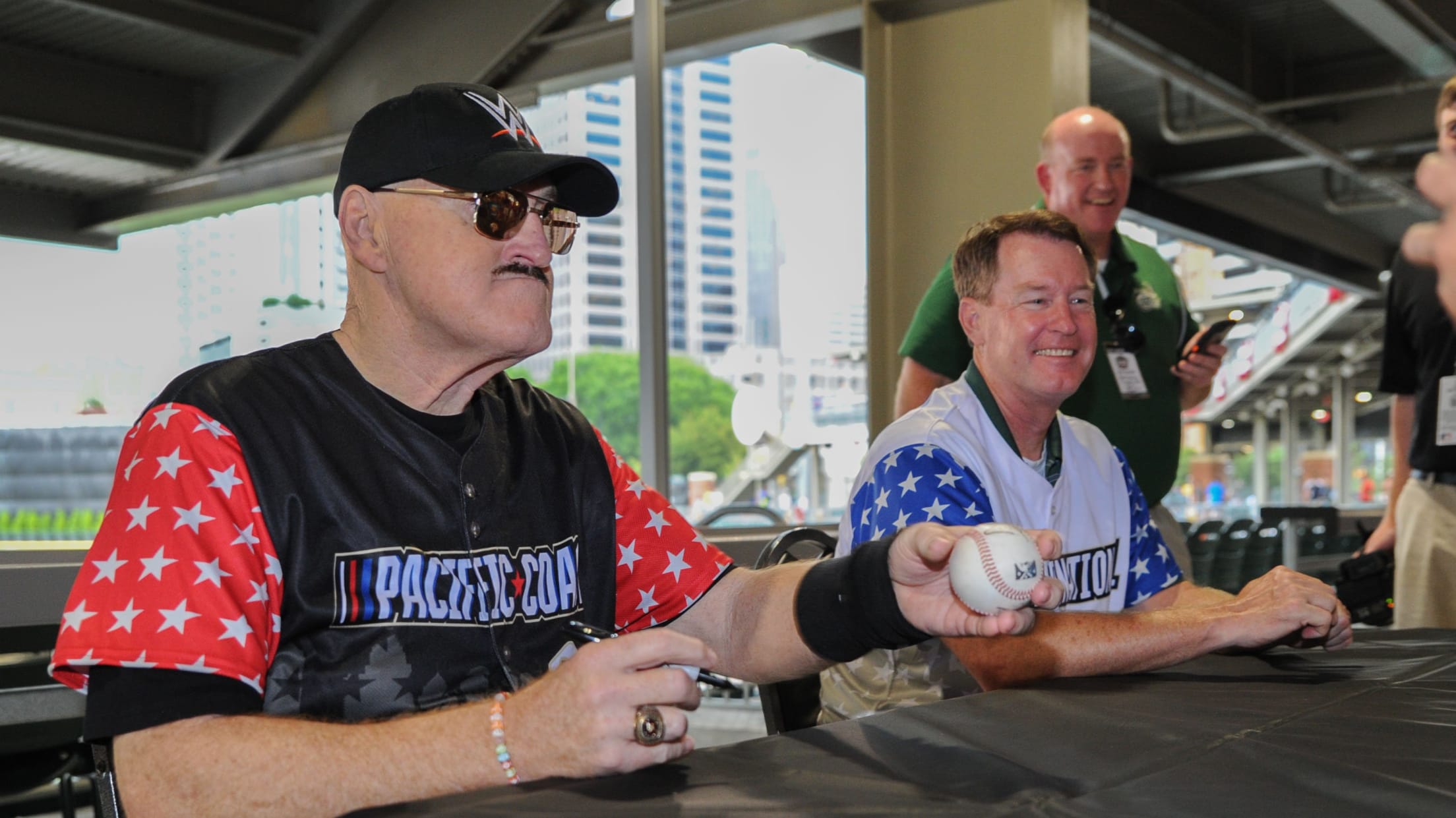 2016 TRIPLE-A HOME RUN DERBY CAPTAIN
Slaughter first visited the Charlotte Knights in 2016 as part of the 2016 Triple-A Baseball All-Star Home Run Derby. As a captain, he represented the Crockett Foundation at event, which took place at BB&T Ballpark on Monday, July 11.
As part of the 29th Annual Triple-A Baseball Home Run Derby, Slaughter was one of eight celebrity captains. Joining Slaughter as captains were Steve Smith Sr., Shaq Thompson, Jack McDowell, Jason Sehorn, Mark Price, Steve Clifford, and Kevin Harvick. All eight represented professional sports and entertainment in the City of Charlotte. They signed autographs, took photos with fans, and played a big part in the Home Run Derby. Slaughter's partner for the derby was Reno Aces slugger, Kyle Jensen.
MILITARY NIGHT
As part of his originally scheduled appearance this year, which was supposed to take place on Wednesday, May 27, Slaughter was once again planning to meet fans and sign autographs. As part of the evening's festivities, the Knights were set to honor the Military at the game with a special pre-game ceremony. The team also planned to wear camouflage jerseys and hats on the field for the first of three Military games this season. All Military Nights at BB&T Ballpark are presented by Tito's Handmade Vodka.