Flashback: Luis Robert's 2019 Season
Robert's Triple-A Debut Was One for the Ages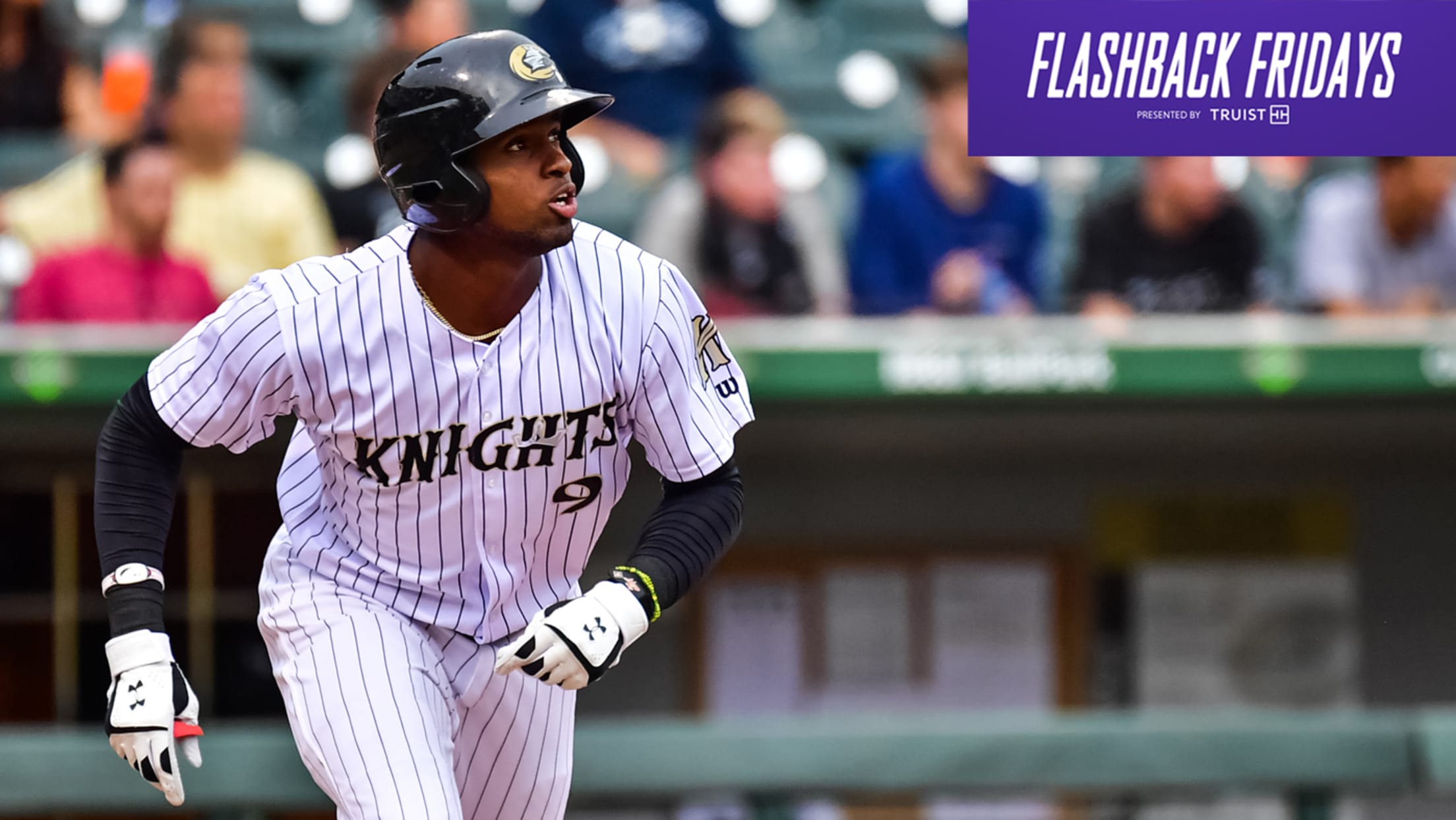 Robert hit .297 (60-for-202) with 44 runs scored, 10 doubles, five triples, 16 home runs, and 39 RBIs with the Knights in 2019. (Laura Wolff/Charlotte Knights)
It didn't take long for the Charlotte faithful to become fans of outfielder Luis Robert. With all eyes on the talented Cuban outfielder, his Triple-A debut last July was one for the ages. Now, at just 22 years old and a Triple-A season under his belt, Robert is giving fans
It didn't take long for the Charlotte faithful to become fans of outfielder Luis Robert. With all eyes on the talented Cuban outfielder, his Triple-A debut last July was one for the ages. Now, at just 22 years old and a Triple-A season under his belt, Robert is giving fans on the South Side of Chicago big hope for a bright future.
It all started at BB&T Ballpark with a Triple-A debut that will be remembered for a very long time. After being promoted to the Charlotte Knights from Double-A Birmingham during the 2019 Triple-A All-Star Break on July 9, 2019, Robert made his much-anticipated debut in Uptown Charlotte on Thursday, July 11, 2019. That night, Robert posted an impressive line -- 3-for-5 with two runs scored, two home runs, and seven RBIs. One of his home runs that evening was a grand slam, which was his first career Triple-A hit. His solid offensive showing in front of the Uptown Charlotte crowd helped lead the Knights to a 15-12 win over the Gwinnett Stripers that night.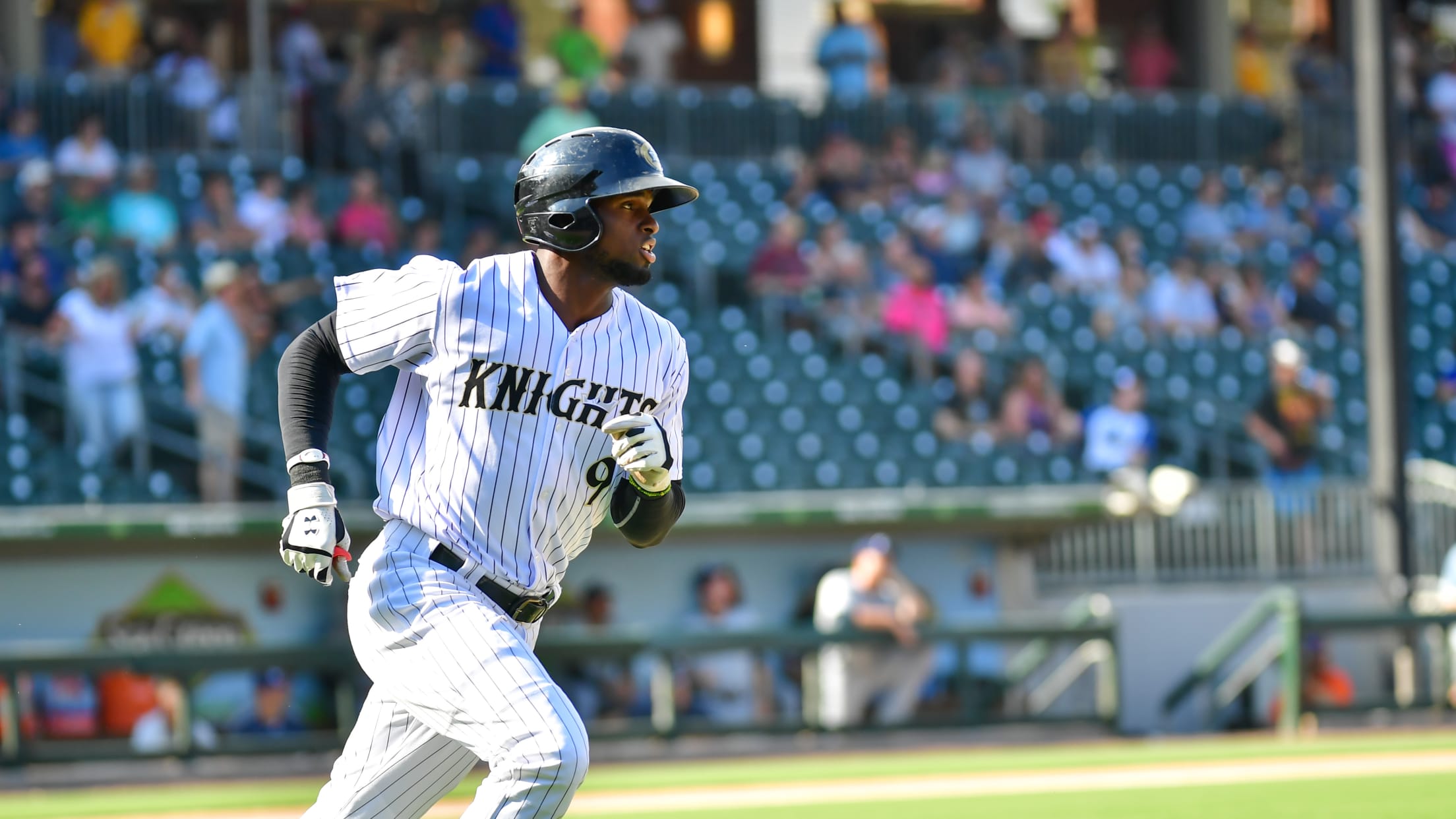 In 47 games with the Knights last year, Robert hit .297 (60-for-202) with 44 runs scored, 10 doubles, five triples, 16 home runs, 39 RBIs, and seven stolen bases. He had one four-hit game (8/13 vs. SWB) and 18 multi-hit games. He had three multi-homer games and 10 multi-RBI games.
Overall between three levels in 2019, he hit .328 (165-for-503) with 108 runs scored, 31 doubles, 11 triples, 32 home runs, 92 RBIs, and 36 stolen bases combined over 122 games with Winston-Salem (High-A), Birmingham (Double-A), and Charlotte (Triple-A). Robert finished the season as a member of the exclusive 30-30 club, swatting 32 home runs and stealing 36 bases.
MORE ON ROBERT'S 2019 SEASON
Robert entered the 2019 season as the fifth-best prospect in all of Major League Baseball by MLB Pipeline. He began the 2019 campaign with the Winston-Salem Dash (High-A) and hit .453 (34-for-75) with 21 runs scored, five doubles, three triples, eight home runs, 24 RBIs, and eight stolen bases over 19 games. He was promoted to Double-A Birmingham on April 30 and hit .314 (71-for-226) with 43 runs scored, 16 doubles, three triples, eight home runs, 29 RBIs, and 21 stolen bases over 56 games with the Barons. He was a 2019 Southern League Mid-Season All-Star and represented the Chicago White Sox organization at the 2019 Sirius XM All-Star Futures Game in Cleveland, OH.
LOOKING AHEAD
Over the offseason, Robert and the White Sox agreed to a six-year, $50 million contract extension. The deal also included two $20 million team options (or $1 million buyouts) that could stretch through Robert'sage-29 season and push the total value of the deal to $88 million. Now, much like the rest of Major League Baseball, Robert is waiting for his chance to shine in 2020.