Dragons 2020 Preview, Part 5: Third Basemen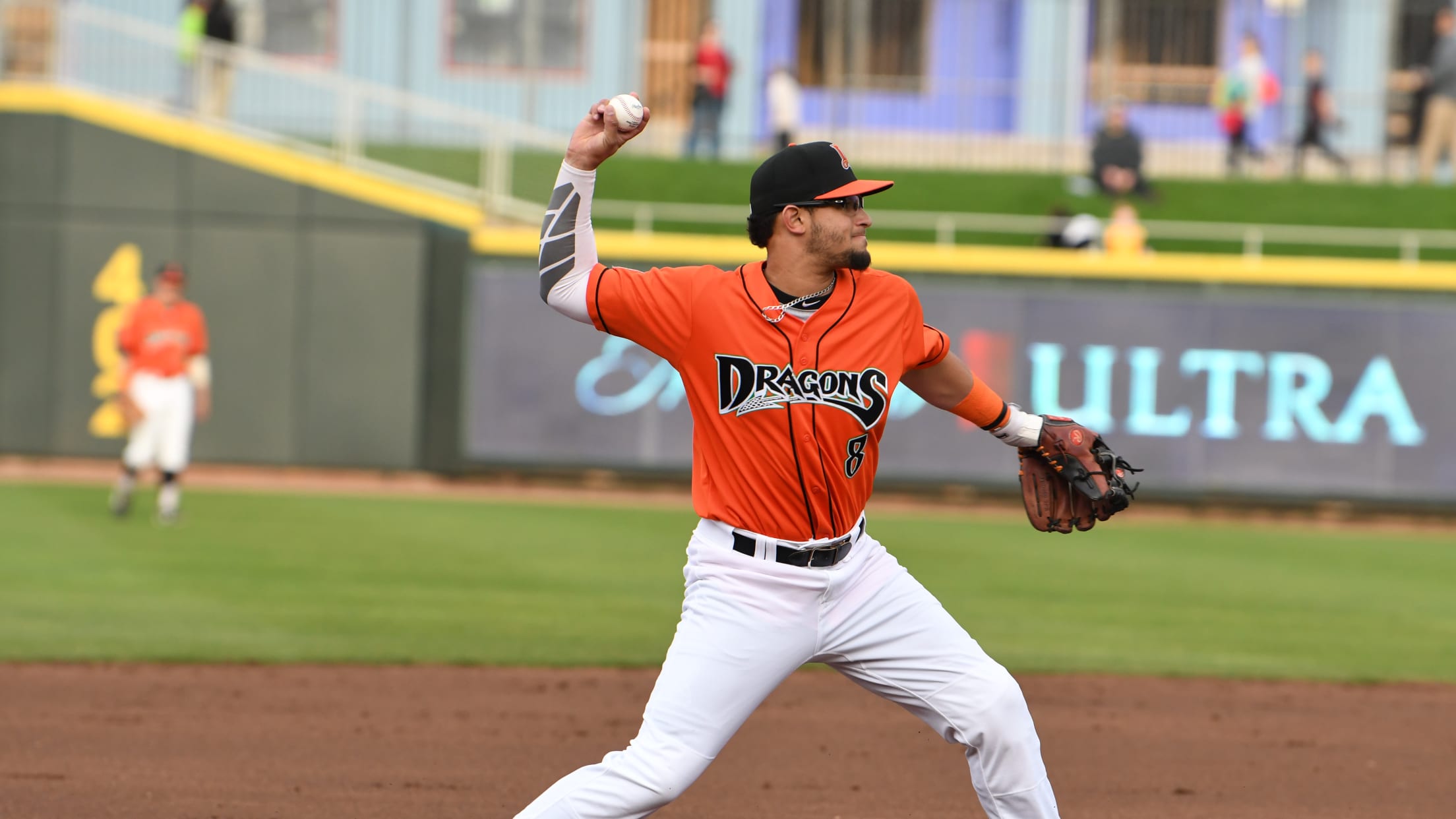 Juan Martinez
As we move through these difficult times, the Dragons will continue to offer articles, videos, and photos on our team website and our social media platforms in an effort to provide fans with interesting content. Of course, the timeline of our season is unknown at this point, but when play
As we move through these difficult times, the Dragons will continue to offer articles, videos, and photos on our team website and our social media platforms in an effort to provide fans with interesting content. Of course, the timeline of our season is unknown at this point, but when play resumes, the players in these previews will compete for roster positions with the Dayton Dragons. Stay safe, everyone.
The Third Basemen
This is part five of a nine-part series previewing the 2020 Dragons. Players listed here are candidates for positions on the 25-man Dragons season-opening roster.
This preview is an unofficial projection of possible roster candidates. Minor League rosters have not been assigned.
There is a complete listing of all Reds Minor League players here at this link at RedsMinorLeagues.com: https://redsminorleagues.com/2020/02/17/cincinnati-reds-minor-league-spring-training-roster-2020/
Click links on each name for career stats and player information.
Candidates: Rece Hinds, Victor Ruiz
*Player, Age, B/T, Ht., Wt. *
Rece Hinds, 19, R/R, 6'4", 215
Victor Ruiz, 20, R/R, 6'1", 190
Rece Hinds, like potential Dragons infielder Tyler Callihan, was one of the top high school players in the nation in the 2019 draft class. If he begins the 2020 season with the Dragons, he would be one of the top prospects on the team. Just like Callihan, the questions regarding Hinds' assignment to the Dragons in 2020 relate not to his ability level, but to his youth and readiness to face Midwest League pitchers, many of whom have significant college experience. Even more than Callihan, who did play professionally for 10 weeks last summer in the Reds system just a few months after his high school graduation, Hinds would be on a steep learning curve. Injuries limited Hinds to just three games and eight at-bats last summer after he turned pro.
Hinds was the Reds second round draft pick in 2019, taken with the Reds next selection after they chose pitcher Nick Lodolo out of Texas Christian. Hinds was a power-hitting infielder at IMG Academy in Florida and was 18 years old when he was signed by the Reds.
Hinds is known for massive home run blasts and off-the-charts power. In 2018, both Hinds and Callihan were among eight high school players in the country to be invited to the Home Run Derby at the Major League All-Star Game at Nationals Park. It would be interesting for Dragons fans if two of the eight most highly-regarded home run hitters in the entire nation among high school talent in 2018 both wind up on the Dayton roster in 2020. As we described in our second base preview, Callihan performed very well in the contest, tying for fourth. Hinds actually finished second.
Baseball America ranks Hinds as the #11 prospect in the Reds organization, two spots ahead of Callihan. Other publications have Callihan slightly higher than Hinds. Callihan is considered the more polished hitter of the two, while Hinds is considered to have the better pure power. After the Reds drafted Hinds in the second round in 2019, they took Callihan in the third round. Both players were projected by MLB Network to go in the first round and were considered to rank among the top 10 high school hitting prospects in the country. Baseball America credits Hinds with "the ability to crush baseball to all fields due to sheer strength…his extreme power fits as a masher in a corner (infielder or outfielder) if he can make enough contact." Hinds certainly has the arm for third base. He was clocked at 98 mph in a throw across the infield by Perfect Game last summer. They clocked the exit velocity of a ball off his bat at 101 mph, an amazing stat for a high school player.
One of the biggest days for Hinds in his amateur career came in June of 2018 at the Tournament of Stars Gold Medal Game. Another of the top showcase events of the summer featuring the top players in America, Hinds put on a show, blasting two home runs and driving in seven runs to lead his team to the gold. Hinds also started at third base for the East All-Stars in the 2018 Perfect Game All-Star Classic at Petco Park in San Diego. Callihan was his teammate in that game.
In our second base preview discussing Callihan, we detailed the challenges faced by hitters who are less than a year removed from high school in making the jump to the Midwest League. History has shown it to be a difficult transition. The Reds will determine if Hinds is best served by opening the year in extended spring training to gain experience, or by jumping right into the deep end with the Dragons.
Victor Ruiz was the starting third baseman for the Billings club that went to the playoffs in 2019. Ruiz signed with the Reds as a free agent out of Mexico three days before his 17th birthday in 2016, and he has played three seasons in the Reds system. Ruiz was a catcher in 2017-18 but converted to third base in 2019.
Ruiz played in 60 games with Billings in 2019, batting .270 with one home run. He has a career batting average of .266 with three home runs in 118 games.
There could also be a chance that the Dragons third baseman in 2019, Juan Martinez, could return to Dayton. Martinez played in 129 games with the Dragons, batting .238 with eight home runs.
###