Bulls Bash Tides 8-2, Maintain 1st Place Lead
Madris & Lowe go deep as Durham continues to lead IL East Division by 1.5 games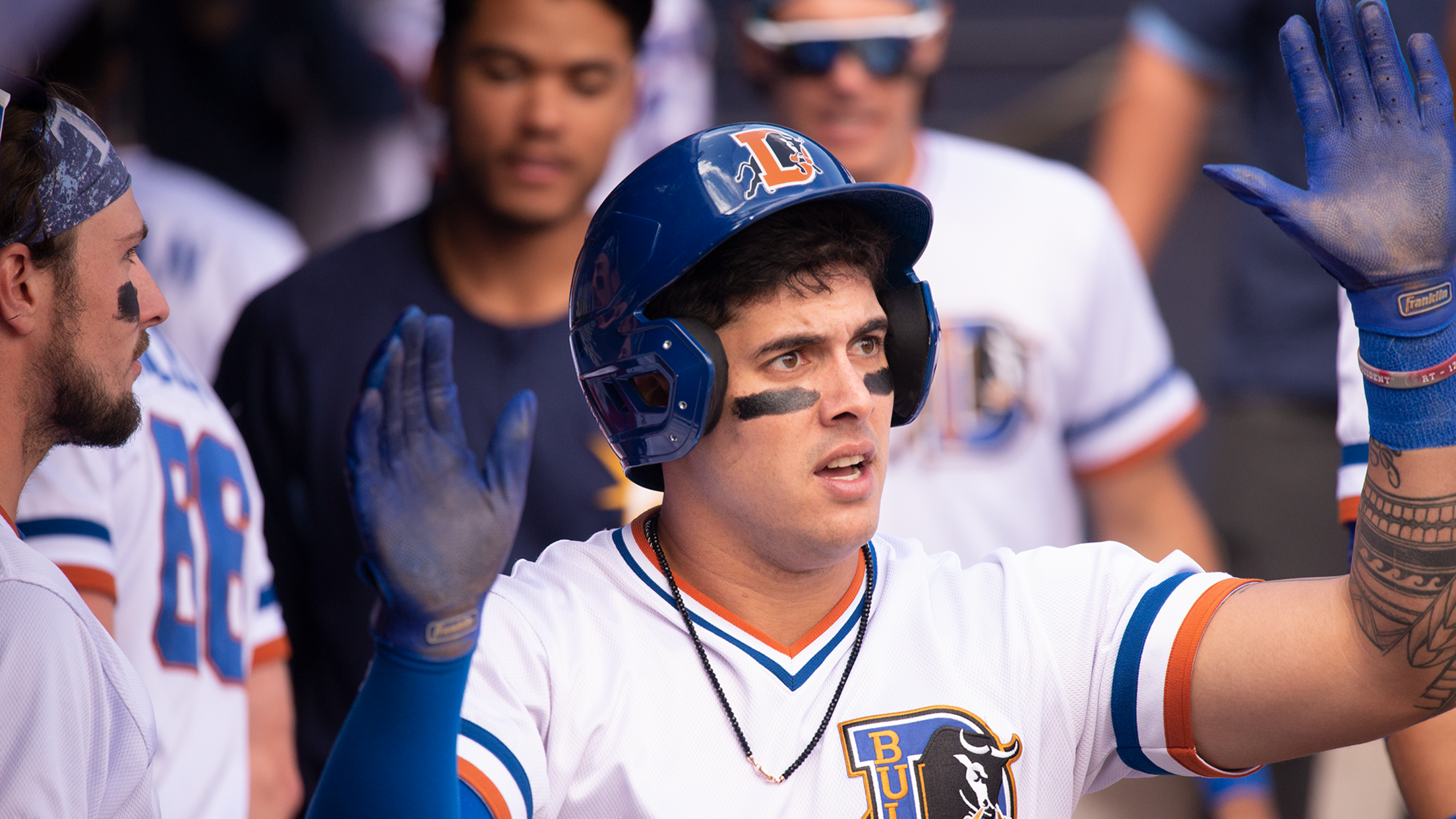 (Paxton Rembis (Durham Bulls))
Bulls left fielder Bligh Madris mashed three hits, including a homer, and drove in three runs, while center fielder Josh Lowe laced homered and drove in two runs in Durham's 8-2 victory in their home finale on Sunday afternoon at Durham Bulls Athletic Park. The victory maintains the Bulls' one
Bulls left fielder Bligh Madris mashed three hits, including a homer, and drove in three runs, while center fielder Josh Lowe laced homered and drove in two runs in Durham's 8-2 victory in their home finale on Sunday afternoon at Durham Bulls Athletic Park. The victory maintains the Bulls' one and a half game advantage with three regular season games remaining.
Durham struck first with a three-spot in the second started by Madris's single, before C Rene Pinto's RBI double and 2B Xavier Edwards's run-scoring double capped the frame. Madris one inning later would increase the margin to five with his two-run blast to right. After the Tides ended Durham's shutout hopes with a single tally in the fourth, SS Vidal Brujan bashed an RBI single to center to make it 6-1. Norfolk would plate another score before Lowe left the yard with a two-run shot to right, capping the scoring.
Madris (3-4, 2 R, HR, 3 RBI) recorded a game-high three hits, with Lowe (2-3, 2 R, 2 RBI, BB), Brujan (2-4, R, RBI) and Pinto (2-4, R, 2 2B, RBI) each adding multi-hit efforts of their own. With the victory, the Bulls ended their 2022 home slate with a 42-33 record.
Durham right-hander Easton McGee (1.1 IP, H, BB, 3 SO) earned the victory in support of starter Yonny Chirinos (4.0 IP, 3 H, R, ER, 0 BB, 5 SO) as McGee, Jose Lopez (1.0 IP, 2 BB), Jeremy Walker (1.0 IP, H, 2 SO) and Justin Sterner (1.0 IP, 2 SO) combined for the last 4.1 scoreless innings pitched. Norfolk starter Denyi Reyes (4.0 IP, 9 H, 6 R, 6 ER, BB, 4 SO) suffered the defeat.
The Bulls are set to finish off their 2022 campaign with a three-game road series versus the Charlotte Knights, with the series opener set for Monday, September 26. First pitch is slated for 6:35pm, with starting pitchers for both squads not yet announced.
Durham begins their 2023 season at home on Friday, March 31 at Durham Bulls Athletic Park to start a three-game set versus Norfolk. Season ticket packages, including 919 Club Memberships and Mini Plans are now available, and can be purchased by contacting the Durham Bulls Ticket Department at 919-956-BULL.
Tickets for all remaining 2022 Bulls home contests are still available and can be purchased at DurhamBulls.com.