Drive Announce 2023 Coaching Staff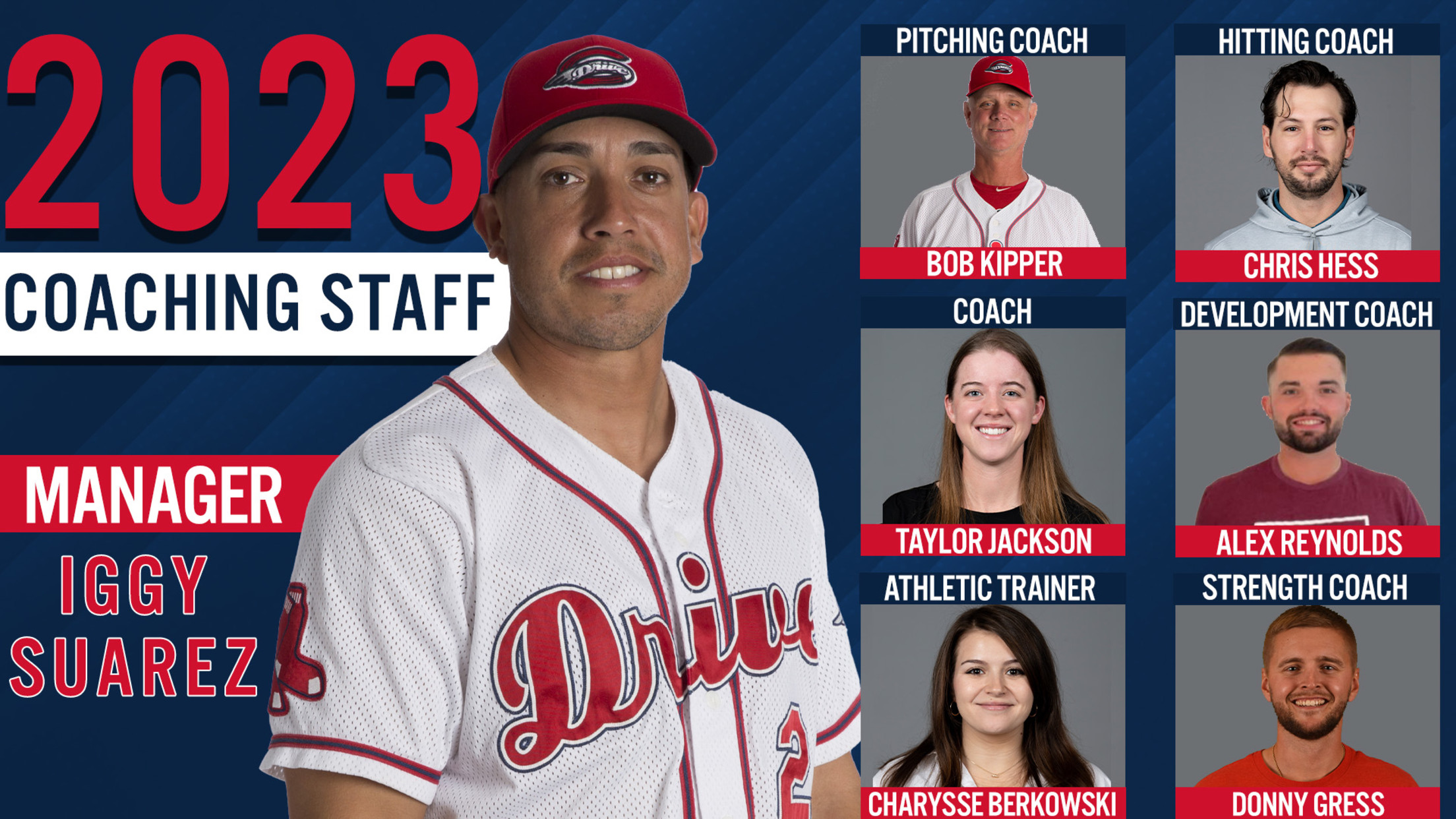 The Greenville Drive, High-A Affiliate of the Boston Red Sox, announced their 2023 Field Staff today, highlighted by the return of manager Iggy Saurez and pitching coach Bob Kipper for their fifth-straight seasons, while adding assistant coach Taylor Jackson to the top staff — making her the first female on-field
The Greenville Drive, High-A Affiliate of the Boston Red Sox, announced their 2023 Field Staff today, highlighted by the return of manager Iggy Saurez and pitching coach Bob Kipper for their fifth-straight seasons, while adding assistant coach Taylor Jackson to the top staff — making her the first female on-field coach in team history.
"Iggy and Bob have been instrumental in our success on and off the field and I'm happy they're back in a Drive uniform," said Greenville Drive Team President Jeff Brown. "I'm thrilled for Taylor to make history this year as well. She has a proven track record of success with our team, and I'm excited to see her take the next step in her career with us."
In addition, the Drive added three new faces into the 2023-fold, hitting coach Chris Hess, development coach Alex Reynolds, and athletic trainer Charysse Berkowski. Strength and conditioning coach Donny Gress will return to the Drive for his second season.
"We're looking forward to bringing Donny back and welcoming Chris, Alex, and Charysse to the Drive and having them contribute to what we believe is the best spot for player development in all of High-A," added Brown.
Suarez enters his fifth season at the helm of the Drive. The 41-year-old guided a strong group of Red Sox prospects over the last four seasons, including the organization's top prospect, Marcelo Mayer, in 2022. During Suarez's four-year tenure in Greenville, eight alumni have gone on to reach the game's highest level, the Major Leagues.
Prior to his Drive tenure, Suarez served as manager of the Lowell Spinners for two seasons from 2016-2017, leading them to a New York-Penn League Stedler Division title in 2016. Prior to his appointment as manager in Lowell, Suarez served as the Spinners hitting coach in 2015. A 24th round selection by the Red Sox from Texas State in 2003, he played seven seasons in the Boston organization, reaching AAA-Pawtucket in 2009. He played four seasons in the independent Atlantic League from 2010-2013 before his coaching career.
The 2023 season will be Kipper's 10th season as Greenville's pitching coach. He returned to Greenville in that role in 2018, serving previously in the same role from 2005-2006 as well as 2008-2009. The 57-year-old served as the Red Sox bullpen coach in 2002 and also held stints as the pitching coach in AAA-Pawtucket from 2015-2017, as well as in AA-Portland from 2010-2014.
A former first-round pick (8th overall) by the California Angels in 1982 out of high school, Kipper spent eight seasons in the major leagues, with seven of those coming with the Pittsburgh Pirates. His best season came in 1989 with the Pirates, where he logged a 2.93 ERA in 52 appearances out of the bullpen.
Jackson, a Tuscaloosa, Ala. native, was promoted to assistant coach following a successful stint as one of the team's video coordinators during the 2022 season. Previously, she was a volunteer assistant baseball coach at Shelton State Community College in Tuscaloosa, and a student intern with the baseball teams at the University of Alabama and Louisiana Tech University.
Hess enters his first year with the Drive as hitting coach, having spent the previous season as an assistant coach with the Portland Sea Dogs, and his first season as an assistant coach in Fort Meyers. This year will mark his third year in the Red Sox organization. Previously, he was an assistant coach at the University of Rhode Island, his alma mater, after three seasons playing in the New York Yankees organization (2017-19). Chris also played for Hyannis of the Cape Cod Baseball League in 2016.
Reynolds, a Hopkinton, Mass. native, joins the Drive as the team's new development coach. Reynolds previously played at the collegiate level for Babson College in Wellesley, Mass. He spent the past year as a pitching intern with Cressey Sports Performance, working with pitchers from the high school to MLB levels.
Berkowski joins the Drive after serving as assistant athletic trainer for AA-Portland. Previously, she worked as an athletic training intern with the Chicago Cubs and as an athletic trainer with Encore Rehabilitation in Alabama.
Gress returns for his second go-around with the Drive after a successful 2022 season. Previous stints for Gress include four years at the University of Kentucky, first as a graduate assistant (2018-2020), before becoming a coaching assistant with the Wildcats' Olympic Strength and Conditioning staff.
"We're counting down the days until first pitch at Fluor Field on April 11, knowing we have a special year ahead of us," stated Drive General Manager Eric Jarinko. "We're excited to get our 17th year in Greenville underway and welcome the best fans in minor league baseball back to the Fluor Field. We couldn't be happier to add Taylor, Chris, Alex, and Charysse to the Drive family and we're looking forward to having Iggy, Bob, and Donny back with us for the 2023 season."