Know Before You Go - Homestand #10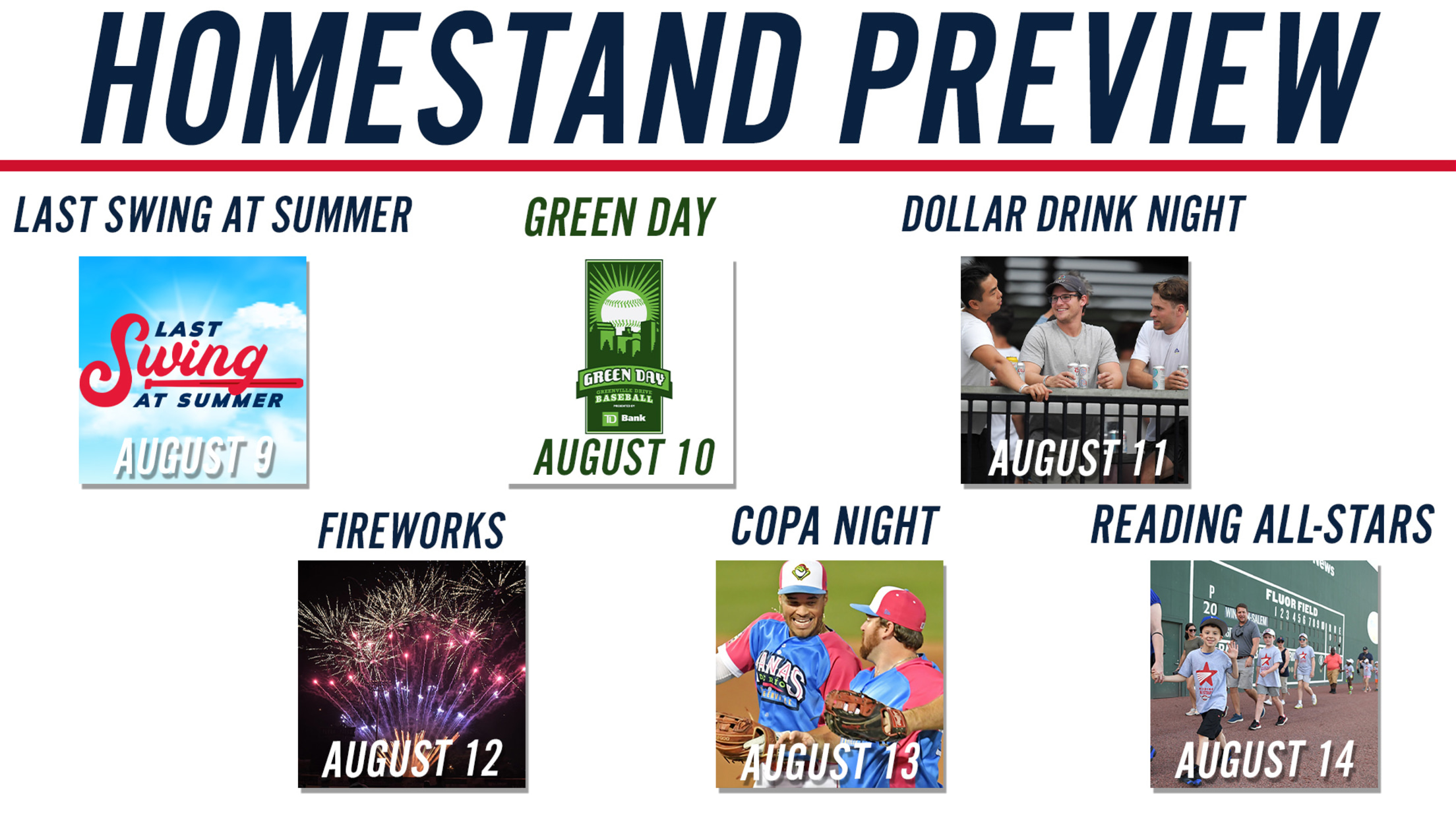 The Greenville Drive is back at Fluor Field taking on the Hickory Crawdads (Texas Rangers Affiliate) for a jam packed six-game homestand from August 9th to August 14th.. Be sure to read below, so you don't miss any of the fun! You can get tickets for any games this week
The Greenville Drive is back at Fluor Field taking on the Hickory Crawdads (Texas Rangers Affiliate) for a jam packed six-game homestand from August 9th to August 14th.. Be sure to read below, so you don't miss any of the fun! You can get tickets for any games this week HERE.
Tuesday August 9th: The fun starts at 5 PM, First pitch is 7:05 PM
It's the Last Swing at Summer! Say goodbye to summer with the Drive at a celebration like no other! Join us before the game on District 356 (outside the Field St. gates) for some summer fun with the Drive's inflatables, face painting, balloon art, music and more! Then head on into the game for even more fun as we take one last swing at summer vacation before school starts back!
Tickets are just $9 each. Get your tickets HERE.
Wednesday August 10th: Gates open at 6 PM, First pitch is 7:05 PM
On Wednesday August 10th, the Greenville Drive will host their 16th annual Green Day Celebration to celebrate the city of Greenville's 191st Birthday!
In honor of Green Day and Greenville's birthday celebration, Drive players will wear special green uniforms and caps on Green Day. The whole stadium will be decked out in green, so the Drive encourages fans to create a "green out" by sporting green, as well. The Drive is selling a special edition GVL tee for the night and you can purchase it HERE.
The fun will start at 5:45 PM with a ribbon cutting for the official opening of District 356! This family-friendly dedication will take place right outside the Field St. gates in the middle of the new District and comes complete with the Drive's inflatable games, face painters, balloon art, music, and more to celebrate the opening of this awesome addition to Fluor Field and the West End
When gates open at 6, the first 2,000 fans through the stadium gates will receive a commemorative Green Day t-shirt, and the first 1,000 kids will receive a commemorative Green Day cape, all courtesy of TD Bank.
In addition, Green Day Honoree Dr. Royster will be honored on the field just prior to the first pitch and again during the game. Read more about this year's honoree HERE.
Following the game, the Drive invites fans to stick around for a spectacular birthday firework show in celebration of Greenville's birthday.
Get tickets for this exciting night HERE.
Thursday August 11th: Gates open at 6 PM, First pitch is 7:05 PM
Thursday Night the Drive will host A.J. Whittenberg's Meet the Teacher event at Fluor Field! For over a decade AJW has trusted the Drive with this special celebration. Students will get a chance to meet their teachers for the upcoming school year, and the school is celebrated throughout the entire game. We look forward to having all the students, parents, teachers, and families come together Thursday night.
Thursday is also Dollar Drink Night at Fluor Field and it's the best place to be on a Thursday Night! $1 Fountain Pepsi products (available in the concession stands), $2 Busch Light, and $3 Elysian Contact Haze Hazy IPA all night long in the 500 Club, starting when gates open at 6 PM. Cheers!
Friday August 12th: Gates open at 6 PM, First pitch at 7:05 PM
The Drive will close out the week with a bang, Friday Fireworks, lit up by illumifin is back! One of the best fireworks shows in the Upstate, you don't want to miss this finale celebration.
Also, get to the game early to take advantage of Thirst Inning, where Bud Light, Budweiser, and Michelob Ultras are just $2 each (limit 2 per person) during the first inning of the game. Make sure to grab your alcohol wristband at the red tablecloths at either end of the concourse before you head to the beer carts.
Saturday August 13th: Gates open at 6 PM, First pitch at 7:05 PM
Saturday Night is the LAST Copa de la Diversión Night of the season, so come be immersed in Latin culture at Fluor Field and experience all the sights, sounds and tastes of the culture right here in Greenville! The night will include Latin cuisine from Latin Flavorz and an authentic live Mariachi Band will have you dancing all night!
The players will also take the field as the Ranas de Rio, and we will recognize our Hispanic players! Click HERE to purchase your Copa night gear!
All that and much more fun is to be had Saturday night!
Thirst Inning is back again - $2 Bud Light, Budweiser, and Michelob Ultras during the first inning at the Budweiser Beer Carts on the concourse at first and third base.
Sunday August 14th: Gates open at 2 PM, First pitch at 3:05 PM
Are you a member of the Summer Reading All-Stars program? Did you meet All-Star status based on your library's summer reading program standards? Well, Sunday afternoon is your time to shine and be celebrated for your hard work this summer!
Presented by Michelin, this program uses the fun and excitement of Greenville Drive baseball to encourage families to read all summer long. If students achieve Reading All-Star status, they earn a complimentary ticket to the game. The summer program takes advantage of the Upstate's amazing libraries to guide and inspire students to read.
On Sunday, All-Stars will walk in a pregame parade prior to the game and get a new RAS t-shirt. Students will be recognized throughout the game as we celebrate their accomplishments!
Don't forget to stick around for Kids Run the Bases after the game, courtesy of Blue Cross Blue Shield of South Carolina.
ADDITIONAL GAME INFORMATION:
PARKING / TROLLEYS
● Complimentary parking is available for every game at County Square - located off of University Ridge and just a few hundred steps from the Field Street Gate at Fluor Field.
● Trolleys run complimentary from County Square beginning one hour before first pitch time. The trolleys make two stops at Fluor Field, dropping fans off close to the Field Street Gate and then at the Main Street Gate.
● The trolleys will make trips post-game until there are no longer fans waiting for them at Fluor Field.
● The trolley loop takes approximately 20-25 minutes before returning to County Square, due to the path it must take with construction traffic.
CLEAR BAG POLICY
● Fluor Field has a clear bag policy in place. Make sure that you're not getting stopped at the gate and read the full policy HERE.
TEAM STORE HOURS
● Gameday Hours: 10am - End of Game
● Non Gameday Hours: 11am - 5PM
BOX OFFICE HOURS (Open on Gamedays Only)
● Monday-Friday: 10 am - Until the 8th inning
● Saturday and Sunday: Noon - Until the 8th inning
It's going to be a great week of Drive baseball and we can't wait to see you at Fluor Field!