Know Before You Go - Homestand #9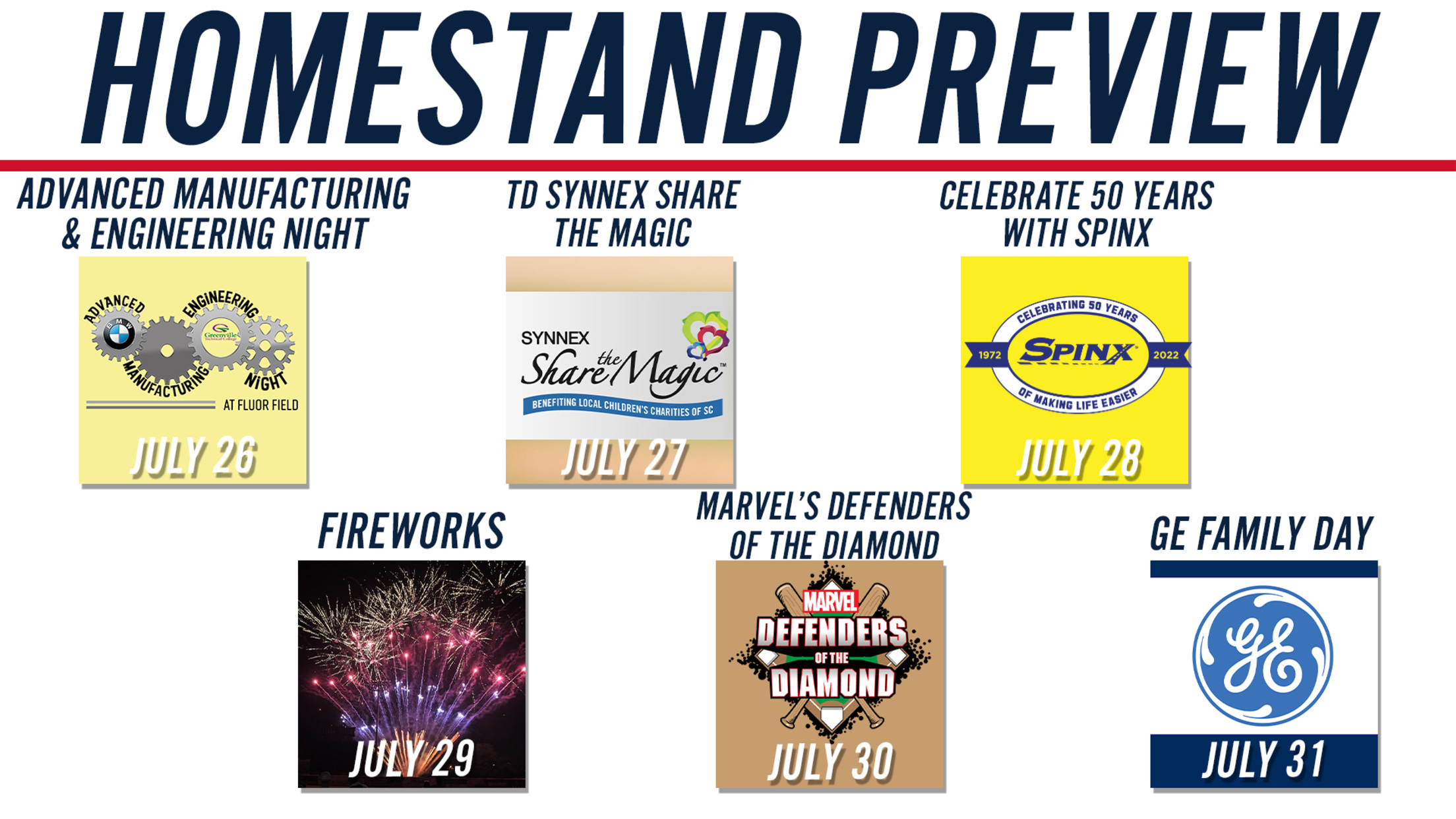 After a fun weekend at home, the Greenville Drive will be at Fluor Field again for another homestand taking on the Bowling Green Hot Rods (Tampa Bay Rays Affiliate). This is a jam packed week so get your tickets HERE. Tuesday July 26th: Gates open at 6 PM, First pitch
After a fun weekend at home, the Greenville Drive will be at Fluor Field again for another homestand taking on the Bowling Green Hot Rods (Tampa Bay Rays Affiliate). This is a jam packed week so get your tickets HERE.
Tuesday July 26th: Gates open at 6 PM, First pitch is 7:05 PM
Advanced Manufacturing & Engineering Night at the Drive is an annual celebration designed to "ignite the passion for AM&E" with young people from across the Upstate. This is the most unique & high impact Drive gameday event hosted at Fluor Field every season, so you don't want to miss it!
The best & most engaging content is planned for the 2022 event including…
A Leadership & Educator Panel Discussion on District 356 is open to the public and will begin at 5:30. The panel will include senior leadership from the Upstate's most prominent AM&E companies, including Dr. Robert Engelhorn (President & CEO of BMW Manufacturing); Dr. Keith Miller (President of Greenville Technical College); Cauiss Holmes (Manufacturing Director at Michelin's Earthmover Facility) as well as David Kirk (Greenville Technical College BAS Graduate) and other student representatives. The panel will focus on "how students can best pursue Advanced Manufacturing & Engineering as a viable career opportunity" and will be moderated by Alex Estevez, Venture Partner with Accel Partners.
Once gates open, the fun will continue! All attendees can look inside the unique and innovative world of Advanced Manufacturing & Engineering by visiting tables from our region's leading AM&E companies featuring high end technologies including virtual and augmented reality, robotics, 3D animation and printers and so much more!
Exhibitors for this year include Bosch Rexroth, Duke Energy, General Electric, Greenville Technical College, Hoowaki, Michelin, Milliken, Proterra, Dodge, and many more!
The Drive will provide complimentary tickets for all K-12 students! Plus, students can become a member of the Young Innovators Club and receive a "checklist" upon entry to Fluor Field. As you visit and experience each exhibit along the concourse, they'll sign your checklist. Once you've collected all of your signatures, turn it in and be entered to win awesome prizes and experiences!
Click HERE to reserve your ticket!
Wednesday July 27th: Gates open at 6 PM, First Pitch is 7:05 PM
TD SYNNEX Share the Magic Night is an annual fundraiser hosted by the Drive. This fundraiser helps provide much needed funding for Upstate, South Carolina children and youth facing incredible challenges such as life-threatening illnesses, abuse, neglect, or developmental delays.
A portion of all event tickets sold will support TD SYNNEX Share the Magic, so come out and attend a fun baseball game while giving back to organizations such as Child's Haven, Pendleton Place, Make a Wish South Carolina, and Clement's Kindness.
Since its inception in 2011, more than $17 million dollars has been raised to fund programs that give Upstate children and their families the tools and resources they need to build better lives.
This Share the Magic event at the Drive is just one of the events that helps raise funds for these deserving organizations, so be sure to come out and help share the magic!
At 6:30pm, there will be a pregame Charity Family Parade on the Field. In addition to the parade, there will be special activities for the children and families in attendance and an ice cream social!
Wednesday is also White Claw Wednesday! White Claws will be $2 throughout the game!
Thursday July 28th: Gates open at 6 PM, First pitch is 7:05 PM
Thursday Night is Spinx's 50th anniversary celebration and they want you to come party with them! There will be a pregame party on District 356 that will include their Cluk Truk, inflatables, face painters, balloon art, and more! All this fun is open to the public!
With the hot July days here, Dollar Drink Night at Fluor Field is the best place to be on a Thursday Night! $1 Fountain Pepsi products (available in the concession stands), $2 Busch Light, and $3 Elysian Contact Haze Hazy IPA all night long, starting when gates open at 6 PM. Cheers!
Friday July 29th: Gates open at 6 PM, First pitch at 7:05 PM
The Drive will close out the week with a bang, Friday Fireworks, lit up by illumifin is back! One of the best fireworks shows in the Upstate, you don't want to miss this finale celebration.
Also, get to the game early to take advantage of Thirst Inning, where Bud Light, Budweiser, and Michelob Ultras are just $2 each (limit 2 per person) during the first inning of the game. Make sure to grab your alcohol wristband at the red tablecloths at either end of the concourse before you head to the beer carts.
Saturday July 30th: Gates open at 6 PM, First pitch at 7:05 PM
Saturday, July 30 is Marvel Defenders of the Diamond Night! Come watch as the Drive players take the field sporting special edition Black Panther jerseys! Place your bids at our jersey auction tent at the top of the berm to take home one of the player's jerseys or visit our Drive Team Store to get your very own. You can also purchase a special edition jersey HERE.
In-game content to include Marvel trivia, special character appearances by Black Panther and more!
Thirst Inning is back again - $2 Bud Light, Budweiser, and Michelob Ultras during the first inning at the Budweiser Beer Carts on the concourse at first and third base
Sunday July 31st: Gates open at 2 PM, First pitch at 3:05 PM
Sunday the Drive will celebrate a long-time partner, who has made a huge impact on the Upstate Community- General Electric!
Sunday is also a family fun day with the day ending with Kids Run the Bases after the game, courtesy of Blue Cross Blue Shield of South Carolina.
ADDITIONAL GAME INFORMATION:
PARKING / TROLLEYS
● Complimentary parking is available for every game at County Square - located off of University Ridge and just a few hundred steps from the Field Street Gate at Fluor Field.
● Trolleys run complimentary from County Square beginning one hour before first pitch time. The trolleys make two stops at Fluor Field, dropping fans off close to the Field Street Gate and then at the Main Street Gate.
● The trolleys will make trips post-game until there are no longer fans waiting for them at Fluor Field.
● The trolley loop takes approximately 20-25 minutes before returning to County Square, due to the path it must take with construction traffic.
CLEAR BAG POLICY
● Fluor Field has a clear bag policy in place. Make sure that you're not getting stopped at the gate and read the full policy HERE.
TEAM STORE HOURS
● Gameday Hours: 10am - End of Game
● Non Gameday Hours: 11am - 5PM
BOX OFFICE HOURS (Open on Gamedays Only)
● Monday-Friday: 10 am - Until the 8th inning
● Saturday and Sunday: Noon - Until the 8th inning
It's going to be a great week of Drive baseball and we can't wait to see you at Fluor Field!