Know Before You Go-Homestand Preview #6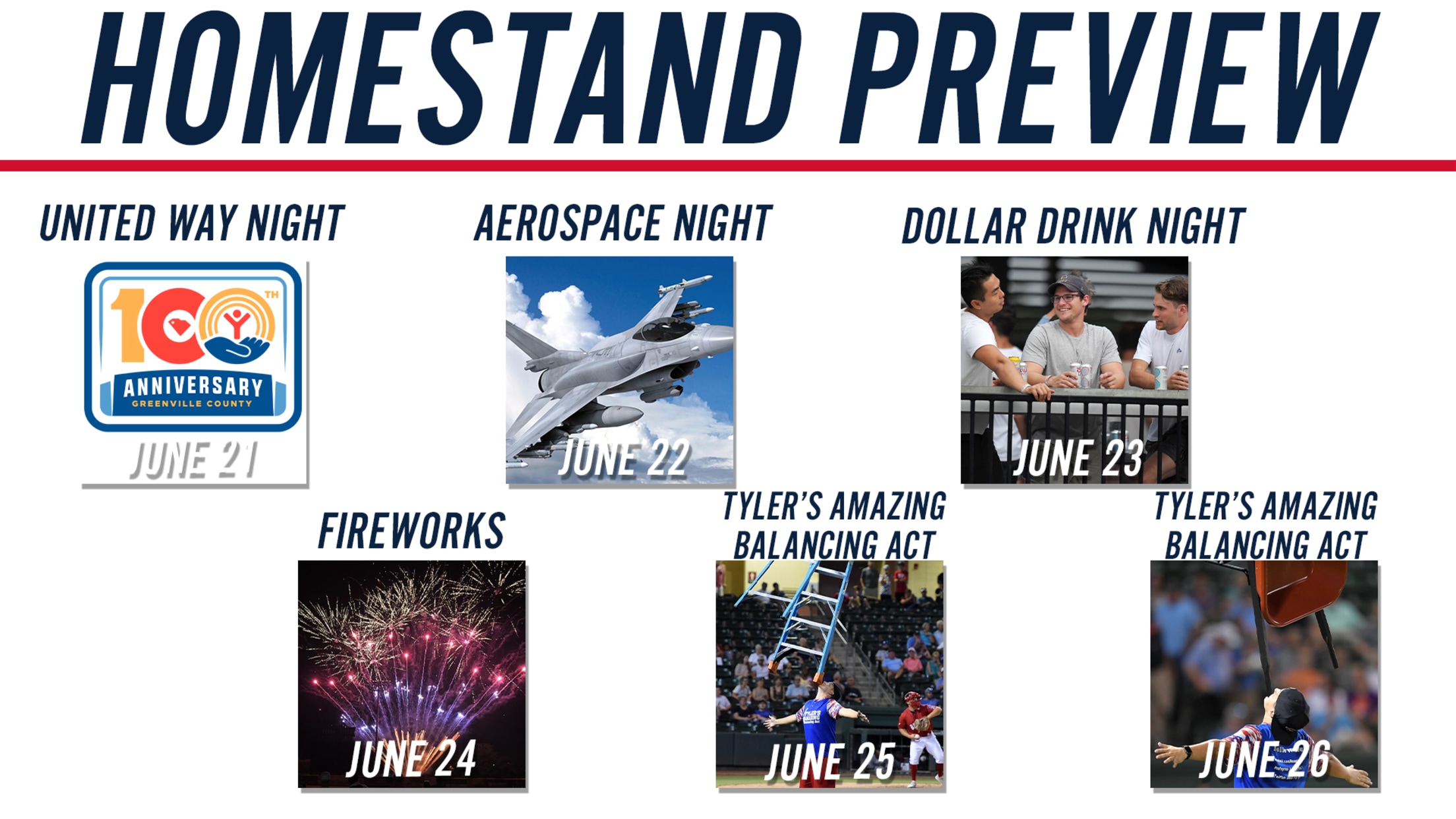 After being on the road in Hickory, NC, the Greenville Drive is back at Fluor Field June 21st-June 26th taking on the Bowling Green Hot Rods (an affiliate of the Tampa Bay Rays) for a 6-game homestand. Make sure to check out the details below for each of these jam-packed
After being on the road in Hickory, NC, the Greenville Drive is back at Fluor Field June 21st-June 26th taking on the Bowling Green Hot Rods (an affiliate of the Tampa Bay Rays) for a 6-game homestand. Make sure to check out the details below for each of these jam-packed games. Tickets for the homestand are available HERE.
Tuesday June 21st: Gates open at 6 PM, First pitch is 7:05 PM
United Way of Greenville County is celebrating 100 years of impact and service to the Greenville community and they're inviting you to join in on fun! Starting at 6 PM when the gates open, enjoy the fun throughout the concourse with our Drive inflatables, face painting, balloon art, and magic!
At this special event, the Young Leaders Society (YLS) is excited to host "A Drive at the Drive."
Bring washcloths, bars of soap, shampoo, body wash, toothbrushes and travel toothpaste and travel deodorant — all to be distributed to families through United Way's School Tools program. We'll be stationed outside the Main Street gate to collect items and welcome you to the game!
Throughout the game, the Drive will honor and recognize different leaders, organizations and volunteers that have helped to shape the lives of so many throughout Greenville County. If you were a Hands on Greenville Day volunteer, make sure to wear your t-shirt to the game and pick up a free drink voucher at a specially marked table at either gate. End the night with a bang and make sure to stick around for the best fireworks show in town, courtesy of United Way of Greenville County.
Wednesday June 22nd: Gates open at 6 PM, First Pitch is 7:05 PM
The Greenville Drive & the SC Aerospace Team are excited to host the second annual Aerospace Night at Fluor Field event this year on Wednesday June 22nd. Building on the incredible success of last year's first-ever Aerospace Night event, this signature event at Fluor Field will highlight and showcase, in a unique and impactful way, the companies and leaders driving the success of the Aerospace industry in our community and throughout the state.
All aspects of the Aerospace Industry will be on display during the Drive game on June 22nd including impactful, educational, and engaging entertainment content on the stadium concourse as well as before and during the Drive game. The stadium concourse will come alive with engaging displays from leading Aerospace companies in the Upstate including Lockheed Martin, Champion Aerospace, Kelley Engineering, Gemba Systems, HTI, and more! The night will also feature additional entertainment including a pre-game stadium flyover from Prisma Health, a Color Guard performance by the Civil Air Patrol Squadron, a mini Airplane toss inning break, and much more!
To help build our community's Aerospace workforce of the future, all K-12 students in the community can receive a complimentary ticket to the game. Students and the general public should follow the instructions below to claim their tickets:
Students: visit www.GreenvilleDrive.com/groupportal and use the password "aerospace" to enter the portal. Also use the promo code "aerospace" to claim your complimentary ticket during check-out. Make sure to click apply!
Wednesday is also White Claw Wednesday! White Claws will be $2 throughout the game!
Thursday June 23rd: Gates open at 6 PM, First pitch is 7:05 PM
With the summer weather here, Dollar Drink Night at Fluor Field is the best place to be on a Thursday Night! $1 Fountain Pepsi products (available in the concession stands), $2 Coors Light, and $3 Terrapin Los Bravos all night long, starting when gates open at 6 PM. Cheers!
Friday June 24th: Gates open at 6 PM, First pitch at 7:05 PM
Closing out the week with a bang, Friday Fireworks, lit up by illumifin is back! One of the best fireworks shows in the Upstate, you don't want to miss this finale celebration.
Also, get to the game early to take advantage of Thirst Inning, where Bud Light, Budweiser, and Michelob Ultras are just $2 each (limit 2 per person) during the first inning of the game at the Budweiser Beer Carts on the concourse. Make sure to grab your alcohol wristband at the red tablecloths at either end of the concourse before you get in line.
Saturday June 25th: Gates open at 6 PM, First pitch at 7:05 PM
Tyler's Amazing Balancing Act is coming to Fluor Field! Tyler Scheuer's unique, high-energy performance has been wowing crowds for the past eight years! The performance consists of him balancing wheelbarrows, bikes, ladders, and much more on his face while at the same time dancing to music and engaging the crowd! You don't want to miss the thrilling experience!
Thirst Inning is back again - $2 Bud Light, Budweiser, and Michelob Ultras during the first inning at the Budweiser Beer Carts on the concourse at first and third base.
Sunday June 26th: Gates open at 2 PM, First pitch at 3:05 PM
Tyler's Amazing Balancing Act returns!
And don't forget, Kids Run the Bases after each Sunday game, courtesy of Blue Cross Blue Shield of South Carolina.
ADDITIONAL GAME INFORMATION:
PARKING / TROLLEYS
● Complimentary parking is available for every game at County Square - located off of University Ridge and just a few hundred steps from the Field Street Gate at Fluor Field.
● Trolleys run complimentary from County Square beginning one hour before first pitch time. The trolleys make two stops at Fluor Field, dropping fans off close to the Field Street Gate and then at the Main Street Gate.
● The trolleys will make trips post-game until there are no longer fans waiting for them at Fluor Field.
● The trolley loop takes approximately 20-25 minutes before returning to County Square, due to the path it must take with construction traffic.
CLEAR BAG POLICY
● Fluor Field has a clear bag policy in place. Make sure that you're not getting stopped at the gate and read the full policy HERE.
TEAM STORE HOURS
● Gameday Hours: 10am - End of Game
● Non Gameday Hours: 11am - 5PM
BOX OFFICE HOURS (Open on Gamedays Only)
● Monday-Friday: 10 am - Until the 8th inning
● Saturday and Sunday: Noon - Until the 8th inning
It's going to be a great week of Drive baseball and we can't wait to see you at Fluor Field!