Series Preview: Rome Braves Visit Fluor Field, August 3-8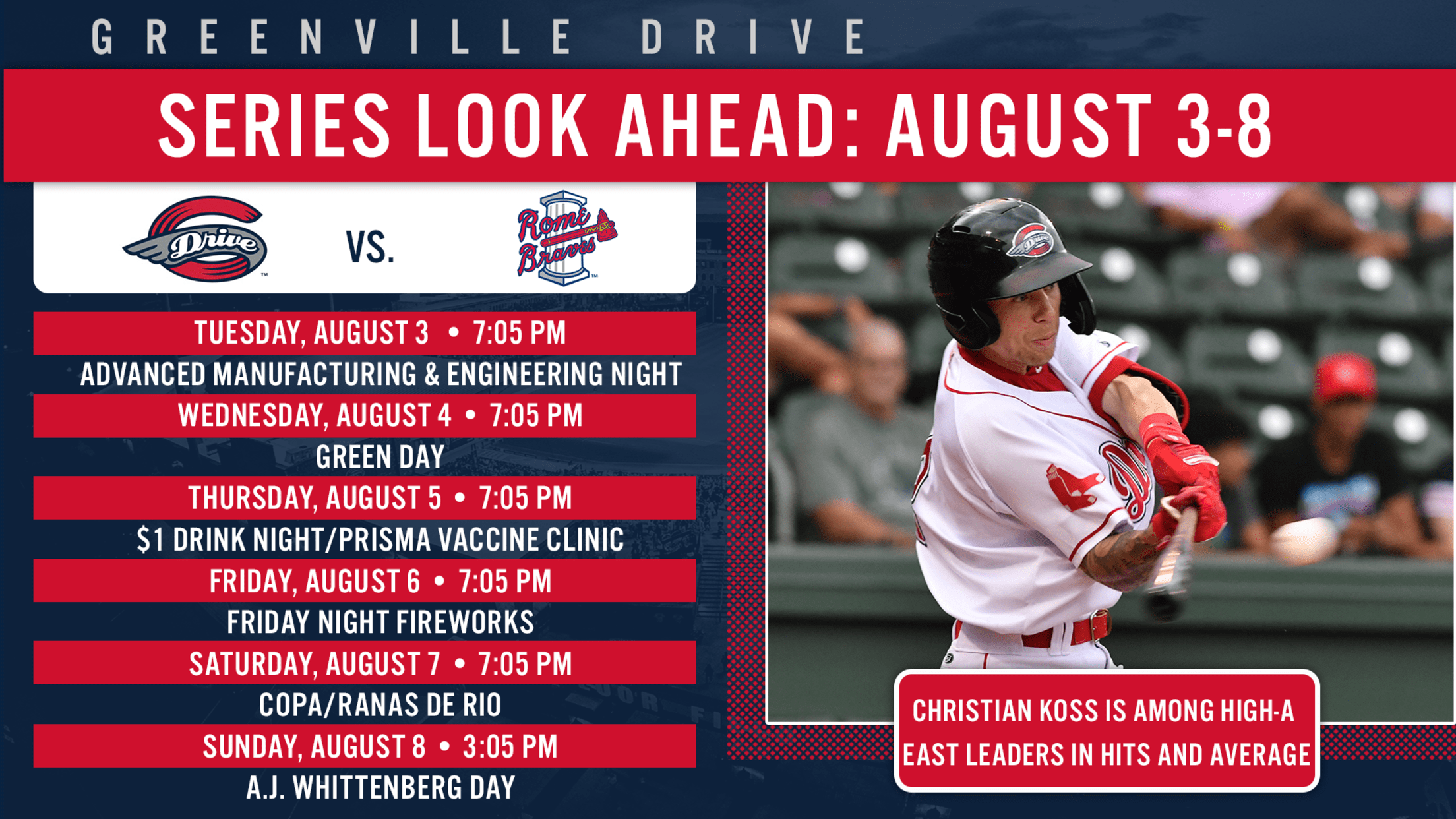 The 8th homestand of the Greenville Drive's 2021 season kicks off on Tuesday as the Drive welcome the Rome Braves (High-A affiliate of the Atlanta Braves) to Fluor Field for a six-game series August 3rd through August 8th. The atmosphere at Fluor Field has been electric all season long and
The 8th homestand of the Greenville Drive's 2021 season kicks off on Tuesday as the Drive welcome the Rome Braves (High-A affiliate of the Atlanta Braves) to Fluor Field for a six-game series August 3rd through August 8th. The atmosphere at Fluor Field has been electric all season long and it's wonderful to have the entire community once again celebrating and gathering at the ballpark. Make plans to join us at Fluor Field this week for another exciting slate of games and events including our annual, one-of-a-kind Advanced Manufacturing & Engineering celebration, Greenville's birthday celebration including a special tribute to Mayor Knox White, Dollar Drinks & Fireworks, our latest COPA celebration event, and our annual tribute to AJ Whittenberg School Of Engineering!
The Drive kick off the homestand on Tuesday, August 3rd with the 6th annual Advanced Manufacturing and Engineering Night at the ballpark (first pitch 7pm)! This signature event gives kids and their parents a look into the growing and exciting world of manufacturing & engineering with interactive, hands-on exhibits featuring augmented reality, 3D animation, robotics, and more. This year's exhibitors include: BMW Manufacturing, Hubbell Lighting, Greenville Technical College, General Electric, Michelin, Bosch Rexroth, Milliken, and more. All students receive a complimentary ticket to the game and upon checking in and visiting all the exhibits will be entered to win terrific prizes including drones, VR headsets, BMW Performance Center experiences, and more.
On Wednesday, August 4th, the Drive welcome the community to the ballpark for Green Day, our city's annual birthday celebration, proudly presented by TD Bank! This year's Green Day event will be especially meaningful as we'll recognize long-time Greenville Mayor Knox White as our Green Day honoree. Over his more than 25 years as mayor, no one has had a more profound and transformational impact on our city than Mayor White, and the Greenville Drive are honored to recognize Mayor White as this year's Green Day honoree. First pitch is set for 7pm but make sure to arrive early as we recognize & celebrate Mayor White with a special pre-game ceremony. Drive players will don their traditional Sunday Green jerseys for Green Day while complimentary Green Day t-shirts and capes will be distributed to fans as they arrive. And then make sure to stick-around for a special Green Day fireworks celebration in honor of Greenville's birthday immediately following the game.
The Upstate's favorite Dollar Drink Night highlights the Drive game on Thursday August 5th (first pitch at 7pm). Your favorite drink specials begin when gates open at 6:00pm! Enjoy $1 Coors Light and $2 Highland Brewing AVL IPA, our featured August Beer of the Month! Stop by the 500 Club, Que's, or 7th Inning Stretch to purchase Dollar Drink Night products. Fans over 21 are welcome to mingle at the 500 Club to network and enjoy Drive baseball! $1 Pepsi products will also be sold at all concession stands at Fluor Field.
Thursday also marks the Drive's fourth COVID-19 vaccination event of the season, once again hosted in partnership with Prisma Health. First and second doses of the Pfizer vaccine will be available to anyone 12 years of age or older eligible to receive the vaccine. No registration is required and anyone that receives the vaccine will receive a complimentary Sweet Caroline's ice cream and a ticket to a future Drive game. Thank you again to our friends at Prisma Health for helping keep our community safe!
Fireworks & COPA Night start the weekend at Fluor Field on Friday & Saturday (first pitch both nights at 7pm). Stick around for the whole game on August 6th as immediately following the game we'll feature the best fireworks show in town – the Hubbell Lighting "Light it Up" Friday Night Fireworks. And then on Saturday August 7th the Drive aka the Ranas de Rio (the Greenville River Frogs) will once again recognize & honor the Hispanic community with the organization's latest COPA Night event. Hispanic-influenced games, music, and fun will infuse all aspect of the Ranas de Rio game on the 7th. Make sure to visit Papi's Tacos, Comal 864, and South Beach Tacos on the concourse, plus check out the Mariachi band and other fun & games set up ballpark wide. Also make sure to stop by the Drive team store to grab your latest Ranas gear!
The homestand finishes up on Sunday August 8th (first pitch at 3pm) with the Drive's annual tribute to the AJ Whittenberg School of Engineering and STEM education across the community. AJ students and families will be on hand to meet their teacher for the upcoming school year, plus the Drive and its partners will help recognize the amazing impact of AJ Whittenberg – the school and its students/families – on our community. And then make sure to stick around post-game for Kids Run The Bases, presented by Blue Cross Blue Shield!
We can't wait to see you at Fluor Field this week for the most affordable, fun, and engaging entertainment in the Upstate!