Damon Berryhill Returns to Manage Gwinnett in 2018
Pitching coach Reid Cornelius, hitting coach John Moses also return to Stripers field staff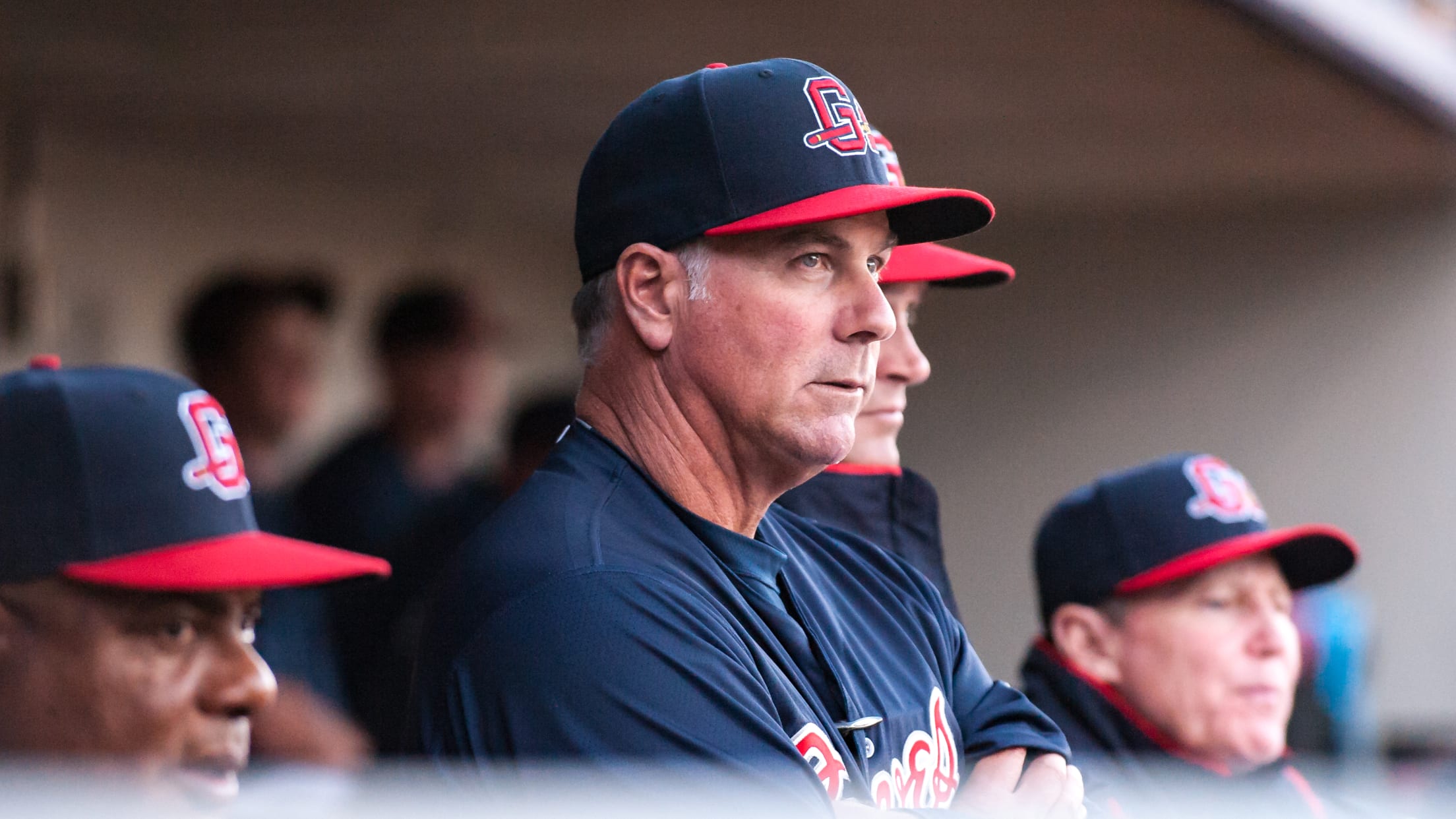 Damon Berryhill guided Gwinnett to a 71-71 record and a second-place finish in the IL South Division in 2017. (Will Fagan)
LAWRENCEVILLE, GA - The Atlanta Braves announced today the Gwinnett Stripers' field staff for the 2018 season. Manager Damon Berryhill (2nd season), pitching coach Reid Cornelius (2nd season) and hitting coach John Moses (4th season) will all return to the club. New to the staff is certified athletic trainer Nick
LAWRENCEVILLE, GA - The Atlanta Braves announced today the Gwinnett Stripers' field staff for the 2018 season. Manager Damon Berryhill (2nd season), pitching coach Reid Cornelius (2nd season) and hitting coach John Moses (4th season) will all return to the club. New to the staff is certified athletic trainer Nick Jensen, who joins the Stripers after spending 2017 with Class-A Rome.
Berryhill, 53, was named the sixth manager in Gwinnett history on December 12, 2016. A former catcher for the Atlanta Braves from 1991-93, he rejoined the organization in 2017 and guided Gwinnett to a 71-71 record and a second-place finish in the International League South Division.
Berryhill owns a career record of 489-458 (.516) in 947 games across nine seasons as a minor league manager. His previous managerial posts include one season with Advanced-A Bakersfield of the Texas Rangers organization (2008), five seasons with Rookie-level Ogden of the Los Angeles Dodgers organization (2009-13) and two seasons with the Dodgers' Triple-A affiliate in Albuquerque (2014) and Oklahoma City (2015). He was named the Pacific Coast League's Manager of the Year for 2015 after leading Oklahoma City to a league-best 86-58 mark.
Selected by the Chicago Cubs in the first round of the 1984 January Amateur Draft, Berryhill logged a 10-year Major League career as a catcher with the Cubs (1987-91), Braves (1991-93), Boston Red Sox (1994), Cincinnati Reds (1995) and San Francisco Giants (1997). The Laguna Beach, CA native batted .240 with 47 home runs and 257 RBIs in 684 games. He also appeared in 20 postseason games for the Braves (1992-93) and Giants (1997).
Cornelius, 47, returns for his second season with Gwinnett and the Braves organization in 2018. Last season, his pitching staff racked up 1,184 strikeouts, third-most in the IL and second-most in the team's nine-year history. Under his guidance, 13 different Gwinnett pitchers were promoted to Atlanta, including four for the first time: left-handers Luiz Gohara , A.J. Minter and Sean Newcomb , and right-hander Lucas Sims .
Prior to joining Atlanta, Cornelius spent 14 seasons with the Miami Marlins organization, including seven seasons as the Major League bullpen coach (2010-16). He also spent time in the Marlins' minor league system, serving as the pitching coach for Double-A Carolina (2003), Class-A Jupiter (2004-08) and Double-A Jacksonville (2009).
Selected by the Montreal Expos in the 11th round of the 1988 June Amateur Draft, Cornelius went 8-17 with a 4.91 ERA in 45 games (33 starts) over three seasons with the Expos (1995), New York Mets (1995) and Marlins (1999-2000). The Thomasville, AL native also pitched parts of four seasons in the IL with Ottawa (1994-95), Norfolk (1995) and Charlotte (1997-98), going 32-16 with a 4.03 ERA and four complete games in 69 games (67 starts).
Moses, 60, returns for his fourth season with Gwinnett, his sixth season with the Braves organization. His 2017 offense ranked among the IL's top six in triples (2nd, 33), stolen bases (3rd, 106), on-base percentage (4th, .329), runs scored (5th, 634), RBIs (6th, 581) and OPS (6th, .721). Nine position players advanced to Atlanta on his watch, including infielder Johan Camargo and 2017 IL Postseason All-Star second baseman Ozzie Albies . Moses also assisted in the development of 19-year-old outfielder Ronald Acuña, named the Minor League Player of the Year by both Baseball America and USA Today.
In addition to serving as Gwinnett's hitting coach in 2015 and for the first two months of 2016, Moses spent an 81-game stint as the team's manager in 2016. In his managerial debut, he guided the club to a 36-45 record, Gwinnett's first IL South Division title and first trip to the Governors' Cup Championship Series.
Moses' minor league coaching career includes stints as the hitting coach with Triple-A Las Vegas (2008) and Triple-A Albuquerque (2009-10) of the Dodgers organization, Double-A Corpus Christi (2011) of the Houston Astros organization, and Advanced-A Lynchburg (2013-14) and Double-A Mississippi (2014) of the Braves organization. He has also held Major League positions as the bench coach for the Cincinnati Reds (2005) and first base coach for the Reds (2006) and Seattle Mariners (2000-03, 2007).
Selected by Seattle in the 16th round of the 1980 June Amateur Draft, Moses played an 11-year Major League career as an outfielder for the Mariners (1982-87, 92), Minnesota Twins (1988-90) and Detroit Tigers (1991). The Los Angeles, CA native batted .254 with 11 home runs, 145 RBIs and 101 stolen bases in 162 total games.
Jensen joins Gwinnett in his third season in the Braves organization. He has previously served as the certified athletic trainer for the rookie-level Gulf Coast League Braves (2016) and Class-A Rome Braves (2017). Jensen received a bachelor's degree in athletic training from East Carolina University in 2014 and a master of science degree with a concentration in athletic training from the University of Delaware in 2016.
The Gwinnett Stripers open the 2018 season with a road game on Friday, April 6 at 7:05 p.m. vs. the Norfolk Tides. The Stripers' home opener at Coolray Field is set for Thursday, April 12 at 7:05 p.m. vs. the Rochester Red Wings. Ticket plans are available for purchase now by calling the Coolray Field Ticket Office at 678-277-0340.