Peterson at 'all-time high,' geared for strong comeback season
Outfield prospect reflects on rehab from injury-shortened 2017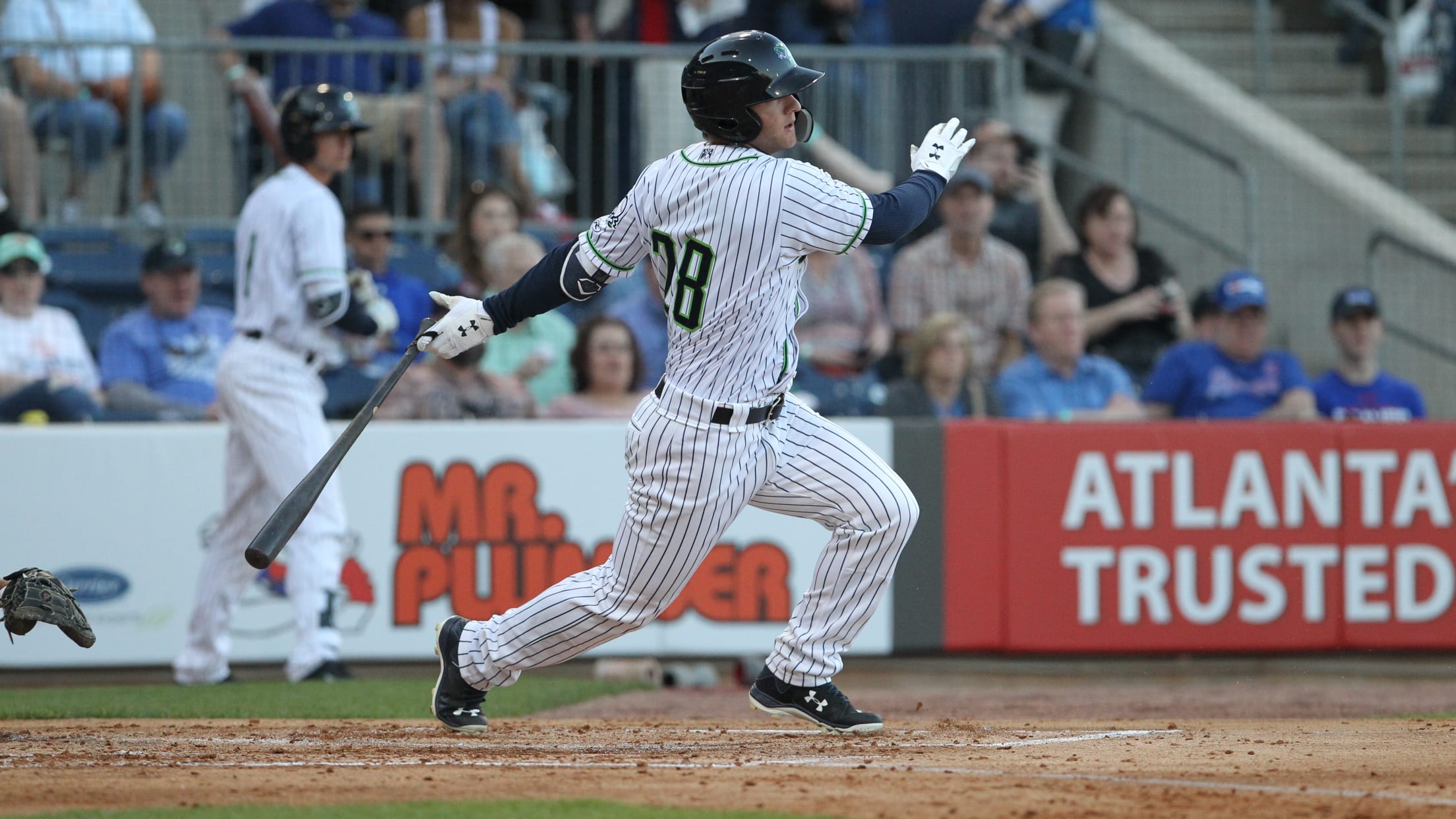 Outfielder Dustin Peterson went 5-for-13 with two RBIs in the Stripers' first home series against Rochester. (Karl L. Moore / Gwinnett Stripers)
Dustin Peterson's 2017 season didn't go as planned.Coming off a 2016 campaign in which the outfield prospect earned the Atlanta Braves' Hank Aaron Award for Minor League Player of the Year, Peterson entered 2017 Spring Training as a serious contender for a spot on the Major League roster.But one swing
Dustin Peterson's 2017 season didn't go as planned.
Coming off a 2016 campaign in which the outfield prospect earned the Atlanta Braves' Hank Aaron Award for Minor League Player of the Year, Peterson entered 2017 Spring Training as a serious contender for a spot on the Major League roster.
But one swing of the bat halted that chance.
In his fourth spring game with the Braves on March 1 last year, he broke the left hamate bone in his hand on his follow-through. Surgery followed, along with 11 weeks on the mend.
"That surgery was a tough one to come back from," said Peterson, who went on to bat .248 with just one home run and 30 RBIs in 87 games with Gwinnett in his Triple-A debut.
The injury took a toll on Peterson, who hit .282 with 12 home runs and 88 RBIs in 132 games with Double-A Mississippi in 2016 and was recognized with the organization's top honor.
"I feel like I just never had that strength in my hand," he said. "I feel like I didn't have strength using my bottom hand and it just affected my swing - it altered it a little bit. It definitely took away from my power."
Still only 23 years old and ranked the Braves' No. 16 prospect by MLB.com, Peterson said he feels like a player with something yet to prove. He said he didn't take much time off after last season before getting back into the weight room and into the batting cage.
"Into the offseason I just wanted to focus on my strength; get my strength back and just work as hard as I could to get myself right and prepare myself for this season," he said. "I kind of put the last one behind me and try not to worry about it."
The Braves showed they, too, aren't giving up on Peterson's potential when they invited him to Major League Spring Training for the first time in his career. The team gave him an extended look, getting him 27 at-bats in 17 games. He blasted two home runs in back-to-back games on March 10 and 11 and finished the spring slate batting .259 before being reassigned to Minor League camp.
"I wanted to get more opportunities, but with what I was given I obviously tried to do my best," Peterson said. "I feel like I performed pretty well and kind of opened (the Braves') eyes again and showed them really who I am. It was nice to get invited to camp and ultimately show them again what type of hitter and player I am."
At this point, Peterson feels he's "definitely able to contribute to the Major League team," but he also acknowledged the backlog of outfielders in the Braves' system. With five outfielders on the Major League roster, five on Gwinnett's roster - including rising star Ronald Acuña Jr. - and a handful of other prospects at the lower levels, there isn't a clear path for Peterson.
"Right now, I'm at an all-time high in my work level," he said. "I can only really control what I do out on the field with my play and my performance. I want to show power and just improve my game every day. I want to be fundamentally sound on defense and be a pretty dang good hitter at the plate."
After going hitless on the season-opening road trip at Norfolk and Durham, Peterson rebounded well and went 5-for-13 (.385 BA) with two RBIs in the first home series against Rochester. Now at full strength, he said he's ready to turn some more heads this season.
"New year, new me," he said with a grin. "I'm strong, I'm healthy so we'll see what happens."