Kyle Wright Tosses Two-Hit Shutout in Stripers' 7-0 Win
Wright perfect through 6.1 innings in Gwinnett's victory over Nashville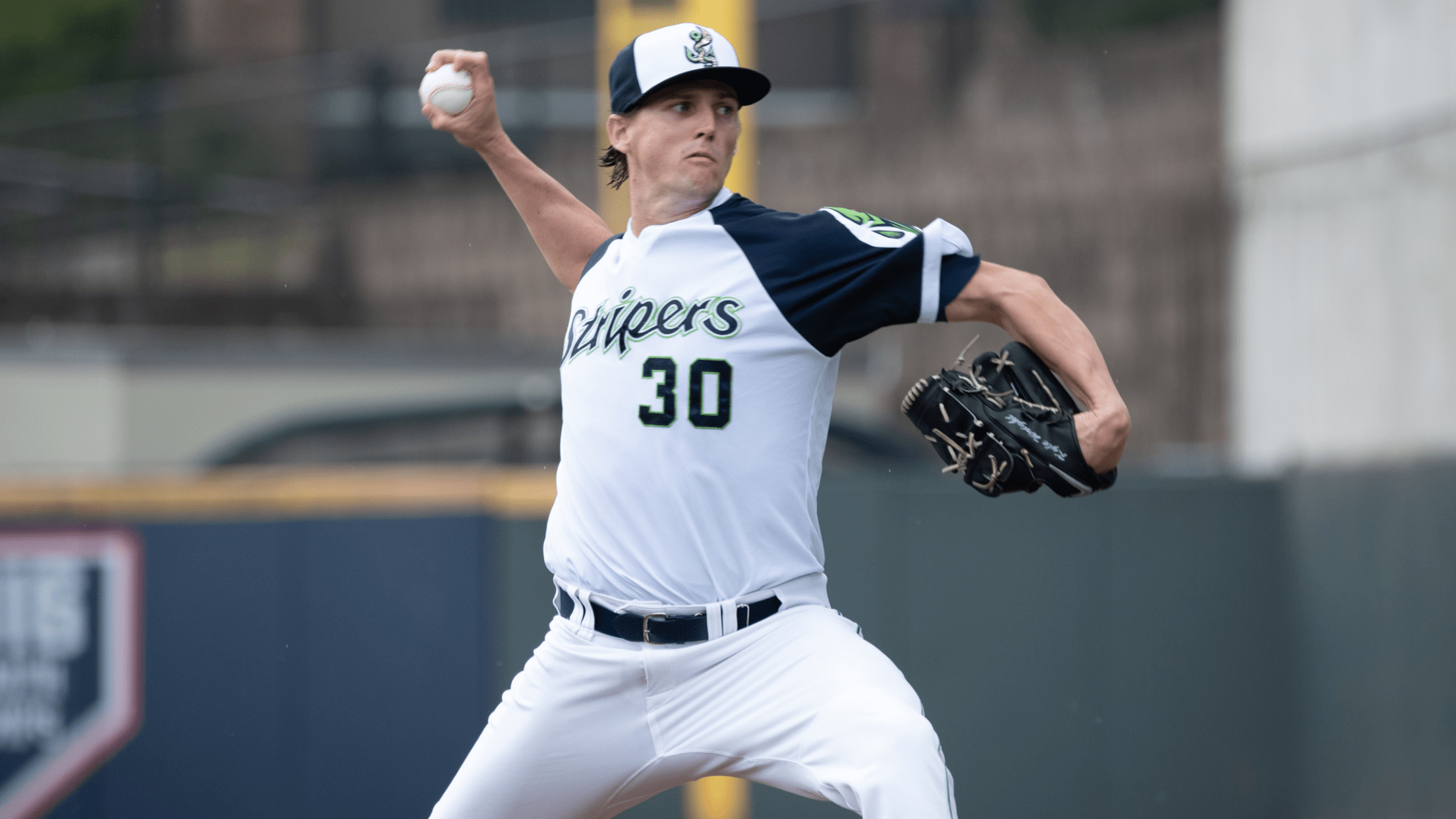 Kyle Wright tossed a 9.0-inning complete game shutout in Gwinnett's 7-0 win over Nashville on Sunday afternoon. He is the first Gwinnett pitcher to throw a 9.0-inning complete game shutout since Williams Perez on May 6, 2016 vs. Charlotte. (Jamie Spaar/Gwinnett Stripers)
LAWRENCEVILLE, Ga. – Kyle Wright pitched his first career 9.0-inning complete game shutout on Sunday, allowing just two hits and no walks while striking out five in the Gwinnett Stripers' (68-51) 7-0 victory over the Nashville Sounds (63-56) at Coolray Field. Wright is the first Gwinnett pitcher to throw a
LAWRENCEVILLE, Ga. – Kyle Wright pitched his first career 9.0-inning complete game shutout on Sunday, allowing just two hits and no walks while striking out five in the Gwinnett Stripers' (68-51) 7-0 victory over the Nashville Sounds (63-56) at Coolray Field. Wright is the first Gwinnett pitcher to throw a 9.0-inning complete game shutout since Williams Perez on May 6, 2016 vs. Charlotte.
Decisive Plays: Johan Camargo gave Gwinnett a 1-0 lead in the third inning with an RBI double off Victor Castaneda (L, 0-1). Camargo added a three-run home run (17) in the fifth inning to extend the Stripers' lead to 4-0. Gwinnett tallied two more runs in the fifth and one in the eighth for the 7-0 victory.
More on Wright: Wright (W, 9-5) took a perfect game into the seventh inning before allowing a one-out double to Tyrone Taylor. The only other Nashville baserunner to reach against him came in the ninth when Christian Kelley led off with a single. Wright induced a game-ending 6-4-3 double play, and worked to just one batter over the minimum. He threw 86 pitches, 64 for strikes.
Other Key Contributors: Ryan Casteel hit a solo homer (8) in the eighth inning, finishing 3-for-4 with two RBIs. Drew Waters went 3-for-5 with a double, run, and stolen base. Camargo led Gwinnett with four RBIs, going 2-for-5 with a double and homer.
Noteworthy:. Wright is 5-1 with a 2.70 ERA and .192 BAA over his last six starts with Gwinnett. Casteel is batting .333 (7-for-21) with three homers and six RBIs in his last seven games. Camargo raised his team-best average to .319 (117-for-367).
Next Game (Wednesday, September 22): Gwinnett at Durham, 6:35 p.m. at Durham Bulls Athletic Park. Radio Broadcast: 6:20 p.m. on MyCountry993.com.
Next Home Game (Wednesday, September 29): Gwinnett vs. Jacksonville, 11:05 a.m. at Coolray Field (Education Day, the Stripers will welcome area students to take in a matinee game in a fun and educational environment).