Stripers Clinch IL South Division Title Despite Loss in Durham
Gwinnett falls 6-5 to Bulls, but wins division as Charlotte loses 2-0 at Norfolk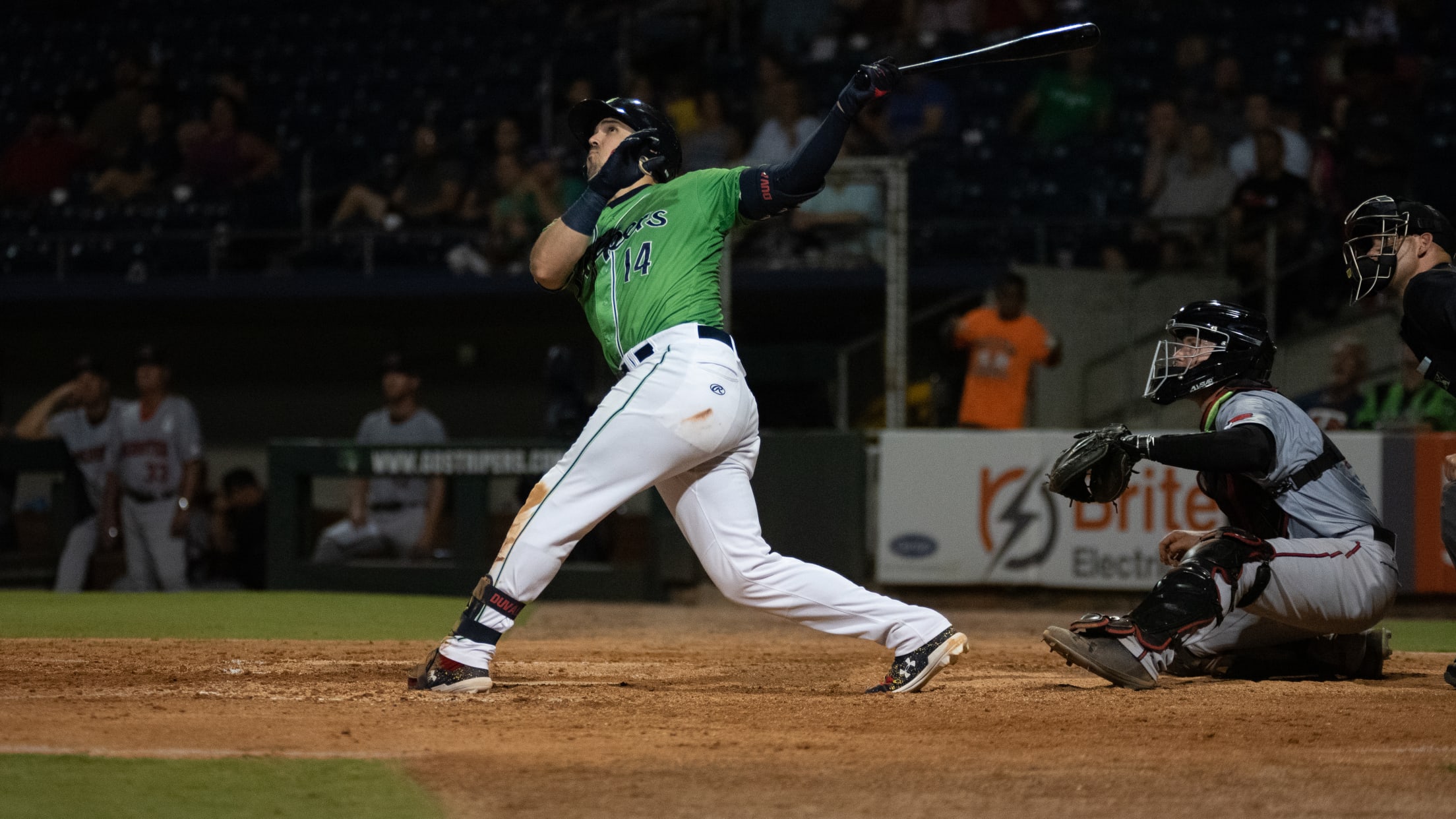 Duvall hit his 31st homer of the year in the loss. (Jamie Spaar/Gwinnett Stripers)
DURHAM, NC - The Gwinnett Stripers (78-58) lost 6-5 to the Durham Bulls (74-62) in walk-off fashion on Friday night at Durham Bulls Athletic Park but clinched the International League South Division title as Charlotte lost 2-0 at Norfolk. The Stripers will play Columbus, the winners of the IL West
DURHAM, NC - The Gwinnett Stripers (78-58) lost 6-5 to the Durham Bulls (74-62) in walk-off fashion on Friday night at Durham Bulls Athletic Park but clinched the International League South Division title as Charlotte lost 2-0 at Norfolk. The Stripers will play Columbus, the winners of the IL West Division, in the first round of the Governors' Cup Playoffs beginning on Wednesday, September 4 at Coolray Field.
Scoring Recap: Durham took a 2-0 lead in the first inning as Mike Brosseau grounded into a run-scoring double play and Guillermo Heredia followed with an RBI single. The Bulls extended the lead to 5-0 in the fourth on a two-run double by Jake Cronenworth and a RBI single by Daniel Robertson. RBI singles by Jack Lopez and Johan Camargo cut the deficit to 5-2 in the fifth, and Adam Duvall (31) tied the game at 5-5 with a towering three-run home run down the left-field line off Peter Fairbanks. In the ninth, the Bulls loaded the bases against A.J. Minter (L, 2-2), and a two-out single by Michael Perez scored the game winner.
Stripers Stats: Duvall went 1-for-3 with a homer and three RBIs. On the mound, Ian Anderson allowed five runs on five hits, walked six and struck out two in a no-decision. Tyler Matzek tossed 2.2 scoreless innings, and rehabbing Atlanta Braves Darren O'Day and Grant Dayton each pitched 1.0 scoreless inning.
Bulls Stats: Fairbanks (W, 1-2) won despite allowing Duvall's homer in the eighth. Cronenworth went 1-for-4 with a double and two RBIs, while Robertson, Perez, and Heredia each added an RBI.
Postgame Notes: The Stripers are the IL South Division champions for the second time in franchise history (last won in 2016). Duvall's three-RBI night raised his season total to 92, tied for the Gwinnett single-season record (Ernesto Mejia also had 92 RBIs in 2012). Camargo has hit safely in 16-straight games with Gwinnett since April 16, 2018, including all 13 games with the Stripers this season.
Next Game (Saturday, August 31): Gwinnett at Durham, 6:35 p.m. at Durham Bulls Athletic Park. RHP Kyle Wright (10-4, 4.27 ERA) for the Stripers vs. LHP Josh Fleming (1-2, 4.67 ERA) for the Bulls. Radio Broadcast: 6:20 p.m. on 97.7 and 93.5 FM "The Other Side of the River."