Stripers Shut Out by Jacksonville in Shuster's Debut
Jared Shuster tosses 5.0 three-run innings, but Gwinnett falls 5-0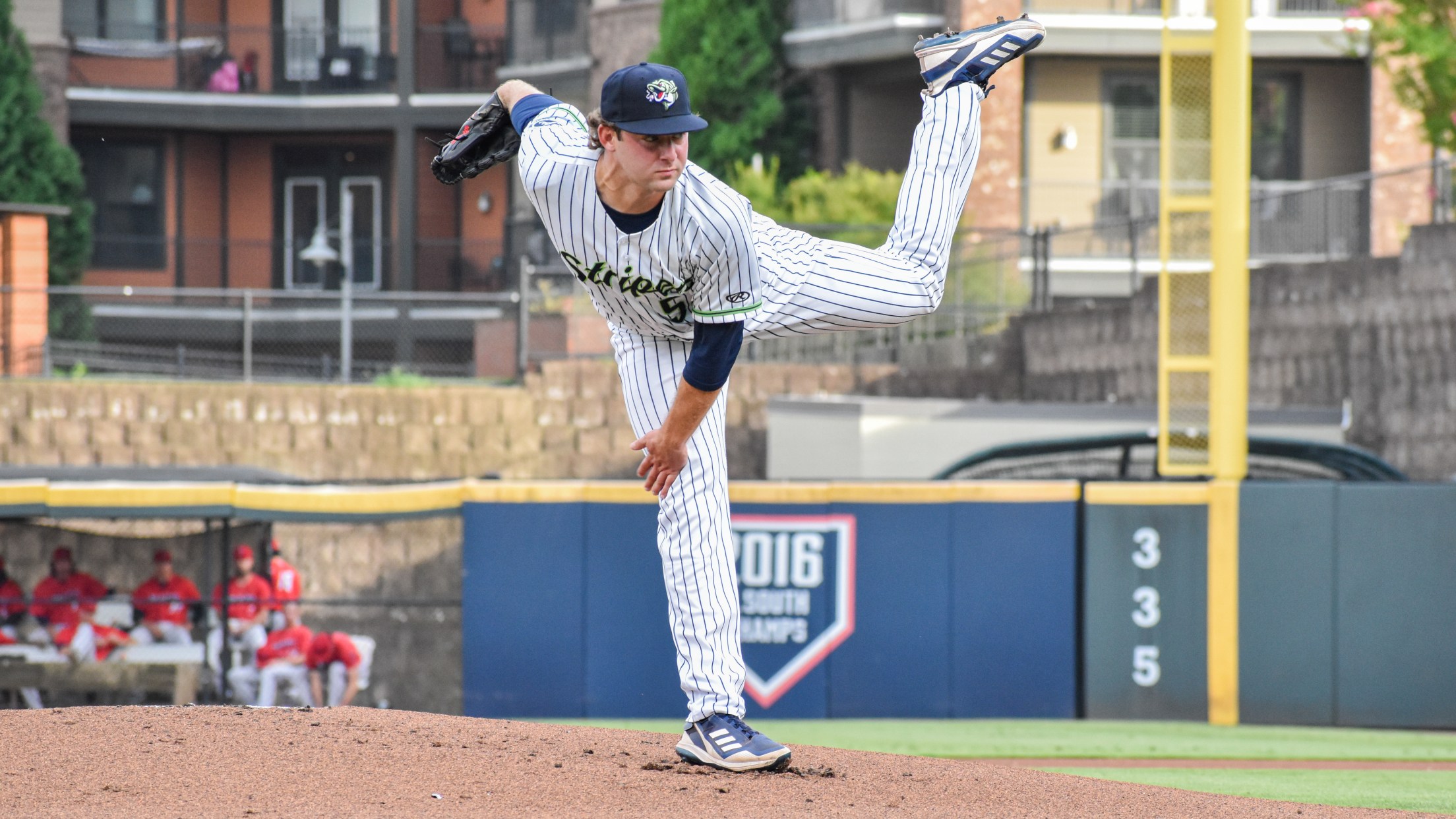 Jared Shuster tossed 5.0 strong innings in his Triple-A debut, but was tagged with the loss in Gwinnett's 5-0 defeat. (Josh Conner/Gwinnett Stripers)
LAWRENCEVILLE, Ga. – Atlanta Braves' No. 7 prospect Jared Shuster tossed a strong 5.0 innings in his Triple-A debut on Thursday night at Coolray Field, but the Gwinnett Stripers (46-50) were held in check offensively in a 5-0 loss to the Jacksonville Jumbo Shrimp (53-43). [BOX SCORE] Decisive Plays: The
LAWRENCEVILLE, Ga. – Atlanta Braves' No. 7 prospect Jared Shuster tossed a strong 5.0 innings in his Triple-A debut on Thursday night at Coolray Field, but the Gwinnett Stripers (46-50) were held in check offensively in a 5-0 loss to the Jacksonville Jumbo Shrimp (53-43).
Decisive Plays: The Jumbo Shrimp took advantage of a first-inning error, taking a 1-0 lead on Jerar Encarnacion's sacrifice fly scoring Bryson Brigman. Jacksonville added another run in the second inning and Peyton Burdick lofted a solo home run (13) to left in the third to make it 3-0. Jacksonville tacked on runs in the seventh and eighth.
Key Contributors: Shuster (L, 0-1) allowed three runs - two earned - on five hits and struck out four over 5.0 innings for Gwinnett. Alex Dickerson (double), Braden Shewmake (single), and Ryan Goins (single) had the Stripers' three hits. For Jacksonville, Edward Cabrera (W, 2-2) struck out seven over 5.0 one-hit innings, while Brian Miller went 3-for-4 with two runs and two stolen bases.
Noteworthy: Gwinnett is now 5-10 in shutout decisions this season. The Stripers have lost six straight games to the Jumbo Shrimp. Tyler Ferguson saw his 12-game, 12.2-inning scoreless streak snapped with a run allowed in the eighth.
Next Game (Friday, July 29): Gwinnett vs. Jacksonville, 7:05 p.m. at Coolray Field. RHP Freddy Tarnok (1-0, 3.38 ERA) for the Stripers vs. TBD for the Jumbo Shrimp. Radio Broadcast: 6:50 p.m. on MyCountry993.com. Join the Stripers for Princess & Pirate Night, followed by Fireworks Friday.