Top Five: Labor Day Performances
Gwinnett's most notable season-finale games since 2009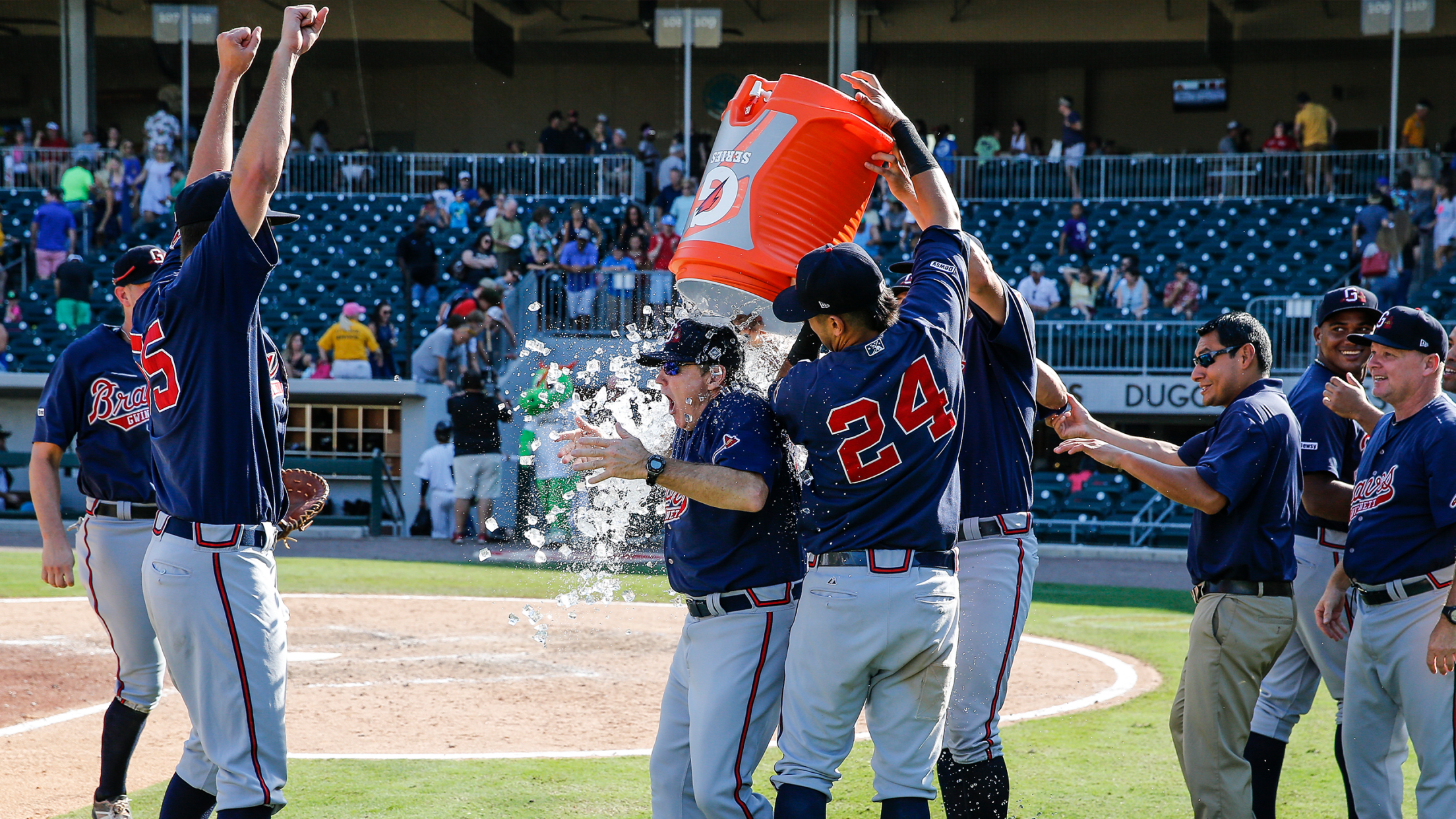 Interim manager John Moses (center) gets a celebratory ice shower after Gwinnett clinches its first IL South Division title on September 5, 2016. (Chris Roughgarden)
Today is Labor Day, the unofficial end of Summer. In a normal year, it's also the final day of the regular season for teams across Minor League Baseball, including your Gwinnett Stripers. Labor Day typically features a matinee game that both sides are eager to finish quickly. Teams that have
Today is Labor Day, the unofficial end of Summer. In a normal year, it's also the final day of the regular season for teams across Minor League Baseball, including your Gwinnett Stripers.
Labor Day typically features a matinee game that both sides are eager to finish quickly. Teams that have already clinched a playoff berth may rest some of their key players and utilize a "spot starter" to save their best starting pitchers for the Postseason. Players with teams that have already been eliminated are focused on their travel plans, whether it's a September call-up to a Major League club or a trip back home. Some players literally have their bags packed prior to the game, their lockers cleared out and cars loaded up so that they can hit the road moments after the final out.
Despite speed being the number one goal for all involved, these Labor Day games can still provide dramatic moments. A player in reach of a statistical milestone makes one final push for history. A veteran headed for retirement tries to create one last highlight before calling it a career. Teams down to the wire in a playoff chase battle it out on the season's final day. All those scenarios have played out at one time or another in Gwinnett's 11-year history.
Gwinnett's Labor Day Games:
September 7, 2009: Won 7-4 vs. Charlotte
September 6, 2010: Won 7-0 at Charlotte
September 5, 2011: Cancelled (Rain) vs. Charlotte
September 3, 2012: Lost 5-1 at Norfolk
September 2, 2013: Lost 4-0 at Charlotte
September 1, 2014: Won 9-2 at Charlotte
September 7, 2015: Won 6-2 vs. Charlotte
September 5, 2016: Won 6-2 at Charlotte
September 4, 2017: Won 3-0 vs. Durham
September 3, 2018: Lost 6-1 vs. Charlotte
September 2, 2019: Won 8-5 at Durham
The G-Braves and Stripers have been tremendously successful on Labor Day, going 7-3 with one rain cancellation. This week's "Top 5" ranks the best of those seven season-finale victories.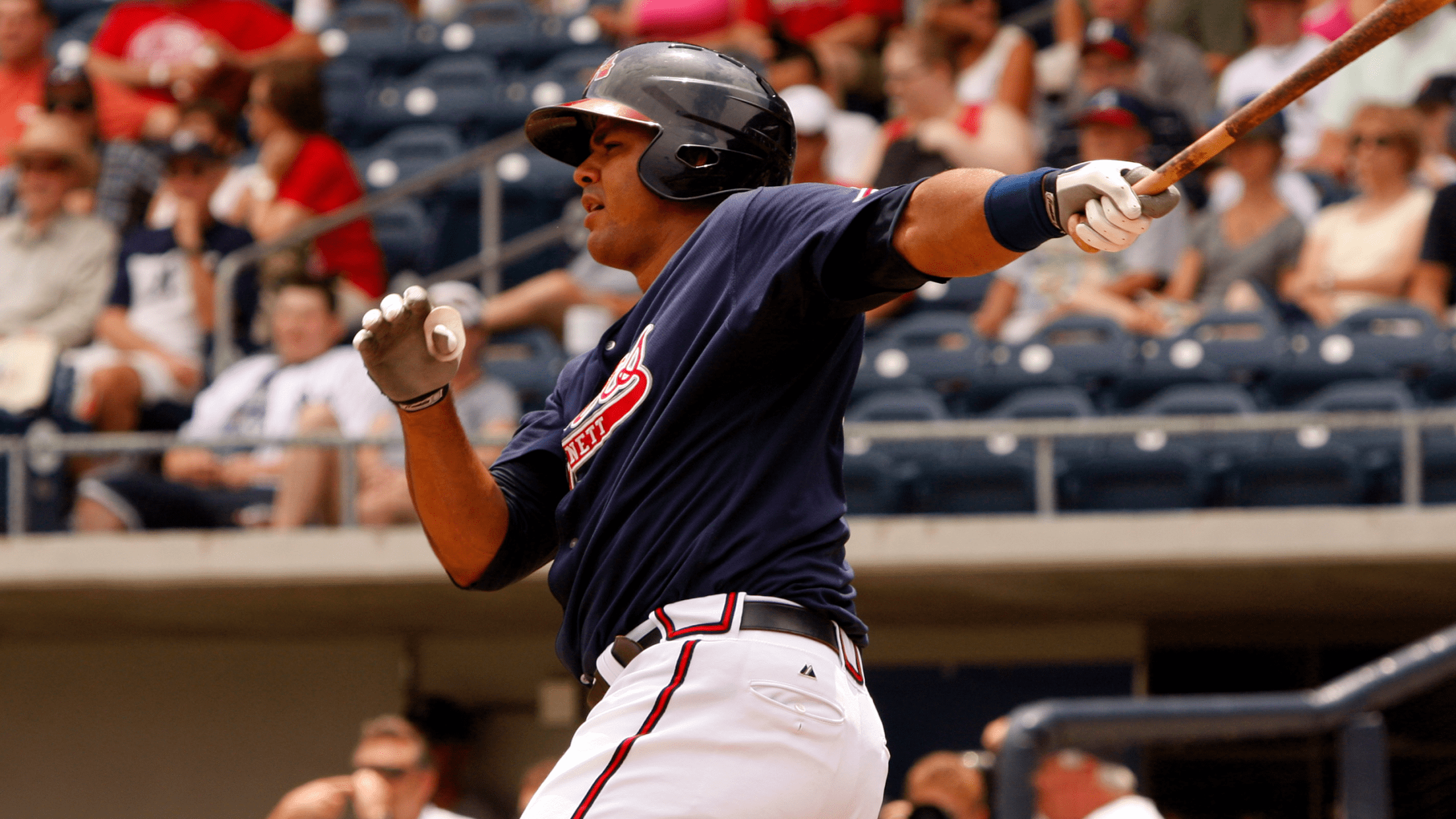 5. Cañizares Reaches .341 Mark in Shutout at Charlotte (September 6, 2010)
After winning the International League Wild Card with an 81-63 record in their inaugural season in 2009, the G-Braves suffered a let-down in 2010, going 72-71 to finish 16 games behind Durham (88-55) in the IL South Division. Despite missing the playoffs, Gwinnett boasted two of the circuit's best hitters, designated hitter Bárbaro Cañizares and first baseman Freddie Freeman.
The teammates were neck-and-neck for the IL Batting Title as of August 26, with the 30-year-old Cañizares holding a 13-point lead over the 20-year-old Freeman (.337 to .324). Once Freeman had his contract selected by Atlanta for his Major League debut on September 1, it became a one-man race. Cañizares surged to the .340 mark by September 5, mathematically clinching the Batting Title over Columbus's Jose Constanza, who was hitting .320.
The Batting Title was his, but Cañizares could still finish with the IL's first .340-plus average since Louisville's Norris Hopper hit .347 in 2006. To do it, he'd need to extend a 13-game hitting streak and post a multi-hit game in the G-Braves' Labor Day contest at Charlotte. He accomplished all three goals that day, going 2-for-5 with two singles and an RBI to raise his average to .341 and help Gwinnett to a 7-0 win.
Cañizares started off with a strikeout in the top of the first inning, but the G-Braves were off and rolling thanks to a two-out, two-run double from Brent Clevlen. After singling in his second at-bat in a scoreless third, Cañizares came up with a chance to do damage in the fifth. With runners at the corners and two outs, he stroked an RBI single to center off Knights starter Jeff Marquez for a 3-0 lead.
Cañizares batted twice more, grounding out in the seventh and popping out in the ninth. The game was well in hand by then, as Clint Sammons laced an RBI double and scored on a two-run home run by Luis Bolivar in the eighth for a commanding 7-0 edge. Starter Erik Cordier pitched 7.1 scoreless, three-hit innings, and relievers Stephen Marek and Craig Kimbrel finished off a six-hit shutout.
In his second straight campaign as an IL Postseason All-Star, Cañizares hit .341/.403/504 with 28 doubles, one triple, 13 homers, 58 runs, 77 RBIs, and a .907 OPS in 126 games with the G-Braves. His .341 average made him the first IL Batting Champion in Gwinnett history and stood as the club's highest single-season mark until Phil Gosselin hit .344 in 2014.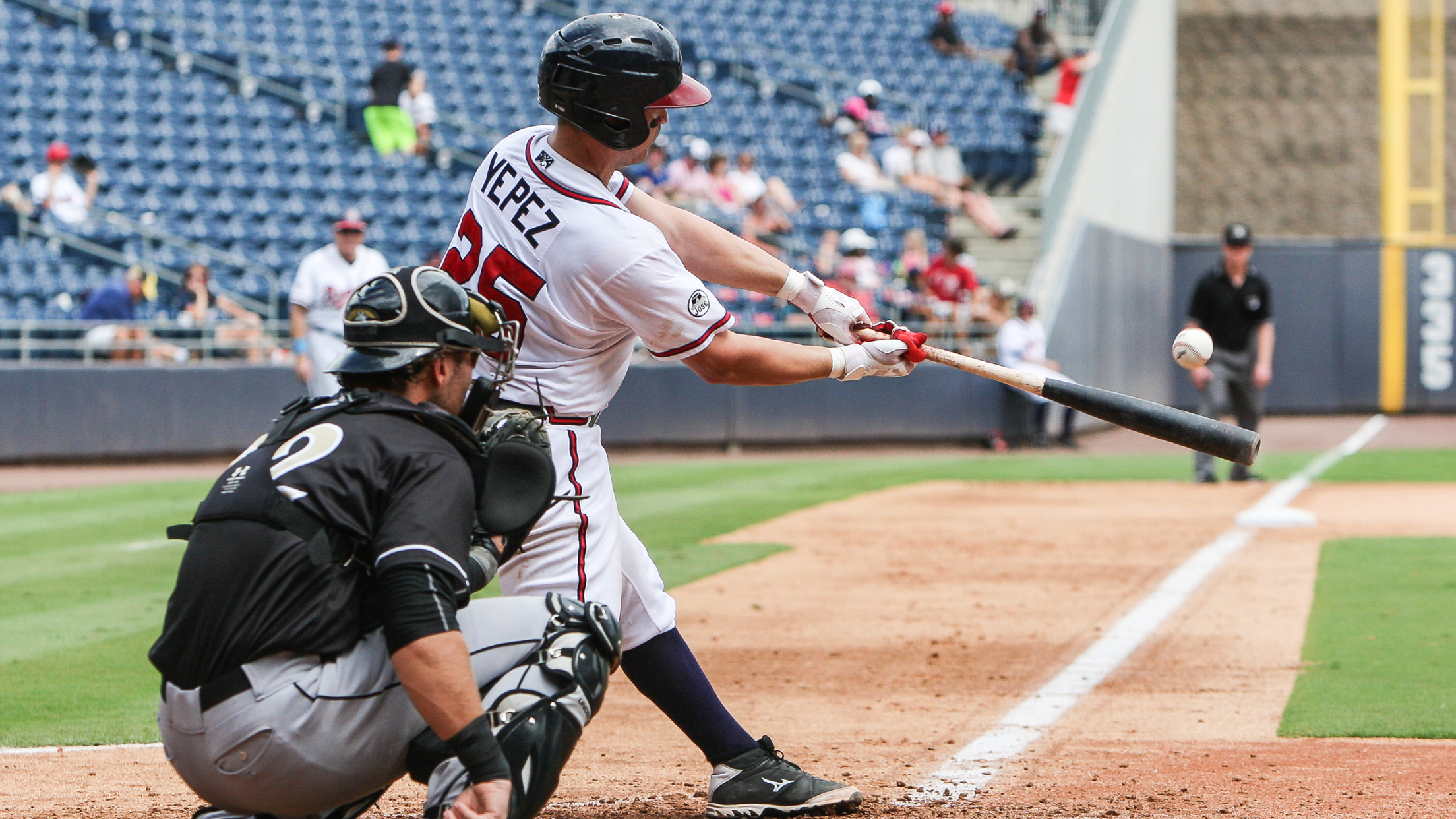 4. Yepez Homers in his Final Game vs. Charlotte (September 7, 2015)
Gwinnett's down-to-the-wire battle with Norfolk for the IL South title had ended the previous night with the Tides' 8-4 win at Durham, so there was a definite air of finality entering the game against Charlotte. Nobody in the ballpark felt this more than 34-year-old catcher Jose Yepez, who had announced to his teammates and a few select staffers that he was planning to retire after the game.
Yepez had provided steady leadership in the G-Braves' clubhouse for four seasons dating back to 2012, but had seen his offensive production decline in each of the last three years. Entering Labor Day 2015, the Carora, Venezuela native was batting just .185 with no homers and 11 RBIs in 45 games. Knowing of Yepez's imminent retirement, Gwinnett manager Brian Snitker penciled him into the starting lineup, catching and batting eighth.
Leaving it all on the field one last time, Yepez etched himself into Gwinnett lore, homering in his second-to-last at-bat as the G-Braves defeated Charlotte 6-2 at Coolray Field.
Behind the plate, the veteran backstop teamed with starting pitcher Jake Brigham to limit the Knights to two runs on eight hits over 6.0 innings. Gwinnett was clinging to a 3-2 lead and still facing Charlotte starter (and 2003 World Series champion) Brad Penny when Yepez stepped to the plate to lead off the seventh. Homerless in his last 157 games dating back to July 14, 2012, he knew his best chance to round the bases one more time was to jump on a fastball. On Penny's 2-1 pitch, Yepez got the pitch he sought and belted a solo shot down the left-field line for a 4-2 lead.
The Gwinnett dugout erupted in celebration of a feat nobody but Yepez could have envisioned. It would have been a final at-bat fit for a Hollywood movie, but Yepez, living up to his never-give-in mentality, declined to be replaced defensively. He batted one more time in the eighth, flying out to right field to finish the day at 1-for-4. In the ninth, he caught a scoreless inning from Carlos Fisher as the G-Braves triumphed 6-2 and ended the year with a 77-67 record.
After the game, Yepez received a long line of hugs from his teammates and coaches on the field, packed up his catcher's bag in the dugout, and walked up the tunnel to the clubhouse for the last time as a player. Though he never appeared in a Major League game (he was called up by the Seattle Mariners in 2011 but did not play), he did rack up 624 games in affiliated MiLB, batting .253/.332/.351 with 28 homers and 249 RBIs.
Retirement only served as a transition for Yepez's baseball career, as he moved into the coaching ranks in 2016. He began the season with Class-A Rome, but vaulted all the way to the Majors in less than two months. When Snitker was named Atlanta's interim manager on May 17, he called his trusty clubhouse leader to be the Braves' bullpen catcher. Yepez has served in the role ever since, helping Atlanta to National League East Division titles in 2018 and 2019.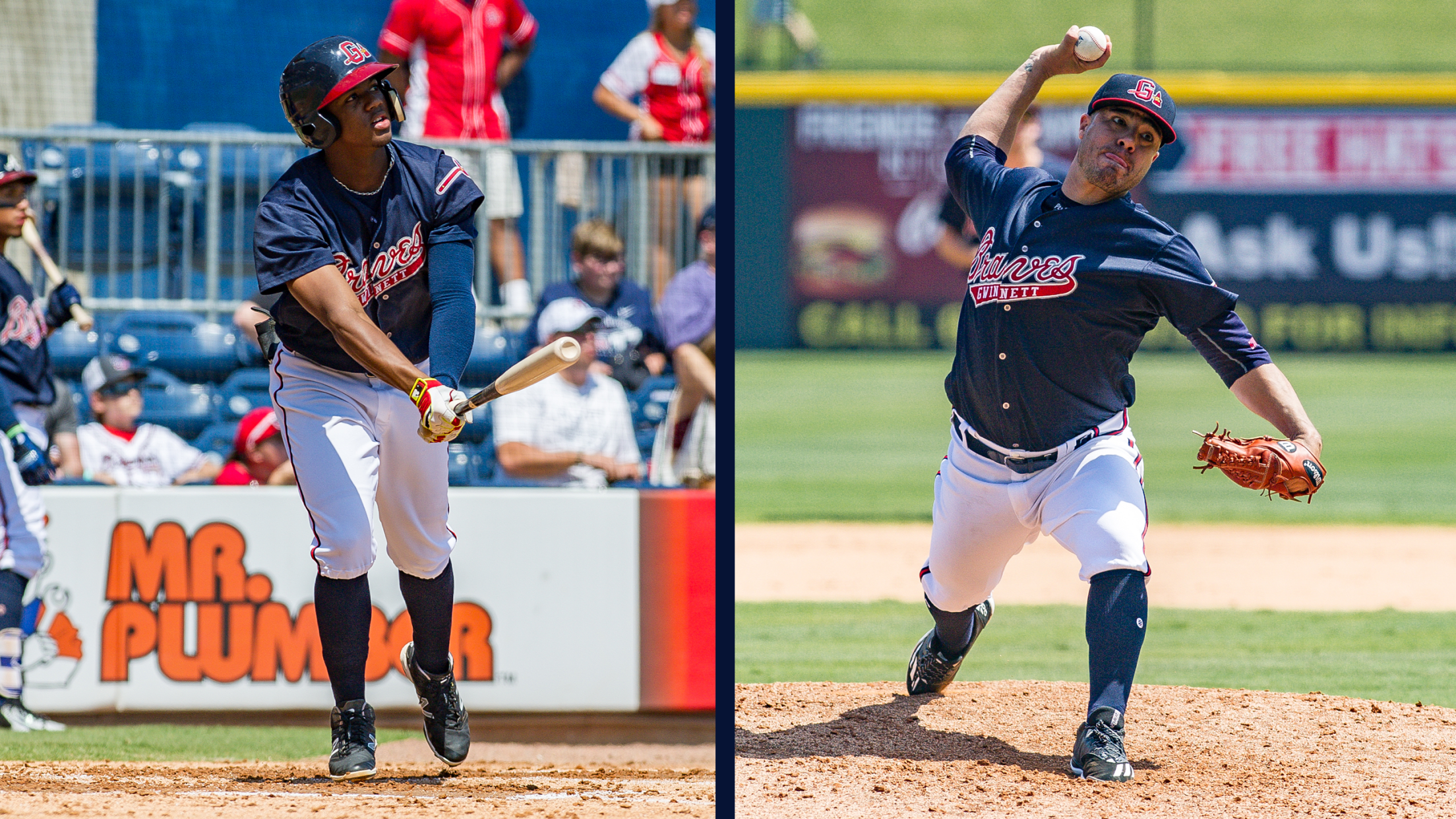 3. Acuña Jr. and Barreda Shine as G-Braves Era Ends with Victory (September 4, 2017)
Labor Day 2017 marked the end of an era at Coolray Field as Gwinnett played its final game under the "Braves" moniker. First-year manager Damon Berryhill's club, already assured of a second-place finish in the IL South, looked to retire the name with a victory and wrap up the season with a .500 record at 71-71.
Standing in their way were the 86-55 Durham Bulls, who had clinched the division on August 24 and were looking ahead to a first-round match-up with the IL West champion Indianapolis Indians. Though Durham had won the first two games of the meaningless series by a combined 12-2 score, this day would belong to the G-Braves, namely 19-year-old center fielder Ronald Acuña Jr. and starting pitcher Manny Barreda.
The G-Braves blanked the Bulls 3-0 in a brisk 2-hour, 33-minute contest. Acuña had both of Gwinnett's extra-base hits and drove in all three runs, going 2-for-4 with a double and a home run out of the leadoff spot. Barreda fired 7.0 scoreless, two-hit innings, walked three, and struck out seven to improve to 3-1 and lower his ERA to 1.83.
After leading off the bottom of the first with a ground-rule double but failing to score, Acuña stepped to the plate with two on and two outs in the second. On a 1-1 pitch from Bulls right-hander Hunter Adkins, he drilled an opposite-field three-run homer to the berm in right, giving the G-Braves a 3-0 lead. It was his ninth clout in 54 Triple-A games.
Barreda, meanwhile, mowed down the Durham lineup as he carried a no-hitter into the fifth. Shane Peterson's one-out single ended his bid, but the right-hander regrouped to retire the next seven batters in order. In the seventh, following a two-out walk to Johnny Field, Barreda nearly saw his shutout stymied as Peterson doubled over the head of Acuña in center. Acuña showed off his elite defensive skills, however, firing a strike to second baseman Sean Kazmar Jr., who then threw to catcher Sal Giardina to nail Field at the plate.
Danny Reynolds replaced Barreda in the eighth and pitched a scoreless frame, and Rhiner Cruz loaded the bases before escaping the jam in the ninth for his fifth save. The trio of Gwinnett pitchers combined on a five-hit shutout.
For his dominant performance in the G-Braves' final game, Barreda was named the IL Pitcher of the Week. The 28-year-old went 1-1 with a 0.00 ERA and a league-best .130 BAA in two starts from August 28 to September 4. Acuña's three-RBI day was a fitting end to amazing season in which he was named the Baseball America Minor League Player of the Year. Between Advanced-A Florida, Double-A Mississippi, and Gwinnett, he batted .325/.374/.522 with 31 doubles, eight triples, 21 homers, 88 runs, 82 RBIs, 44 stolen bases, and an .896 OPS in 139 games.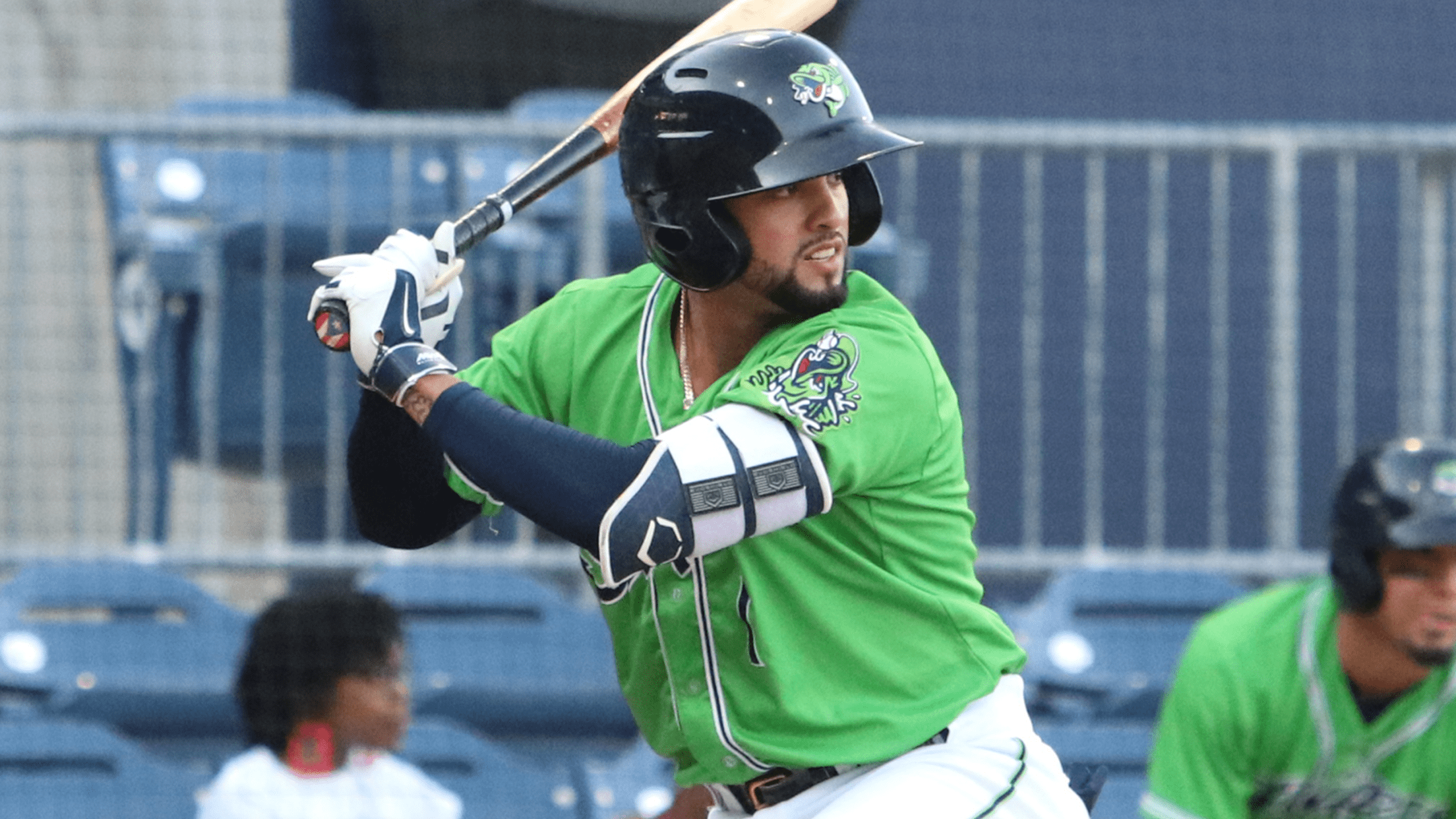 2. Stripers Finish Best Season, Nearly Deny Durham (September 2, 2019)
The Stripers had already clinched the IL South Division title and secured the best winning percentage in club history, but still had one more goal in sight as they aimed to become the second Gwinnett club to win 80 games in a season. The Durham Bulls, meanwhile, were fighting for their playoff lives, needing a win or a Charlotte loss at Norfolk to capture the IL Wild Card. For the Stripers, the Labor Day game was a chance to both put a stamp on a memorable year and eliminate their arch-rivals.
Starter Huascar Ynoa held the desperate Bulls to one run on three hits over 5.0 innings, Gwinnett's career RBI leader Sean Kazmar Jr. tied his season high with four RBIs, and Jack Lopez clubbed the team's 200th and final home run of the year as the Stripers pounded Durham 8-5 at Durham Bulls Athletic Park.
Ynoa pitched scoreless ball over the first 4.0 innings, and Kazmar provided him plenty of support with an RBI single in the third and three-run double in the fifth. Lopez followed Kazmar's clutch hit with his 12th homer of the season, a two-run blast to left-center off Luis Santos. The long-ball not only extended the lead to 6-0, it made the Stripers the first Atlanta Braves Triple-A affiliate ever to hit 200 homers in one season.
A walk, two singles, and a run-scoring double play got the Bulls on the board against Ynoa in the bottom of the fifth, narrowing the gap to 6-1. Gwinnett answered back with two more runs in the seventh, getting a two-out, two-run single from Ryan LaMarre to go up 8-1. Relievers Tyler Matzek and Patrick Weigel combined to allow four runs in the eighth as the Bulls got back within striking distance, but Weigel worked around a leadoff walk in the ninth to wrap up the 8-5 victory.
With the win, the Stripers finished 80-59 (.576), joining the 2009 G-Braves (81-63, .563) as the only Gwinnett clubs to reach the 80-win plateau. They also seemingly eliminated Durham from playoff contention, as Charlotte held a 5-2 lead through seven frames at Norfolk. Miraculously for the six-time Governors' Cup champion Bulls, however, the Knights saw that lead slip away in a 7-6 walk-off loss to the Tides in 10 innings. The radio broadcast of the stunning result in Norfolk aired live over the Durham Bulls Athletic Park concourse speakers after the game, as the fans and staff who remained celebrated the unlikeliest of IL Wild Card berths.
Both the Stripers and Bulls advanced to the Governors' Cup Playoffs, but each went on to lose to the eventual champion Columbus Clippers. Gwinnett bowed out 3-1 in the first round, and Durham was swept 3-0 in the Finals.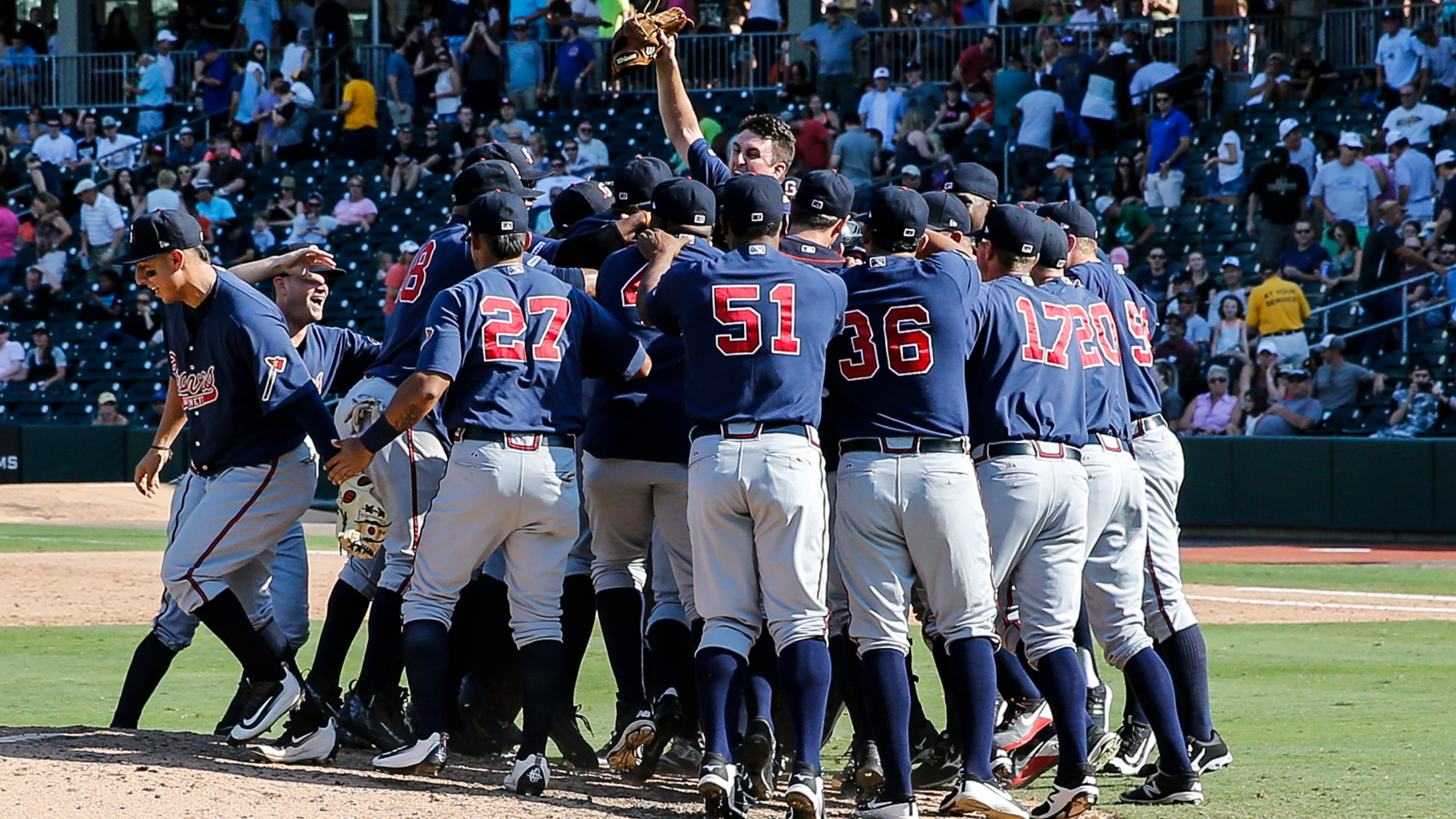 1. G-Braves Clinch IL South Title in Winner-Take-All (September 5, 2016)
A season that spans five months and 140-plus games rarely comes down to the final day, but that's exactly what happened for the G-Braves and Charlotte Knights in 2016.
Entering their Labor Day contest at BB&T Ballpark, both Charlotte (1st, 65-78) and Gwinnett (2nd, 64-78) had losing records, yet were separated by just a half-game for the IL South crown. Because of a rain cancellation vs. Pawtucket at Coolray Field on June 1, the two teams could not finish in a tie for first. The G-Braves, whose magic number to clinch the division had been stuck at one during a three-game losing streak, needed simply to beat the Knights to earn a trip to the Governors' Cup Playoffs for the first time since 2009.
On a sunny afternoon in the Queen City, two players separated in age by nearly a decade – 24-year-old pitcher Tyrell Jenkins and 33-year-old catcher Blake Lalli – teamed up to deliver a 6-2 win that secured Gwinnett's first IL South title. Jenkins turned in one of his best starts of the year, working a season-high 7.2 innings with two runs on 10 hits, one walk, and two strikeouts. Lalli carried the offense nearly by himself, going 2-for-4 with a double (Gwinnett's lone extra-base hit) and a season-high four RBIs.
Lalli provided confidence early, smoking a two-run double into the left-field corner off former G-Braves pitcher Kameron Loe to give Gwinnett a 2-0 lead in the second inning. The advantage grew to 4-0 against Loe in the third on a bases-loaded RBI fielder's choice from Rio Ruiz and sacrifice fly from Mel Rojas Jr. Jenkins, meanwhile, held Charlotte to four hits and one walk over 6.0 scoreless innings to begin the game.
The Knights broke through in the seventh on an RBI double by Jacob May to make it 4-1, but Lalli answered in the eighth with a clutch two-out, two-run single to right that bumped the lead to 6-1. In the bottom of the eighth, Nicky Delmonico helped end Jenkins' day with an RBI single that cut the G-Braves' lead to four. Kennesaw State product Stephen Janas came on from the bullpen and retired all four batters he faced, including Leury Garcia on a game-ending strikeout that ignited Gwinnett's on-field celebration.
The G-Braves, guided by interim manager John Moses (the team's third skipper of the year following Snitker and Rick Albert), were headed to the playoffs despite posting the lowest winning percentage of a full-season division winner (.455) in Minor League Baseball history. That dubious distinction didn't hold Gwinnett back from beating the heavily-favored Columbus Clippers 3-1 in the Governors' Cup Semifinals, but the magic ran out in the Finals as the G-Braves lost a 1-0 series lead and fell 3-1 to the Scranton/Wilkes-Barre RailRiders.
Jenkins and Lalli, the Labor Day heroes, were Gwinnett's two most important players during the stretch run for the IL South crown. Jenkins went 3-0 with a 0.96 ERA over his last three starts from August 26 through September 5, while Lalli led the IL in batting after the Triple-A All-Star Break (.350, 48-for-137 in 41 games).