Pitching Inspired: Abeyta driven by family
Renegades right-hander pitching in memory of grandfather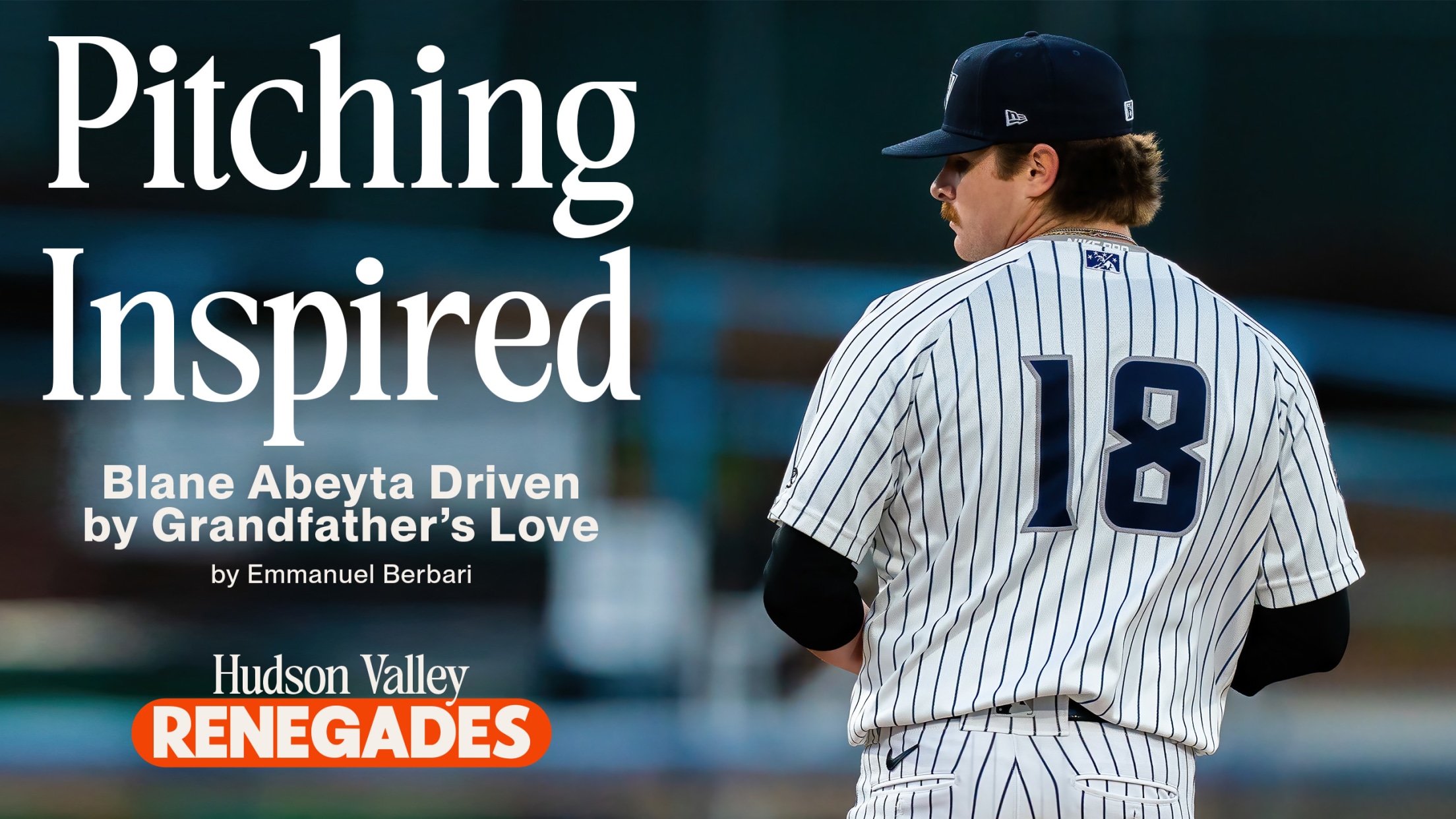 Blane Abeyta turned in a stellar second half for the Renegades. (Dave Janosz)
Editors note: This story was originally featured in the August/September 2022 edition of the Renegades Digital Program. Parts have been updated to reflect final 2022 statistics. January 1, 2019. That's all the fuel Renegades right-hander Blane Abeyta needs to keep pushing. That's the day his grandfather, Gilbert, who introduced him
Editors note: This story was originally featured in the August/September 2022 edition of the Renegades Digital Program. Parts have been updated to reflect final 2022 statistics.
January 1, 2019.
That's all the fuel Renegades right-hander Blane Abeyta needs to keep pushing.
That's the day his grandfather, Gilbert, who introduced him to baseball and sparked an unrelenting passion, passed away. The first day of 2019 – now etched into Abeya's glove as he winds and throws along his baseball journey dedicated to an influential figure in his life.
"Every day I go out and step on that field or even put a jersey on or grab that glove, I know that he's with me," Abeyta says.
That inspiration made it easier to pursue an unconventional path. Succeeding in professional baseball is difficult enough. The odds simply are not in your favor.
Abeyta, a standout catcher at Ceres High School, about 100 miles southeast of San Francisco, did not start pitching until his later days at Modesto Junior College.
Ceres head coach Zeb Brayton noticed his strong arm, had him throw a bullpen, and shared that it would be the ticket to any professional ceiling. That was only the beginning of an incredibly challenging career-defining switch.
"Learning how to pitch was the hardest part," Abeyta told the Ceres Courier. "I never thought pitching would take me to the next level."
It wasn't easy for coaches and mentors to convince Abeyta of a different path. Once he fully transitioned, learned the nuances, and made the leap to Division I at Nevada, he embraced everything pitching – just as he's always approached the game he loves.
After a short-lived Division 1 stint, tossing eight innings, allowing three runs and fanning 12 as Nevada's closer, truncated by COVID-19 in 2020, Abeyta signed with the Yankees outside of the shortened five-round draft.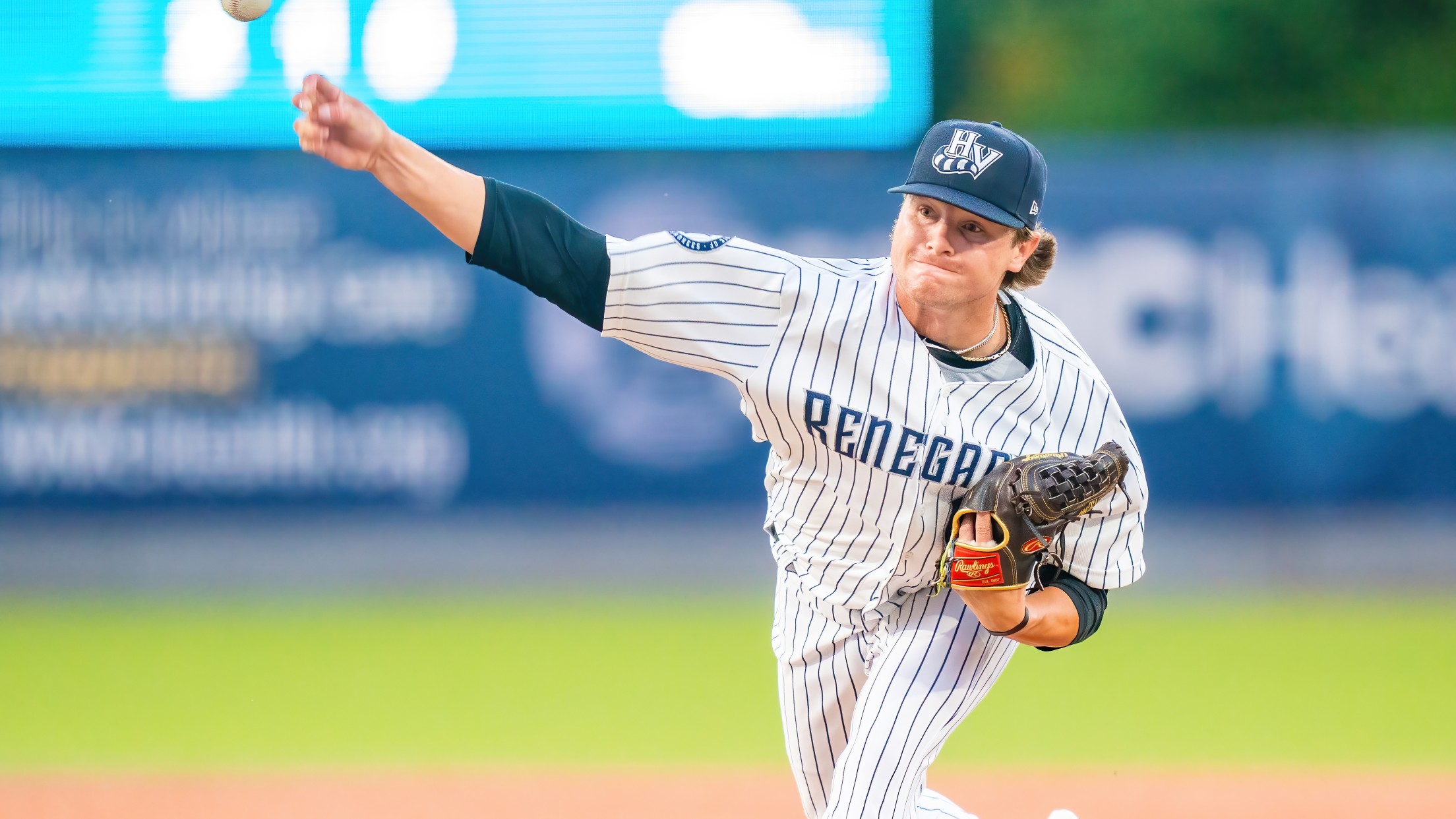 Yankees scout Tyler Robertson had watched him since his Modesto days – and watched him pitch once again before the draft, witnessing the more well-rounded pitcher with a top-tier changeup as opposed to the hard-thrower in junior college.
The most any undrafted player could sign for was $20,000 – making it largely unattractive for most prospects to forego another year of school. Abeyta did not see it that way, especially with all he had poured in to play professionally – let alone as a pitcher.
"It's not about the money," Abeyta recalled to the Courier. "I'm doing this for my grandpa."
Just as the late jump into pitching was not easy, the adjustment to professional baseball has presented similar challenges, challenging Abeyta to tap into that resolve and passion once again.
Splitting 2021 between the FCL Yankees and Low-A Tampa, Abeyta posted a 5.24 ERA, walking 35 in 55.1 innings. Through almost three months this season (June 21) with High-A Hudson Valley, his ERA skyrocketed to 6.41. On a trip south, he surrendered a combined 16 hits and 11 runs over 10.2 innings at Greensboro and Winston-Salem.
Something had to change.
With midseason roster moves looming, Abeyta tore off an eye-opening stretch. In the month of July, Abeyta allowed only three runs in 24.1 innings pitched, posting a tremendous 1.11 ERA across five appearances – encompassing two starts and three dominant long-relief outings.
"The biggest thing was keeping the same [winning] mentality," Abeyta said, citing a close race in the second-half North Division standings with the Cyclones.
Abeyta continued his success down the stretch, posting a 2.82 ERA in his final 11 appearances while shaving nearly two runs off his ERA (4.47). He showed off the mid-90s fastball with the location that got him drafted, a bread-and-butter changeup, and a sweeping horizontal slider dropped in for strikes or off the table.
"This was going to be my best chance to develop and become a better pitcher," Abeyta said, recalling his decision to bypass another year in college, begin his professional journey and face inevitable challenges.
He already credits the Yankees with the implementation of a cutter, two-seam fastball and an improved slider. The focus on "pitch design" culminated in a strong finish to his season, and had him pitching with a new confidence and decisiveness.
What 2023 holds for Abeyta is still unknown. Where he ends up to start is part up to him for the work he puts in during the offseason, and part up to the decision makers in the Yankees organization. But what he can control – staying centered, even keeled, and confident is not as tall of a task when you're not doing it for yourself.
"I'm just glad he [Gilbert] is here along for this journey," Abeyta said. "I know he's watching from above."