Quiet Night: HV blanked 2-0 by Jersey Shore
Hall collects two of three hits for Renegades on Wednesday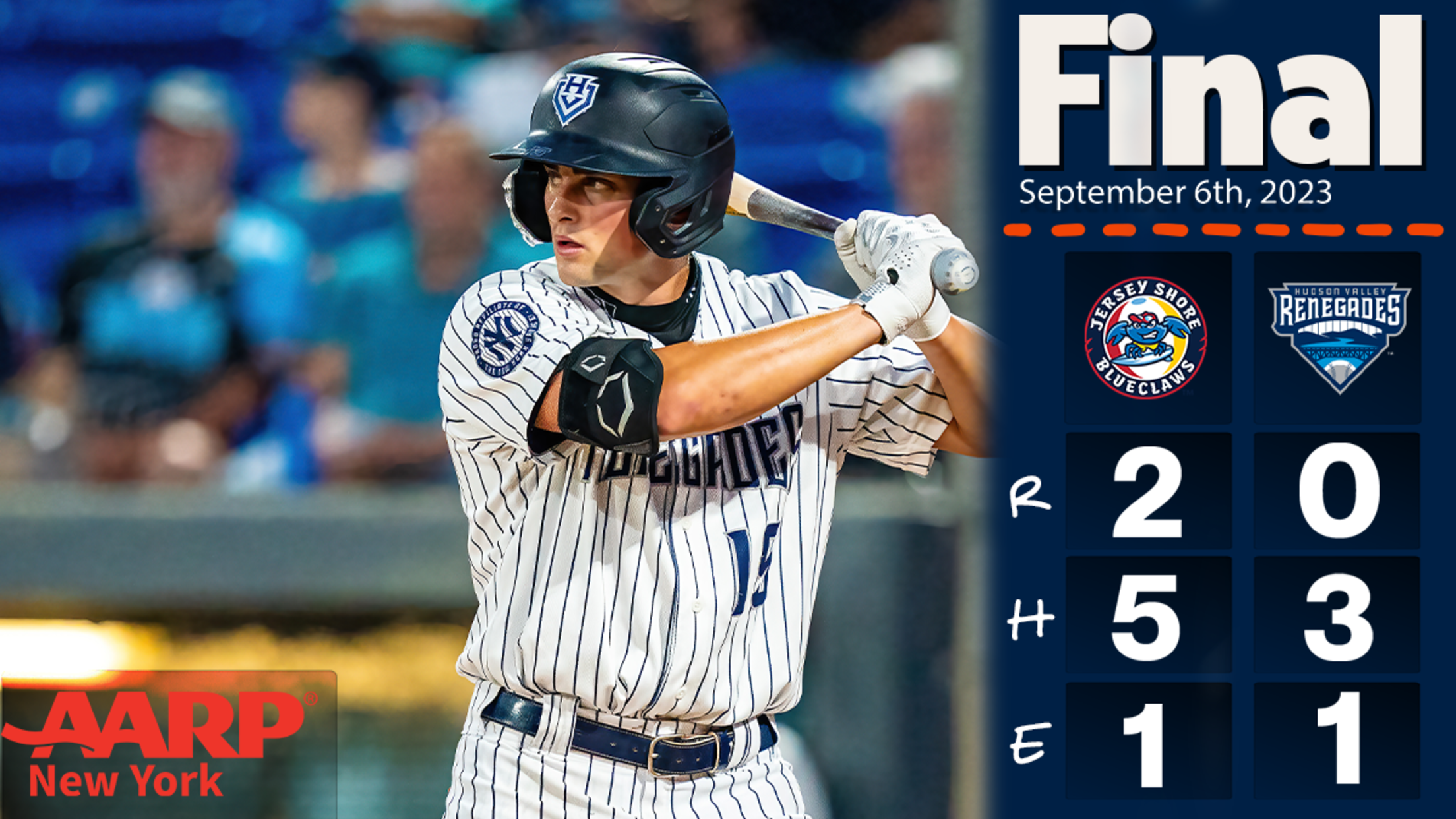 Anthony Hall collected his fifth multi-hit game with the Renegades on Wednesday night against Jersey Shore. (Dave Janosz)
Wappingers Falls, N.Y. (Sept. 6, 2023) — The Jersey Shore BlueClaws plated two runs in the top of the ninth inning to squeak by the Hudson Valley Renegades 2-0 on Wednesday night at Heritage Financial Park. Both sides received strong starting pitching performances early, with the first scoring threat coming
Wappingers Falls, N.Y. (Sept. 6, 2023) — The Jersey Shore BlueClaws plated two runs in the top of the ninth inning to squeak by the Hudson Valley Renegades 2-0 on Wednesday night at Heritage Financial Park.
Both sides received strong starting pitching performances early, with the first scoring threat coming in the top of the third for the BlueClaws. Cole Moore led off with a double off Yorlin Calderon, and Erick Brito sacrifice bunted him to third. After a groundout by Justin Crawford failed to score a run, Gabriel Rincones walked before Calderon induced an inning-ending groundout by Leandro Pineda.
In his Heritage Financial Park debut, Calderon allowed four hits and walked one batter while striking out five in five scoreless innings. For Jersey Shore, starter Christian McGowan limited the Renegades offense to a pair of singles in four scoreless innings.
After Harrison Cohen (3-3) tossed a scoreless eighth, Bryan Rincon worked a one-out walk and Otto Kemp reached on a catcher's interference to place two runners on base in the ninth. After Moore grounded out, Erick Brito hit an infield single to score Rincon and hand the BlueClaws a 1-0 lead. Crawford and Rincones worked back-to-back walks, with the latter forcing Kemp in from third base to double the Jersey Shore lead to 2-0.
The runs in the ninth snapped a 19.1 scoreless streak for the Renegades pitching staff going back to Sunday night against the Wilmington Blue Rocks.
Jack Dallas (6-1) retired all six batters he faced in the eighth and ninth innings to earn his sixth victory of the season.
Out of the bullpen, Anderson Munoz fired two scoreless innings. The right-hander has allowed just one run in 11.2 innings since his promotion from Single-A Tampa.
The Renegades and BlueClaws continue their six-game series on Thursday night. First pitch is scheduled for 7:05 p.m., with pregame coverage beginning at 6:45 on the Renegades Baseball Network. Hudson Valley sends RHP Zach Messinger (1-9, 4.31) to the hill opposite of RHP Gunner Mayer (3-7, 5.67) for Jersey Shore.