RENEGADES RELEASE 2022 SCHEDULE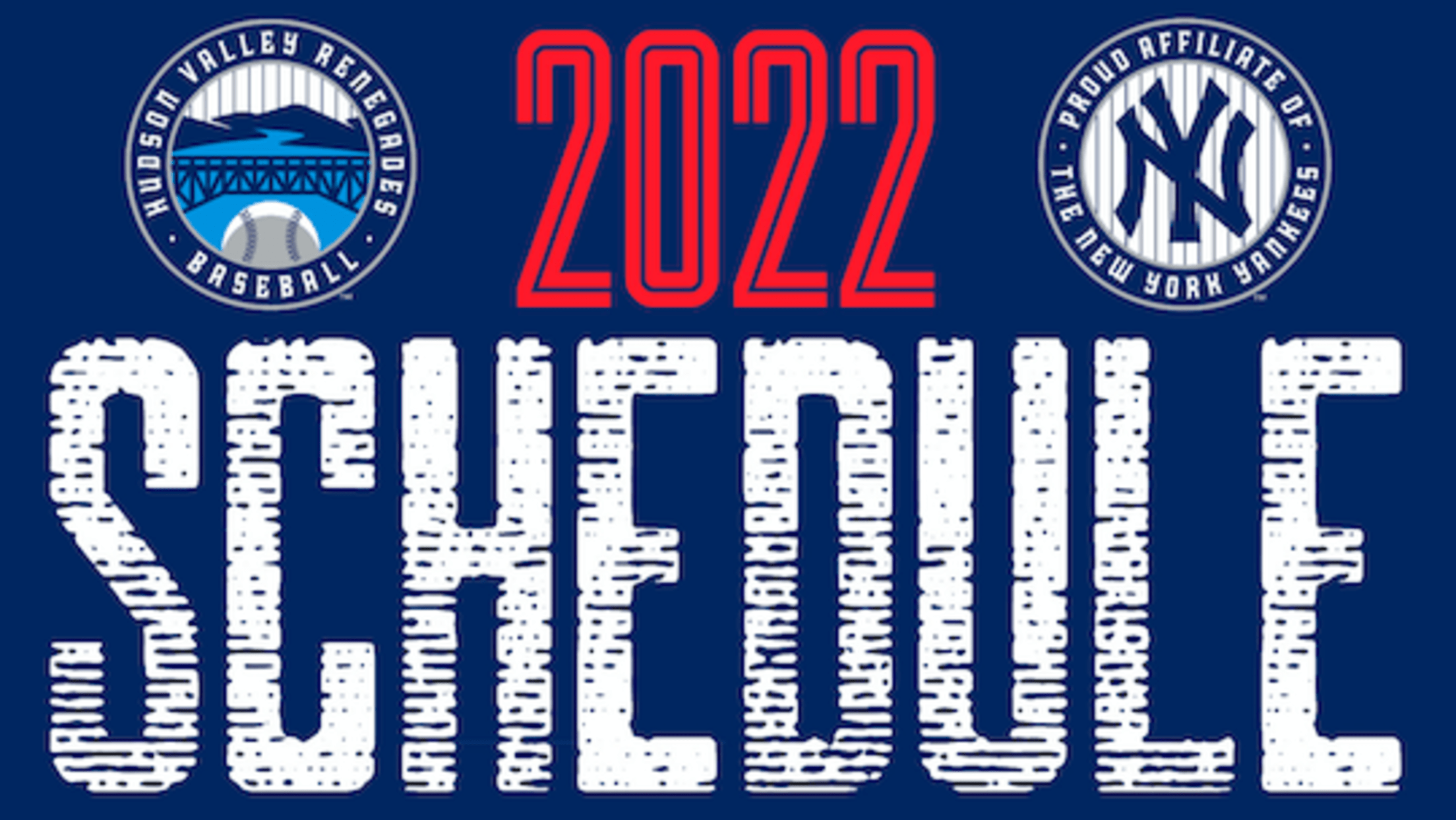 TEAM WILL PLAY 66 HOME GAMES IN 2022 AT DUTCHESS STADIUM HOME OPENER SET FOR TUESDAY, APRIL 19 AGAINST THE BROOKLYN CYCLONES Wappingers Falls, NY – The Hudson Valley Renegades, in conjunction with Major League Baseball, have released their game schedule for the 2022 season. The schedule includes 132 total
TEAM WILL PLAY 66 HOME GAMES IN 2022 AT DUTCHESS STADIUM
HOME OPENER SET FOR TUESDAY, APRIL 19 AGAINST THE BROOKLYN CYCLONES
Wappingers Falls, NY – The Hudson Valley Renegades, in conjunction with Major League Baseball, have released their game schedule for the 2022 season. The schedule includes 132 total games and for the first time in team history, the Renegades will play baseball in April as they begin the season on the road with 3 games at the Greenville Drive followed by 6 games against the Rome Braves. The Renegades will travel back north to Duthcess Stadium for the home opener on Tuesday, April 19th to begin a 6-game series against the Brooklyn Cyclones (NY Mets affiliate). The Renegades will face the Cyclones a total of 18 times at home in 2022.
The 2022 schedule includes home games at Dutchess Stadium with familiar 2021 opponents including 12 games against the Aberdeen Ironbirds (Baltimore Orioles affiliate), 12 against the Jersey Shore Blue Claws (Philadelphia Phillies affiliate) and 6 games against the Wilmington Blue Rocks (Washington Nationals Affiliate). The Renegades will see new opponents at home from the South Division for the first-time including Greenville (Boston Red Sox affiliate) for 6 games, Rome (Atlanta Braves affiliate) for 6 games and the Hickory Crawdads (Texas Rangers Affiliate) for 6 games.
Just like in 2021, the 2022 season schedule will be made up mostly of 6 game series taking place from Tuesday through Sunday. The only exception to this includes a 3-game series at Greenville to begin the season and an additional 3 game series at Wilmington following the MLB All Star Break in July. All of the Renegades 2022 home series will take place from Tuesday through Sunday.
The 2022 home schedule at Dutchess Stadium features 11 games in April, 13 games in May, 9 games in June, 15 games in July, 14 games in August and 4 games in September. 33 of the 66 home games will take place from Friday through Sunday.
View the full Renegades 2022 Schedule HERE or by going to hvrenegades.com.