Wet n' Wild: Renegades drop odd contest to BlueClaws
Familia hits 11th homer in 46 games with HV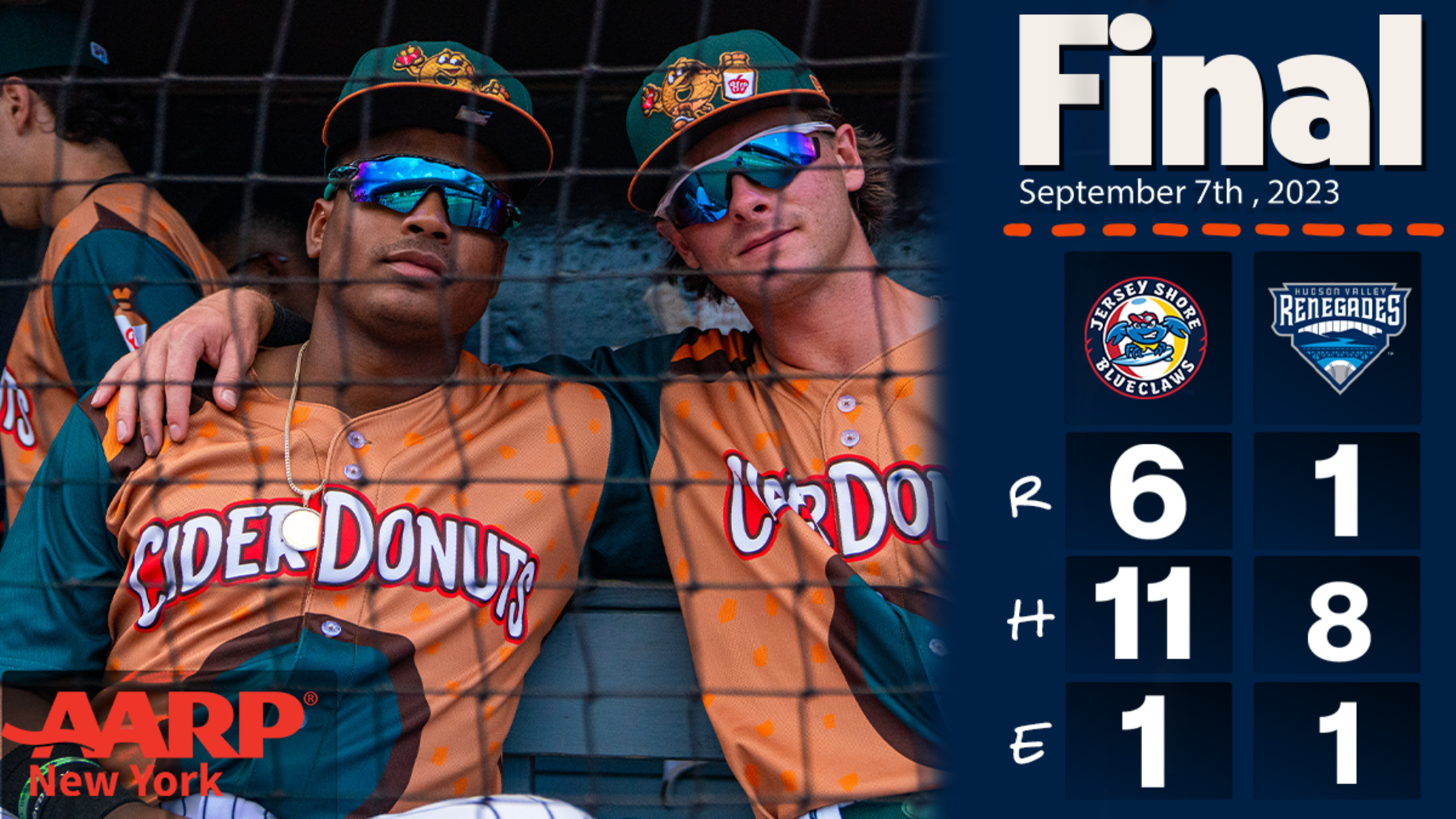 Christopher Familia hit his 11th home run of the season on Thursday night against Jersey Shore. (Dave Janosz)
Wappingers Falls, N.Y. (Sept. 7, 2023) — The Hudson Valley Renegades fell to the Jersey Shore BlueClaws 6-1 on Thursday night at Heritage Financial Park. Jersey Shore opened up the scoring with a run in the top of the first inning against Zach Messinger (1-10). Justin Crawford walked and then
Wappingers Falls, N.Y. (Sept. 7, 2023) — The Hudson Valley Renegades fell to the Jersey Shore BlueClaws 6-1 on Thursday night at Heritage Financial Park.
Jersey Shore opened up the scoring with a run in the top of the first inning against Zach Messinger (1-10). Justin Crawford walked and then stole second base before Caleb Ricketts singled Crawford home to give the BlueClaws a 1-0 lead.
The Renegades had a chance to answer in the bottom half of the frame against Gunner Mayer after Anthony Hall led off with a walk and stole second base and Antonio Gómez was hit by a pitch. The runners advanced to second and third base on a wild pitch, but Mayer struck out Ben Cowles to end the threat.
Before the second inning began, the game entered a one hour, 48-minute rain delay with the BlueClaws ahead 1-0. Play was resumed at 9:24 p.m. in the top of the second inning.
Out of the delay, Erick Brito tallied a one-out single against Mason Vinyard. Crawford and Rincon then notched back-to-back RBI doubles to extend the BlueClaws lead to 3-0.
The best scoring chance for the Renegades came in the third inning against Cam Wynne. With two outs, Jared Serna and Jesus Rodriguez hit back-to-back singles. They advanced to second and third base, respectively, on a wild pitch from Wynne before Gómez lined out to right field to end the threat. Carlos Betancourt (5-3) followed Wynne and tossed three scoreless innings.
The BlueClaws grew their lead to 4-0 on a sacrifice fly from Bryan Rincon against Joel Valdez. Jersey Shore plated two more runs in the eighth inning against Shane Gray to pad their lead to 6-0. Ricketts singled and then scored on an error in the frame while Otto Kemp came across to score later on an RBI groundout from Erick Brito.
Christopher Familia bashed a solo home run to right field off Jason Ruffcorn to break up the shutout and trim the deficit to 6-1. Spencer Henson and Jared Wegner each recorded back-to-back two-out singles before Hall lined out to center to end the contest.
Tonight's @Honda Play of the Game is a Solo BOMB by Christopher Familia! 🚀 pic.twitter.com/PEkSHpWiWo

— Hudson Valley Renegades (@HVRenegades) September 8, 2023
Out of the bullpen for Hudson Valley, position player Luis Santos tossed 1.1 scoreless frames. In two appearances on the season, he has thrown 2.0 scoreless innings.
The Renegades and BlueClaws continue their six-game series on Friday night. First pitch is scheduled for 7:05 p.m., with pregame coverage beginning at 6:45 on the Renegades Baseball Network. Hudson Valley sends RHP Cam Schlittler (0-0, 40.50) to the mound opposite of RHP Mitch Neunborn (3-3, 3.58) for Jersey Shore.