Victory Field's 25th Anniversary
All-Time 25 Roster
The last 25 seasons of Indians baseball have featured eventual major league All-Stars, Gold Glove winners, Silver Sluggers and both a former and future MVP. Some of those recognized won league and division championships in Indy while others have earned coveted World Series rings at the highest level.
OUTFIELDER
Andrew McCutchen played in 201 games for Indy from 2007-09 and hit .291 with 48 stolen bases. He was a Futures Game selection and the International League's Top Star in the 2008 Triple-A All-Star Game. He led the Indians in average (.283), hits (145), doubles (26), runs scored (75) and walks (68) that summer. In 12 MLB seasons, McCutchen has five National League All-Star honors (2011-15) and four Silver Sluggers (2012-15) to go with his 2013 NL MVP that made him just the seventh former Indians player to ever win the award. He sports a lifetime .285 average with 1,719 hits, 243 home runs and 44.6 bWAR.
THIRD BASEMAN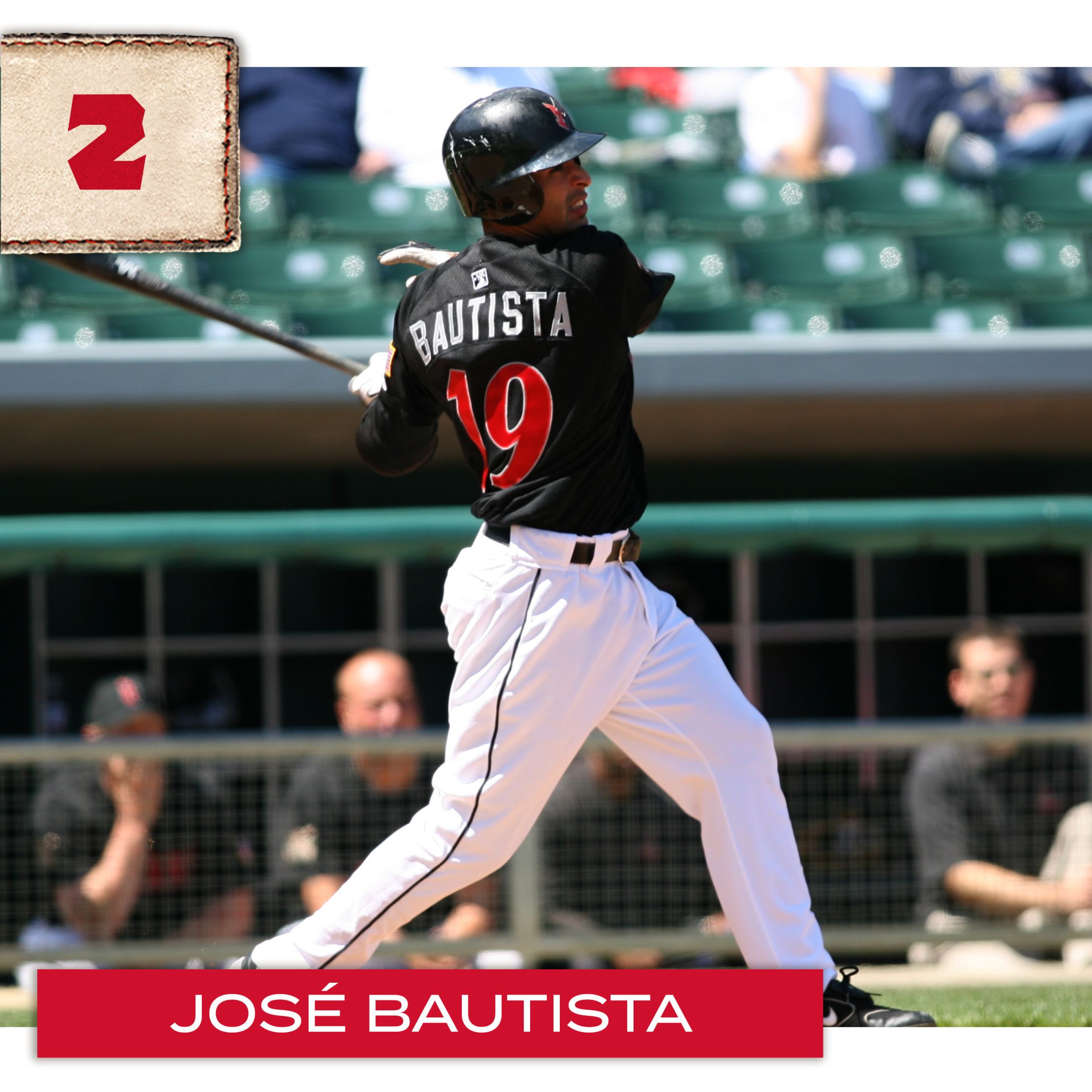 Jose Bautista played for Indy over three seasons (2005-06, '08) and hit .273 in 47 games. He was traded to Toronto in August 2008 and became baseball's most feared hitter shortly after, leading the majors with 54 and 43 home runs in 2010 and '11 while reeling off six consecutive American League All-Star seasons (2010-15). Bautista won three AL Silver Sluggers (2010-11, '14) and had four top eight finishes in AL MVP voting (2010-11, 2014-15) during that stretch. In 15 MLB seasons, Bautista logged 1,496 hits, 344 home runs, 975 RBI and 36.7 bWAR.
THIRD BASEMAN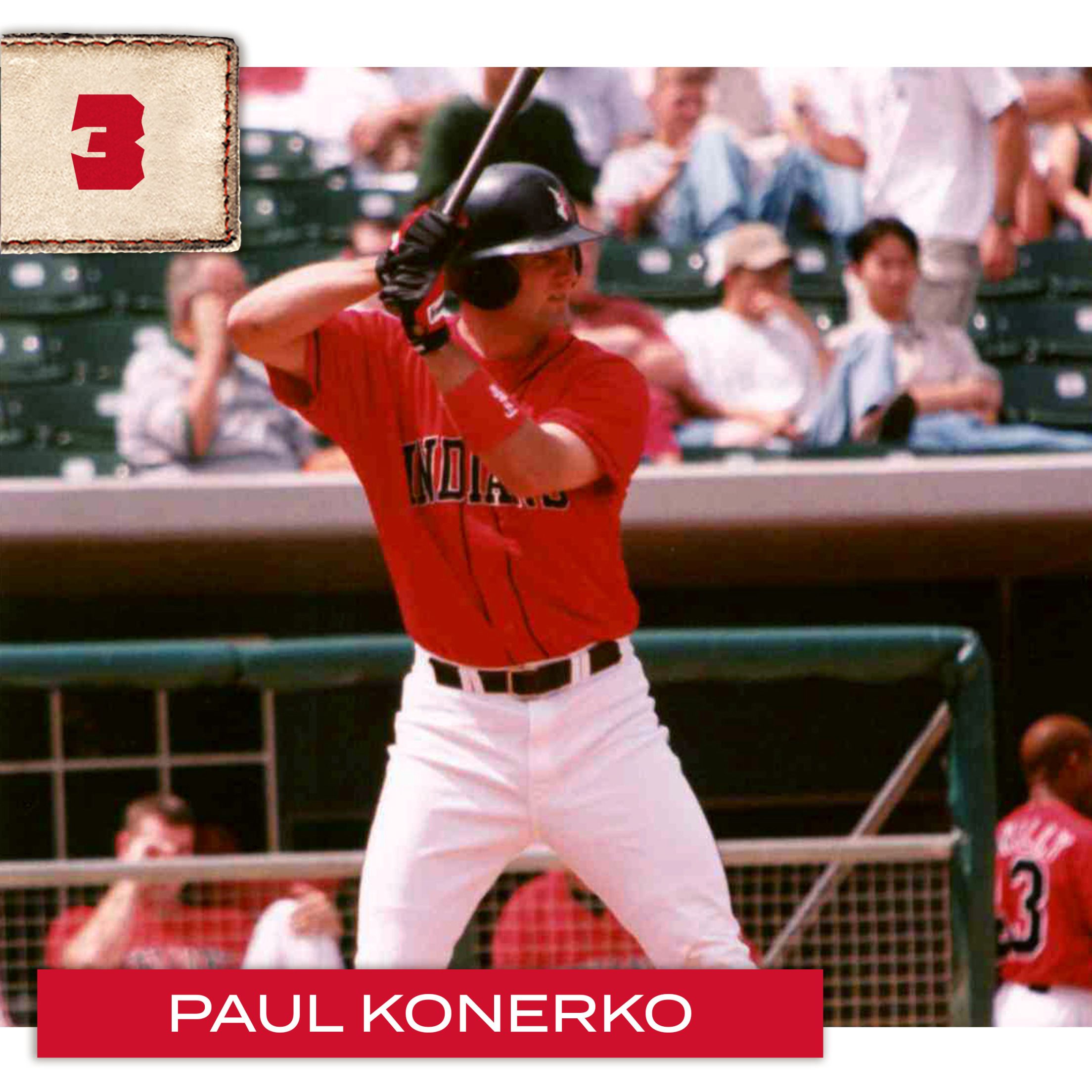 Paul Konerko joined Indianapolis midseason in 1998 via trade and hit .327 with eight home runs and 39 RBI in 39 games. The No. 13 overall pick of the 1994 First-Year Player Draft was then traded to Chicago's southside, where he earned six American League All-Star bids (2002, 2005-06, 2010-12), participated in the 2002 Home Run Derby, and was the 2005 ALCS MVP en route to a World Series championship. Over his 18-year major league career, Konerko batted .279 with 2,340 hits, 439 home runs, 1,412 RBI and 28.0 bWAR.
STARTING PITCHER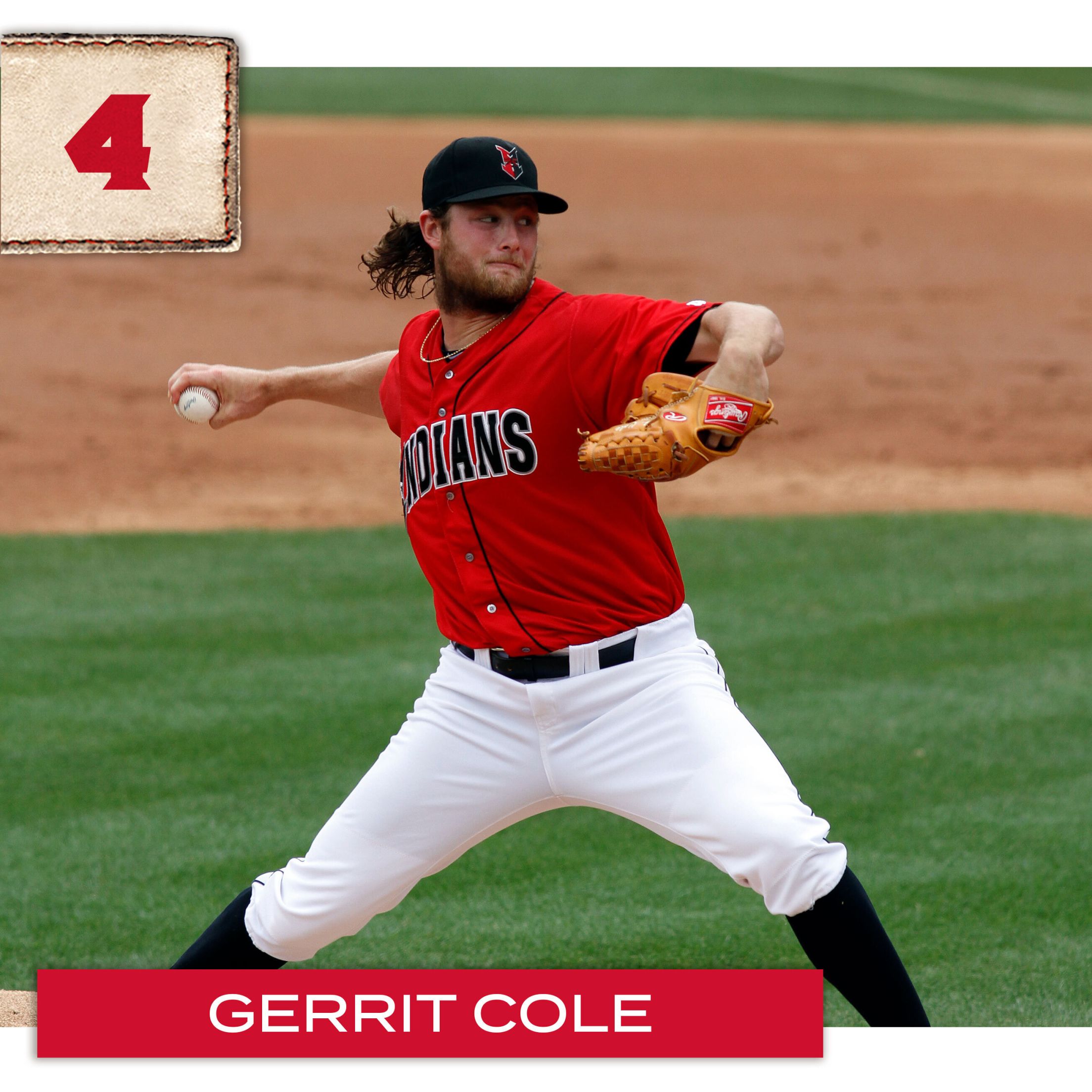 Gerrit Cole made 19 starts for Indy over four seasons (2012-14, '16) and compiled a 9-4 record and 2.59 ERA. Selected No. 1 overall in the 2011 First-Year Player Draft, Cole has lived up to the billing at the major league level, going 101-55 with a 3.19 ERA, 1,430 strikeouts and 26.0 bWAR in 204 starts. He has three All-Star honors (2014, 2018-19) and has finished in the top five of Cy Young voting four times (2014, 2018-20). In 2019, Cole led the majors with 326 strikeouts and paced the American League with a 2.50 ERA.
STARTING PITCHER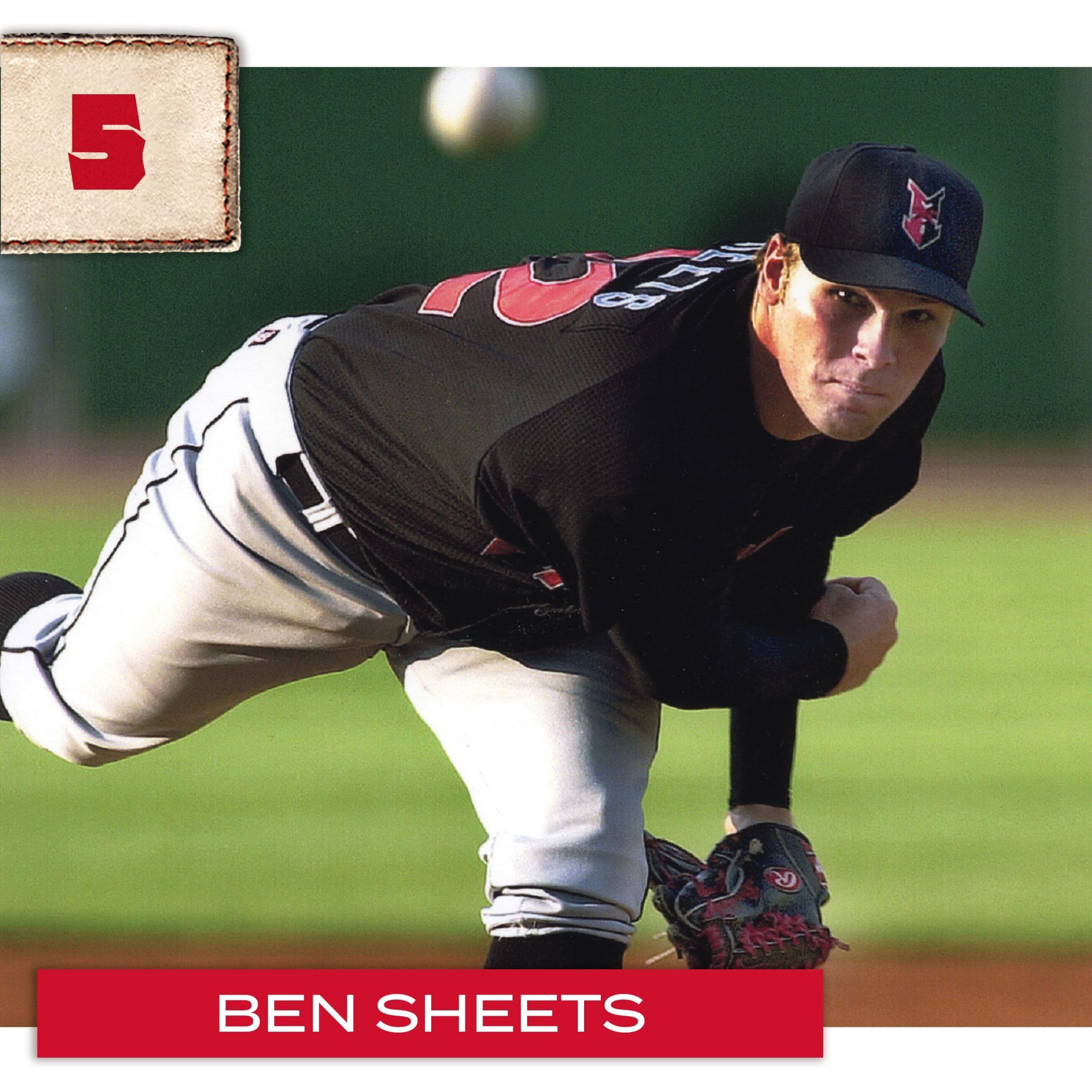 In 16 games (15 starts) over parts of two seasons (2000-01) with Indy, Ben Sheets went 4-6 with a 2.92 ERA. The righty won 10-plus games in a single MLB season seven times and was a four-time National League All-Star (2001, '04, '07-08). In 2004, his 8.25 strikeout-to-walk ratio led all major league qualifiers, and he finished second in the NL in strikeouts (264), WHIP (0.98) and bWAR (7.2) to former Indianapolis Indian Randy Johnson. In 250 career MLB starts, Sheets tallied 94 wins, a 3.78 ERA, 1,325 strikeouts and 23.2 bWAR.
FIRST BASEMAN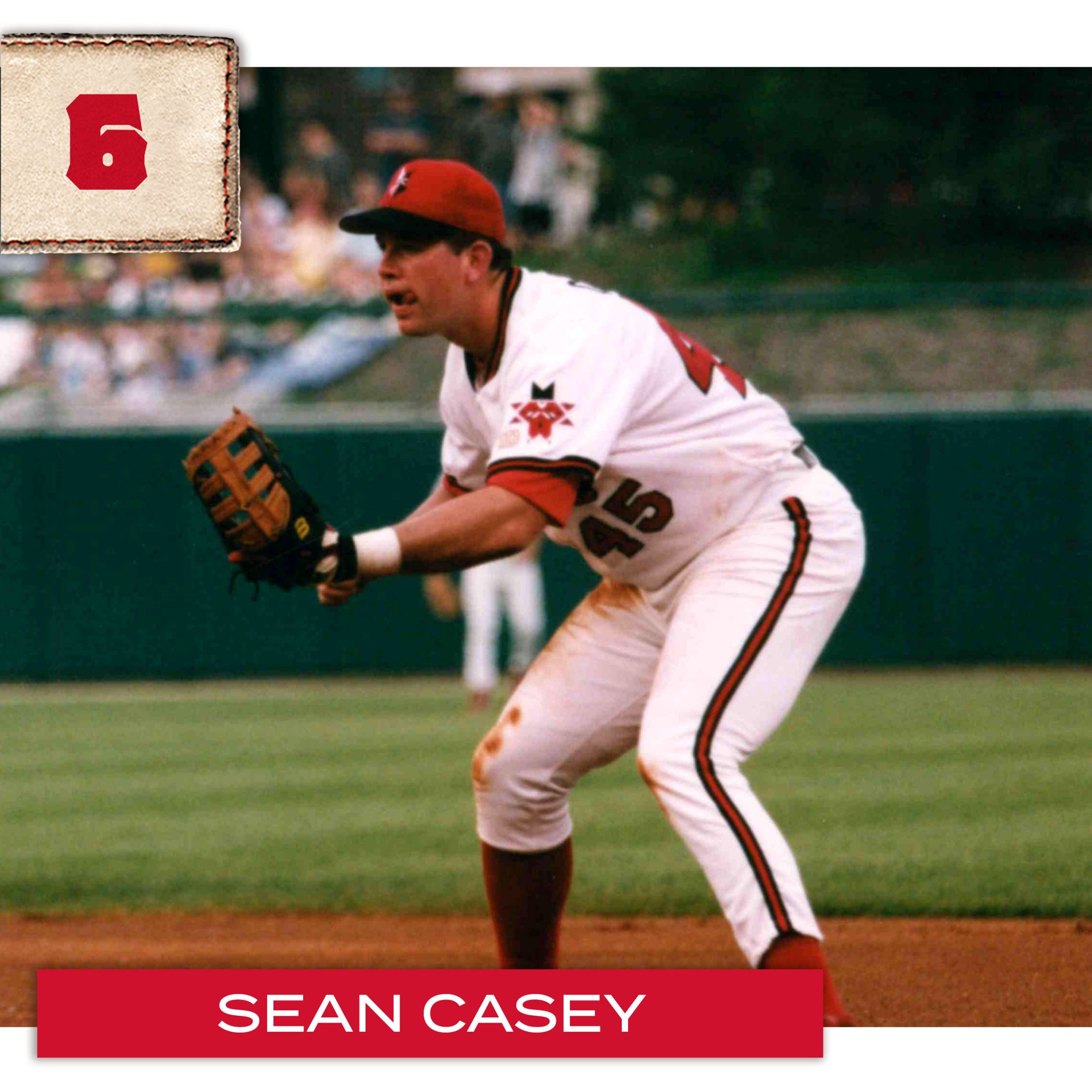 Before he was nicknamed "The Mayor," Sean Casey played in 27 games for Indy during the 1998 season and hit .326 with an .881 OPS. He earned three National League All-Star bids with the Reds (1999, '01, '04) and was Cincinnati's 2004 Team MVP when he smacked 24 home runs, 44 doubles, drove in 99 runs and batted .324. He was an offensive force for Detroit during the 2006 postseason when he hit .432 in 10 games. Over 12 MLB seasons, Casey batted .302 with 1,531 hits, 130 home runs and 16.5 bWAR.
OUTFIELDER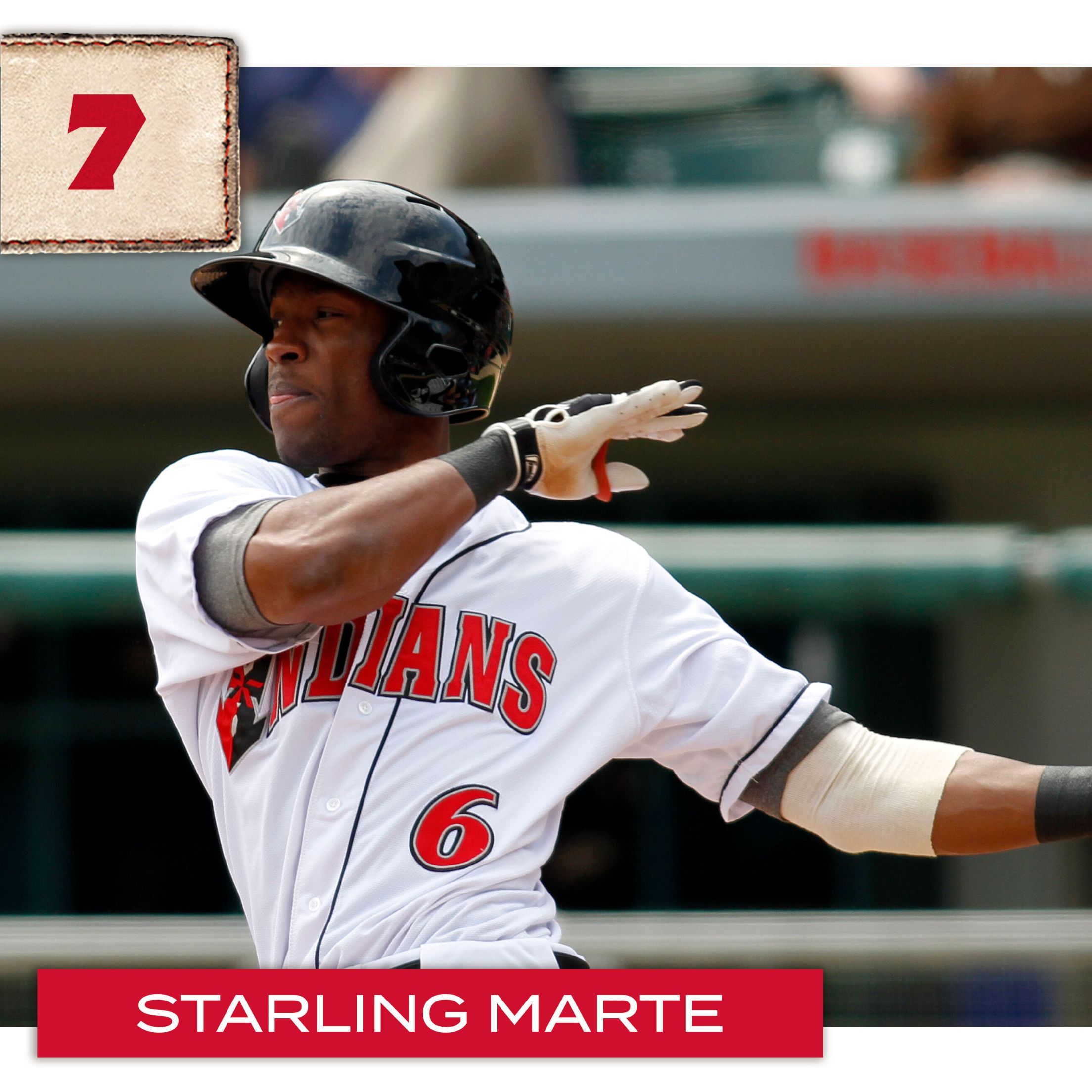 Starling Marte played for Indy in 2012, '14 and '17 with the last two as MLB rehabs. In 2012, he led the International League with a Victory Field record 13 triples and paced the Indians in batting average (.286), RBI (62) and runs scored (64) en route to mid and postseason All-Star honors. In 111 career games with Indy, Marte hit .284 with an .831 OPS. The two-time National League Gold Glove winner (2015-16) and 2016 NL All-Star has a career .287 average, 114 home runs and 29.6 bWAR in nine major league seasons.
SHORTSTOP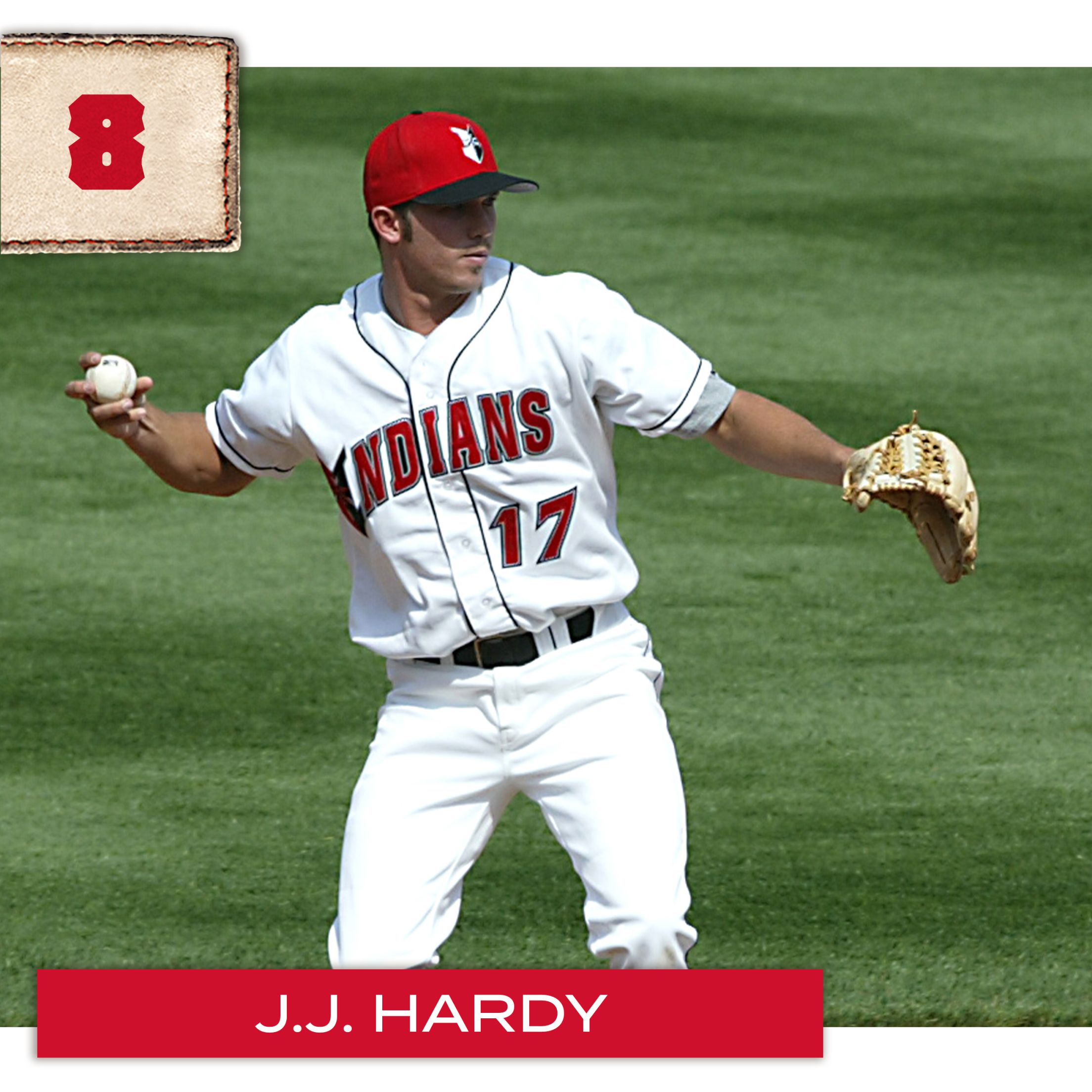 J.J. Hardy suited up for Indy in 2004 and hit .277 with four home runs, 10 doubles and 20 RBI in 26 games before suffering a torn labrum that ended his season. In the majors, he batted .256 with 1,488 hits, 188 home runs and 28.1 bWAR in 13 seasons between Milwaukee (2005-09), Minnesota (2010) and Baltimore (2011-17). Hardy was a 2007 National League All-Star and 2013 American League All-Star. He was also a 2013 AL Silver Slugger and won three consecutive AL Gold Gloves from 2012-14.
OUTFIELDER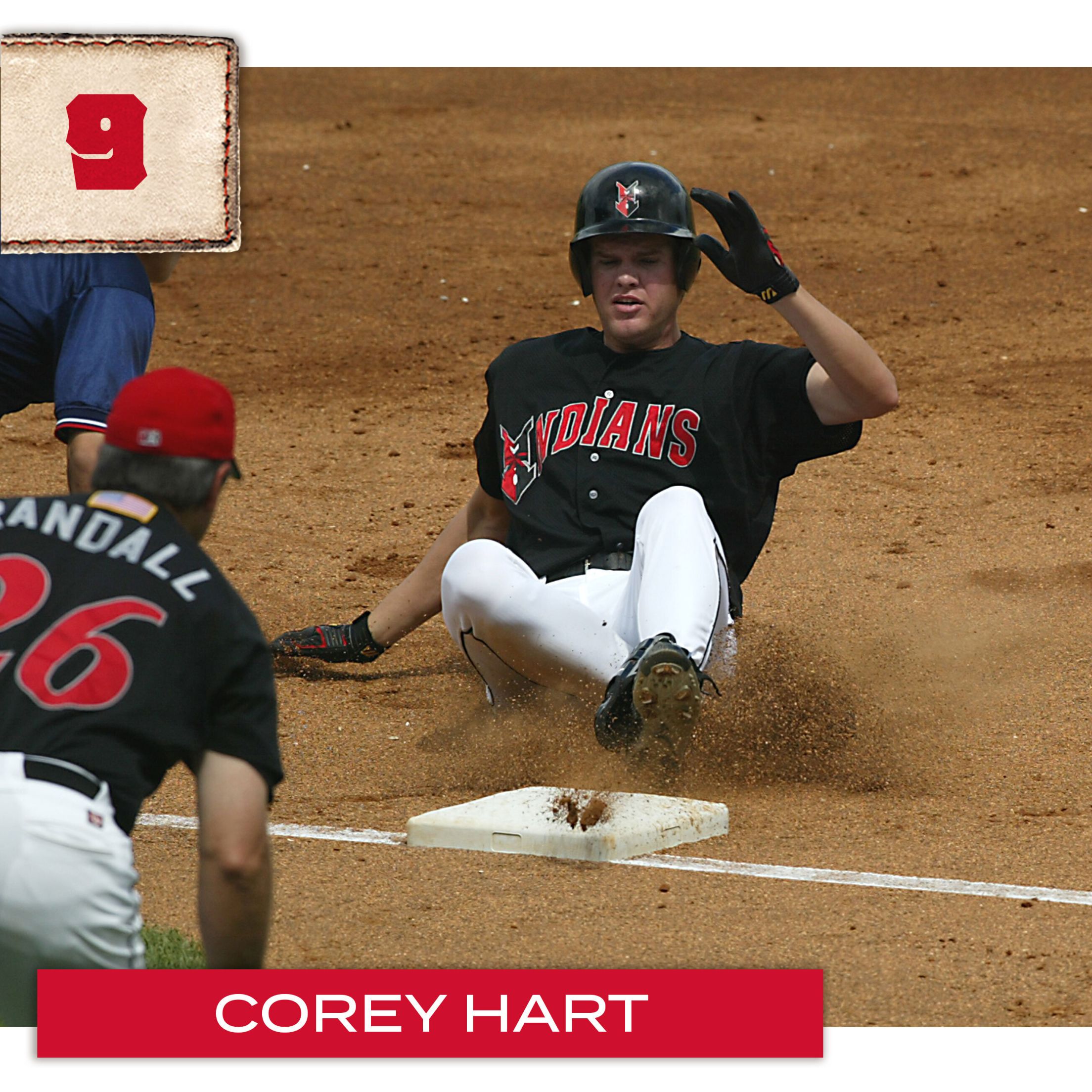 Corey Hart wore the Indians uniform in 2004 and '15, the latter being his final year in professional baseball. In 131 games with Indy, he hit .271 with 55 extra-base hits and 74 RBI. He led the '04 squad in hits (124), runs scored (68), doubles (29), triples (8), stolen bases (17) and total bases (214). Hart played 11 major league seasons and owned a .271 average, 1,009 hits, 162 home runs and 14.4 bWAR. He was a two-time National League All-Star (2008, '10) and Home Run Derby participant (2010) with Milwaukee.
STARTING PITCHER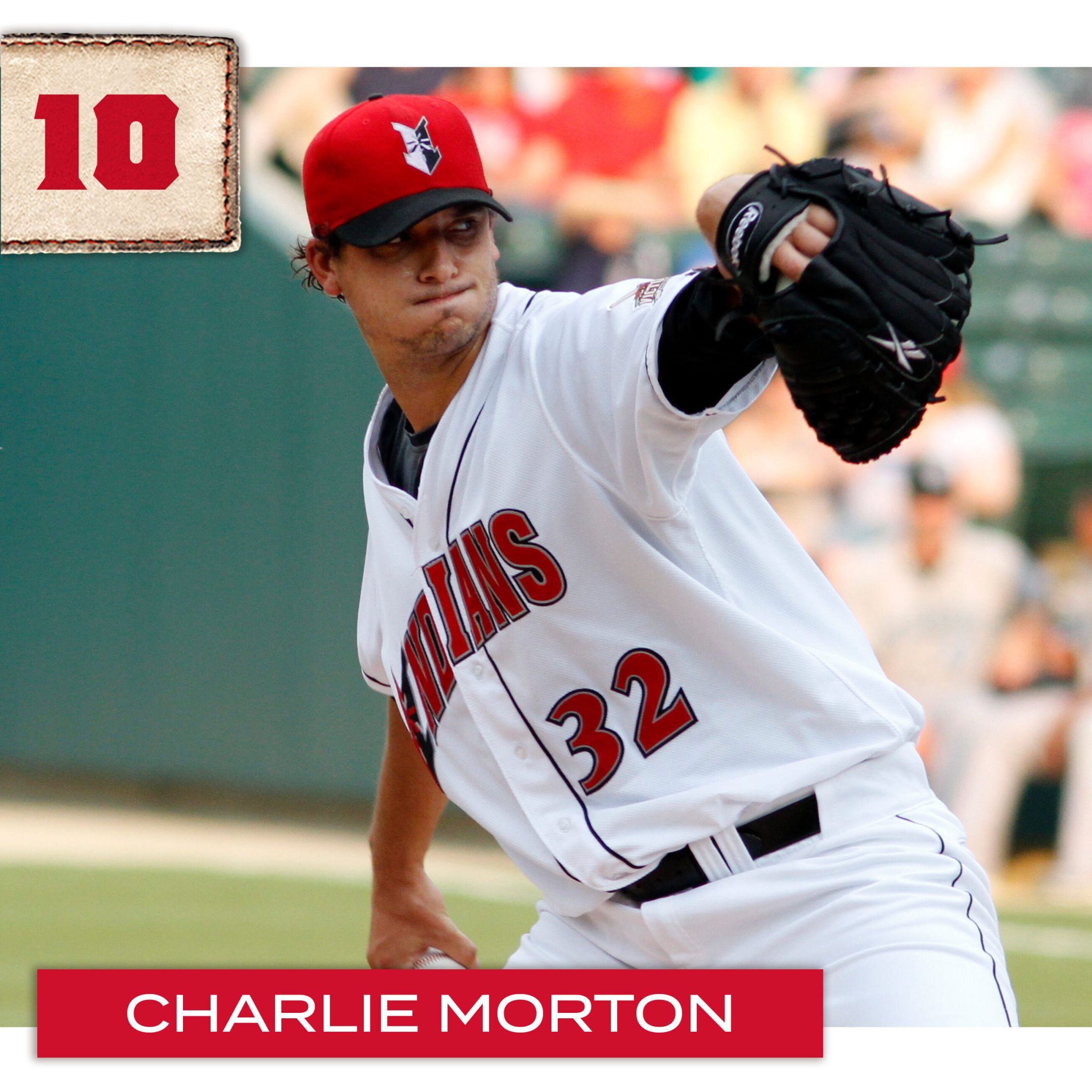 After debuting with Atlanta in 2008, Charlie Morton made 22 starts over five seasons (2009-10, 2012-13, '15) in Indy and went 5-6 with a 3.26 ERA. He was an American League All-Star in 2018 with Houston and led MLB in winning percentage (15-3, .833). Morton then earned his second All-Star bid in 2019 with Tampa Bay and finished third in AL Cy Young voting. He won a 2017 World Series ring and has an 8.0 bWAR, 93-89 record, 4.08 ERA and 1,276 strikeouts over 13 major league seasons.
SECOND BASEMAN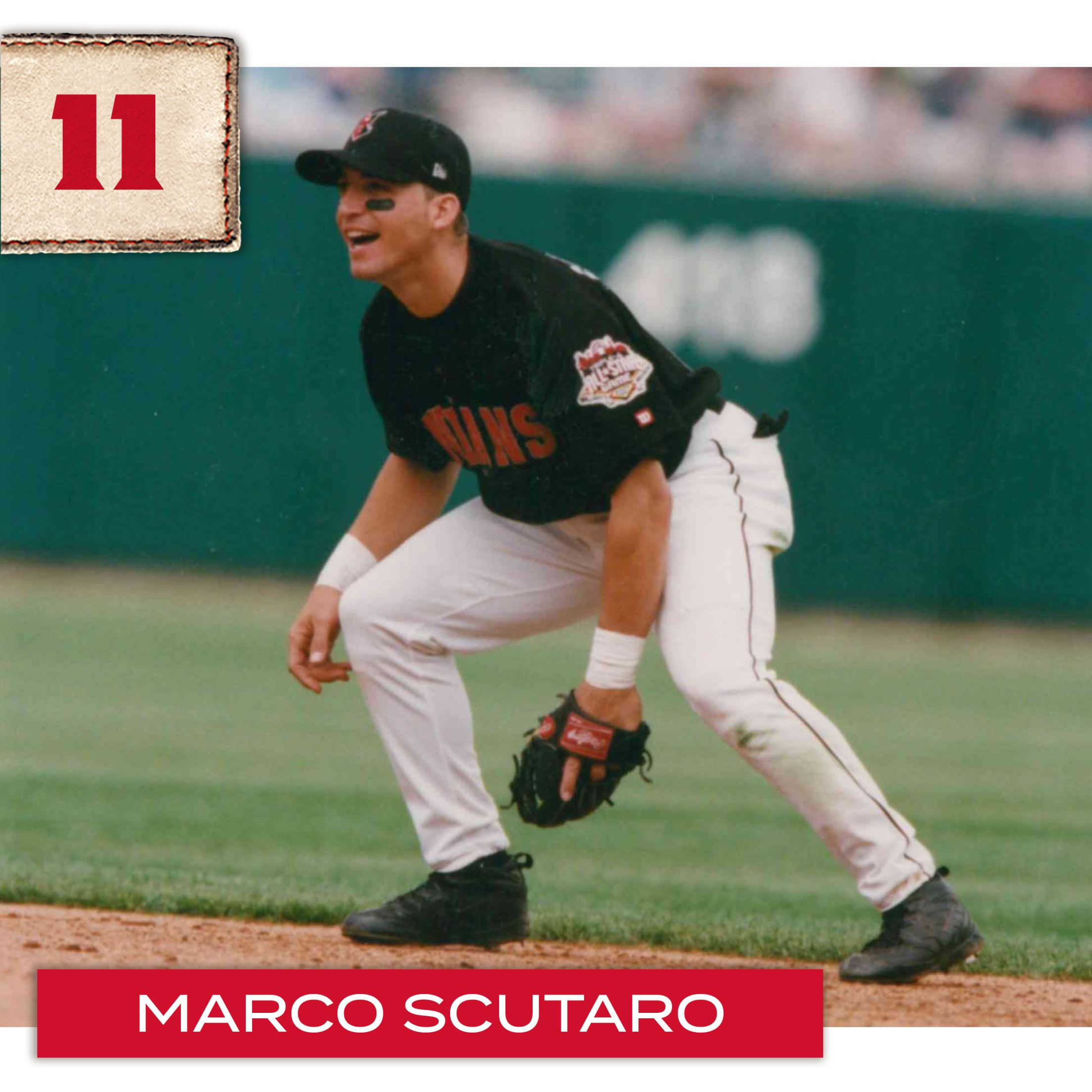 Marco Scutaro helped carry the Indians down the stretch to Governors' Cup and Triple-A World Series titles in 2000. The following year, he was named Team MVP after leading the club in average (.295), hits (146), runs scored (87), total bases (214) and walks (62). Scutaro churned out a 13-year MLB career with a .277 average, 1,355 hits, 77 home runs and 22.4 bWAR. He was the 2012 National League Championship Series MVP, won a World Series ring in '12 and was a 2013 NL All-Star.
THIRD BASEMAN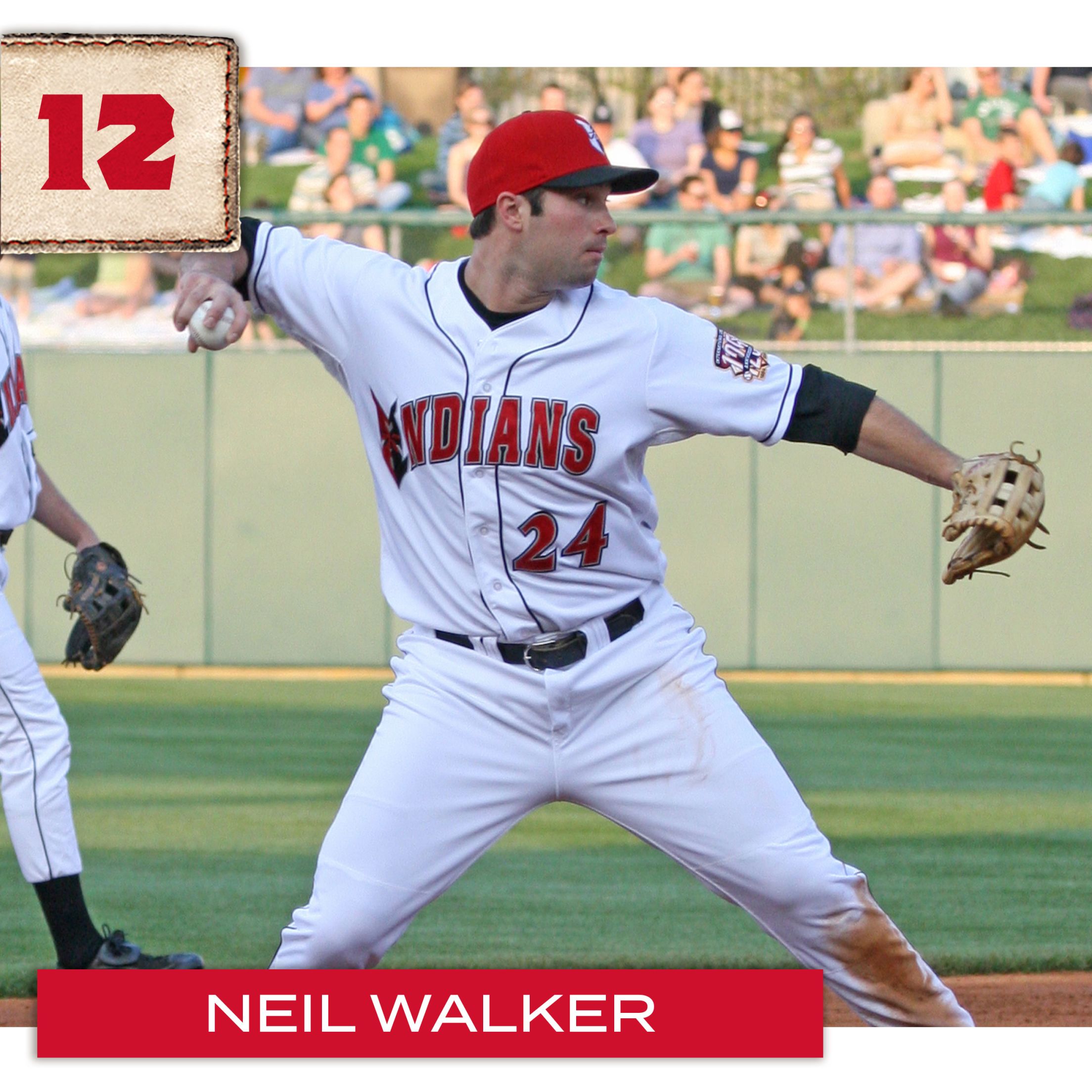 Neil Walker donned an Indians uniform for five seasons (2007-10, '13) and batted .259 with 36 home runs, 79 doubles and 176 RBI. He was Indy's 2008 Team MVP after leading the club in homers (16), triples (7), RBI (80) and total bases (209). He made his MLB debut in 2009 and has solid career numbers in 12 seasons: .267 average, 1,224 hits, 149 home runs, 19.8 bWAR. He was named to the 2010 Baseball America MLB All-Rookie Team and was a 2014 National League Silver Slugger.
THIRD BASEMAN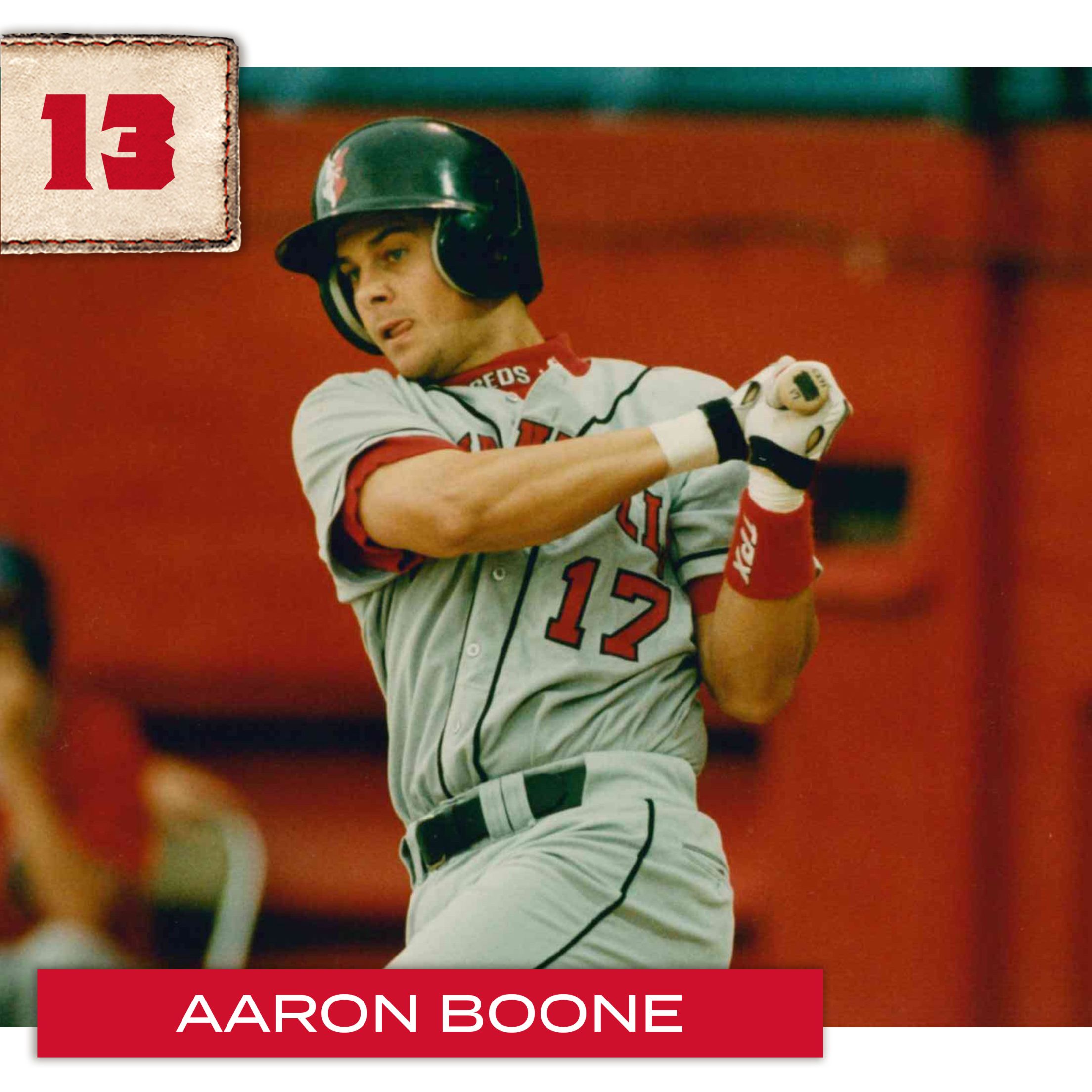 Aaron Boone played in 229 games over three seasons (1997-99) for Indy and hit .273 with 29 home runs and 120 RBI. He was named Team MVP and earned American Association mid and postseason All-Star honors in 1997 after leading the team in average (.290), home runs (22) and runs scored (79). He played 12 seasons in the majors and accumulated 13.6 bWAR, 1,017 hits and 126 home runs. He was the Reds' 2002 Team MVP and was named as a 2003 National League All-Star.
SECOND BASEMAN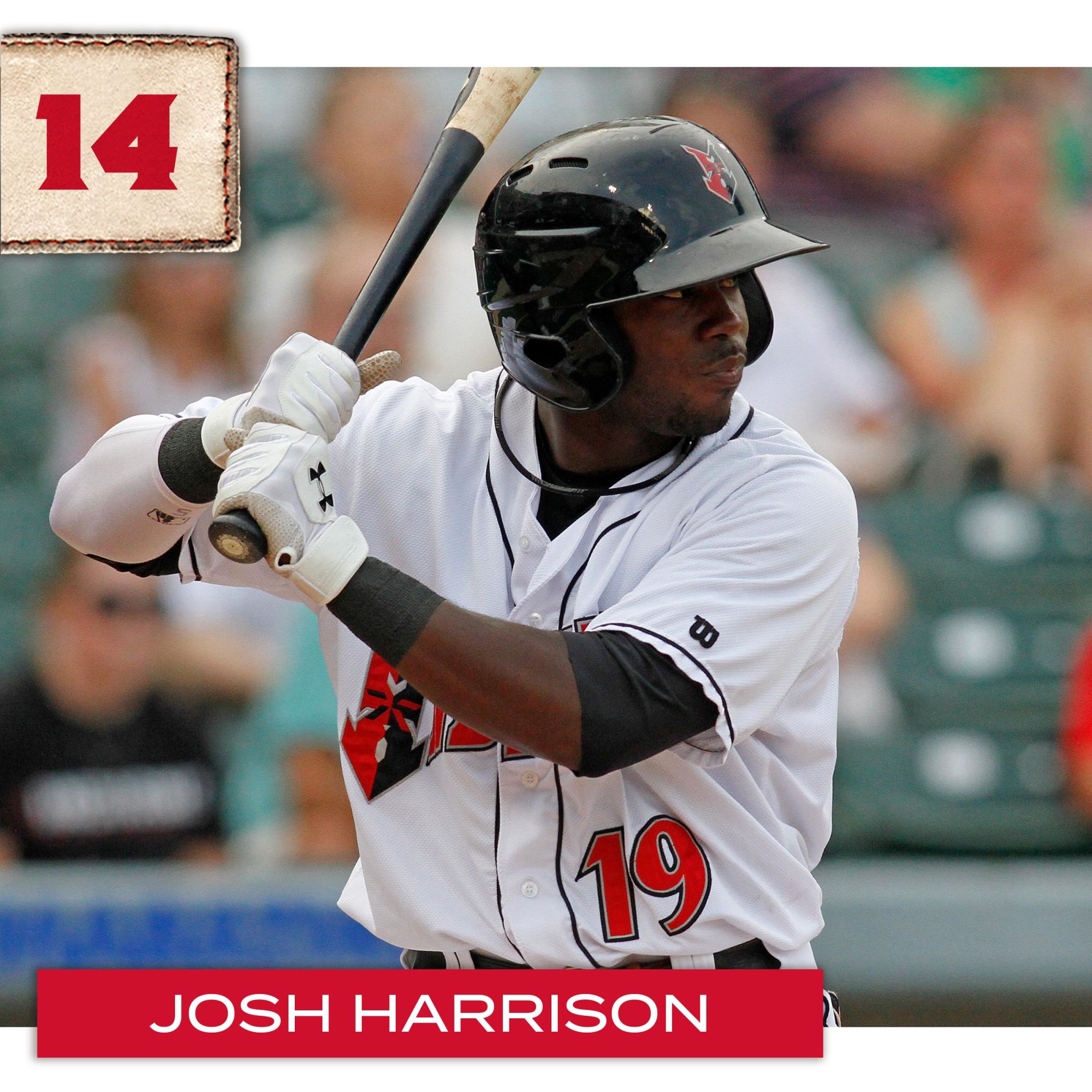 Over 131 games played for Indy in 2011, '13 and '15, Josh Harrison hit .304 with 70 extra-base hits, 32 stolen bases and an .830 OPS. He was an International League midseason All-Star in 2013, when he hit .317 with 38 extra-base hits in 64 games. The utilityman has 10 major league seasons under his belt, two where he was named as a National League All-Star with the Pirates (2014, '17). In 911 career MLB games, Harrison has a .273 average, 819 hits, 56 home runs and 13.9 bWAR.
FIRST BASEMAN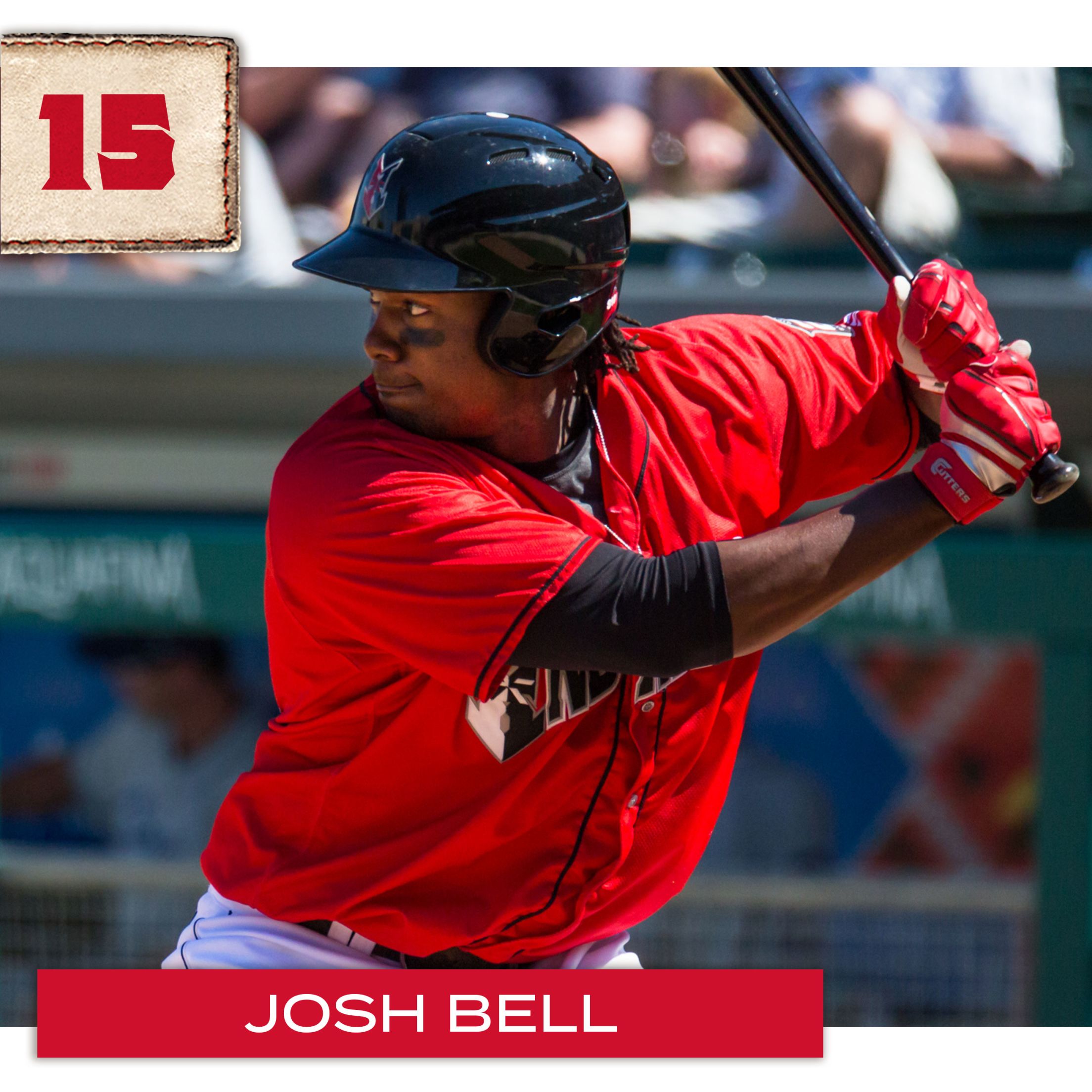 Josh Bell played in 149 games for Indy over two seasons (2015-16) and hit .306 with 16 home runs and an .872 OPS. He was a 2016 International League mid and postseason All-Star and became the fourth Indians player in the Victory Field era to hit for the cycle that year. In the majors, the switch-hitter has one National League All-Star honor and Home Run Derby appearance (2019) to go along with a .261 average, 86 home runs, .814 OPS and 2.4 bWAR in 552 career games.
OUTFIELDER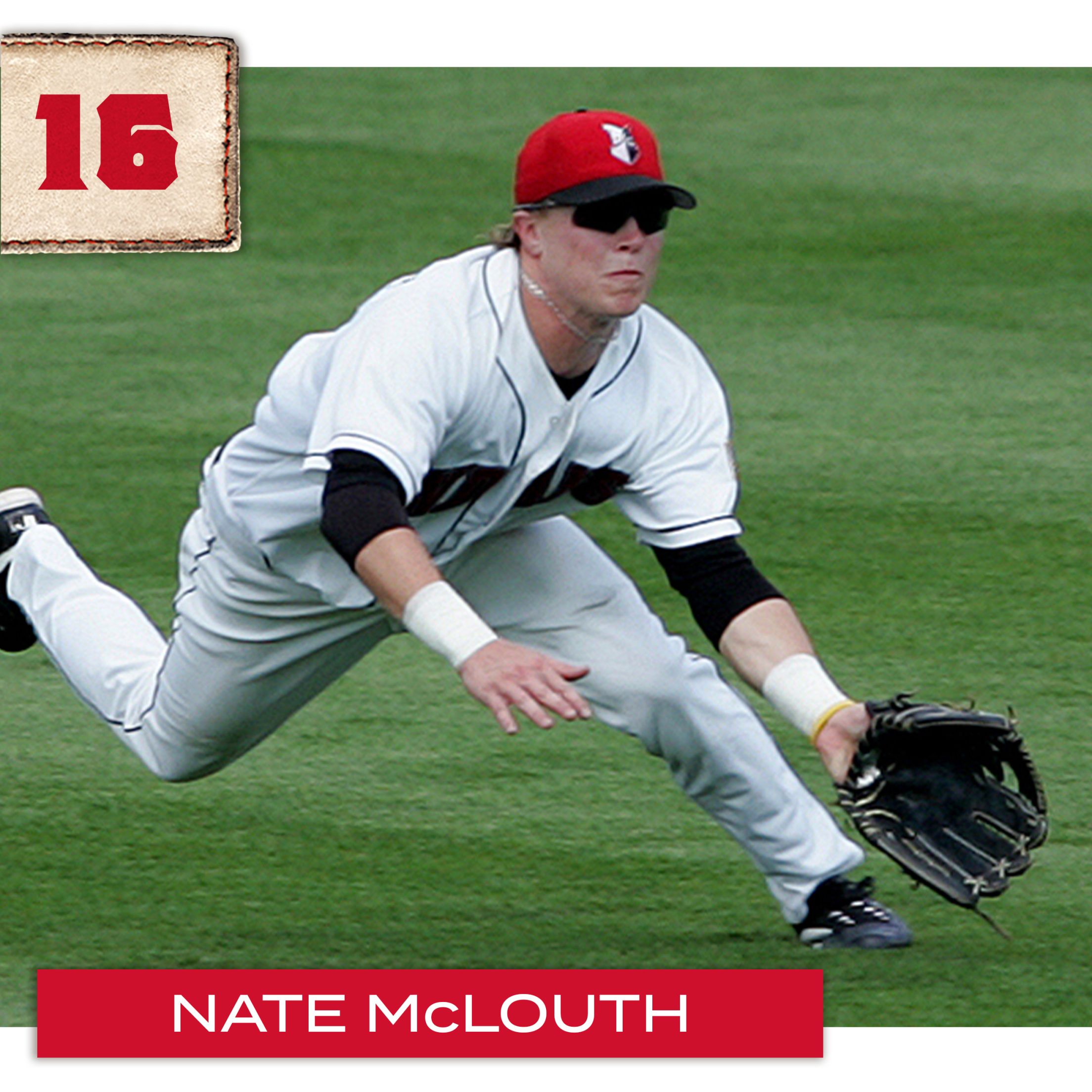 In 2005, Nate McLouth led Indy in batting average (.299), hits (118) and stolen bases (34) and was named to the International League midseason All-Star team. He spent 10 seasons in the major leagues with Pittsburgh (2005-09, 2012), Atlanta (2009-11), Baltimore (2012-13) and Washington (2014) and batted .247 with 803 hits, 101 home runs, 133 stolen bases and 6.5 bWAR. McLouth was a 2008 Gold Glove winner and National League All-Star, a season where he led the NL in doubles (46).
FIRST BASEMAN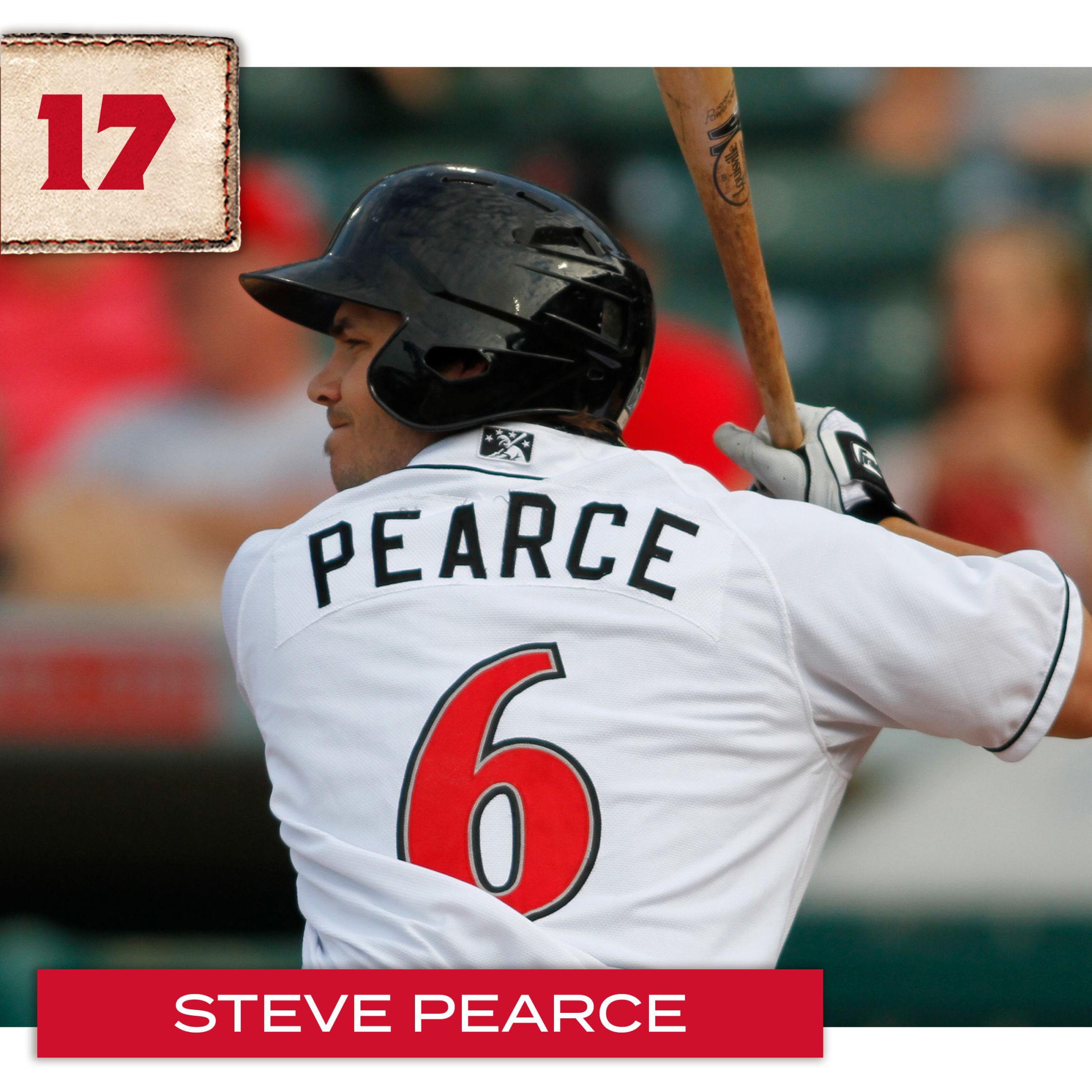 Steve Pearce played in 256 games with Indy from 2007-11 and hit .281 with 37 home runs and 152 RBI. He was named as the '07 MiLB.com Offensive Player of the Year and ended that season in the majors, where he was a lifetime .254 hitter with 91 home runs and 10.0 bWAR in 13 seasons. He joined Ray Knight (1986 Mets), Frank Viola (1987 Twins) and Randy Johnson (2001 Diamondbacks) as the only former Tribe players to win a World Series MVP during Boston's 2018 championship.
STARTING PITCHER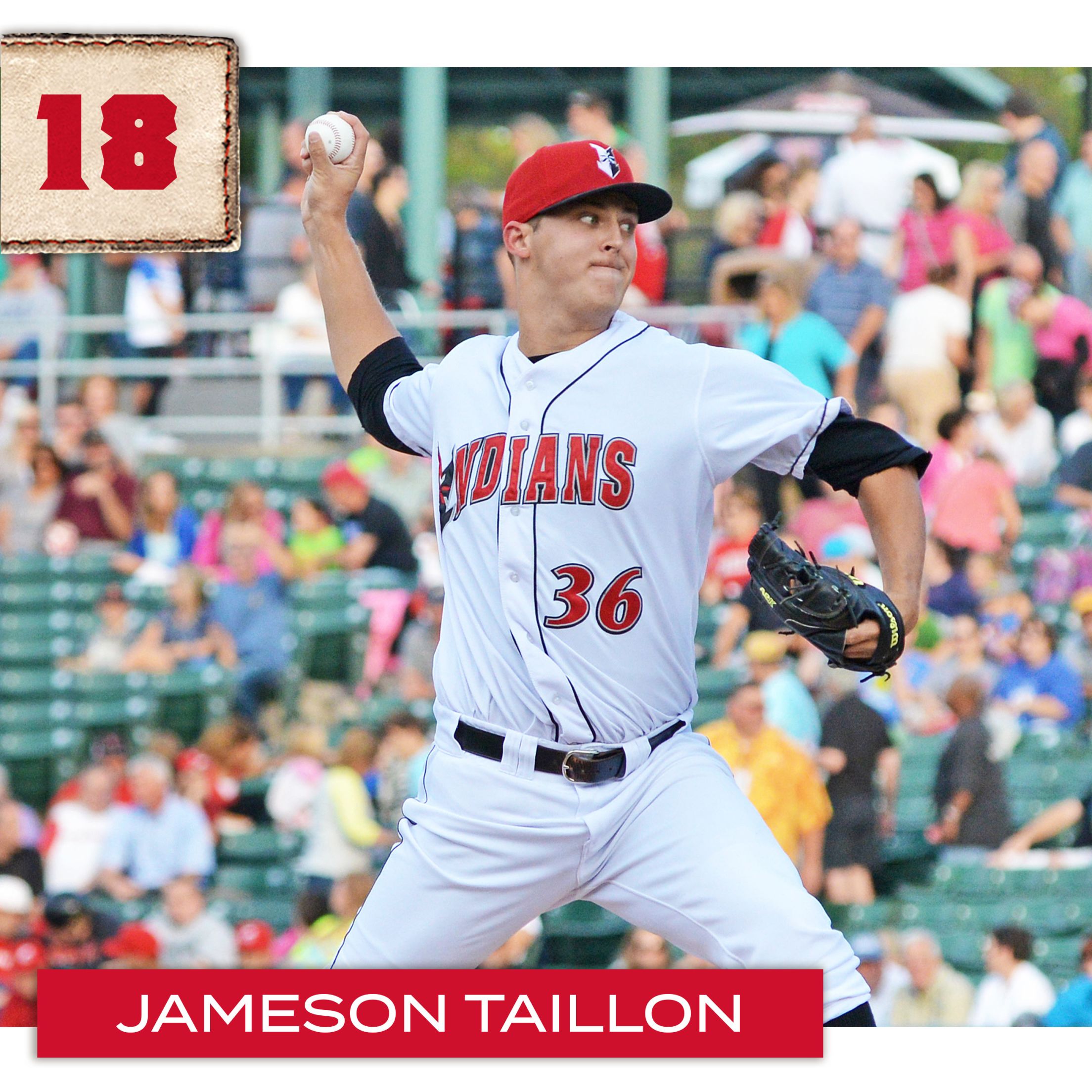 Right-hander Jameson Taillon spent time in Indy in 2013, '16 and '17 and compiled a 5-6 record, 2.87 ERA and 1.01 WHIP while holding opponents to a .213 batting average. His 4.7 strikeout-to-walk ratio (113k, 24bb) is best among Indians pitchers with 100-plus innings pitched in the Victory Field era. Selected No. 2 overall by Pittsburgh in the 2010 First-Year Player Draft, Taillon has gone 29-24 with a 3.67 ERA and 8.2 bWAR in 82 career MLB starts.
RELIEF PITCHER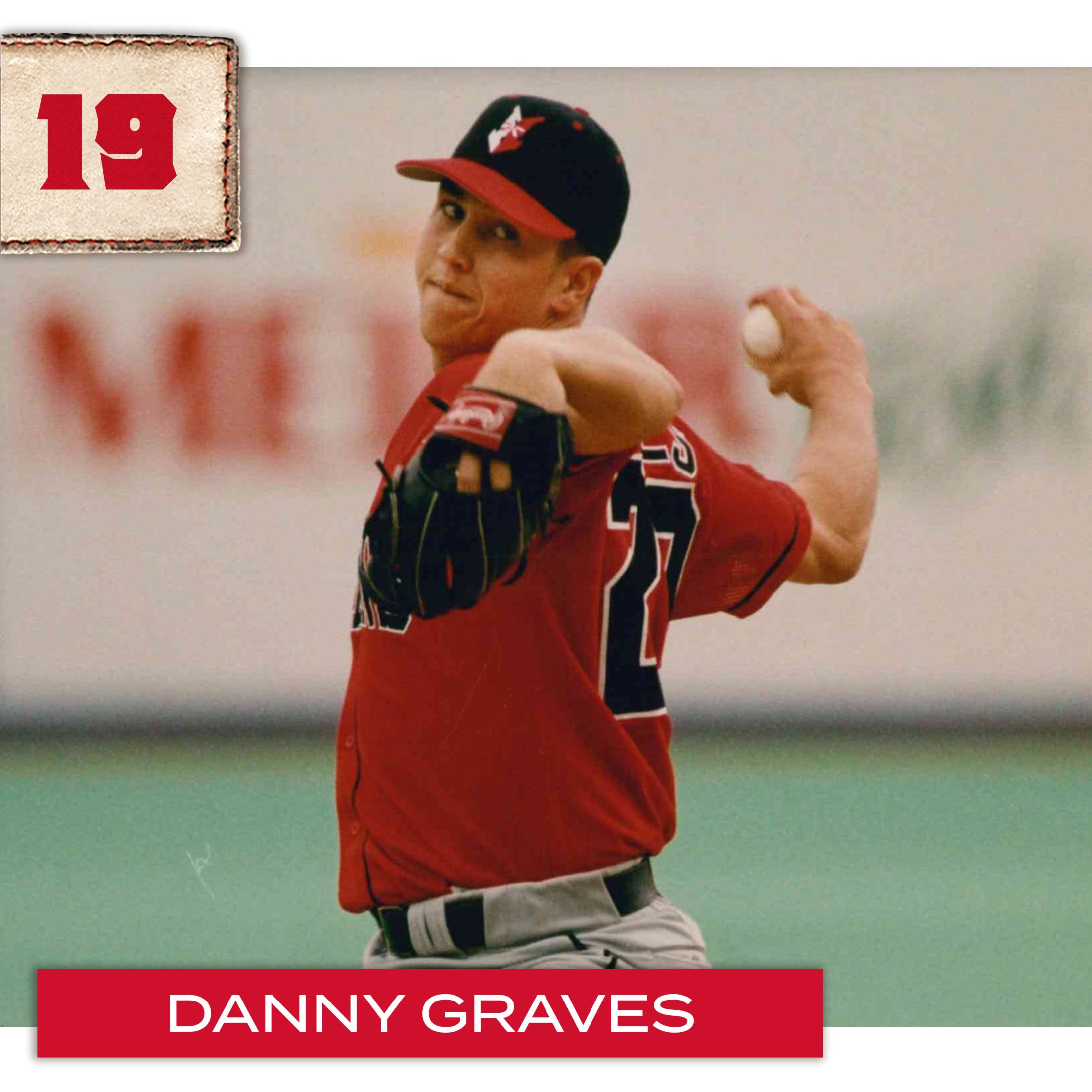 Danny Graves made 24 relief appearances in parts of two seasons (1997-98) with Indy and registered a 2-0 record, 2.45 ERA and five saves. During his 11-year major league career that featured stints with Cleveland (1996-97, 2006), Cincinnati (1997-2005) and New York [NL] (2005), Graves notched 43 wins, 182 saves, a 4.05 ERA and 5.6 bWAR in 518 games (30 starts). The right-hander was a National League All-Star with the Reds in 2000 and 2004.
OUTFIELDER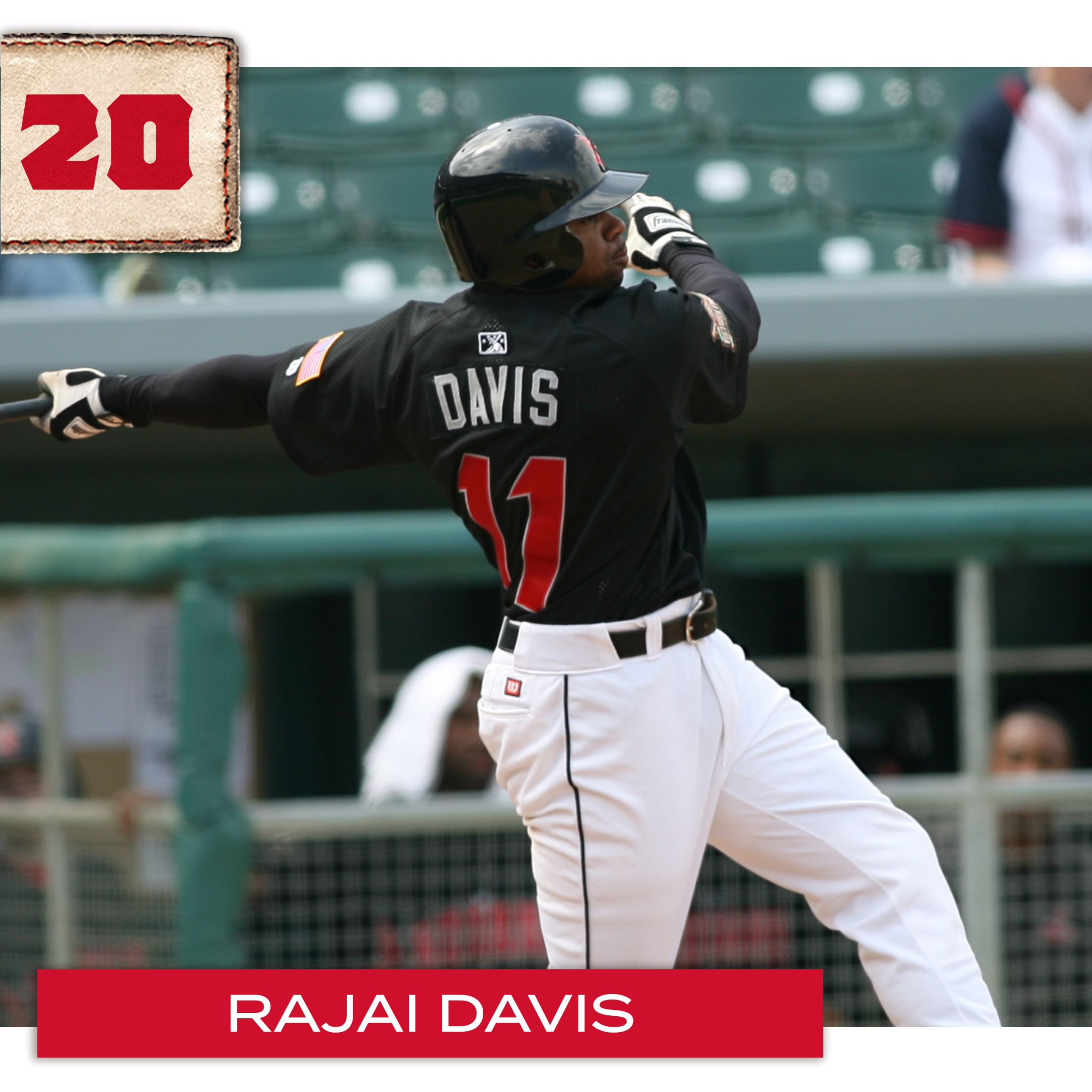 Over 153 games in two seasons (2006-07) with Indy, Rajai Davis hit .295, stole 72 bases (second most in the Victory Field era) and struck out in only 12.8% of his plate appearances. His 45 stolen bases in 2006 are a franchise record and ranked second in the International League that summer. In the majors, Davis played for eight different teams spanning 14 seasons and batted .262 with 1,111 career hits, 62 home runs, 415 stolen bases and an 11.9 bWAR.
STARTING PITCHER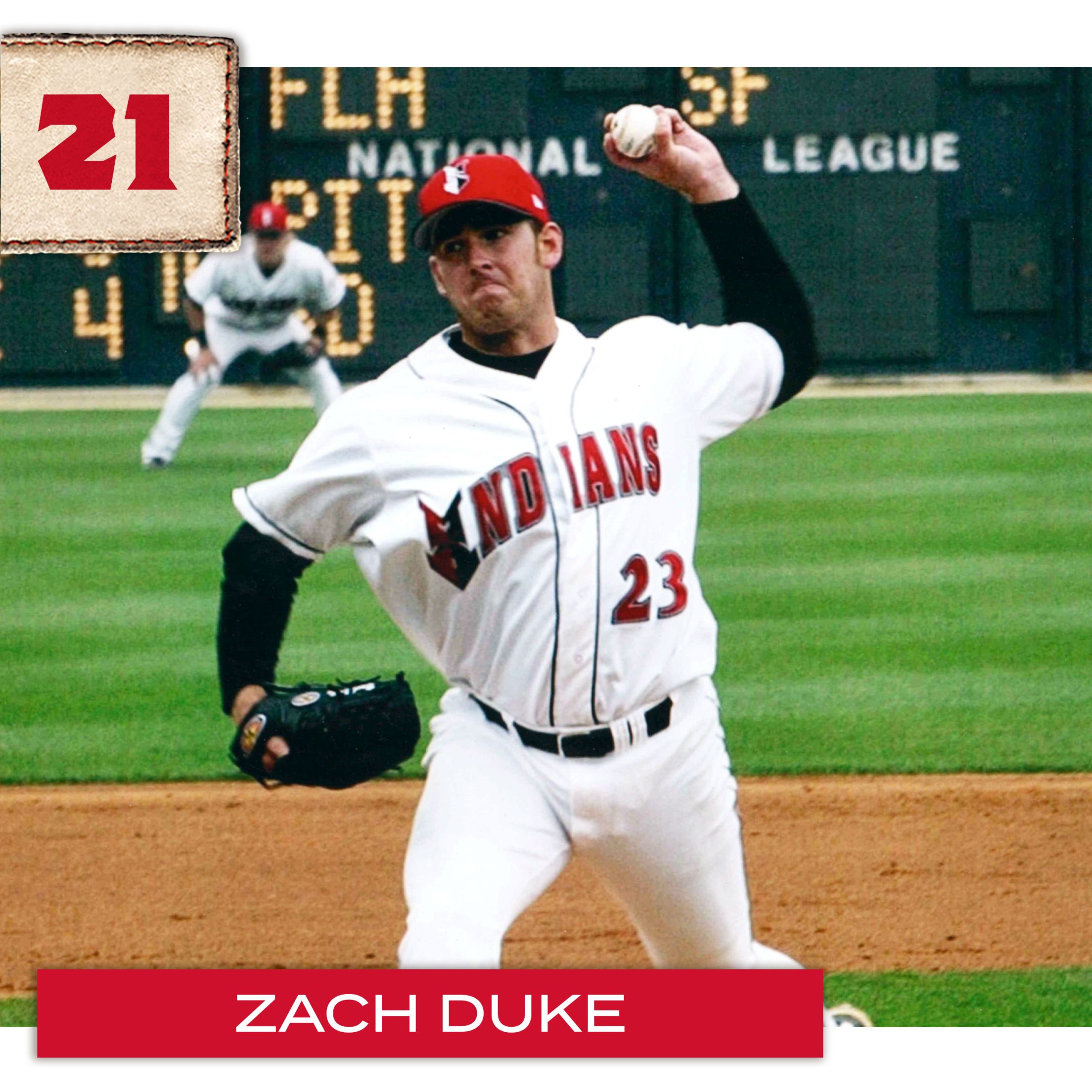 Over two seasons (2005, 2007) in Indy, left-hander Zach Duke started 17 games and went 12-4 with a 2.98 ERA. He earned International League mid and postseason All-Star honors en route to being named the league's Most Valuable Pitcher. He was a National League All-Star with Pittsburgh in 2009, a year in which he won a major league career-high 11 games. He has accumulated 69 wins, a 12.2 bWAR and 4.31 ERA in 570 games (169 starts) over 15 MLB seasons.
FIRST BASEMAN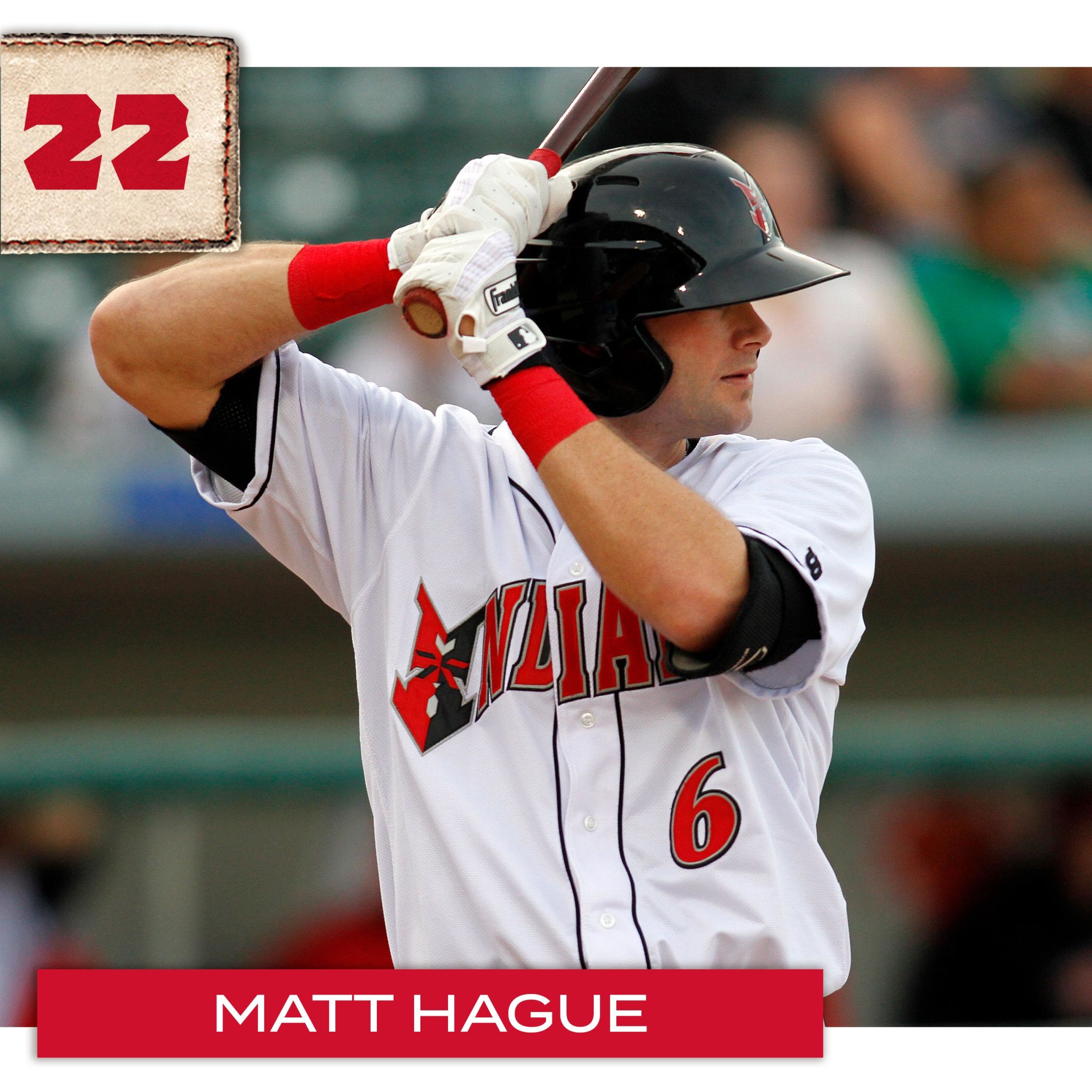 Matt Hague manned first base for Indy over four seasons (2011-14) and is the Victory Field era leader in games played (467), hits (510), doubles (103) and RBI (264). He was named Team MVP twice (2011, 2013), becoming the fourth player in franchise history to win the award multiple times. Hague also earned International League midseason (2011, 2014) and postseason (2011) All-Star honors.
STARTING PITCHER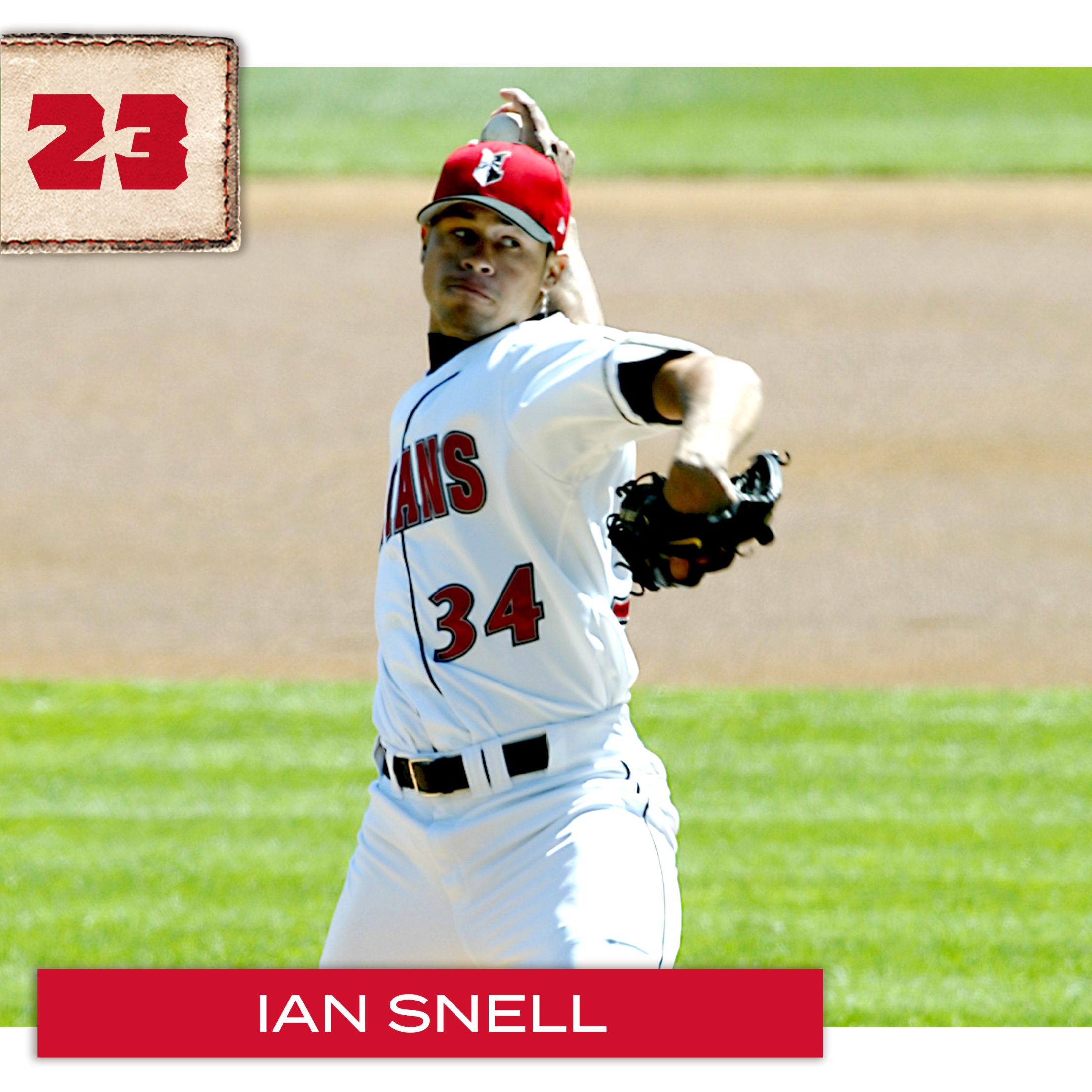 Right-hander Ian Snell pitched for Indy in 2005 and 2009, combining for a 13-5 record, 3.01 ERA and 1.03 WHIP in 24 starts. He was an International League midseason All-Star and Futures Game selection in 2005. On May 15, 2005 vs. Norfolk, he tossed the 12th no-hitter in franchise history and first by an Indians hurler at The Vic. In the major leagues, Snell won 38 games and had a 3.0 bWAR in 152 games (136 starts).
RELIEF PITCHER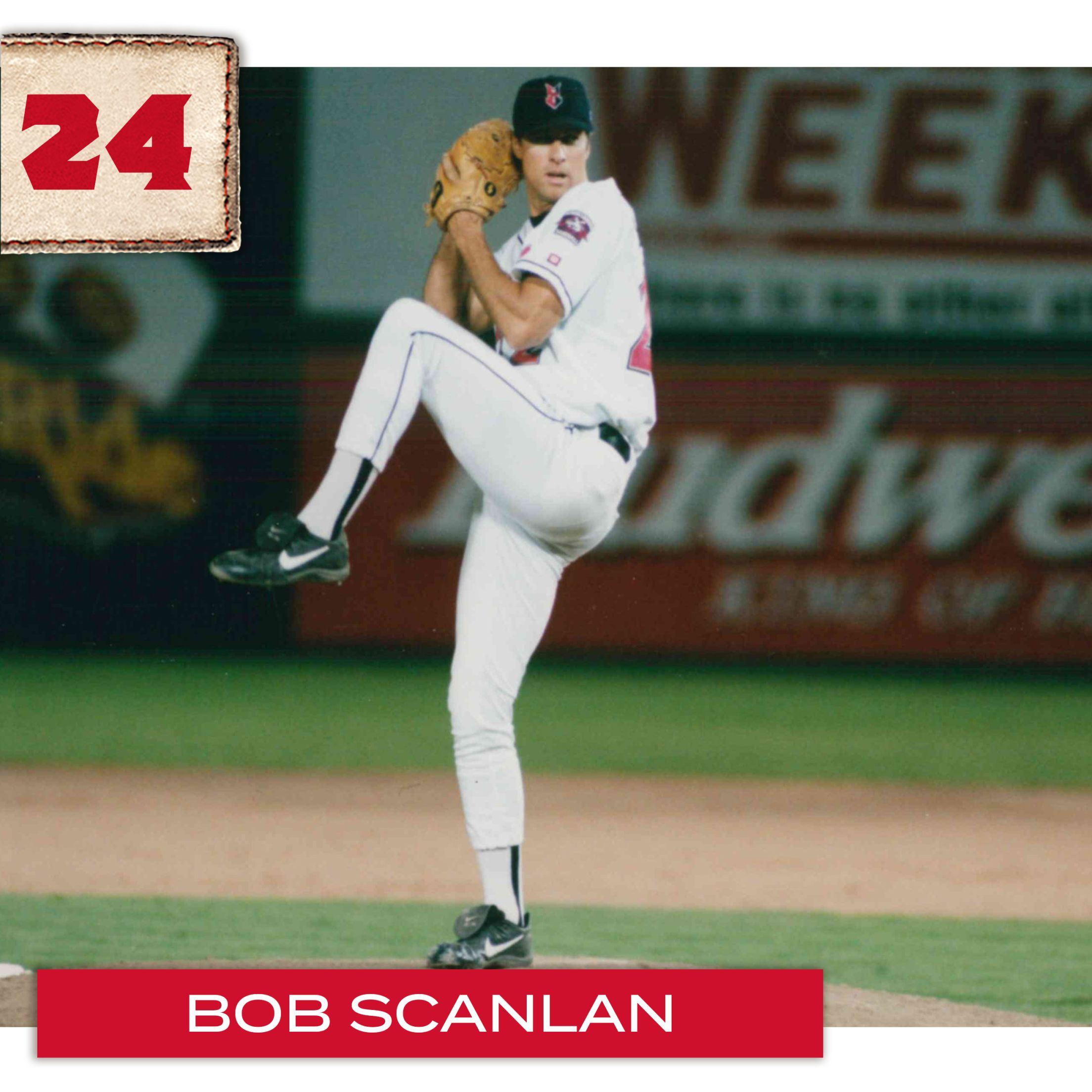 Closer Bob Scanlan dominated at the back of Indy's bullpen in 2000, going 2-2 with a 1.79 ERA, 0.99 WHIP and .193 average against. He was named Team MVP after setting the Indians' single-season saves record (35) and earning International League postseason All-Star honors. Indy also won the Governors' Cup and Triple-A World Series, and Scanlan recorded the final outs in the series-clinching games.
CATCHER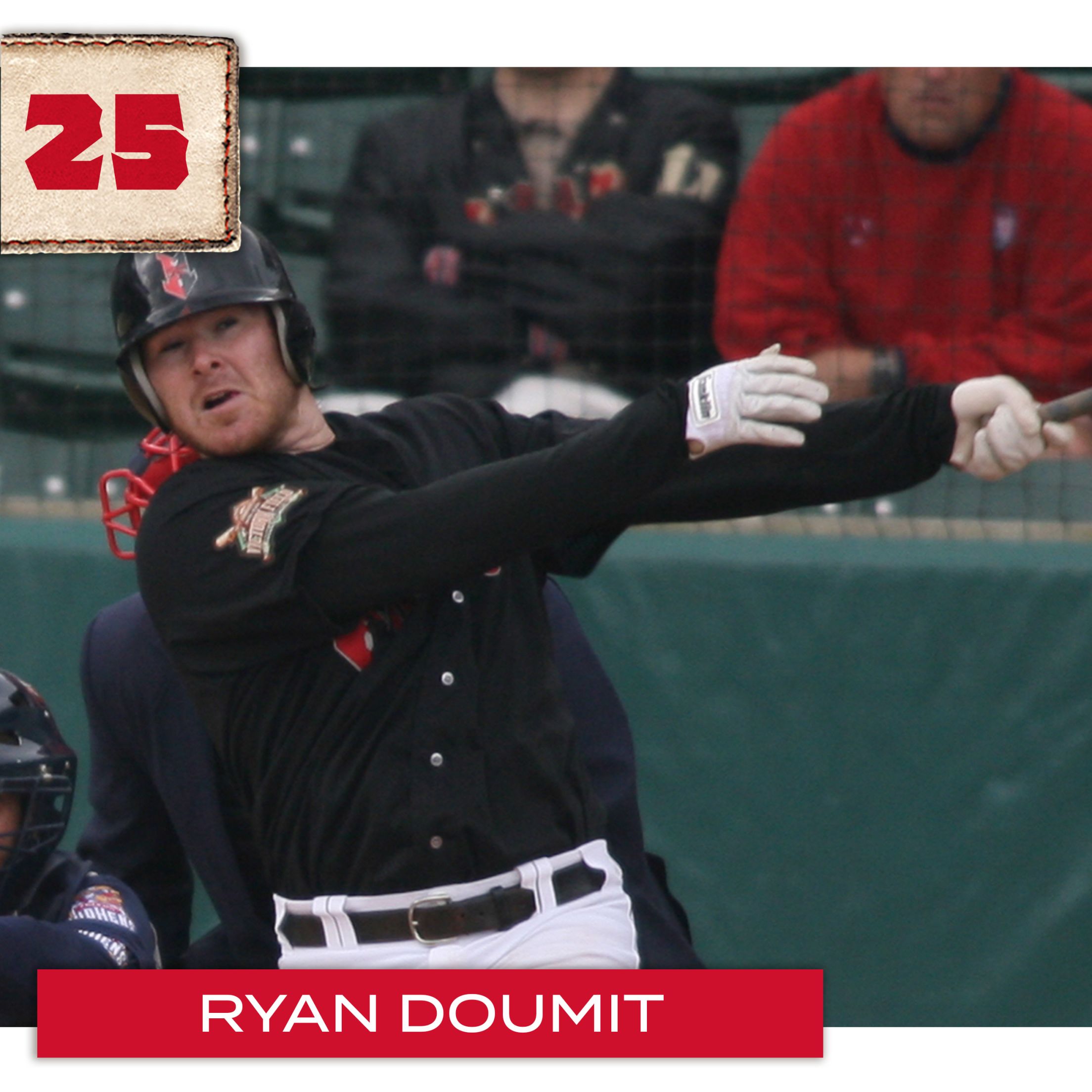 Ryan Doumit played in 89 games over parts of six seasons (2005-07, 2009-11) for Indianapolis and hit .329 with 17 home runs, 67 RBI and a .984 OPS. In the big leagues, Doumit posted a 9.0 bWAR – second highest among Indians catchers from the Victory Field era – and batted .264 with 104 career home runs. He was a two-time MLBPAA Heart and Hustle Award nominee for the Pirates (2009) and Twins (2013).
---

---