Herb Score and a Season for the Ages
Score's 1954 campaign is remembered as the 'best ever' by a Tribe pitcher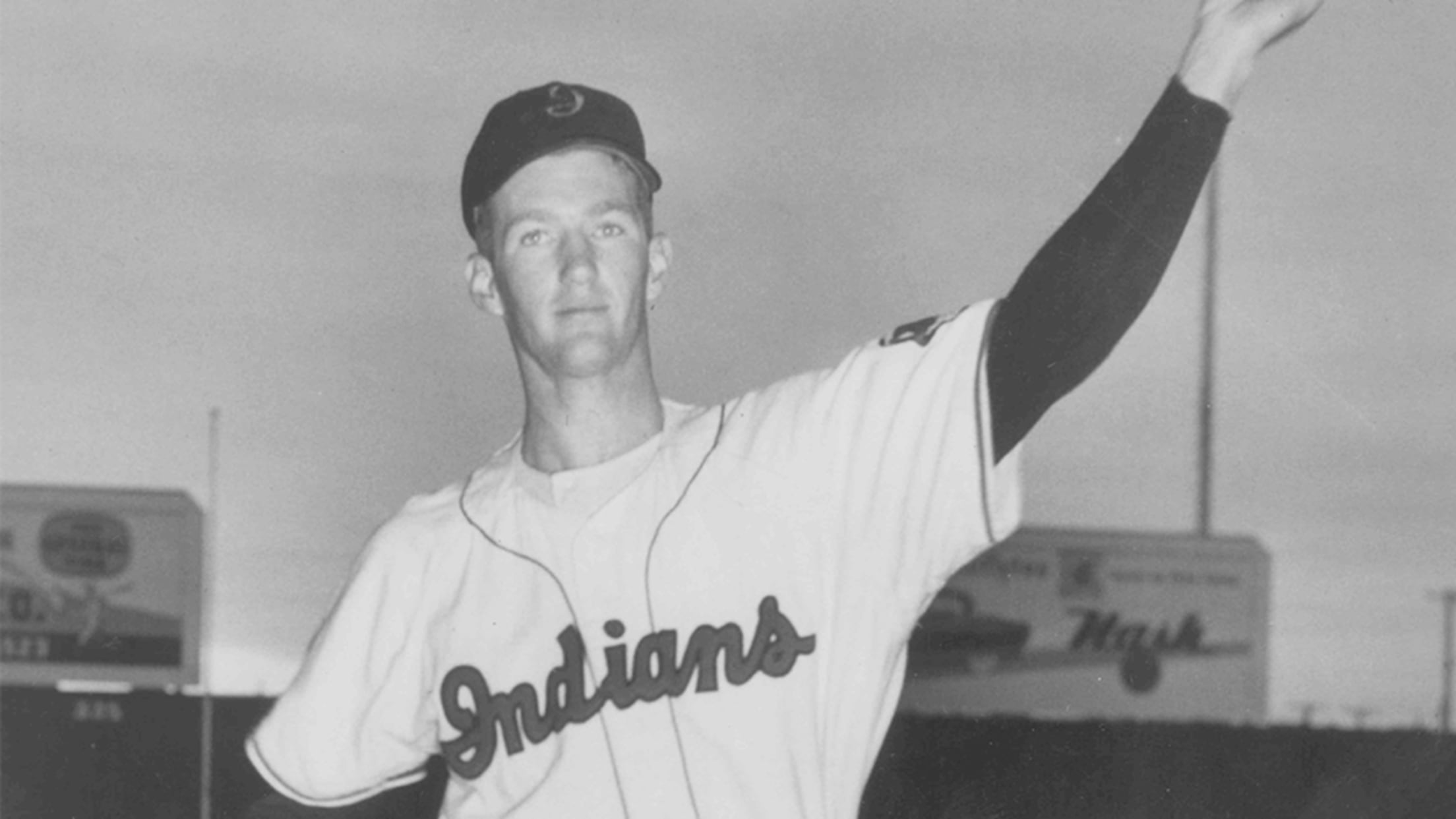 Herb Score's 1954 season featured an impressive number of 10-plus strikeout games. (Photo from Indianapolis Indians archives)
Before Max Schumacher joined the Indianapolis Indians front office as the club's ticket manager in 1957, the now-Chairman Emeritus of the Tribe fondly remembers the 1954 season. He was a college-aged fan attending games at old Victory Field who, like most Indians fans, waited every fourth or fifth day to
Before Max Schumacher joined the Indianapolis Indians front office as the club's ticket manager in 1957, the now-Chairman Emeritus of the Tribe fondly remembers the 1954 season. He was a college-aged fan attending games at old Victory Field who, like most Indians fans, waited every fourth or fifth day to watch a young left-hander named Herb Score pitch. The '54 season wasn't Score's first or last year spent in Indianapolis, but it was undoubtedly his best.
After debuting for the Indians at age 19 in 1952 and walking more batters (62) than he struck out (61), Score returned to Single-A Reading in '53 where his walk total skyrocketed. There, in Eastern Pennsylvania, Score issued 126 walks in 98.0 innings, but he was young and still learning. The following spring, Score pitched his way back onto Indianapolis' roster and the rest, as they say, is history.
The Indians began their 95-win season by winning 12 of 15 games in April, with two of those victories going to the 20-year-old Score. His first win on April 25 at Columbus featured 11 strikeouts in a 7.0-inning complete game, and the second was another complete-game effort – nine strikeouts over 9.0 frames vs. the Toledo Sox. Those performances were only scratching the surface on what would become an unforgettable Triple Crown season for the southpaw.
Fans flocked to the corner of 16th and Harding for the strikeouts. And they, like Score, survived the countless walks despite improved command. More times than not, they left the ballpark happy, too, with the Indians emerging victorious – the Tribe went 27-6 in games when Score took the mound. His starts were often wild and erratic, but nobody could deny that when he was on, the lights went out for the opposing team. If he was off, well, good luck, he still might dominate.
"We didn't have a stadium [radar] gun back then," Schumacher recalled. "He may have been throwing 95, 98, 101 [miles per hour] for all we know. His fastball was the best in the league."
Score's summer was just getting underway. He fanned 10 batters in his third complete game of the season to improve to 4-0. Over his next five outings from May 15 to June 1 – the fourth start featuring 13 punchouts – he walked a combined 44 batters. On May 19 at St. Paul, an 11-walk outing didn't deter Score or the Indians from earning a hard-fought 7-4 win. In fact, the Tribe never blinked as Score tried to find his groove; they won four of those five games while Score's personal record soared to 7-1.
In mid-June, Score began to command his pitches, at least on his terms, and he separated himself as the league's toughest hurler. It was not uncommon for the New York native to finish what he started. He rattled off nine consecutive starts with 10 or more strikeouts, the first eight with him going the distance. Amid that stretch, Score strung together five outings with 13, 14, 17, 13 and 13 strikeouts, respectively. He closed the regular season on an impeccable 19-start run where he threw 15 complete games and whiffed 10-plus batters 17 times.
Most impressive among his starts are his five regular-season shutouts and one electrifying postseason nod against Louisville:
June 11 at Toledo (Game 1 of a doubleheader): W, 7.0ip, 2h, 0r, 2bb, 7k
July 3 vs. Kansas City: W, 9.0ip, 2h, 0r, 7bb, 13k
July 12 at Minneapolis: W, 9.0ip, 6h, 0r, 0bb, 17k
Aug. 7 vs. Minneapolis: W, 9.0ip, 2h, 0r, 4bb, 16k
Sept. 1 vs. St. Paul: W, 9.0ip, 1h, 0r, 1bb, 15k
Sept. 23 vs. Louisville: ND, 10.0ip, 1h, 0r, 10bb, 14k
When looking at Score's '54 season, one name comes to mind; one that oddly enough belongs to another former left-handed Indianapolis Indian. He's commonly referred to as "The Big Unit."
"[Score] was similar to Randy Johnson," Schumacher said. "A big, hard-throwing left-hander with bad control, but thanks to [Cleveland coach] Ted Wilks, who helped [Score] achieve control of his pitches, he found out how to throw consistently over the plate."
Score's 22 wins and 2.62 ERA led the league, along with his 330 strikeouts that shattered the American Association single-season record and was never broken when the league ceased existence after 1997. The previous strikeout record was held by Columbus' Charles Berger, who recorded 264 punchouts in 1906. Only six pitchers topped 200 strikeouts after Score's record-setting season, the high being 223 by St. Paul's Stan Williams in 1957. Score was rightfully named the Minor League Player of the Year at season's end.
Score wasn't the only standout player on Indianapolis' 1954 squad. He was joined by close friend and roommate, outfielder Rocky Colavito, who smacked a franchise record 38 home runs that year.
"[Herb and Rocky] had one vehicle that maybe cost them a few hundred bucks," Schumacher and his wife of 61 years, Judy, remembered together. "It wasn't a 'junker' by any means, but Rocky was always the one doing the driving."
They both made their major league debuts with Cleveland in 1955, with Score recording nine strikeouts and nine walks in a complete-game victory at Detroit. Colavito clubbed 30 more homers in Indy before joining Score in the majors in September. By that point, Score was putting the finishing touches on a memorable season. He was named an American League All-Star and went 16-10 with an MLB-leading 245 strikeouts en route to AL Rookie of the Year honors. Score again earned an All-Star bid in '56 and upped his MLB-best strikeout figure to 263, but a line drive comebacker to his face in '57 and subsequent arm injury in '58 derailed what looked like a potential Hall of Fame career.
Eventually, Score found his way back to Indianapolis for the 1962 and '63 seasons, likely by train, when the Indians were the Triple-A affiliate of the Chicago White Sox.
As told in Schumacher and author Mark Montieth's "Extra Innings: My Life in Baseball," Score didn't perform as planned during his final season and had a great fear of flying; he traveled by train throughout his playing career. Manager Rollie Hemsley gave Score permission to head to his home in Florida while the Tribe would finish their Governors' Cup Championship in Atlanta, but Schumacher, in a one-on-one meeting with Score, insisted he join the team in Georgia before going home. Schumacher believes Score followed through on the agreement. That was the last time the two saw each other.
In 2006, both Score and Colavito were appropriately enshrined together into the Cleveland Indians Hall of Fame. Colavito got there by quickly becoming a fan favorite and hitting 374 career home runs in the major leagues. But for Score and his abbreviated big-league career, we can only wonder what could have been.
His 1954 season will live on forever in Indianapolis' illustrious history, and his first two seasons in the majors showed stardom.
"I don't believe in jumping and saying he'd have been a Hall of Famer, there's a lot to that and injuries are part of the game," Schumacher said. "But he'd have been a really good one. I know that.