After long gestation, Pizza Rats come to life
Staten Island Yankees president talks about team's new alter-ego
The Class A Short Season Staten Island Yankees will play as the Pizza Rats for all five of their Saturday home games in 2018.
The Staten Island Pizza Rats, conceived in 2016, are now a reality. On Monday, the Staten Island Yankees announced that they will play as the Pizza Rats during every 2018 Saturday home game. 
The Staten Island Pizza Rats, conceived in 2016, are now a reality. On Monday, the Staten Island Yankees announced that they will play as the Pizza Rats during every 2018 Saturday home game.
The term "pizza rat" burst into the public consciousness in September 2015, after comedian Matt Little posted a video of a rat carrying a slice of pizza down a flight of New York City subway stairs. One year later, the Staten Island Yankees announced that Pizza Rats were among the finalists in their "Name the Team" contest. That name change never occurred, but Staten Island's front office didn't wavered in its belief in the power of the Pizza Rat.
On Tuesday, Staten Island Yankees president Will Smith stopped by the MiLB.com office as part of his morning-long, Manhattan-based Pizza Rats media blitz. During a 20-minute conversation, he discussed the origin of the Pizza Rats name, the branding process, public reaction and just what constitutes "Shaolin flavor." What follows are excerpts from this conversation.
MiLB.com: How did the "Pizza Rats" name come about initially?
Will Smith: Well, we did the "Name the Team" contest and had, I don't know, a few thousand submissions for potential names. We worked with [design firm] Brandiose on the branding of this. They were very interested in the names and stories that people were submitting. All for idea generation, I think.
And then [Brandiose's Jason Klein and Casey White] came out to Staten Island and we kind of toured around. We spent a couple days. We took them to Denino's, a pizza joint. And they kind of get a feel for the area. ... I don't think anyone actually submitted [Pizza Rats], but there were rat-themed things and there were pizza-themed things and there were bridge-themed things and toll-themed things and everything else. You started just putting them together and, I don't know, we had 30 or 40 lists of names that we were kicking around and then you finally narrow it down.
When the public vote came in, it was like 48 percent Pizza Rats and then the other 52 percent was [split among] the other four [finalists]. It resonated. So then we started working on it, but we kind of ran into some road bumps that fall, communicating this to all the powers that be. ... We just ran out of time. And I'll never forget, I showed up at the Winter Meetings in December and got pulled in for a meeting with the licensing committee and they wanted to know more about it, and I think that they just thought we were too far away.
But we kept bantering it around and kept talking about it, and this offseason we decided, "Hey, how about if it was a promotion and not a full-time name change?" ... I think the branding came out amazingly well and I think we do have something for everybody in the branding package that we released.
So far, so good. People are talking about it, which is what we try to do at the Minor League level. Right? We're always trying to come up with unique, fun promotions that get people talking, because, frankly, we don't oftentimes have the money you need to market yourself in a real way.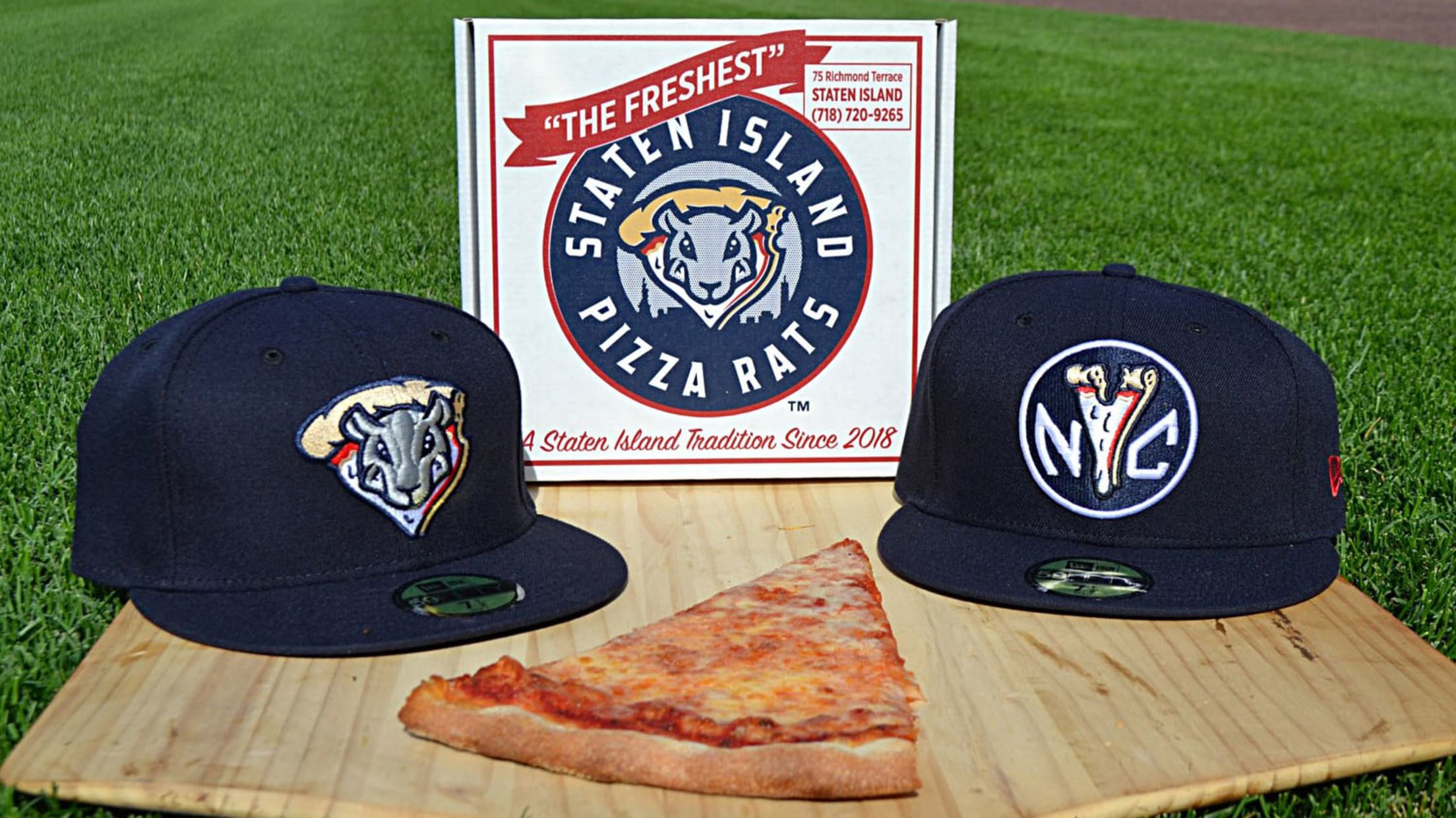 MiLB.com: Pizza is generally thought of in positive terms. Rats, not so much. How do you find a balance?
Will Smith: There's a method to the madness, and it usually involves an underdog animal. ... And I don't know if it rings true or not, but Mickey Mouse is one of the most famous icons and mascots in the history of the world. He's a mouse. And I'm sorry, but it isn't that far apart [from a rat] and it isn't that different. I think there's room to get creative with it. There's gym rats and there's baseball rats and there's pizza rats. And I think we're all pizza rats.
And the food theme [in Minor League Baseball] obviously has been huge. Just a lot of promotions, with [Lehigh Valley IronPigs] bacon and [Fresno] Tacos and [Connecticut] Lobster Rolls and [Brooklyn] Bagels and all kinds of things that are coming out. ... I think there are a lot of cities where their claim to fame is the best pizza going. But there's a lot of New York pizzerias and lot of New Yorkers who like pizza, and so we think it fits.
MiLB.com: Class A Short Season baseball is rarely part of the New York City sports conversation, but Pizza Rats has gotten people talking. That has to be gratifying.
Will Smith: I dropped off [Pizza Rats] merchandise today, for [WFAN's] Boomer and Gio Show. Boomer [Esiason] is a tough critic sometimes. He's a voice of New York sports, and he just put the hat right on. But when he talked about Pizza Rats a couple years ago, he crushed us pretty good for even thinking of it as a potential brand. So it's been interesting to see that kind of reaction from people.
Tweet from @WFANmornings: Boomer wearing the Staten Island Pizza Rats hat @SIYanks pic.twitter.com/fb9d0AXW7n
I just think we're going to continue to have fun with it, and that's what I said in the press release. We're gonna have fun with it, so if everyone can keep having fun with it then that's what we're looking forward to the most.
But I don't just want to put this out there and just go "OK, let's see how it goes." I want to come up with other fun things. I want to develop more partnerships because of this brand. ... And our other [Pizza Rats] cap, the NYC cap with the subway token logo, I'd be lying if I said I didn't want that to turn into a big tourism thing. There's nothing really rats-related in there, if that makes it easier for some people. It's pizza and it's NYC. Hopefully that's a good fit for people to appreciate.
Tweet from @bensbiz: Unboxing an @SIYanks #SIPizzaRats hat. #shaolinflavor pic.twitter.com/mlx1fPW8dZ
MiLB.com: Pizza Rats hats are delivered in a pizza box, and that box lists "Shaolin Flavor" as a Pizza Rats attribute. Just what is Shaolin Flavor?
Will Smith: Shaolin, I don't know the exact etymology of the term and where it came from, but it's definitely Wu-Tang related and a positive reference to Staten Island [where the Wu-Tang Clan are from]. I think Staten Islanders are proud. I think Staten Islanders have a chip on their shoulders about being the forgotten borough. It's the largest in landmass and it's the smallest in population.
One of the five names in our [2016 Name the Team contest] was Killer Bees, a tip of the cap to Wu-Tang. People are prideful about Wu-Tang in Staten Island. And I think that's what describes that Shaolin Flavor: when you're talking about an underdog. When you're talking about a food. When you're talking about a name that can't be ignored.