2020 Draft recap: Texas Rangers
Following Foscue in first round, Texas turns to prep talent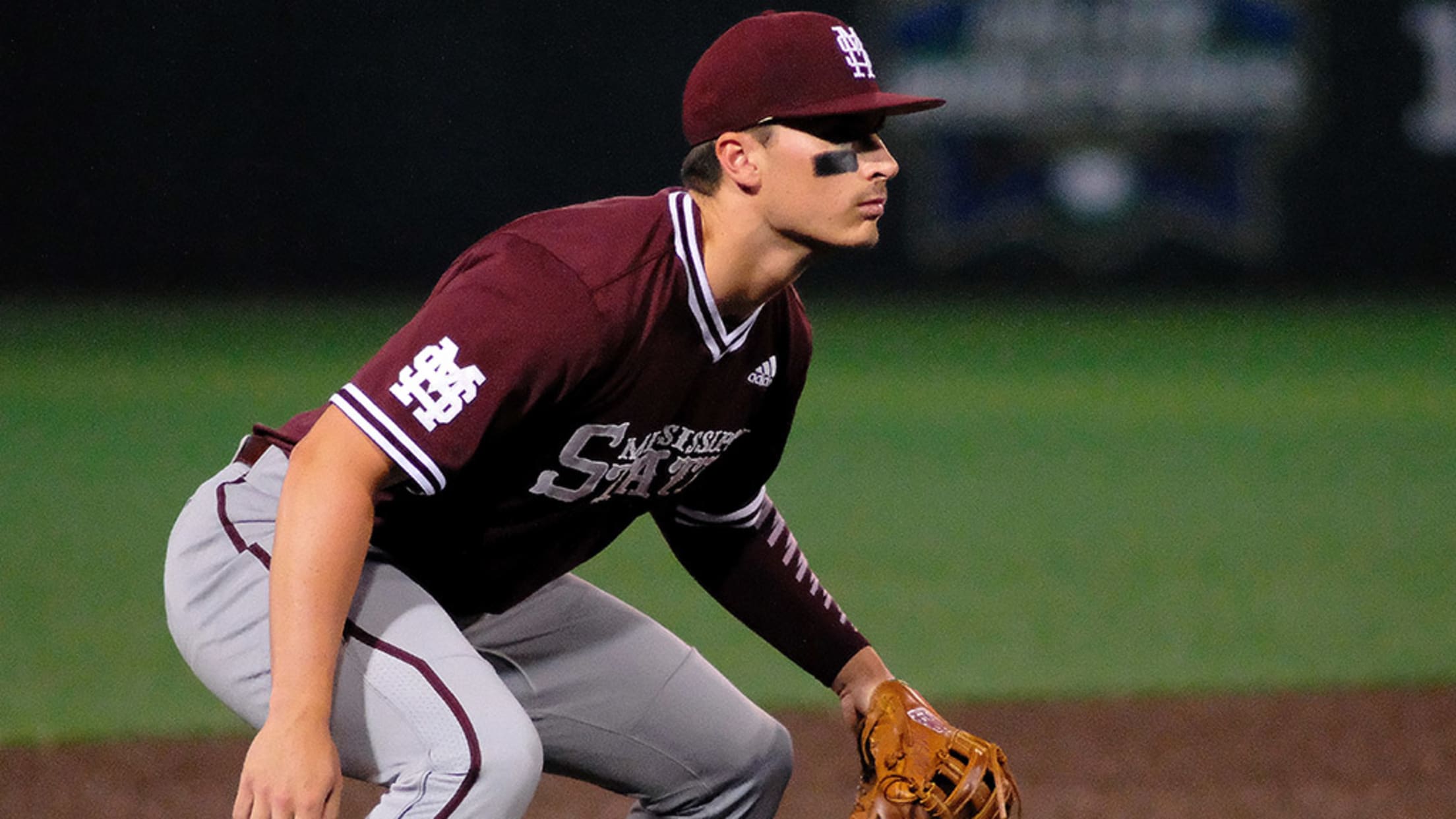 Justin Foscue batted .329 over his last two seasons with Mississippi State before the Rangers drafted him 14th overall. (AP)
Following the five-round 2020 MLB First-Year Player Draft, MiLB.com takes an organization-by-organization look at each pick with help from team scouting executives.
Following the five-round 2020 MLB First-Year Player Draft, MiLB.com takes an organization-by-organization look at each pick with help from team scouting executives.
Rangers senior director, amateur scouting Kip Fagg understands the post-Draft analysis surrounding his organization's unique selections. But understanding and agreeing are two different things. which is why the longtime Texas staffer is eager to see the fruits of his squad's labor take the field.
"This Draft, perhaps more than any others I've been a part of, was full of the relative unknown. Because of the pandemic, a lot of these players didn't get the exposure and push they otherwise might have in a normal situation. Our team identified talent who we felt would pop and that we might otherwise not have had a chance at getting in a normal year."
With the Draft being whittled down from 40 rounds to five, more adjustments were needed, although it didn't alter the Rangers' approach.
"Our philosophy didn't change much this year," Fagg said. "We identified guys we had conviction in, and we felt comfortable with our evaluations as we always do. It's certainly different [having five rounds instead of 40], but it doesn't change our job much."
The Rangers trended young with four of their five selections coming from high school. The exception was Justin Foscue, their first-round pick and the 14th player taken. The choice raised eyebrows, as did most of Fagg's selections -- but doubt his staff and decisions at your own peril.
"A lot of these players may not be well-known to others. That's fine," he said. "We're not just throwing darts out there. We did an immense amount of work on all these guys and feel most of them would not have been available to us if their seasons played out. That's how good we think these guys are. We're very comfortable with our selections and excited to see what they can do."
First Round: Justin Foscue (14th pick)
Undrafted coming out of high school in 2017, Foscue built on a solid freshman season at Mississippi State into All-SEC First-Team honors in 2019 after moving from third base to second. The Huntsville, Alabama native batted .331/.395/.564 with 36 extra-base hits, including 14 homers, and 60 RBIs for the Bulldogs. Foscue was raking again this season, putting together a .321/.464/.509 slash line through 16 games before the pandemic ended his season.
Ranked 32nd on MLB.com's Top-200 prospect list, Foscue's selection at No. 14 raised some eyebrows around baseball. Fagg and the Rangers, however, had no such qualms.
"Justin has a lot of things going for him," Fagg said. "Here's an unrecruited kid who began hitting the second he stepped foot on campus. He's got an elite bat, and although he's not without questions, he's adjustable, has terrific bat-to-ball skills and we believe he's one of the better and more impactful hitters in this Draft. If given a full season to play, I don't think he would have been a player still available to us [at No. 14]."
Foscue's game has been loosely compared to former slugger Jeff Kent in that he generates enormous power with a pull-side swing and tremendous bat speed that lends itself to 20-homer potential and consistent contact.
"I would hope Justin moves quickly once he gets out there and plays. It's up to him to show us, but I think he has a legitimate shot at being one of the real good ones."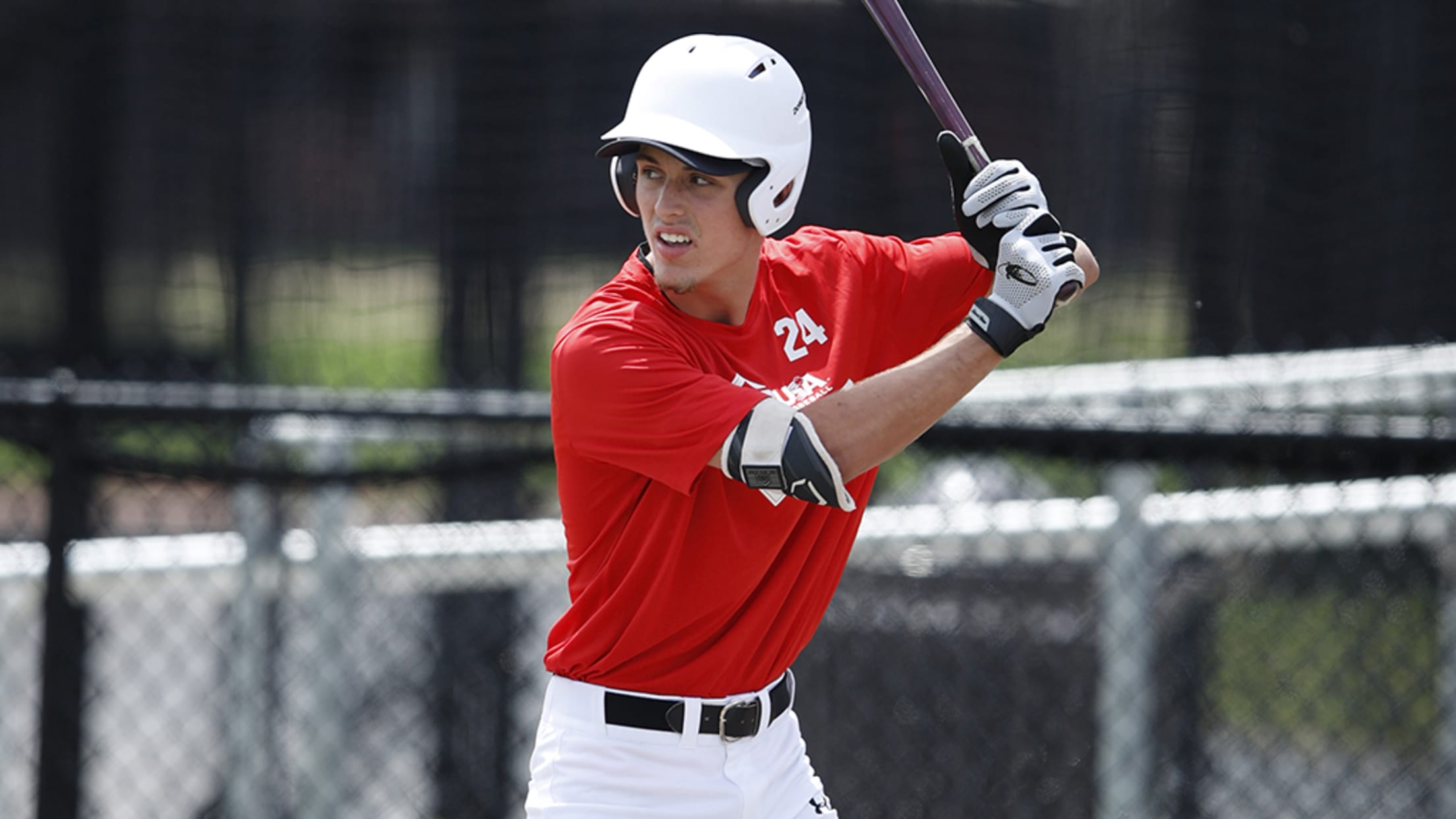 Second Round: Evan Carter (50th pick)
Texas' run on high schoolers began with Carter, whose selection at No. 50 was one of the Draft's biggest surprises early on. The Tennessee native was not listed among MLB.com's Top-200 rankings but, like Foscue, Fagg is excited to find a talent he believes could far exceed projections.
"Evan was a guy we felt we had to take if he was still available," he said. "Other teams wanted him. We knew that for a fact. He's a young, athletic, middle-of-the-order type who can do it all. Everyone in our Draft room saw this kid and we were all on the same page. If Evan had the opportunity to play a full season this spring, I don't think we would have had a chance to take him at No. 50."
Standing 6-foot-4 and 190 pounds, the lefty-swinging Carter was named Super 22 Player of the Year, conference Pitcher of the Year and first-team All-State honors as a junior at Elizabethton High School. He hit .324 with four home runs and 27 RBIs while going 10-2 with a 1.34 ERA and six complete games.
He will shift his focus entirely to playing the outfield as a professional.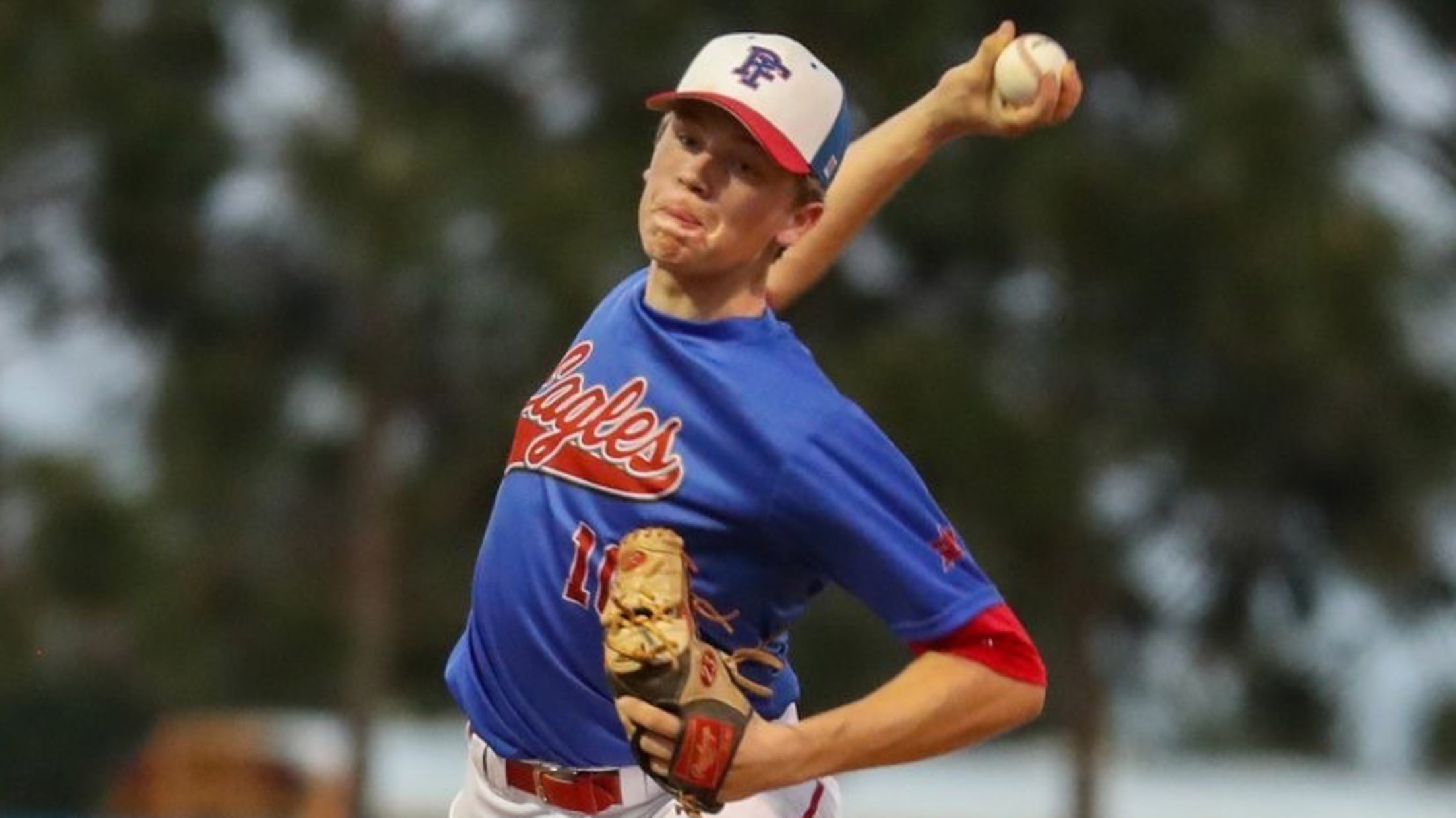 Third Round: Tekoah Roby (86th pick)
Texas shifted its focus to the mound with their third pick, who, like virtually every other prep player across the country, had little opportunity to showcase himself in 2020. A 6-foot-1, 180-pound right-hander, Roby piqued the Rangers' interest last fall. His short stint in the spring cemented the deal.
"[Rangers scout] Brian Morrison saw him early in the spring, and what he watched was a kid who was starting to put it together," Fagg said. "He's got good arm action and a tremendous amount of spin rate. When we saw him in the fall, he was throwing 85-89 mph but still getting outs. This spring, he was up to 94 mph and consistently in the 91-94 mph range. He hadn't been seen by many people [when the season was stopped], so we felt like we beat a lot of people to him."
Using a three-quarters arm angle and a three-pitch repertoire, Roby went 7-3 with a 1.19 ERA and a 109-to-10 strikeout-to-walk ratio in his junior season at Pine Forest High School in Pensacola, Florida in 2019.
Fourth Round: Dylan MacLean (115th pick)
The second of three consecutive high school selections to close out the Draft, MacLean is a big (6-foot-3) left-hander whose stock might have soared if not for the canceling of the entirety of his season. The Portland, Oregon native put himself on the Rangers' radar during last summer's Area Code Games and was set for a huge 2020 with Central Catholic High School.
"Dylan punched out like five or six guys throwing 84-87 mph at last summer's Area Code Games," Fagg said. "I went to a bullpen session in January to watch [Phillies first-round pick and Oregon native Mick Abel] toss a bullpen session and MacLean was there too. I didn't even recognize him. He had put on 25 pounds and was throwing 92-95 [mph] easily. He's a strike thrower with premium stuff who already knows how to pitch ... not just throw. If he competed this spring, he'd have been a borderline first-rounder."
MLB.com's No. 195 prospect, MacLean has a commitment to attend the University of Washington this fall, but Texas is confident a deal will be struck for a pitcher who has loads of projectability.
Fifth Round: Thomas Saggese (145th pick)
A relative unknown after missing last summer's showcases due to the tragic death of his mother from breast cancer, Saggese fits the mold of what the Rangers look for in a hitter. The Carlsbad High School product was named MVP of San Diego's Avocado West League after batting .422 with 10 home runs and 26 RBIs in 102 at-bats during his junior year in 2019. The shortstop was off to another hot start this spring, hitting .440 with three home runs and nine RBIs in seven games before the shutdown.
"It's hard to keep Southern California boys a secret, but Saggese was one of them," Fagg said. "He's got tremendous thunder off the bat, particularly for a guy with a smaller stature, and has an uncanny ability to barrel the ball up. We love his makeup and drive."
Michael Avallone is a writer for MiLB.com. Follow him on Twitter @MavalloneMiLB.