2020 Draft Recap: Colorado Rockies
Rockies nab standout prep hitter Veen with first selection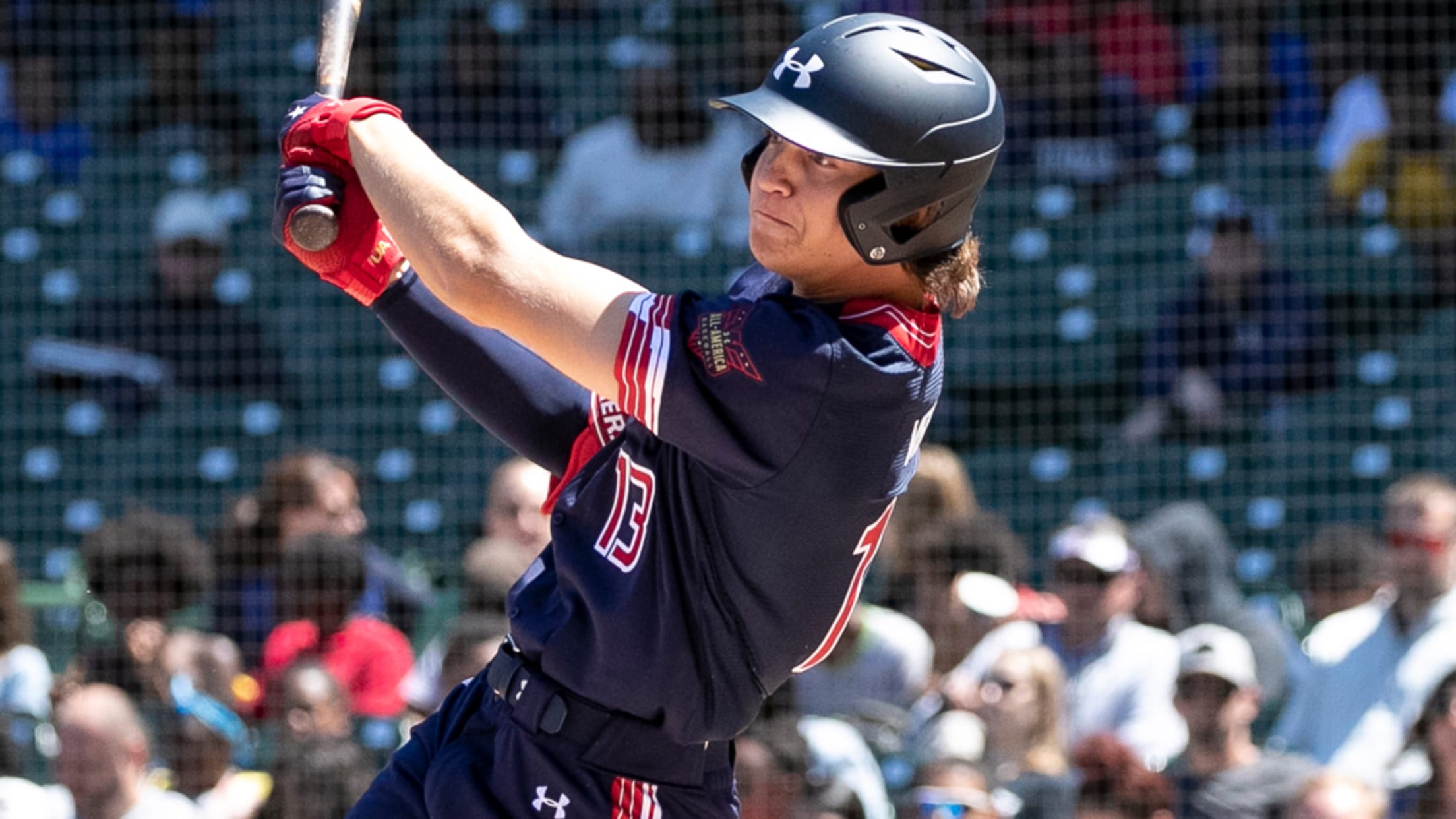 Prep outfielder Zac Veen was MLB Pipeline's highest-rated high school player entering this year's First-Year Player Draft.
Following the five-round 2020 MLB First-Year Player Draft, MiLB.com takes an organization-by-organization look at each pick with help from team scouting executives. For a franchise that has seen its farm system dip from the game's upper echelon to its lower third in recent rankings, the Rockies needed to hit on
Following the five-round 2020 MLB First-Year Player Draft, MiLB.com takes an organization-by-organization look at each pick with help from team scouting executives.
For a franchise that has seen its farm system dip from the game's upper echelon to its lower third in recent rankings, the Rockies needed to hit on their six picks in the vastly shortened 2020 First-Year Player Draft.
By all accounts, it looks like they did.
Colorado nabbed a trio of tantalizing high school stars -- including MLB Pipeline's top-rated prep product -- and added three polished collegiate players with its six selections to turn in one of its most impressive hauls in recent years.
Three prep products, three collegians. Three position players, three pitchers.
At the conclusion of this year's truncated event, Rockies vice president of scouting Bill Schmidt was pleased with his club's class of 2020.
"I really think we took six players and think that all six guys have a chance to someday impact the Major League club in different ways," Schmidt said. "We feel good. There was a lot of work done by a lot of people in preparation, and we feel like things fell for us good. Now we'll just have to wait and see how it all plays out."
The Rockies were positioned to select ninth overall in the first round, an interesting position given the unknowns at the top of the Draft behind foregone conclusion Spencer Torkelson to Detroit with the first selection. Eight picks later, a phenom landed in Colorado.
First Round: Zac Veen (No. 9 overall)
Outfielder Veen was MLB Pipeline's highest-ranked high school player, checking at No. 7 on the Top 200 Draft prospects list and for good reason. The Spruce Creek (Florida) product has drawn comparisons to the National League's last two Most Valuable Players, Cody Bellinger and Christian Yelich. When the ninth pick arrived and Veen was still available, it was an easy choice for the Rockies.
"We think he has a chance to be a very, very good player," Schmidt said. "We were fortunate that he was there when our turn came to pick. He's a very talented individual that we think has tremendous upside and can be an impact player for us at the Major League level some day."
Rockies beat writer Thomas Harding relayed a story about Veen's middle-school days when he rode his bike to practice at his future high school, asking the coaches there to give him tips and feedback on his swing before he was even on their roster. That desire to improve carried the Floridian through his prep career as he rocketed up Draft boards.
"I think, first and foremost, it shows some maturity to him and the drive to try to get better, which is what he's going to need for what's ahead of him," Schmidt said. "We think the makeup is pretty special in the kid."
A center fielder primarily in high school, Veen probably will move to a corner outfield spot at some point in pro ball. He entered the Draft with a 60-grade hit tool and should be able to develop more pop as he grows into his 6-foot-4, 190-pound frame.
"There's some natural balance and there's rhythm," Schmidt said. "He seems to be on time and it's a loose, fluid swing. He's got the ability, has shown the ability to impact the baseball."
Upon the graduation of current top Rockies prospect Brendan Rodgers, Veen likely will take that designation in Colorado's system.
Competitive Balance Round A: Drew Romo (No. 35 overall)
A franchise that has long struggled to develop catching talent for the big league club, the Rockies feel they may well have found their future star in Romo. The Woodlands (Texas) backstop went to Colorado at the exact number of his Pipeline ranking, and despite the difficulty for any club in shepherding high-school catchers to the Majors at that position, the Rockies are excited.
One reason is Romo's already impressive defensive profile.
"I think he has an evolved feel for what he's doing behind the plate with his skills already," Schmidt said. "He's been the 18U national catcher the last few summers, so he's caught some quality arms. From the defensive side, he's advanced.
"Offensively, we think he can be a productive hitter that's going to add to a lineup and with the ability to do that from both sides of the plate."
Romo's high-school program produced Paul Goldschmidt and Jameson Taillon among others, and Romo already has played on big stages while dreaming of reaching the big leagues like those who went before him. The catcher has spent significant time with USA Baseball including as the primary catcher on the U18 World Cup team that captured silver last year in South Korea.
"It comes down to what kids are exposed to, and he's been exposed to a lot," Schmidt said. "They were playing down in Panama (for the COPABE Pan-American Championship in 2018), so he's traveled to Panama, Taiwan, Korea. He's probably seen some things that a normal 17-, 18-year-old kid hasn't gotten to experience in his life yet. At the same point, he got exposed to different styles of baseball that different countries play. I think all that goes into when you make your evaluation of him as a player."
With Pipeline labeling Romo a potential Gold Glover, his bat will be the thing to watch if the Rockies sign him away from a commitment to LSU.
Second Round: Chris McMahon (No. 46 overall)
University of Miami ace McMahon wasn't thrilled to have slid to the second round, saying on a Zoom call with media after the Draft, "I was not happy Wednesday night (after the first round)." The Rockies, however, were thrilled to have the chance to pick him up.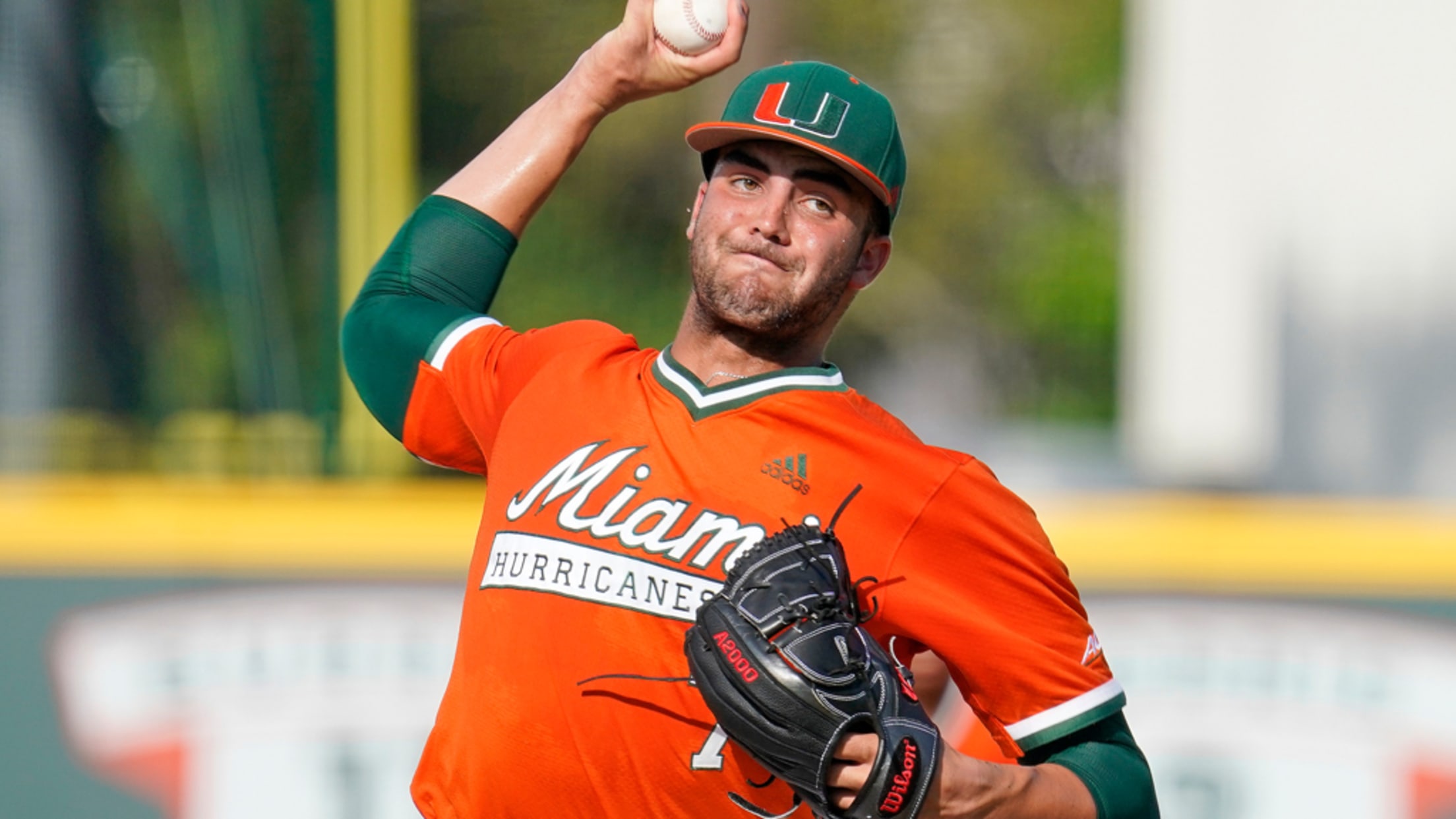 "I've learned never to be surprised," Schmidt said about finding McMahon available at 46th overall. "There were a lot of good players in this Draft, so people make decisions for different reasons. We were very happy to get Chris. We think Chris has tremendous upside with his pitch mix and strike-zone ability and his feel to pitch that he's got a chance to be a solid, solid middle of the rotation starter someday."
Like Romo, McMahon has been buoyed by USA Baseball experience, anchoring the Collegiate National Team's staff last summer and carrying that momentum into his abbreviated junior year with the Hurricanes. With a fastball that's touched 98 mph and a good feel for his changeup, McMahon could climb quickly as he refines his breaking pitch.
Third Round: Sam Weatherly (No. 81 overall)
Formerly a two-way player at Clemson, Weatherly was stellar as a left-handed reliever in 2019 and off to a roaring start with a 0.79 ERA in four starts to kick off 2020 before sports were halted.
"We feel that he has a chance to be a starting pitcher, and that's how we'll develop him," Schmidt said. "As time passes by, he'll ultimately tell us what he's going to be and where he'll impact our Major League club, if that's a starting pitcher or in the bullpen. For now, we're going to develop him as a starter."
Fourth Round: Case Williams (No. 110 overall)
The Rockies surprised many with their selection of Denver-area product Williams. The Douglas County High righty wasn't in Pipeline's Top 200, but Colorado thinks it may have unearthed a gem.
"I don't think we outscouted anybody," Schmidt said. "Case has been a kid that we've known a lot over time. He was involved in our scout team program in the fall (which Rockies senior director of scouting operations) Marc Gustafson and (assistant director of scouting operations) Sterling Monfort oversee. They got to know him, and we continued to see the strides that he made and the growth that he's made over the last year. He didn't get to play his high school season (due to the COVID-19 pandemic), but we knew the strides that he was making. We think he has tremendous upside, and we'll see where he goes in time. We're excited to be able to add Case to our organization."
Colorado turned Denver native Kyle Freeland into a Cy Young contender two years ago before a rough 2019. The Rockies hope Williams -- the first of their six selections to sign -- can utilize his high-elevation experience along with his arsenal that features a mid-90s fastball to conquer Coors Field.
"Case knows how to spin a breaking ball, and that's probably first and foremost the toughest thing to deal with at altitude," Schmidt said. "He knows the challenges when it's windy, the wind's blowing out, the mental toughness that it takes. It doesn't matter if it's at a youth level or a high-school level or a college level. There's challenges of pitching at 5,280 (feet above sea level). If you look, there's a history of some good Colorado pitchers, a lot of them that went on to college and entered pro ball. We just think case has the mind-set and has shown the maturity that he's ready to tackle the challenge himself."
Fifth Round: Jack Blomgren (No. 140 overall)
Schmidt's son, Matt, has been a member of the Michigan baseball program since 2018, and while observing the Wolverines in recent years, the Rockies scout took a liking to shortstop Blomgren.
"Nothing's flashy about Jack," Schmidt said. "You have to look inside Jack, and then you see the competitor, the will to win, to make others better, being a teammate. He's a very competitive person, and he's going to do whatever it takes to win but also bring guys along with him. Those are the traits I really like with him. We'll develop him as a shortstop but also as a second baseman, and as we do with all our Minor Leaguers, try to expose him to different places on the field because you never know where the opportunity at the Major League level is going to come for you. We try to prepare our players for that, but we see Jack as a kid that should be able to play both middle infield positions for us."
Overall outlook
The Rockies came away with their new top outfield prospect, top catching prospect and arguably top pitching prospect in the top three selections of their 2020 Draft. Throw in some intriguing high ceilings in players like Williams and versatility in Blomgren, and it looks as though Colorado -- in a year when it was perhaps most difficult -- has replenished some star power in a system that had graduated some of its best talent in recent years.
Tyler Maun is a reporter for MiLB.com and co-host of "The Show Before The Show" podcast. You can find him on Twitter @tylermaun.